Ascension
| Two Beers Brewing Co.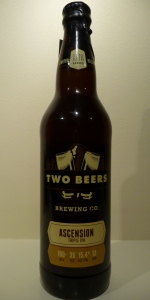 BEER INFO
Brewed by:
Two Beers Brewing Co.
Washington
,
United States
twobeersbrewery.com
Style:
American Double / Imperial IPA
Alcohol by volume (ABV):
15.40%
Availability:
Rotating
Notes / Commercial Description:
No notes at this time.
Added by beertunes on 01-20-2013
Reviews: 7 | Ratings: 22

3.28
/5
rDev
-10.4%
Hot and woody. This has the most unusual taste, I wish I could nail it exactly, but it's sweet vermouth all the way. Plus something like burnt caramel with some cinnamon. Pear brandy with leather. At least the stuff is interesting.
The worst part is how the canned pear (heavy syrup) taste which I normally like is bittered up with quinine and aspirin. Even more bitter as the hot alcohol sears the tongue. From the 22 oz bottle, poured into the Troubadour tulip.
464 characters

3.75
/5
rDev
+2.5%
look: 3.75 | smell: 3.75 | taste: 3.75 | feel: 3.75 | overall: 3.75
Poured into a Seattle Beer Week pint glass. Pours a hazy, medium golden amber with a fine one finger white head with good retention and lots of lacing. Aroma of caramale malt, grassy and citrus hops, orange family citrus, a bit of alcohol. Flavor is orange citrus, light caramel malt that is overwhelmed by intense resiny, almost medicinal hop bitterness. Finishes hot, with both alcohol and resinous hop bitterness. Medium bodied. Although this grew on me after a while (probably due to lupelin saturation on my tongue), it is quite harsh at first, like a charging hop bomb. After I settled in, I was able to appreciate the caramel malt base and more pleasant components of the resinous hops. I'm not sure whether it was the high ABV talking or not, but I was overwhelmed at first, but enjoyed the second half of the glass more. Unbalanced and a bit out of control, but worth a try for intense hop fans. Two Beer's Alta series has been pretty good, and I missed the first round of this. That is probably a good thing, this 11.9% version is probably more approachable than the earlier ones (up to 18%!). Kinda kicks your posterior in both alcohol and hops.
1,156 characters
3.48
/5
rDev
-4.9%
look: 3.25 | smell: 3.25 | taste: 3.75 | feel: 3 | overall: 3.5
Served in 10oz goblet. Poured a lightly hazy orange gold color with less than 1/4 inch of white head that had low retention and lacing.
The aroma was, as expected, very hop forward. Mostly citrus, some pine and a very low malt presence. On the tongue, the hops just blasted away, with an alcohol taste underneath. No real malt flavors showed up and there was a very sharp alcohol bite on the finish.
The body, while fuller than I'd expected, wasn't anywhere near smooth. Drinkability was pretty good, for an 18% ABV beer, but I would a spacer or two if I were having more than one a day. Overall, this brew was pretty nice, considering it's size. Certainly worth a shot if you see it.
690 characters
3.73
/5
rDev
+1.9%
look: 4 | smell: 3.5 | taste: 3.75 | feel: 4 | overall: 3.75
Bottle opened on 6.28.13 and split with some friends
Bottled By: Dan
Bottle #: 486/1000
A - Pours a clear darker orange with only a few tan bubbles clinging to the glass.
S - Lots of hop cirtus, orange peel mostly. A touch of alcohol, but not as much as I would expect. Some bready malt sweetness as well.
T - The taste is similar to the nose. Lots of orange zest/peel, sweet bready malts, and alcohol burn.
D - Mild to medium carbonation with a medium body.
O - A big beer, and it shows, but not as much as I thought it would. Similar to 120 minute, but I think that it is more approachable.
598 characters
4
/5
rDev
+9.3%
look: 4 | smell: 4 | taste: 4 | feel: 4 | overall: 4
From BeerAdvocate Magazine #80 (Sep 2013):
Clearly a sipper, impressive on so many levels ... we get that it's an IPA that hits on both bitterness and flavor, and the "triple" element is clearly noticed with the level of alcohol. But perhaps it is the eight months of aging that Two Beers Brewing took on that really makes this a winner. They need to circle back to this one, 1,000 bottles is clearly not enough.
STYLE: Triple IPA
ABV: 18.2%
AVAILABILITY: Limited
LOOK: Tight white lacing, clear copper color
SMELL: Intensely floral, apricot jam, spicy, nougat, suggestion of sherry, cake batter, lemon pith, esters
TASTE: Big creaminess, smooth, thick body, soft resin, very warming, spicy, candied oranges, quite bitter, sweet alcohol, fruity, apple butter, pineapple skin, surprisingly dry finish; very long, hoppy, alcoholic aftertaste
851 characters

3.79
/5
rDev
+3.6%
look: 3.5 | smell: 3.75 | taste: 4 | feel: 3.25 | overall: 3.75
22oz (spring 2013) into a tulip. Pours a clear coppery color w/ a thin white head that quickly settles to a thin film.
Aroma is not surprisingly sweet and malty, boozy.
Taste is likewise sweet, sugary, with a nice alcohol burn. Fruity, citrusy. Actually has a pretty good balance given the high ABV.
Mouthfeel is a little thick, lack of carbonation makes it feel heavy.
Overall I'm actually enjoying this more than I thought I might. I'm not a huge fan of really strong beers, and this one's in the top 10 strongest beers I've ever had. But it's pretty tasty and well balanced.
581 characters

3.81
/5
rDev
+4.1%
look: 4.25 | smell: 3.75 | taste: 3.75 | feel: 4 | overall: 3.75
New Review: I've written a review before when I had the 2013 version and didn't like the beer. That review is kept below. This time it's the 2014 version and I like it a lot more. The alcohol is not nearly as present but you can still tell it's high (11.8 ABV). Press unfiltered golden with a thick near-white head. Smells a little sweet a little citrusy and a little floral.the taste has hops with the tiny sweet the full flavour lingers in your mouth for a while. Mouthfeel is lasting. The full flavor lingers in your mouth for a while. Much better this time around.
Previous review: 2013 version. All I could think about when I drank this was that someone took a good IPA and cut it with 1/3 vodka. I really had a hard getting to the good flavors as the alcohol burn diminished them so much. 3/5.
814 characters
Ascension from Two Beers Brewing Co.
3.66
out of
5
based on
22
ratings.