Frank's Liquor & Superette‎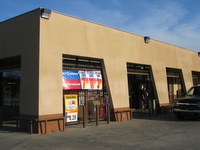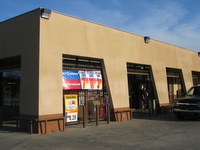 Store
416 North Willis
Visalia
,
California
, 93291
United States
(559) 734-3197 |
map
frankswineshoppe.com
Notes:
Reviews by Beerandraiderfan:
Beerandraiderfan from Nevada
3.6
/5
rDev
-11.5%
vibe: 3 | quality: 4 | service: 3 | selection: 4
Hit this place up on the way to my cousin's wedding. Looks just like a scuzzy mini mart type of vibe, I don't remember, there might have been bars on the windows, ya feel me?
Layout of the place doesn't make sense. Beer isn't really organized by any discernable thought process. Cardboard in the cooler seemed damp, humidity I guess in the valley right?
Selection wise, they carried a few gems I'm not accustomed to seeing that often. Rarities from Mad River and whomever makes the General Sherman IPA, I don't see that beer anywhere else.
Prices were also weird, like, 2 beers made me think "that's a good deal, I haven't seen it that cheap." Then others would be like, wow, that's 30% more expensive than it is anywhere else.
My favorite little story about this place has to do with the customers, two college aged guys were in there buying beer.
Guy: "Dude lets get some Sierra Nevada."
Other guy: "Yeah but the chicks will complain about it being too bitter."
Guy: "Like I give a shit."
High-larious.
Nov 25, 2010
More User Reviews:

The_Feebler_Elf from California
3.58
/5
rDev
-12%
vibe: 3.75 | quality: 3 | service: 4 | selection: 3.75
In a bigger city, Frank's would be completely unremarkable. In the Visalia area, it's gold. It's in the ghetto, the selection is limited, it's a little pricey, and I don't think there's a single marked parking stall on the site. However.... They have quite a few beers on the shelf that you probably won't find anywhere else within a 50 mile radius, the staff is friendly, and they have a nice cigar selection - if you're into that kinda thing.
I was just there today and they've remodeled since I was there last - looks like they are expanding their selection a bit, which is good to see.
Jun 15, 2014

AcE311
4.21
/5
rDev
+3.4%
vibe: 3.5 | quality: 4 | service: 5 | selection: 4
This is my go to local for great beer. I usually stop here every night after work and pick up a six-pack. Theres always something new to try and the people are very knowledgeable about what they sell. Can be a pit pricy at times but if you have been searching for that certain brew and cant find it this place usually has it or can order it for you. Iv even found some beers here that BevMo doesnt always carry. Over all solid place and they have a walk in cigar humidor as well as a massive liquor and wine selection.
Nov 19, 2012
iammatt from California
4.14
/5
rDev
+1.7%
vibe: 4 | quality: 4 | service: 5 | selection: 3.5
Best place between Bakersfield and Fresno to get beer. A very solid selection of California based breweries and a pretty solid selection of European imports. The staff here are some of the nicest guys I've met. Have any questions and they'll be happy to help you, and if you want something they don't carry, they can probably get it for you. They also have a much larger selection of wine than they have of beer, however I haven't ventured down that path yet. Great store in the Tulare/Kings county area, you won't find a better selection of beer without going to Fresno to BevMo.
Mar 16, 2012
DoubleJ from Wisconsin
4.03
/5
rDev
-1%
vibe: 4 | quality: 4.5 | service: 4 | selection: 3.5
Just north of downtown Visalia is the place to go for beer in this "big small town". The sales floor is loaded with all sorts of liquors; the beer is located in several coolers. What was amusing to me at first was that Lindemans was in the same section as those tallboys of alcoholic energy drinks. After that chuckle, I looked for a few beers to buy, especially ones I can't easily find in Orange County. It's all chilled, organized with prices, but few single bottles for sale (I'm talking about bombers and 750s too!).
I was surrounded by some of these options: Stone, Grand Teton, lots of Sierra Nevada (including 30th Anniversary releases), Saison Dupont (in 4-packs!), Ballast Point, Sequoia, Ayinger. I even saw a 6-pack of Skol, but it was the Turkish version, not the Brazilian version I anticipated. Much of the selection is priced a little more than what I'm used to seeing.
Three checkout clerks waited up front for customers who were ready to take home their alcohol. I was very suprised to see that much help on a Saturday afternoon.
All told, good place in Visalia to score some bottled brews.
Mar 14, 2011
bargerking from California
5
/5
rDev
+22.9%
What an find in the middle of the central valley! This a true "mans" store. Tons of wine/beer/cigars. Although I did not ask for help. There were workers easily available if I needed it. Wow what a rare selection! I picked up Stone 12 and saw alot of stuff that isnt easy to come by. My friend just went on a run the other day and picked up an 08.08.08 and a 07 Alaskan Smoked Porter! This place gets an A+ just for the fact of their selection and location. It may even be safe to say you wont find anything like they stock within a 100 mi radius!!!
Nov 18, 2009
OStrungT from California
3.95
/5
rDev
-2.9%
This place is located about a mile from Brewbakers, so I usually hit them both up when I am around.
In the central valley, it can be pretty hard to find decent beer. This place makes it a bit better. They dont have a HUGE selection, but what they have is mostly good. They have all the Stone seasonals, and sometimes you can find them well after they are gone elsewhere. They get the Deschutes special releases also. Mostly California stuff, but they have beer from a few other states as well. They also have a decent Belgain and German selection. For the area, this place is pretty good. And they split up 6 packs. Always a plus.
The service is great. The entire staff is friendly, and are always willing to talk beer. They will take you into the cooler to try to find some stuff that isnt on the shelves. Everyone I have talked to there has had a good knowledge for beer.
Overall: This place is the best I have seen so far in the Central Valley. It is not really comparable to some of the great stores in San Diego, or San Francisco, but it is all we have here. If you find yourself in this beer wasteland, stop by this oasis.
Nov 18, 2008
Frank's Liquor & Superette‎ in Visalia, CA
Place rating:
4.07
out of
5
with
9
ratings