Gravity Beer Market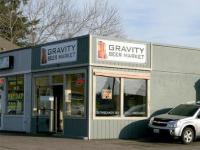 PLACE INFO
Type:
Store
1001 4th Ave E
Olympia
,
Washington
, 98506-4016
United States
(360) 352-5107
// CLOSED //
Notes:
No notes at this time.
Added by RedDiamond on 05-05-2008
Reviews: 14 | Ratings: 17

4.35
/5
rDev
+2.4%
I stopped in while in Olympia on business after finding Gravity here on BA.
This is a great beer-centric store with a solid selection. In fact, I don't think they sell anything but beer. The stock isn't enormous giving the place a lot of open space but what they have is very solid. I picked up a RR Consecration, a Deschutes Black Butte XXI and two Deschutes The Abyss. I was hoping to pick up some Pliny but they were out. The woman running the place was very helpful and knowledgeable.
Gravity has its heart and mind in the right place. It's well worth a visit if you're in the area.
588 characters
3.88
/5
rDev
-8.7%
vibe: 3.75 | quality: 3.5 | service: 4.25 | selection: 4
A: Not really much going in here. It's always sordove laid back and ho-hum per se.
Q: The quality is good. You wont find any crap beer here and I have never had a tainted bottle. A large amount of beer is unrefeigerated but the place is temp controlled so freshness should not be an issue.
S: Roma and staff are always helpful, nice and talkative. I have called on keg inquiries before and never received feedback or a return call.
S: Lots of good PNW stuff with California selections. You really won't find anything rare here. I'm not sure if they play it safe on orders or they don't receive allocations but similar size shops in Tacoma dwarf them on selection and variety. They seem to be slow on getting there product out to the consumers sometime; unsure if this is a distribution thing or what. The $1 markup compared to other local area bottle shops is a bit discouraging. I probably won't be making large hauls here because my money will not go as far but this is a great shop all the way around.
1,010 characters
4
/5
rDev
-5.9%
vibe: 4 | quality: 4 | service: 4 | selection: 4
Could have swore I reviewed this place before. Stand alone store near my buddy elrogish's place. Nothing but beer inside. Some of my first finds there were Bitches Brew and a bunch of Southern Tier stuff. I still can't figure out how ST does it, getting their stuff out this far, but I'm thankful they do. Can't really figure out how they developed their organization strategy here, but no big deal, its all beer, so what if it takes a little longer to find what you're looking for.
Quality brews, lots of PacNW stuff, plenty of others, like I said, good selection of ST and DFH here. Prices are sometimes 10% more than you might see on average, but nothing astronomical. Service is good and chatty if you want to chat, otherwise leaves you alone, let's you take extra cardboard, all in all, a cool place to do some beer shopping.
832 characters
4.15
/5
rDev
-2.4%
Just checked my files and discovered I've never reviewed Gravity Beer Market. What an oversight. I added them to the BA database in the first place and I've been a regular here for several years. The reason I shop here is simply because they have the best beer selection in town. I particularly enjoy the Northwest options with bottles from Snoqualmie, Lazy Boy, Dick's, Diamond Knot, Port Townsend, even Snipes Mountain. There's also a variety of west coast, US, and international beers, plus ciders, some mead, and gluten-free beers. The atmosphere is classy and the people who run the place are super nice. They're not newcomers to the beer biz either. Jeff and Roma have over 25 years combined experience as brewery reps, distributors, and retailers. Prices could be a little lower and I wish they'd max out their floorspace with a bigger selection. But it's a sign of the times when a town like Olympia can support a world class bottle shop like this. If you're in Oly, this is definitely the place to go.
1,010 characters
4.5
/5
rDev
+5.9%
"Judge me by my size, do you?"
Don't walk by Gravity assuming such a small store couldn't possibly have a half dozen gems. It is great to have beer lovers and not profit lovers open a store like this. Roma has gone above and beyond to make sure every trip I made out there was a success, and despite Jeff not being as easy on the eyes, well, he is no slouch either.
the only beers I've ever had from here that were subpar were the occasional "off" beer from Baron Brewery but that is pretty much par for the course with that brewery in my experience.
This is a must-stop for me whenever I'm in town. Highly recommended!
621 characters

4.3
/5
rDev
+1.2%
My dear good people Jeff and Roma own this fantastic little upstart in Olympia and seem to have done quite well by themselves in the 2ish years since they've opened. They always have a very good selection of Washington and other NW brews, as well as Cascade, Russian River sours, starting to get more and more Midnight Sun, and Lost Abbey stuff. Always seems to be cool shit coming and even though they may not get a lot of the good stuff, they always seem to come up with at least a case of some of the more sought after releases.
Unfortunately, being so far from Seattle, they operate through the South Sound distributor, resulting in a markup of fitty cent to a buck a bottle, depending. It is the price you pay for good locally available beer, and I have spent hundreds of dollars here, easily.
I will miss them when I move on to NY, and I do wish them well, as they are great people.
888 characters

4.3
/5
rDev
+1.2%
Roma and Jeff own gravity and they run a decent little brew shop. They keep a solid selection of the stuff that's required of a beer store and occasionally pull something interesting out of their hats.
Their prices tend to be a bit pricey, an 8.50 bottle in Seattle might sell at Gravity for 9 or 9.50, but it's also the only decent family owned beer shop in town.
Don't be afraid to ask if you need something special and can't find it. This summer I had a hankering for a barleywine and Roma rummaged through her private stock int he backroom to produce a fine bottle she had aged for a year. She charged me the original price and sent me on my merry way.
All told, they are fine people running a decent little beer store.
729 characters

4.2
/5
rDev
-1.2%
I regularly visit Oly to see family and am sure to stop by gravity whenever I'm in town.
Q - Lots of high end offerings. Many great beers you don't see at the grocery stores around town.
Svc - Service is good enough for me but not stellar. Most times they ask if I need help from behind the counter.
Selection - wide variety of offerings. Some good Belgians and Sours. I also like that they carry some great ciders.
Value - Some things are marked up above what you'd see elsewhere not too far away but nothing too crazy.
526 characters

4.1
/5
rDev
-3.5%
Q- Half the beer is in a cooler, and the other half is sitting on shelves. Some of the beer, unfortunately spends some of its time in the sun due to a window. I have nothing wrong with the window, but I would think someone would either put some tint on the window, or not put cases of beer in the direct sunlight. Thankfully the beer in the sun isn't anything that is too fantastic.
S- They are helpful and always willing to talk about what they have in stock, or what they will have. Very friendly too.
S- They have a very unique selection. They do get some hard to get stuff, more so then the rest of the stores in the area. But they also have their share of regular craft brew, as well as some pretty strange stuff. I also find that they are very slow to get some things compared to the rest of the state, that could mostly be in part due to the distributors they use.
V- I find that they have a sizable markup. I think some of their beers are priced well, but most are over priced. But because they get some of the harder to find beers it is sort of a catch 22. A person could drive to Bottle Works, 99 Bottles, Malt and Vine, or Whole Foods, but the cost of gas would be more then paying out the money for shopping there.
1,230 characters
4.64
/5
rDev
+9.2%
vibe: 4.5 | quality: 4.5 | service: 5 | selection: 4.5
I have lived in Olympia for about three years now and have just recently discovered this place in the last year. It's the place that converted me from a beer drinker to a beer lover. Since I first visited this place I have been trying has many different types of beer that i can. They have a great selection and are will to help you find what you need or what you might like. They have a friendly and great staff and they are always getting something new in. This is my go to beer store and will be for as long as I am around these parts.
538 characters

3.8
/5
rDev
-10.6%
vibe: 3.5 | quality: 4 | service: 3.5 | selection: 4
When I returned to Olympia to visit I made a point of stopping by the Gravity Beer Market to pick up weekend supplies. There is a decent selection of beer here and better than the specialty sections of most markets, though it isn't an exceptionally large selection. It is a good source for a lot of Northwest Beer that you can't easily find in one place elsewhere.
The interior was pleasant and comfortable. The stock of Beer in the coolers was the same selection on most of the shelves, but there were a couple of shelves near the front that had a bit more of the limited stock. I saw a small amount of glassware near the front counter as well.
While the prices were a bit higher than what I usually find many of these Beers for elsewhere, I know from years of living in Oly that everything in that town is priced higher than elsewhere... so it's about right for that area.
I was pleased with the Beer I left with, though to be fair the offerings don't compare to what you'd find in specialty shops catering to larger markets. I'm glad that there is a store in Olympia that is dedicated to providing a quality selection of Craft Beer.
1,143 characters

3.94
/5
rDev
-7.3%
vibe: 4.25 | quality: 3.5 | service: 4.75 | selection: 3.5
Olympia's finest craft beer store. It's also the only craft beer store...
The great service is what ALWAYS bring me back to this place. I love the staff. I dig the small store feel, even though it limits what they can carry. I don't get huge amounts here, but I do buy lots of regulars here because they are the only place I can get certain items.
As I said, the service/staff is great. They are always willing to help out, carry beer to the car, or suggest something I haven't tried. They even have an easel for the kids!
Some of their prices are a little inflated, yes, but, again, they are the only craft beer store in Olympia, so they don't have a ton of competition. While I don't mind giving them a little extra to keep them around, I just couldn't pay $7.99 for Pliny--when we could get it up here :(.
812 characters

4.75
/5
rDev
+11.8%
One of my favorite Oly establishments. Excellent people. Excellent selection. I feel like saying a lot because of how much I appreciate this store but all I can really say is please go check them out and have a good time supporting a fine shop.
244 characters
4.86
/5
rDev
+14.4%
vibe: 5 | quality: 5 | service: 5 | selection: 4.5
If you find yourself anywhere near downtown Olympia then this is a must stop for you. All beer enthusiasts, new and old, are welcomed with open arms and their wide range of selection combined with extremely qualified staff should help you find whatever your palet is looking for.
Their selection ranges from traditional belgians to Pacfic Northwest micros and if they don't have what your looking for they will order it for you (if they can get it!).
These guys love their beer, they love to drink it, talk about it and and from time to time sell it. Finally the South Sound has a bottleshop to call its own and I for one couldn't be happier.
-Slainte
655 characters
Gravity Beer Market in Olympia, WA
4.25
out of
5
based on
17
ratings.