Railway City Double Dead Elephant
| Railway City Brewing Company
BA SCORE
81
good
13
Reviews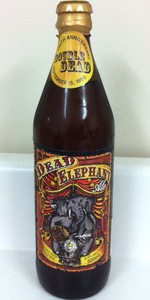 BEER INFO
Brewed by:
Railway City Brewing Company
Ontario
,
Canada
railwaycitybrewing.com
Style:
American Double / Imperial IPA
Alcohol by volume (ABV):
7.50%
Availability:
Rotating
Notes / Commercial Description:
90 IBU
Added by Sammy on 09-27-2010
Reviews: 13 | Ratings: 49

4.25
/5
rDev
+25%
Purchase at the LCBO for around $6.95 or so in a challis at 5deg C
A- 4.25- Nice dark unfiltered brew. Nice Nice Nice
S-4.25- This is a good brew
T- 4.5- This is where this beer shines. WOW. What nice well balanced brew
M- 3.75- A touch bitter. Aftertaste leaves something to be desired.
O- 4.15- This is what it deserves. Looking forward to dinner!!!
Food Pairing
This Nice brew went well with...... Dynamite Sushi Roll!!!
Enjoy!!!!
443 characters
4
/5
rDev
+17.6%
look: 4 | smell: 4 | taste: 4 | feel: 4 | overall: 4
My favourite Railway City brew, so delighted to see it and enjoy it again!! Beautiful amber colour, head and decent mouthfeel.
Aroma has a malt backbone with citrus hop twist. Not too sharp, but not dull either. Flavour is well-balanced (buttery diacetyl at a minimum), and really well done : citrus and pine finish plus an excellent grain portfolio.
This keg was fresh and brilliant. Definitely recommend!
408 characters

3.87
/5
rDev
+13.8%
look: 4 | smell: 3.75 | taste: 4 | feel: 3.75 | overall: 3.75
750 ml bottle purchased from the LCBO for about $11 CDN. A beautiful weekend early fall day seems like a good time to crack this. Served cool into a Keith's pint glass.
Appearance - beautiful slightly hazy vibrant orange color. Plenty of effervescent bubbles rise to the top and a finger and half of white head takes its sweet time on relinquishing its hold on the glass. Leaves behind plenty of lacing.
Smell - Nice big does of tropical fruits, that is fulfilling but not overwhelming. Some sweet caramel and mango aromas let you know that this most certainly is related to the original dead elephant beer, the aromatic similarities are striking. This has a touch more citrus aroma, maybe some pineapple is making the difference. A lot of candied fruit aromas too.
Taste - Quite fruity, the mango and pineapple come through here. Not nearly the bitterness expected, if anything until the aftertaste this is too sweet, full of sugar and candied fruit flavors. Some mild bitterness comes on mid sip and leaves behind a residual bitter aftertaste.
Mouthfeel - Lively carbonation, juicy in the mouth yet finishes dry.
Overall - Certanly not the biggest or baddest or most intense in the style, as this is actually nearly as sessionable as a stock IPA, but is cretianly plenty tasty and well crafted. A bit sweet with too much candied fruit flavor for my liking and the 90 IBU's certainly seem subdued but other than this is quite a good beer. The only drawback for me on repeating this purchase is the steep price.
1,520 characters
3.58
/5
rDev
+5.3%
look: 4 | smell: 3.5 | taste: 3.5 | feel: 4 | overall: 3.5
Got this one at the LCBO this past October
From a 750 into a snifter
IBU: 90
APPEARANCE: Pours a three finger, medium looking, creamy white head with excellent retention. Hazy gamboge orange with medium levels of carbonation. Head slowly fades to a full wisp and foamy cap with lots of sticky lacing on the glass. A good splotchy wisp with piles of lacing down the glass.
SMELL: Caramel, lots of grapefruit and some soapy notes as well. Citrus lemon and a touch of old yeast perhaps. That's a little odd, but it doesn't get in the way. Still, it's there.
TASTE: Caramel sweetness and some light lemon flavors up front. Lots of bitter hops at the swallow with a big and bold finish of bitter grapefruit, lemon, sweet caramel, some grassy hops and just a hint of that old yeast character as well. Very bitter and aggressive. Enjoyable enough.
PALATE: Medium body and medium levels of carbonation. Creamy enough, goes down smooth and finishes a touch dry. Bitterness lingers.
OVERALL: This is actually quite good. The slight old yeast character might have been a mistake somewhere, as if they left it in the primary for a few months instead of a few weeks, but it's not that big of a deal. Fix that issue and this would be great, though it's certainly enjoyable as it is now. One worth picking up if you see it around, and will be especially interested in drinking a potential fresh batch closer to the summer months if they decide to brew it again. *hint hint* Cheers.
1,487 characters
3.5
/5
rDev
+2.9%
look: 3.5 | smell: 3.5 | taste: 3.5 | feel: 3.5 | overall: 3.5
Bottle: Poured an amber color ale with a large foamy head with good retention and some lacing. Aroma of citrusy and bitter hops with some caramel malt notes is OK. Taste is a mix of citrusy and resinous hops with bitter hops and some caramel malt. Body is full with good carbonation. Old school IIPA with too much caramel malt and bitterness.
342 characters

3.45
/5
rDev
+1.5%
look: 4.25 | smell: 3.5 | taste: 3.25 | feel: 3.5 | overall: 3.5
750 mL bottle with an attractive silk-screened label, picked up at the LCBO. The back label tells me to check the base of the bottle for a best before date, but there is nothing printed there. Now listed at 7.5%, a blurb from the release announcement states that the recipe for this brew has been tweaked from previous years (including a generous billet of locally-sourced Cascade hops), and that it can "now actually be considered an Imperial IPA" (their words, not mine). Served well-chilled.
Pours a bright, hazy orange-amber colour, topped with just over two fingers' worth of fluffy, bubbly off-white head. Retention is excellent; it takes more than five minutes for the foam to slowly recede into a more manageable half-inch cap, coating the glass with a curtain of generous lace as this process proceeds. Very visually enticing. The aroma isn't bad either, but it's not all that unique for the style. Cascade hops and their piney, orangey-citrus notes are very prominent, alongside caramel malt sweetness and an earthy, almost herbal note on the back end.
Three sips in, and my only thought is "...that's it?" This is a fairly bitter beer, but the malt backbone is not to be forgotten - bready malts, butterscotch and a hint of toasted biscuits come through initially, providing a good kick of malty sweetness to help counter the hop assault that features strongly through the tail end of the profile. Pine resin and slight grapefruit pith notes come through as well, with an oddly out-of-place green, floral bitterness shining through briefly. It finishes with an earthy bitterness that lingers briefly - not overpowering for 90 IBUs. Medium in body, with a slick mouthfeel and rather muted carbonation levels. The alcohol doesn't factor into the flavour greatly, but is slightly noticeable.
Final Grade: 3.45, a B-. Double Dead Elephant just isn't doing it for me - I haven't been this disappointed by a craft beer in quite a while. Is this a terrible DIPA? No - it's just an overpriced, relatively forgettable one. Railway City was the only truly 'local' brewery I had access to for many years so there will always be a soft spot in my heart for them - but they are going to need to try harder than this if they want to compete in the IPA game. I might buy this again if the bottle (and more importantly, the price tag) were smaller but until then there is not exactly a shortage of quality, alternative IPAs in this province for me to select.
2,458 characters
3.41
/5
rDev
+0.3%
look: 4 | smell: 3 | taste: 3.5 | feel: 3.5 | overall: 3.5
Had this on tap at C'est What's 2010 Fall Festival of Craft Breweries. Pours a clear orange colour with some foamy white head. Smells of citrus hops with a small bit of caramel malt coming through. Some bitterness and hop flavour, but not up to a double IPA level. I thought the normal dead guy was more like an APA than an IPA, just as I think this is more of an IPA than a IIPA.
380 characters

3.39
/5
rDev
-0.3%
look: 4.5 | smell: 3.5 | taste: 3.25 | feel: 2.75 | overall: 3.5
Bright apricot orange with a moderate head that settles to a heavy film. Lots of lace. A handsome beer.
Hoppy nose. Grapefruit and other sweet fruit. Some caramel. Grapefruit and pine to taste. Fruit and caramel. Somewhat wooden in character, bitter bite. Big in your face stuff, not particularly subtle. Lingering bitterness.
327 characters
3.26
/5
rDev
-4.1%
look: 4 | smell: 3.5 | taste: 3.25 | feel: 2.75 | overall: 3
Alc./vol 6.5%
A: Pours a medium copper, sort of like a clover honey colour. Frothy white head about 1 inch then falls after a few minutes to a film. Lacing is low-medium throughout. Beer is very clear.
S: Grainy malt with hints of caramel and biscuit. Hop aroma is very floral with hints of grass.
T: Sweet yet not too malty. Hints of biscuit, some floral flavours. In the background there are some fruitiness present. Flavour is a bit watered down though.
M: Thin, watery, carbonation is low-medium. Dry and bitter finish.
O: Not all that impressed. The taste and mouthfeel are not what I had expected after smelling the beer. This is a very average beer and the mouthfeel just puts me off.
696 characters
3.06
/5
rDev
-10%
look: 4 | smell: 3 | taste: 3 | feel: 3 | overall: 3
Bottle- Pours a turbid orange with a frothy and lacey eggshell cap. Nose of apricot,pear, some c- hops with pine and some grapefruit. The aroma also has caramel and odd notes of warm butter. Tastes mildly leafy bitter, mostly sweet, with apricot and other fresh fruit,a bit of earthy funk, then comes the citrus with medium bitterness lingering and a medium body. Not all that bitter really when compared to regular DEA. A disappointment. The only they doubled here was the price.
480 characters
2.97
/5
rDev
-12.6%
look: 3.5 | smell: 4 | taste: 2.5 | feel: 3 | overall: 2.5
On-tap at C'est What Fall Festival 2010 of Craft Brewers. Not very popular, this wa but a fair DIPA. Above average carbonation with below average mouthfeel. Yellow and oh so lacey. Not very drinkable. Not acidic but not flavourful melang of ingrediants.
253 characters

2.79
/5
rDev
-17.9%
look: 4 | smell: 2.5 | taste: 2.5 | feel: 3.5 | overall: 3
500ml bottle courtesy of Sonita Bird. Thanks again! My understanding is that this beer is a "fresh hop" IPA brewed with locally harvested hops. It's an annual fall release and, to my knowledge, is NOT meant to be an Imperial IPA (hence the same ABV as Dead Elephant). I believe it has different and higher amounts of hops than the regular DEA and that is why the "Double" name is used.
Pours a clear copper hue with golden edges, some chill haze, and a thin ring of cream coloured froth. A few spots of lacing speckle the pint glass.
Nose is perfume, flower petals, peanut brittle, hints of rubber and plastic, bread dough, strawberry, and weedy-grassy notes. Hops are very "raw" in this beer, but the aroma isn't particularly appetizing. Smells like an amateur home brew that's trying to be a hop bomb but falls short.
Taste is floral and spicy hops, more nuttiness, toffee, cotton candy sweetness, faint strawberry, weak bitter finish with a green grassiness on the cough. A weird melange of flavours, quite muddled and not overly enjoyable.
Mouthfeel is medium bodied, a little slick and oily, sharp carbonated bite precedes a mild citric bitterness and drying finish. Better than the taste at least.
Overall, I was excited to hear that RCB was doing a fresh hop IPA, but it seems like they don't know how to brew with high levels of hops. This beer is too green, perfumey, and flowery, in an unpleasant and novice sort of way. The rubbery, plasticy, and strong nutty elements are probably unintentional (still having equipment problems and resin build-ups, perhaps?) and the bitterness is subdued for the style. I wanted to like this ale but it's dreadfully flawed. When will this brewer step up its skills and improve its quality control? I'm concerned we might never see that day come. A massively disappointing beer.
1,849 characters

2.13
/5
rDev
-37.4%
look: 4.25 | smell: 2.5 | taste: 1.75 | feel: 2.25 | overall: 1.75
$10.95 for a 750ml bottle at the lcbo.
Pours a hazy light amber with a frothy, long-lasting head that leaves a good amount of foam on the glass. The aroma is herbal and pine hops with malt sweetness and some diacetyl. A somewhat brash hop bitterness and some medicinal alcohol compete with some citrusy, mango hops and some cookie dough. Diacetyl is also noticeable in the taste. The mouthfeel is full bodied and creamy with lots of delicate carbonation. The finish is moderately bitter with some sweetness and tobacco.
A lackluster IPA with a very limited hop profile, diacetyl and way too much alcohol presence for the low ABV for style. Also too expensive. Pass.
674 characters
Railway City Double Dead Elephant from Railway City Brewing Company
3.4
out of
5
based on
49
ratings.