Railway City Sham-Bock
| Railway City Brewing Company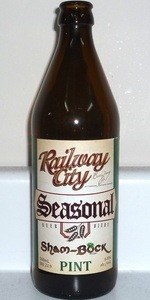 BEER INFO
Brewed by:
Railway City Brewing Company
Ontario
,
Canada
railwaycitybrewing.com
Style:
Doppelbock
Alcohol by volume (ABV):
6.80%
Availability:
Spring
Notes / Commercial Description:
A German beer for an Irish holiday!
Notes of dark fruits raisins and figs, molasses and dark maple syrup. Plum and toffee are foremost with a hint of chocolate. True to the Doppelbock style, Shambock is a little sweet, higher alcohol (6.8% ABV) with a minimal hop profile. Like a good lager, Shambock is very drinkable, impeccably clean and crisp in finish. Pours a creamy mocha head, which is dense in texture with a little lacing.
22.9 IBU
Added by cratez on 03-17-2011
Reviews: 15 | Ratings: 34

3.99
/5
rDev
+5%
look: 4.25 | smell: 4 | taste: 4 | feel: 3.75 | overall: 4
Purchased at the LCBO for approx. $6.00 served at 6deg C in a draught glass
A- Very good. Dark. Opens well but head dissipates to nothing in less than 1min
S- Very good. Smokiness and malt
T- Very good. Caramel and roasted malt. Banana
M- Ok. A bit creamy
O- Pretty good. Barley hints make this a winner.
Food Pairing
This nice little bock paired well with... Beef Stew
Enjoy
384 characters

3.56
/5
rDev
-6.3%
look: 4 | smell: 3.5 | taste: 3.5 | feel: 3.25 | overall: 3.75
Bomber from the Ottawa LCBO for $6
Appearance - Hazy brown colour with a good size frothy beige coloured head. There is a low amount of carbonation showing and there is some really good lacing. The head lasted for around 5 minutes before it was gone.
Smell - Malts, dark fruits, anise, dates
Taste & Mouth - There is a below average amount of carbonation and I can taste malts, dates, and raisins. There is also some anise, maple syrup, and a light amount of chocolate and smoke.
Overall - An interesting beer that is well worth trying once. Not and everyday beer, but a nice change of pace brew.
600 characters

3.47
/5
rDev
-8.7%
look: 3.5 | smell: 3.25 | taste: 3.5 | feel: 3.75 | overall: 3.5
Cola coloured beer under a moderate head that quickly gives way to just a thin, thin ring. No lace or other stuff, so pretty plain Jane looking.
Obvious sweetness in the nose from the maple syrup, has that characteristic maple earthy funk thing that happens when maple meets beer (i.e. overcooked syrup). Tends to show some fruitiness as well. Sweet and malty to taste, flavour of amber or cooking grade maple. Slightly thin bodied initially, but manages somehow to finish with a fuller than expected mouthfeel.
I'm not a big fan of maple-based beers, but this still comes across as one of the better examples out there. Not for drinking a ton of though, I think.
665 characters

3.57
/5
rDev
-6.1%
look: 3.5 | smell: 3.25 | taste: 3.75 | feel: 3.75 | overall: 3.5
650 ml bottle purchased from LBCO for $6.95 CDN. Served well-chilled into glassware.
Appearance - Very dark brown in color with significant reddish hues. Hazy and dark enough to not be able to see through. 1 finger of ivory head dissipates quickly leaving a soapy residue and some trace lacing around the glass.
Smell - Festive smelling, some dark fruits and maybe some figs and plums mixed with alcohol. Also a certain molasses sweetness, that is at once welcoming and also quite potent. Also, as it warms there's a certain overripe tropical fruit aroma with a couple of funky aromas.
Taste - Quite like the nose, where the molasses is the start although there's quite a bitterness up front that lingers, melding in with some strong malts. Alcohol is present as well, and the fruits are less noticeable than in the nose. The sensation of overripe tropical fruit (mango / papaya) is one that I don't really care for, but it works reasonably well here. As the beer warms some more some biter caramel flavor begins to shine through as well.
Mouthfeel - Smooth and syrupy yet with moderately high carbonation. The body is a bit thinner than expected, although in this case that's a good thing to prevent the syrupiness from taking over.
Overall - Well crafted beer that is flavorful, smells good and strikes most of the right notes. It's a beer that was good, but it's not something I think I would repeat as the flavor profile just isn't my favorite. Still, definitely one of Railway City's best and worth trying at least once.
1,530 characters
3.57
/5
rDev
-6.1%
look: 3.75 | smell: 3.5 | taste: 3.5 | feel: 3.5 | overall: 3.75
Bottle: Poured a deep brown color bock with a nice off-white foamy head with good retention and some lacing. Aroma of biscuit malt with some caramel malt is enjoyable enough. Taste is dominated by some caramel malt with light touch of biscuit malt and limited complexity from the esters which I was expecting more of. Body is about average with good carbonation. Good drinkability enough but falls short in terms of complexity.
427 characters

3.71
/5
rDev
-2.4%
look: 4.25 | smell: 3.75 | taste: 3.5 | feel: 4 | overall: 3.75
Deep brown colour, touch of ruby near the top, 1.5 fingers of tan/off white head, tons of lace. Smell is full of raisin and plum, anise, fairly rich malt, a bit of soy and a little alcohol as well. Taste is initially plum, dark fruits and malt followed instantly by bitternes, raisin and dark breadss, some sweet points mid palate with more earthy bitterness toward the finish. Lightly carbonated, medium-full creamy body, nice feel. Probably the best beer I have had from these guys and an above average dopplebock altogether.
527 characters

3.71
/5
rDev
-2.4%
look: 4.25 | smell: 3.75 | taste: 3.75 | feel: 3.5 | overall: 3.5
Sham-Bock is most definitely not green, far from it. It is a deep black olive toned beer. Even a strong afternoon sun can hardly eke out any colour. And clarity? Forget about it! (Even though it is technically clear, there's no sediment or haze to distort it, only its naturally dark complexion.) Initially quite chunky, its head sheds weight over time.
The truly wonderful thing about Doppelbocks is that they combine so many diverse elements: sweet malts and dark fruits, roast, yeasty and alcohol esters, spices, herbalness. It is, for my money, among the richest and deepest beer style. This offering, mind you, is nowhere near the top of its class. It has some of those characteristics, but it's not exactly exemplary.
Indeed, were this the only doppelbock you've tried you wouldn't understand my statement about this being a rich, intricate style. Don't get me wrong, there's plenty of flavour here - loads of plum and prune, licorice, roasted nuts, coffee grinds, dark toffee - but it doesn't come close to the depth of the German classics (i.e, Korbinian, Salvator, Celebrator).
Now, let's be fair, those aren't exactly fair comparisons - you wouldn't liken just any band to the Beatles or any film to Life is Beautiful. Let's not be ridiculous. The fact is that Railway City has done a considerably good job at this strong, hearty style; they've been sure to use lots of malt and, given the smoothness and lack of alcohol presence, lagered it for the appropriate time.
Bocks are spring-time beers, nobody is arguing that. But to release one as a St. Paddy's Day offering doesn't make much sense to me. Nothing about this rich, dark, strong style is suited to convivial, copious consumption (not that I'm advocating that kind of drinking). At the same time, however, this version is not quite rich or complex enough for slow, contemplative slipping either.
1,872 characters

4.05
/5
rDev
+6.6%
look: 4 | smell: 4.5 | taste: 4 | feel: 3.25 | overall: 4
650 mL bottle picked up at the LCBO; best before May 17 2014. In previous years, this was a brewery-only seasonal whose availability window I would always manage to 'just miss'. Naturally, I am pumped to see it has been made available in retail stores - particularly given the dearth of doppelbocks at the moment. Served slightly chilled.
Pours a dark, cola brown colour with some crimson red tinges under the light. Nearly two fingers of puffy, light beige, sponge toffee-like head erupts at the surface, receding at a much more leisurely pace over the next five minutes or so. A thin film and some minor lace is left behind. I am really digging the aroma on this one - lots of dark fruit; mostly plum and black cherry, with dark roasted malts and notes of baker's chocolate, maple sap and a strong molasses presence.
This is a really tasty bock that is very malt-forward as one might hope; dark roasted malts and molasses comprise the bulk of the backbone. A hint of cocoa is also detectable, but fruity raisin and plum notes soon demand your tongue's attention. It finishes with notes of caramelized sugar, maple syrup sweetness and a touch of herbal, somewhat earthy hops. The alcohol isn't much of a factor, though it's detectable (I don't consider this a problem in doppels). My only gripe with this beer is the mouthfeel - on the lighter side of medium-bodied; this is pretty watery, with rather limp, flat carbonation. A tolerable flaw, given the fact that this beer is otherwise quite delicious.
Final Grade: 4.05, just eking out an A-. I have heard for a few years that Sham-Bock is probably Railway City's best offering, and having finally sampled it I may have to agree. The Black Coal Stout is a little more up my alley, but this is still a very well-made doppelbock, a style that historically does not always leave me terribly impressed. If you're a bock fan, this stuff is absolutely worth the effort of snagging a bottle or two, especially with the release of Amsterdam's Spring Bock still being a month or so off. A great effort from a solid local brewery that I am happy to keep supporting. I recommend picking this one up while it's still good and fresh - crack it before St. Paddy's, for sure.
2,217 characters
3.81
/5
rDev
+0.3%
look: 4 | smell: 3.5 | taste: 4 | feel: 3.75 | overall: 3.75
From notes taken earlier tonight at Imbibe in Kitchener...
A visually appealing pint, a clear almost luminescent dark auburn with limited head, but good retention. Aroma is rich and focuses on roasted dark malts. The taste is also robust, with more coffee and chocolate notes than I'd expected from a typical "doppelbock". Germanic but with a decent North American twist.
Above and beyond the style, without a hint of diacetyl. Well done, Railway City! A small brewery I'll continue to support any chance I get...
515 characters
4.07
/5
rDev
+7.1%
look: 4 | smell: 4.5 | taste: 4 | feel: 3.5 | overall: 4
Comes in a 500mL bottle, the bottle I got was from their third batch of their 2012 brew and it has an expiration date of April 27th.
Appearance - pours a very dark brown with some amber notes. Not too much head to speak of, went away pretty quickly.
Smell - very nice smelling beer, chocolate is the dominating smell, then some dark fruits and a little caramel in there.
Taste - follows up with the smell pretty well, little bit watery but not bad, little breadiness, kind of sweet. Little bit of bitterness despite the fairly low IBU count. Very drinkable.
Mouthfeel - very nice mouthfeel, closer to medium bodied.
Overall - I am quite impressed by this beer, I find that the brewery makes nice introductory stuff and they really stepped it up with this beer. I also like that they use local ingredients. On a random note I would like to say that this brewery makes excellent shirts, which I can't say for most of the breweries in the same area. And they come in smalls, where as most assume that all beer drinking wear atleast a medium.
1,045 characters

4.03
/5
rDev
+6.1%
look: 4.5 | smell: 4 | taste: 4 | feel: 4 | overall: 4
On tap at C'est What, into a nonic pint.
Poured a dark burgundy, some ruby and violet highlights in the body. A creamy, short head (typical of C'est What pours, so I won't knock it - more beer for me!) that's just offwhite and laces sheets. Nose of dark fruits, lots of chocolate and caramel (more as it warms), hints to some smoke. Taste is really malt forward, some dark fruit with some grain and dark bread-iness. Finish is a touch watery, and the ever so slightest hint of metal I think. Mild bitterness, low carbonation with a smooth, creamy mouthfeel. Well put together Railway City, a winner.
600 characters
4
/5
rDev
+5.3%
look: 4 | smell: 4 | taste: 4 | feel: 4 | overall: 4
Just had a pint of this at C'est What. It was on the menu just as "Doppelbock", so I'll assume this is the same beer. Pours a dark brown colour with hints of amber. Nice slightly tan head with good head retention and some lacing down the glass. Smells of chocolate with some fruitiness and grainy malt. Nice sweet flavour. This is easily my favourite beer from Railway City so far.
381 characters
3.62
/5
rDev
-4.7%
look: 3.5 | smell: 4 | taste: 3.5 | feel: 3.5 | overall: 3.5
Bottle with many thanks to Paul from RWCB. A chestnut pour decants an eggshell creamy cap leaving some spotty lace. Nose is quite toasty, and leads to perfume, bubblegum, spice box, prune and burnt sugar. One of the nicest noses on a beer I have had recently. Sweet, sugary and malty, only a mild bitterness. Just slightly malty toasty. Medium bodied, a bit thinner than I'd like. Creamy finish with superb drinkability. Really an excellent effort from this brewer. Way to go guys!
481 characters

4.55
/5
rDev
+19.7%
look: 4.5 | smell: 4.5 | taste: 4.5 | feel: 5 | overall: 4.5
I have tried a lot of different beers and pride myself on being a porter/stout lover.
Appearance - Pretty much opaque in colour, head is about 2 fingers and then settles down to a sexy lace all the way down to the end.
Smell - Bread and yeast come to the nose paired with coffee and caramel, a little sent of burntness, pretty sure that's not a word but not too much else to descibe it.
Taste - Taste is just like the smell, lots of coffee and caramel, roasted malts with some hops flavours as well.
Mouthfeel - OMG to describe how this feels in the mouth is beyond words, for the 6.8% I could easily drink this beer all night and probably will. Too easy to drink for the ABV.
Overall - I'm from London and not that St.Thomas is that far away but I know where I will be driving every March to stock up on Sham-Bock, Probably the best "DoppelBock" style that I have tasted in, well almost forever. Definatly will be buying A LOT more of this brew, absolutly amazing! A must try for all beer aficionado's. Thank you Railway City Brewing Co. I no longer have to drive to the States for great Craft beers.
1,106 characters

3.67
/5
rDev
-3.4%
look: 3.5 | smell: 4 | taste: 3.5 | feel: 3 | overall: 4
500ml bottle fresh from the brewery, courtesy of Paul and mrmanning. Thanks fellas! Pours a dark brown hue with ruby edges and a thin ring of cream coloured head. A few spots of lacing grace the top half of the pint glass. Smell is toasty malts, treacle, fresh dates, figs, burnt sugars, hard licorice candy, and small traces of raisin and plum. Very aromatic. Taste is toasty and roasted malts upfront, semi-sweet dark fruit flavours (plums, dates) give way to a watery middle, mild alcoholic sting (somewhat sugary) precedes a biscuity, dry finish. No bitterness. Mouthfeel is thin for the style, lighter than medium bodied, low carbonation with a chalky finish and fleeting aftertaste. Overall, this needs more body but it's still a pleasant, drinkable bock. Another solid seasonal from RCB. Good stuff, Barb and Co.!
820 characters
Railway City Sham-Bock from Railway City Brewing Company
3.8
out of
5
based on
34
ratings.