Railway City Black Coal Stout
| Railway City Brewing Company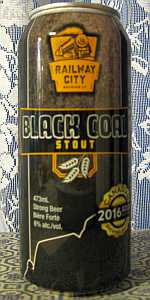 BEER INFO
Brewed by:
Railway City Brewing Company
Ontario
,
Canada
railwaycitybrewing.com
Style:
American Stout
Alcohol by volume (ABV):
6.00%
Availability:
Winter
Notes / Commercial Description:
No notes at this time.
Added by thehyperduck on 12-17-2012
Reviews: 12 | Ratings: 56
3.6
/5
rDev
-4%
look: 3.5 | smell: 4 | taste: 3.5 | feel: 3.25 | overall: 3.5
Ok drinkability, possibly one of the better ones I have had from this brewery. Decent amount of smoke to make it interesting. A bit thin mouthfeel. Lots of licorice in the finish, hazelnut like flavouring. Bottle at Stouts Irish Pub in Toronto. Black without visible head.
272 characters
4.08
/5
rDev
+8.8%
look: 4.25 | smell: 4.25 | taste: 4.25 | feel: 3 | overall: 4
I bought a can of this from the beer store in Brantford whilst in Canada for my son's hockey tournament. It poured an opaque black with tan head that is leaving a spotty lace. The scent is roast and slight espresso. The taste is nicely balanced and easy to drink. There was coffee and slight touch of chocolate. The Mouthfeel was lighter in body with good carbonation. Overall it's a solid stout.
396 characters
3.66
/5
rDev
-2.4%
look: 2.5 | smell: 4 | taste: 4 | feel: 2.5 | overall: 3.5
Got this one at the LCBO in Toronto this past summer.
From a can into a pint glass
APPEARANCE: Clear black pour yields a 3+ finger, medium-looser looking, foamy, light tan head with half decent retention. Swiss cheese head pops and fizzes down to a foamy cap with foamy lacing on the glass. Clear black body with no real carbonation evident. A half wisp remains leaving touches of lacing on the glass. Lousy head on this one but the body is alright.
SMELL: Roasted barley, burnt notes, dark fruits, leather and tobacco on the nose. Notes of burnt coffee with dark chocolate as well. Quite aromatic. Good stuff.
TASTE: Roasted barley with burnt and charred flavors up front. Medium strength with more flavor at the swallow. Burnt malts, leather, tobacco, bitter burnt coffee and some sweet cream linger on the palate. Pretty flavorful after the swallow.
PALATE: Slightly thinner body and higher levels of carbonation. Light on the palate, a bit foamy perhaps, goes down fine and finishes a bit mouth-coating. Too light and foamy for the style, but creamy enough.
OVERALL: Okay, and the name Black Coal fits the bill here as well. The look and feel could use some work but the base recipe is solid. Good aroma and the flavor works well, especially after the swallow. Well worth checking out if you get the chance, and I'll definitely be on the look out for another batch when I'm home again in July. Cheers!
1,420 characters

3.87
/5
rDev
+3.2%
look: 4.25 | smell: 3.5 | taste: 4 | feel: 3.75 | overall: 4
500 mL bottle from the brewery; best before Feb 7 2013. I enjoyed the sample I had while visiting, and decided to pick up a few bottles of this before I left. I don't think this is the first year they've brewed this particular stout (since it has apparently won a Silver Medal in something-or-other), but apparently I'm the first BA to review it.
Pouring black as night, this one handily earns its 'black coal' nickname with an opaque black hue and two fingers' worth of dense, foamy brown head at the surface. It gradually dies down over a period of minutes, coating the glass with webs of lacing. The aroma is full of rich roasted malt character, with baker's chocolate, mocha and burnt coffee grind notes. Not particularly complex or anything, but the aroma is powerful and intense, which is enough to say it does its job well and has me eager to sip.
Very tasty stuff, with lots of roasted grains and nuts at first, followed by dark chocolate and spent coffee grinds. A slight twinge of dark cherries toward the finish, but this is quickly scrubbed away by the roasted coffee flavours in the finish. Slightly herbal - perhaps with shades of anise - and a roasty, malty aftertaste that lingers on the palate. Medium-bodied, pretty creamy, with mild carbonation that gently prickles the tongue and leaves the mouthfeel of this stuff supremely smooth. Very drinkable, even at 6%; I could definitely have a few of these in a night. Black Coal Stout is probably the best beer that Railway City brews, at least judging from my own experience - so it's a bit of a shame this stuff probably won't see distribution nearly as wide as their Dead Elephant or Blonde any time soon.
[Updated Mar 29 2016]
Another can, dated from earlier this month. Despite my original pessimism, this has now been available in LCBOs for at least 2 years. I still feel that it's a solid stout, but my enthusiasm has wavered a bit recently - the roasted malts are a bit lacking in intensity, and overall this beer doesn't really impress me as much as it used to. Good, not great - but certainly worth a look, at least.
Final Grade: 3.87, a solid B+.
2,130 characters

3.7
/5
rDev
-1.3%
look: 4.5 | smell: 3.75 | taste: 3.5 | feel: 3.75 | overall: 3.75
Can > Tulip Glass
A - Pitch black with a nice two finger tan head, little to no lacing.
S - Nice and smokey, rich earthy darker hop tones, dark chocolate, burnt toffee
T - Flavors get a little muddy here, and somewhat metallic, but some smoke, roasted dark chocolate malt, earthy hop bite, and a kind of burnt flavor too
M - Medium feel, Id prefer this be a bit more rich
O - Decent stout, its hitting the mark in some areas but a good representation overall
458 characters

3.08
/5
rDev
-17.9%
look: 3.25 | smell: 3.25 | taste: 3 | feel: 3 | overall: 3
Dark with a good looking head. Some spotty lace, not a ton. Smells dusty and smoky, proper for a stout. Lots of licorice to taste, some smoke, but oddly sweet somehow. Not quite what I was expecting that way. Thin bodied, slightly drying. Passably good, but for the odd sweetness.
280 characters

3.92
/5
rDev
+4.5%
look: 4 | smell: 3.75 | taste: 4 | feel: 4.25 | overall: 3.75
473 ml can served cold into a pint glass. Purchased from the LCBO for about $3.15 CDN.
Appearance - this stout poured jet black with a big finger and a half of brown head that sadly dissipated quickly. Some small amount of lacing left behind.
Smell - big roasty aromas, namely coffee and a tobacco smoke mixed with peat. There is an underlying sweet note in there when mixed with a woody aspect.
Taste - a healthy dose of an earthy peat like flavor, with some coffee, just a trace of vanilla, before returning bitter and smokey. There's maybe some licorice in there too, but it's quite subtle in comparison to the peat and coffee and smoke.
Mouthfeel - quite smooth and a bit oily, but plenty of carbonation to keep it interesting.
Overall - a well crafted and pretty tasty stout with a nice blend of peat, vanilla, coffee and a trace of wood and licorice going on. Worth a try but I didn't find anything g otherworldly about this. Still a very good stout and yet another good offering from Railway City.
Edit- July 11, 2015- I had this again and was very impressed with the appearance, taste and mouthfeel of this beer. Smoother, richer and more decadent than I remember with more chocolate notes than the strong earthy and coffee combo I recall from these notes. Well put together and very quaffable even on the hottest day of the year ( so far).
1,355 characters
3.98
/5
rDev
+6.1%
look: 4.5 | smell: 4 | taste: 4 | feel: 3.5 | overall: 4
From notes taken last week while on tap at "The Kick-Off" in Waterloo. Remember enjoying it last year and possibly also the year before, but not sure how long Railway City has been brewing this seasonal.
Stunningly beautiful draught pour, a murky black with large bubbled, coffee-coloured head. However mouthfeel is thinner than I'd expect, lacking creaminess .
The aroma is excellent. Coffee is the predominant note, with enough roasted malts to be interesting. A complex malt-forward flavour, both roasted and toasted, with chocolate and coffee elements. Another positive is that this pint has no discernible diacetyl, which seems to be a struggle for this brewery.
An excellent Ontario dry stout that I'd highly recommend.
729 characters

4.03
/5
rDev
+7.5%
look: 4.5 | smell: 4.5 | taste: 3.75 | feel: 3.75 | overall: 4
Purchased at the LCBO for just over $3.00 for a 473ml can. Served at 4deg C in a draught glass
A- Opens well and pours a 1" high head that lasts for over 3mins before film out. Almost black color
S- Oodles of coffee, toffee and chocolate.
T- Big let down here. Thought it would be super hearty instead got super low flavor. Low hops, low malt, low everything. Just lacking but what is there is good mind you
M- Watery and thin.
O- Not bad but just not there. Way too light for me.
Food Pairing
This ok brew went well with...... Lamb chops in a chocolate sauce
Enjoy
576 characters
3.45
/5
rDev
-8%
look: 4 | smell: 4 | taste: 3 | feel: 3.5 | overall: 3.5
While it's a respectable brew, the problem is that the appearance (dark, nice head, very sharp poured into the pint glass) and the smell (lots of chocolate, coffee, caramel) set up expectations that the taste can't deliver on: it's not bad, just quite light in flavour, and a bit watery in feel.
295 characters

3.93
/5
rDev
+4.8%
look: 4.5 | smell: 4 | taste: 4 | feel: 3 | overall: 4
One of their better beers for sure.
Very dark brown with a nice thick brown head.
Smells very smokey, kind of like coal, interestingly enough.
Coffee, smoke, chocolate, dark malts, a hint of sweetness and bitterness. Seems to be missing something though, not much body here.
Very dry, almost chalky texture, thin mouthfeel. Definitely something missing, but still very good!
379 characters
3.61
/5
rDev
-3.7%
look: 4 | smell: 3.5 | taste: 3.5 | feel: 3.75 | overall: 3.75
'Railway City Black coal Stout' 743 can 6%abv
A: Dark black brew with a creamy head receding quickly to thin ring.
Ar: fresh malty
T: smokey!, medium low bittering, strong roast tastes. heavy smoke
F: lots of carbination, medium body
235 characters
Railway City Black Coal Stout from Railway City Brewing Company
3.75
out of
5
based on
56
ratings.