Bristol
| Microbrasserie Le Corsaire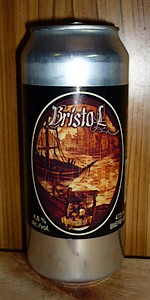 BEER INFO
Brewed by:
Microbrasserie Le Corsaire
Quebec
,
Canada
|
website
Style:
Extra Special / Strong Bitter (ESB)
Alcohol by volume (ABV):
4.80%
Availability:
Year-round
Notes / Commercial Description:
No notes at this time.
Added by ZorPrime on 07-13-2009
Reviews: 9 | Ratings: 14
Reviews by MaliciousMatt:
3.77
/5
rDev
+16.7%
look: 3 | smell: 3.5 | taste: 4 | feel: 3.5 | overall: 4
It's about somebody decides to make beer in can here! It's a bit expensive tought, if I were to buy a six pack of those it would cost around 20$ according to unit price...mmm...
Anyway, I was really glad I tried this one.
A : Nice hazy ruby brown, poured a nice tight mayonaise colored head. Fades quickly, no lacing.
S : nice malt with a little tiny hint of black fruit
T: It does the job. You drink it and you say : yes. It does not blow your mind but it is still better then most stuff you can get in can usually here. Nice malt taste with juste a little sweetness that brings memories of caramal and again black fruit.
M : Good medium carbonation with fine bubles that brings a pleasant crispness. Medium moothfeel
D : Good it goes down easily.
So overall a beer I'm glad I tried but not quite sure I would buy some again because of the price. A must try, but not a go to beer.
★
888 characters
More User Reviews:
1.38
/5
rDev
-57.3%
look: 4 | smell: 1 | taste: 1.5 | feel: 1 | overall: 1
Can: Poured a ruby colored ale with a large foamy head with good retention and minimal lacing. Aroma of vegetable with a weird grassy chemicals finish - not very interesting. Taste is also a weird mix between some buttered vegetables with some metallic-like finish. Body is OK with good carbonation. Not sure if this was intended or not but really not to my liking overall.
★
373 characters

3.7
/5
rDev
+14.6%
look: 3.5 | smell: 3.5 | taste: 4 | feel: 3.5 | overall: 3.5
Tasted on July 12, 2009.
Well, I haven't had the chance to go there to drink their beers yet, but found out they have started canning their beers. Bought some to try it out.
The appearance is very dark amber color, very clear, with a nice head of fine bubbles.
The aroma is mainly malts with notes of dark fruit. Get some lightly hops smell in the background. Very faint 'tho.
In regards to the taste, caramel mainly with a crisp finish. This is a typical ESB from England I would say. I've seen more bitterness in other beers. I was a little disappointed first, but then I reminded myself that this is english type of beer. Corsaire is following english and german tradition in the beer styles. At least that is what they say on their website.
Mouthfeel is medium body and the beer feels very refreshing.
Drinkability is between average and good.
Not a bad beer, however I would expect more bitterness... and the beer looks a little too dark IMO.
★
968 characters
3.28
/5
rDev
+1.5%
look: 3.5 | smell: 3 | taste: 3.25 | feel: 3.5 | overall: 3.5

3
/5
rDev
-7.1%
look: 3 | smell: 3 | taste: 3 | feel: 3 | overall: 3
Silver can with a sticker-type label.
Clear liquid, amber color with a tan head, not a long retention, minimal lace.
Caramel malt sweet smell. Malt flavor, some sweetness, but not the hoppiness expected from a bitter. Slightly sour finish.
OK, but nothing special. Struggling to describe it more - Not disappointing, just average all around.
★
342 characters

2.94
/5
rDev
-9%
look: 4 | smell: 2.5 | taste: 2.75 | feel: 3.5 | overall: 3.25

2.76
/5
rDev
-14.6%
look: 4 | smell: 3 | taste: 2.5 | feel: 3 | overall: 2.5
J'aime les CANs! Je suis en le CANQuest! Oh, mais non, en Anglais, seulment! Quelle domage! Ou est ma fromage? Let's engage in some frottage, eh, ma cherie? I simply CANnot resist.
From the CAN: "Deep ruby in color with hints of toffee and dark fruits."
I loves me a beer that jumps out of its CAN at me! Good to meet you, too. It poured with a rocky finger of light-tan head with low retention. Color was a deep coppery-amber with NE-quality clarity. Nose was pungent with a caramel malty sweetness with a light perfume quality underlying. Mouthfeel was medium with a slight sourness accompanying the larger maple syrup sweetness on the tongue. I kind of liked the balance that the two contrasts struck, although it may be off-putting for others. Finish had a tang of metal along with the maple syrup and slight sourness noted previously. I CANnot say that I was a huge fan, but conversely, it was nowhere near as brutal as some CANned beers that have surfaced on the CANQuest. Nor, sadly, is it getting any cooler space at the beach this summer. There are too many better CANdidates for those positions. Color me eh.
★
1,120 characters
3.7
/5
rDev
+14.6%
look: 3.5 | smell: 3.5 | taste: 3.5 | feel: 4.5 | overall: 4
Beautiful dark copper color. Little head that leaves some slippery lace on the glass.
Lots of caramel malt smell. Very little hop to the nose.
This is a malty ESB, but the hop makes a decent appearance, providing a peppery swallow. This is a rich beer with a low carbonation. The profile fits an American Amber.
★
315 characters
4.03
/5
rDev
+24.8%
look: 4 | smell: 3.5 | taste: 4.25 | feel: 4.5 | overall: 4
For some time this was one of my favorite beer when I was starting to drink craft beer, let's see how much I like it now.
Ruby red in color with nice off-white head.
Smell of caramel malts mostly.
Really good taste seriously, lots of caramel in the mouth, some hops present but it's subtle.
Overall really easy to drink, maybe not enough depth to the flavor though.
★
370 characters
3.25
/5
rDev
+0.6%
look: 3.25 | smell: 3.25 | taste: 3.25 | feel: 3.25 | overall: 3.25

3.74
/5
rDev
+15.8%
look: 4.25 | smell: 3.25 | taste: 4 | feel: 3.5 | overall: 3.75
4
/5
rDev
+23.8%
look: 4 | smell: 4 | taste: 4 | feel: 4 | overall: 4
an odd style to see the canadians tackling, especially in quebec, but this is an awesome take on it, a really really sturdy and robust and cold weather feeling esb, bigger and bolder than any of the english ones i have encountered, and i like what they have done with it quite a lot. hazy and rich amber in color, it produces a tall tan head from the can with even a gentle pour. the head lasts too. it smells a little sweet, i get the maris otter type english grain, but there is a richer crystal malt in here too, there has to be, or maybe some wheat, as it is quite dense but also real fluffy in the feel. i do not know the maris otter to feel like this, so there has to be something else going on. not particularly hoppy, this one is all about the malt. probably boiled long, it has a nice caramelized quality about it, without being too sweet. impressive this is so big, but also so low in alcohol, i like beer like this, hearty and filling, stick to the ribs kind of beer which is uncommon but welcome in a session type like this. nutty too later on, with hints of honey and chestnut, i am impressed with the depth. my first beer from these guys and its an excellent one, unconventional but really well done.
★
1,214 characters

3.25
/5
rDev
+0.6%
look: 3.5 | smell: 3.5 | taste: 3 | feel: 3 | overall: 3.5
on-tap at the pub itself.
poured into a nice bock, color is amber, small white head.
smell, malt caramal,
taste is malty and notes of caramal are present, the taste itself is not bitter like I expected.
Pretty mellow taste. small body
mouthfeel was thin and a little bit watery
drinkability: a bit dissapointed, I was looking for a tastefull rousse, with bitter edge.
★
372 characters
Bristol from Microbrasserie Le Corsaire
3.23
out of
5
based on
14
ratings.