Tremont Taphouse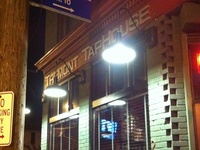 PLACE INFO
Type:
Bar, Eatery
2572 Scranton Rd
Cleveland
,
Ohio
, 44113-4315
United States
(216) 298-4451 |
map
tremonttaphouse.com
Notes:
No notes at this time.
Added by amstelcat on 05-07-2008
Reviews: 10 | Ratings: 26

3.78
/5
rDev
-8.9%
vibe: 3.75 | quality: 3.75 | service: 3.75 | selection: 3.75 | food: 4
A very nice bar nestled in a so so neighborhood. Very clean and plenty of seating. There is a patio/outside seating area as well. The bar has a roll up window to the patio so you don't have to go inside to get service. I sat at the bar and the bartenders were very attentive.
The beer selection is pretty good. It was a nice mix of craft beers as well as imports. Several Belgian brews were on the menu. I was pleased that they had the proper glassware for each brew I tried.
The menu is eclectic. I tried the Bahn Mi and it was very good. Others in my party had pizza and a burger and they liked them all.
The bar is sort of out of the way unless you live in the neighborhood. It was a 15 minute taxi ride from downtown but it is well worth the trip.
754 characters

4.38
/5
rDev
+5.5%
vibe: 3.5 | quality: 4 | service: 4.75 | selection: 4.75 | food: 4.5
This is a great place. The draft list is outstanding. You can tell they put a lot of thought and care into planning their selections. Some rare stuff as well as local favorites. I have been very impressed with the beer-knowledge of their staff, too. The food selection is limited, but very tasty. My only concern is the size. It's a pretty small place and the wait for a table is long at times.
394 characters
4.6
/5
rDev
+10.8%
vibe: 4.5 | quality: 4.75 | service: 4 | selection: 5 | food: 4.75
Visited on June 30th for dinner with my wife and daughter(16). Nice friendly environment appropriate for children.
This little place was absolutely fantastic, from the Food menu, Beer selections, environment and friendly staff members.
The menu has something for everyone! I had the Green Chili Burger with Fries. I did ask the server to add some extra heat to the burger and boy did they oblige. My burger was absolutely amazing! Bursting with flavor and heat, just the way I like it.
My wife ordered the Half BBQ chicken along with sweet potato fries. She was very impressed with her meal as well. My daughter ordered the Grilled Cheese with fries. This sandwich was huge, she was not able to eat the whole thing.
As for the Beer Selections... I had a difficult time selecting a beer. There was approximately 25 beers on draft, along with a multitude of bottle selections. After weighing all my options I decided to go with a Columbus Brewing Company's Columbus IPA, which was amazing!
I definitely recommend if you are in the area to check this place out! I'll definitely stop back if I'm in the area again.
1,116 characters

4.68
/5
rDev
+12.8%
vibe: 5 | quality: 4.5 | service: 4.5 | selection: 5 | food: 4.5
When I visited: May 2012.
What I had: Bear Republic NorCal California Style Bitter (draught), Sierra Nevada Hoptimum (draught), Bockor Cuvee des Jacobins Rouge (draught), Chorizo Tacos, cocktails for the lady.
What I liked: Outrageously robust tap list with many beers that I've never seen on draught before (Gnarly Wine, Maharaja, Hazelnut Brown), relaxed and welcoming vibe, killer music, fast service with a smile, tasty and affordable pub grub, fair prices given the quality of everything.
What I disliked: Nothing.
Would I go back? No question. One of the best beer bars that I've come across.
Overall Rating: 94
631 characters
4.15
/5
rDev 0%
vibe: 3.5 | quality: 4 | service: 4.5 | selection: 4.5 | food: 3.5
I visited this place on a short trip to Cleveland. Worth noting for out-of-towners - it is a short drive from the downtown area in a nice neighbourhood that has lots of parking.
The pub itself is on the small side with a cozy, welcoming atmosphere. Outside is a very nice large patio area. It was dog happy hour when we were there, and lots of people were sitting on the patio with their dogs, which I thought was a pretty cool idea.
The selection is good, with at least 25 taps and dozens of botttles. I had an Ommegang Saison and a Smuttynose IPA. The food was decent, although we just ordered from the happy hour menu and so can't comment on the dinner menu.
The service was excellent. Our server was friendly, knowledgeable and extremely prompt. It wasn't very busy when we were there, but I was still impressed.
821 characters
4.44
/5
rDev
+7%
vibe: 4 | quality: 4.5 | service: 4.5 | selection: 4.5
Pretty cool place. A bit smaller than I anticipated, the Tremont Tap House is just a nice pub on the inside. We went on a weeknight, so it wasn't very crowded at all. Clean, calm, and a nice place to enjoy a brew. The staff was knowledgeable and friendly--we had good service the whole night, which was probably helped by how empty it was. Selection was pretty good... about 20-30 taps of some pretty good stuff. Nothing mind-blowing, but it was overall a solid selection. Draft beers aren't terribly expensive, but bottles are prohibitively so. Best value (and most fun) is probably the flight of four (of your choice) 5-ish oz. draft beers for $10. Fun place, I would definitely go back.
689 characters
4.08
/5
rDev
-1.7%
vibe: 3.5 | quality: 4 | service: 4.5 | selection: 4 | food: 4
This place is situated in a somewhat difficult to find location but totally worth seeking out if you are on the west side. The bar has somewhat of an awkward arrangement being long an narrow, with the Cavs or other sports always on at the far end. The bar is a great place to sit and the owner is quite knowledgeable and a beer enthusiast, something that is a rare for a Cleveland bar. The taplist always has a few things I want to try and it is complimented a pretty nice bottle list too. The food is good for the price. One of my go-to spots when I'm in town.
561 characters
3.5
/5
rDev
-15.7%
vibe: 1.5 | quality: 3 | service: 4 | selection: 4 | food: 4.5
Alright, so I used to live in Cleveland and recently got my father into drinking more craft brew. I have taken him to Buckeye Brew Engine, GLBC, and various others. On my recent trip back home, he recommended we check this place out. So we did...
A- My review may be skewed a bit as this was a Saturday night, but this was one for the worst combinations or music, t.v., set up I have ever partook in. Right off the bat I feel like I'm in some dance club in downtown Cleveland. The brick walls are nice, but the dim atmosphere with the bar all lit up with bright white lights from the beer coolers and Bone Thugs playing in the background was all a little too much for me. The music was so blaring that you could barely hear the person sitting next to you. Even more bizarre was the spiderman cartoons that were being displayed on the flat screen tv's. I don't have anything against the music they played, just that the loudness and choice of music was more appropriate for someone that was getting ready to hit the dance floor and grind on some chicks. I'll pass on this place solely for this reason. If I'm going to drink some craft beer with friends or family, I would like to be able to carry a conversation with them and enjoy the beer rather than feel out of place as the bass rattling my ear drums.
Q- This was another frustrating aspect of my visit. They had great stuff on tap (I had Saison Dupont and Double Trouble), not too mention a decent bottle selection, but it was all wiped out by the way the beer was presented. Yes, they were in the correct glassware, but all of the glasses were completely soaked with at least a half inch of water sitting in them. There was no distinction in serving temperature amongst the various beers as the majority were served rather cold.
S- Nothing to complain about here. For a Saturday night, the bartender seemed to be on top oh his stuff.
S- The selection was pretty big with 20+ taps. Nothing ridiculous, but still some solid selections. Also had a bottle list that was pretty extensive.
F- I didn't have a chance to taste the food, but I will take my father's word for it that it's pretty good. He likes to eat and prefers their food over Great Lakes and Buckeye Brew Engine.
V- The vast selections from the bottle list can come at a bit of a cost. The beers on-tap weren't too bad, but some were pretty ridiculous (Examples: $7.00 for a 10 oz. pour of Dupont Saison; 12 oz. 3 Philosophers was $7.50; $16 for OA Unearthly; etc.)
Overall, it's a shame that this bottle selection and amount of taps is wasted on a place like this. There is a lot of potential, but the atmosphere and prices are too much for me to ever come back here. I think I'll stick with GLBC or Buckeye Brewing when I'm in town.
2,757 characters

4.18
/5
rDev
+0.7%
vibe: 4 | quality: 4 | service: 4 | selection: 4.5 | food: 4.5
Tremont Tap House is only about 5 minutes off the W14th street exit of I-90, and approximatly 5 minutes from Great Lakes Brewing and Bier Markt.
The Atmosphere was nice, open faced brick with a long bar. Several Flat Panel TV's behind the bar showing local/National sports. Small crowd being a Tuesday night, but not empty by any means.
Had a nice selection of Tap and Bottled beers. I counted 24 taps in total, but my counting usually sucks. 3 Handles from Bell's including HopSlam, a few Stone, Rouge, 2 from GLBC including Nosferatu and Xmas Ale, Victory, Southern Tier, Ommegang were all represented well. Beers were served in the correct glass wear.
Service was good, no complaints there.
My wife and I shared several of the happy hour appetizers. Olive Tapenade Pizza Calamari, Pretzel served with a smoked cheese dipping sauceall of which were delicious.
A nice value, my wife and I had all of the food, plus one Ommegang Rare VOS, one Magic Hat #9, and 2 HopDevil all on tap for $34 before tip. Being we ordered the food on happy hour and 2 of the beers where also order during happy hour ($1.50 off drafts).
This is a nice destination that Clevelander's need to add into thier Beer adventure rounds.
1,216 characters

4.22
/5
rDev
+1.7%
vibe: 4 | quality: 4 | service: 4.5 | selection: 4 | food: 5
The Tremont Tap House is being described as Cleveland's first true beer gastropub. It's located in the Tremont area of Cleveland in an older Italianate style building. There is a fairly long bar on the left as you come in, with small booths along the other side and tables in the back. There is also an outdoor brick patio but I really havn't checked it out since the times I have been here it was the middle of winter. Very solid draft and bottle selection including Duvel, Alesmith, DFH,Bells, Lagunitas,ommegang, New Holland, Maredsous, Weyerbacher, etc. We sat at the bar all three times we've been here and have had friendly, quick service every time. What sets this place apart from other beer bars is the food. Simply outstanding. I've had the the chorizo & goat cheese empanadas and the short rib sliders (braised in strong ale) as appetizers. For the large plates, I've had the duck breast, free range chicken with egg dumplings, and the portobello pizza. It was all amazing except the pizza which was slightly burnt. Along with Prosperity, Edison's, and Southside, a great addition to the Tremont pub scene.
1,117 characters
Tremont Taphouse in Cleveland, OH
4.15
out of
5
based on
26
ratings.