Skeleton Coast IPA
| Jack Black's Brewing Company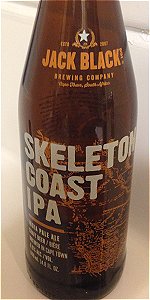 BEER INFO
Brewed by:
Jack Black's Brewing Company
South Africa
jackblackbeer.com
Style:
American IPA
Alcohol by volume (ABV):
6.60%
Availability:
Year-round
Notes / Commercial Description:
No notes at this time.
Added by Thehuntmaster on 02-04-2014
Ratings: 13 | Reviews: 6
Reviews by Thehuntmaster:

2.56
/5
rDev
-26.2%
look: 4.5 | smell: 2.25 | taste: 2.5 | feel: 3.5 | overall: 2
440ml bottle 6,6% Abv.
Served chilled in a wine glass.
Appearance: Lovely clear deeper orange body. Rough pour yields a massive off white head that lasts ridiculously well and leaves thick chunks of lacing clinging to the glass. A really good looking IPA!
Smell : Well either the wizards at the SAB hop farms have developed aroma-less hops or this bottle isn't fresh. Lets see if I can find an expiry date . . . Wait what - exp: 10/12/2014!!! The only way that would be acceptable is if it was brewed on 10/11/2014, but since I have yet to invent time travel I doubt that is the case.
There isn't much in the nose at all, some caramelly/toasty malt, vague remnants of citric hops, maybe a touch of dankness and some honey.
Taste: As with the nose, the flavor has certainly been hammered by the freshness issue, but at least there is some taste. There is a pleasant bitterness in the finish (30 IBUs maybe, but not 65!). Some caramelly malt, a faint hint of some tropical fruits, honey, some grapefruit pith and that's about it.
MF: Too carbonated for me by quite some margin, but it is fairly smooth and goes down easily. The body is medium and has a touch of stickiness.
Overall: Dear Jack Black please do yourself a favour and go and read the label of Pliny the Elder. IPAs cannot be stored and they most certainly do not last for a year. I think there needs to be some serious evaluation as to how long a beer like this can last, especially when it is transported across the country in the middle of summer.
1,528 characters
More User Reviews:
3.73
/5
rDev
+7.5%
look: 4 | smell: 3.5 | taste: 3.75 | feel: 4 | overall: 3.75
I like the Skeleton Coast IPA. It is a malty English Style IPA that poured a clear amber color with frothy slightly off-white head that is leaving a nice lacing. The scent carries a mostly malt backdrop with touches of hop. The taste is a nice struggle between a sweet malt base with bitter finishing hops. The mouthfeel is medium in body with good carbonation. Overall this is a solid offering in a country where craft beer is starting to become popular!
455 characters

3.41
/5
rDev
-1.7%
look: 3.75 | smell: 3.25 | taste: 3.5 | feel: 3.5 | overall: 3.25
-Exp. 01.17.16. Consumed 11.06.15 in a spiegealu ipa glass.
A: Ruby-orange with a strong rate of carbonation. A mushroomy cap, barley colored, stands an impressive 3+ inches, breaching the rim, and never seemingly giving an inch. Dense nature, beautiful coloring with a thick clumping of lacing on the vessel.
S: Sweet lemony aroma, toasty tropical fruit, bread crust with a decent amount of awareness and average retention.
T: Malt flavor forward, but with a respectable amount of hops in the background. Pine, grapefruit, dried carmel, and toasted citrus peel come through. Nice rate of hopping, equally malty backing with lemony-pine hop tang on the knockout.
M: Full bodied, lush mouthful, good rate of carbonation, creamy texture.
O: I believe this is my first beer from S. Africa, and a decent offering per style I might add. Sweet, toasty, malt forward and a bit of a surprise. Started off fairly decent, but it seemed to linger off and limped across the finish line by the end of the glass for me which is way i gave this a 3.25 for overall.
1,060 characters

3.23
/5
rDev
-6.9%
look: 3.5 | smell: 3 | taste: 3.25 | feel: 3.5 | overall: 3.25

3.72
/5
rDev
+7.2%
look: 3.75 | smell: 3.5 | taste: 3.75 | feel: 4 | overall: 3.75
4.02
/5
rDev
+15.9%
look: 4.25 | smell: 4 | taste: 4 | feel: 4 | overall: 4

3.92
/5
rDev
+13%
look: 4 | smell: 3.75 | taste: 4 | feel: 3.75 | overall: 4
Poured into IPA glass. It pours a nice deep amber-orange, rather murky, with a huge, foamy, bright-white head and lacing. It's an attractive pour. The smell is a nice balance between caramel, pine, and citrus. The taste is also nicely balanced: there is sweet malt and caramel throughout but with some nuttiness, pine, and a nice hoppy, bitter finish. I don't taste a lot of citrus; I agree with others that it drinks more like an English IPA. This ale is medium-bodied, highly carbonated, and has a nice punch at 6.6% ABV. At 65 IBU's, it certainly isn't a hop bomb. Overall, I tend to like maltier, English-style IPA's and I thought this one was well-crafted and enjoyable.
682 characters
3.39
/5
rDev
-2.3%
look: 4.25 | smell: 2.75 | taste: 3.5 | feel: 3.25 | overall: 3.75

3.16
/5
rDev
-8.9%
look: 3 | smell: 3.25 | taste: 3 | feel: 3.5 | overall: 3.25

3.1
/5
rDev
-10.7%
look: 4.25 | smell: 3 | taste: 3 | feel: 3.25 | overall: 3
eyes...
careful on the pour boys, this one wants to jump out of the bottle, after wrestling a pour out of this one it reveals a murky orange, epic lacing - really deserves that over used nom du guarde, the head does not live long but yet the film lingers on and almost exists in suspension when viewed from under, a nice unfiltered view
nose...
caramel malts, more euro influenced hops present (think fluggel), definite malt back with a whalebone dress of hops emanating forth, very earthy and mild unlike the pine or citrus from another continent, a more euro IPA than I have had in a bit
taste etc...
this is a strange one... the hops seem browned out meaning I sense them but they are not bright, the malt holds up and has some sweetness there, it drinks more like an english bitter - not necessarily a bad thing but not exactly the same as an IPA. Compared to typical british IPAs I get where this beer is trying to come from but does it accomplish that ? hmmm
verdict?
in the end this drinks more like an ESB with a maple finish.. that sounds nice but it is not that great in fact, terrible ? by no means. I would come at this as an ESB and go from there, you might not be as off put as this beer snob.
1,214 characters
4.02
/5
rDev
+15.9%
look: 4 | smell: 3.25 | taste: 4.25 | feel: 4.5 | overall: 4.25
Despite thehuntmasters complaint about freshness the bottle I have is only 2 months old and tastes great! A little lacking in the nose, but the beer has a brisk yet heavy body which is balanced by the extremely dry finish. Bitternes is bold but clean. Sweet caramel malt upfront is quickly whisked away by herbal and woodsy hop character. An english style IPA that a lot of new wave hop heads will overlook because it doesn't make you want to rip your tongue or taste like tropical fruit.
488 characters
2.9
/5
rDev
-16.4%
look: 3 | smell: 3 | taste: 2.75 | feel: 3 | overall: 3
Skeleton Coast IPA from Jack Black's Brewing Company
3.47
out of
5
based on
13
ratings.