Daddy Fat Sacks IPA
| Roy Pitz Brewing Company
BA SCORE
82
good
38
Reviews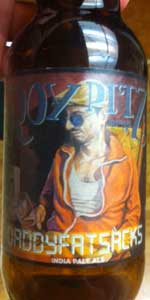 BEER INFO
Brewed by:
Roy Pitz Brewing Company
Pennsylvania
,
United States
roypitz.com
Style:
American IPA
Alcohol by volume (ABV):
7.50%
Availability:
Fall
Notes / Commercial Description:
No notes at this time.
Added by akorsak on 05-10-2008
Reviews: 38 | Ratings: 114

2.8
/5
rDev
-22%
look: 3.5 | smell: 3.5 | taste: 2.5 | feel: 2.5 | overall: 2.5
Roy pitz daddy fat sacs
Pours a clear orange with a soapy foam. In the aroma, some citrus hops and vegetal notes. Bitter citrus hops upfront give way to a cloying cereal sweetness. Some corn, dextrins, hops and sugary malts. Almost like adding hops to priming sugar. A bit too sweet for me.
★
291 characters
3.46
/5
rDev
-3.6%
look: 4 | smell: 3 | taste: 3.5 | feel: 4 | overall: 3.5
A: A nice deep chestnut amber. Head was minimal, but Good-Ta_Go doesn't pour a good beer. Some lacing at the top.
S: Definitely of butter toast with a light hopness filling in the rest, but mild and hard to get a bead on the aroma. I let it set for a little bit and sip, light caramel notes and a sweetness like candy corn comes out. Earthy, herbal hops come out at the end along with some yeasty dough notes.
T: Slightly sweet malts and that candy corn note is there, also buttery and bready. Hops are sharp, but lack a good defining quality and get a little lost in the malts. Some alcohol esters filter through it all and resides all over the tongue, but not strongly. Hops finish grassy. Grapefruit, pith and some chalky aspirin. Fruity notes, but like a hard red candy of no particular flavor.
O: Medium to full-bodied and finishes sharp and bitey. If you are looking for an English style IPA that is hopped up a bit and has plenty of alcohol, this is the one.
★
969 characters
3.93
/5
rDev
+9.5%
look: 4 | smell: 3.5 | taste: 4 | feel: 4.5 | overall: 4
Pours a cloudy amber color with a nice creamy eggshell white head with good retention.
The scent is of citrus with notes of pine.
The taste is also of citrus, moderate hop presence, some pine, notes of caramel malt, and some yeast.
Medium body, smooth and creamy, very low carbonation.
This is a pretty good IPA, good flavor but nothing exciting. Not sure if this would be something I would look for.
★
404 characters
3.53
/5
rDev
-1.7%
look: 4 | smell: 3.5 | taste: 3.5 | feel: 3.5 | overall: 3.5
On-tap at the Grey Lodge Pub. OK, so this is supposed to be an IPA with a bitter aftertaste according to the brewing. I get the idea of hop bursts and big flavor without big bitterness, but this is a rather malty beer. The bartender had a better description of it as a double-ESB. There's a rich caramel, toffee, cherry bread taste with some citrus and herbal hops. But really this tastes and smells like an English strong ale, just shy of being a barleywine.
★
459 characters
3.85
/5
rDev
+7.2%
look: 3.5 | smell: 3.5 | taste: 4 | feel: 4 | overall: 4
Thanks to Ryan for this!
Appears a dark, copper toned amber with a 2 finger off white head of fluff that slowly fades out. Scattered streaks of lacing are left around the glass.
Smell is of caramel, floral notes, perfumy, earthy, with a touch of freshly picked herbs. Some notes toasted nuts, and doughy bread start finding their way through the hops.
Taste is of the aromas with a fruity notes dried grapes, figs, rye bread, and grapefruit.
Mouthfeel is medium bodied, chewy, evenly carbonated, and a tad bitter with a wood-like quality in the finish.
★
553 characters
4.92
/5
rDev
+37%
look: 4.5 | smell: 5 | taste: 5 | feel: 4.5 | overall: 5
This beer is flat out good. If you like strong beers with loads of character, Daddy Fat Sacs won't let you down.
I am a bit partial to the Roy Pitz brewery as they are local to me and I've liked most everything they brew. However, this one is my favorite. I understand it's also a recent gold medal winner amongst competition from Stone and Sam Adams. Not too shabby.
★
368 characters
3.04
/5
rDev
-15.3%
look: 3 | smell: 4 | taste: 2.5 | feel: 3 | overall: 3
Appearance: A murky brown, rather little lacing. May have been a issue with the CO2 as the beer seemed rather flat.
Smell: Limited nose, but what I did get was great. Pine / grapefruit and slight spice - although faint.
Taste: Malty with little hop flavor, seems rather run of the mill. Slight sweetneess which wasn't what I was expecting
Mouthfeel: Watery and rather flat
Drinkability: It's ok nothing great, I'll drink it but I probably won't enjoy it. Just didn't seem to have anything to get excited about in it
★
522 characters

3.41
/5
rDev
-5%
look: 4 | smell: 3 | taste: 3.5 | feel: 3.5 | overall: 3.5
drank on 3.19.09 while watching day 1 of march madness.
good looking beer. pours a cloudy brownish amber color with nice tan head (with a red tint in the head). dissipated quickly. not a whole lot of aroma, a mostly malty base, a little bit of spice, maybe some brown sugar in there as well. not much hops at all, slight.
first impression when i tatsed it is that is reminded me of a homebrewed tasting beer. not bad, but noticably average. very malty, some caramel taste and earthy tones. also a bit yeasty. there are hops on the finish acting more bittering than anything else. not sure where the 'imperial' comes from in the name. was expecting some sort of true imperial ipa or double ipa by the name, but not even close (but still tasted ok). mouthfeel is crisp and a bit carbonated.
not a bad beer overall.
★
815 characters
3.47
/5
rDev
-3.3%
look: 3 | smell: 3.5 | taste: 3.5 | feel: 3.5 | overall: 3.5
Growler from Brass Rail Deli.
Cloudy copper/brown in the glass. OK head but no lace. Smell of caramel malt, maybe some faint citrus. Taste matches the smell, really more of a malty brew than a hoppy IPA. Not sure why they have the Imperial in the name except for maybe the high ABV but if they were shooting for a DIPA they missed the boat. Not a bad beer but i think it's incorrectly named. Dosen't have any bold citrus characteristics to make it an American IPA and dosen't have the earthier tones that you would expect in a English IPA. ABV is well hidden and there is some bitterness in the finish. We'll finish the growler but not what I was expecting.
★
658 characters
3.03
/5
rDev
-15.6%
look: 4 | smell: 3.5 | taste: 3 | feel: 3.5 | overall: 2
A- A nice light golden ruby color with a finger of head. Leaves lacing the whole way down the glass.
S- I couldn't get much at all in the smell. I don't know why....just got a little bit of citrus, hops, and a very very light piney smell.
T- Up front citrus with the hops and some sweet malt backbone. Not very deep or complex.
M- Ok carbonation....seemed a little thin in the mouth. Small bubbles from the carbonation and somewhat smooth.
D- I didn't even finish a pint. It seemed to be too bland for me. There wasn't much going on other than some basic flavors. I just couldn't get excited about it.
★
608 characters
3.88
/5
rDev
+8.1%
look: 4 | smell: 3.5 | taste: 4 | feel: 4 | overall: 4
A- This beer pours a cloudy, deep amber color that almost looks brown when not held up to a light. It has a one finger head that sticks around for a while and leaves decent lacing.
S- Sweet fruit, floral hops, some malt, and some pungent citrus comes through in the end.
T- Begins with a nice fruitiness mixed with a hint of malts. I'm getting a very spicy/peppery hop flavor as well. The finish is long a bitter.
M- Medium with a nice amount of carbonation.
D/O- A very balanced IPA that has great drinkability. To tell you truth I think the balance of the beer may throw some reviewers a curve ball. No single aspect of this brew is going to beat you over the head, but each and every characteristic works it's magic nicely. Keep up the good work Roy Pitz. Cheers!
★
770 characters

3.95
/5
rDev
+10%
look: 3.5 | smell: 3.5 | taste: 4 | feel: 4 | overall: 4.5
Roy Pitz Daddy Fat Sacks
A-Deep copper with a thin cream colored head that reduced a bit and left decent lace.
S-Slight twang of fruity hops and a caramel malt sweetness. Aroma is very balanced and noticeable but is not overwhelming.
T-Spicy citrus and quite zesty. Sweet caramel malt balance hits very quickly. A very well balanced IPA. A bit of dry earthy woodiness in the finish.
M-Medium body with a mild long lasting bitterness.
D-I found this to be a very pleasant and extremely well balanced IPA. Easy drinking and tasty citrus spiced brew. Well done. Certainly nothing that will blow you away but a solid beer that exercises balance to a T.
★
655 characters
3.48
/5
rDev
-3.1%
look: 4 | smell: 3.5 | taste: 3.5 | feel: 3 | overall: 3.5
Poured via growler on 12/26/08, courtesy of Deuane.
A - Poured a deep amber/copper-colored body with ruby hues and one-finger creamy off-white head that receded to a patchy film and left a bit of spotty lace.
S - Fruity nose with hints of sweet and sour dark fruit as well as some citrus hops paired with caramel and toffee malt sweetness. In stark contrast to the fruity aroma, a more earthy character emerged as the liquid warmed, suggesting subtle lavender and woody notes.
T - Initial flavor incorporates burnt caramel malt with hints of dark fruit (especially raisins) and earthy, woody hops with just a touch of citrus juiciness.
M - Medium to full-bodied with a syrupy texture, perhaps slightly watery, but also with quite a bit of carbonation. Finish is moderately bitter, resulting in a warm mouthfeel overall.
D - Not a bad IPA. Didn't really strike me as a DIPA, though. A little muddy in the hop department and pretty malt-forward for an IPA, but otherwise this was a decent first effort.
★
1,009 characters
Daddy Fat Sacks IPA from Roy Pitz Brewing Company
3.59
out of
5
based on
114
ratings.