Lay Down Stay Down
| Roy Pitz Brewing Company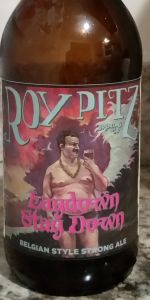 BEER INFO
Brewed by:
Roy Pitz Brewing Company
Pennsylvania
,
United States
roypitz.com
Style:
Belgian Strong Dark Ale
Alcohol by volume (ABV):
9.00%
Availability:
Fall
Notes / Commercial Description:
No notes at this time.
Added by KFaulkner on 11-21-2009
Reviews: 7 | Ratings: 32

3.41
/5
rDev
-9.1%
look: 4 | smell: 3.5 | taste: 3 | feel: 3.75 | overall: 3.75
Thanks to Stater for this one.
Poured into a snifter.
Look- deep reddish copper with a few soapy looking hazy bubbles, forming a halo around the inside of the glass.
Smell- Caramel, dark brown sugar, dates, figs, candied orange peel and cherry essence.
Taste- A bit of funk, and some dark sugar, then rises quickly to a briny kalamata olive saltiness. Olive tang hangs out on the palate, and never gets back to sweet.
Feel- Syrupy with a thin bubbly tickle on the palate and throat.
Overall- not sure how old this one is, or if it really is this briny all the time. I would like to try a super fresh one to compare. Decent though, plenty of characteristics for the style, just not as sweet as I expected. Pairs great with some spicy food.
Cheers!
757 characters

3.53
/5
rDev
-5.9%
look: 4 | smell: 3.5 | taste: 3.5 | feel: 3.5 | overall: 3.5
A - Served with a darker shade of amber but it had a glowing vibe to it...the head was white and stood one finger tall...it showed decent retention and lacing
S - Belgian spices were apparent right off the bat...even a little hoppiness is noticeable...alcohol is big
T - Everything from the nose carries over...the beer starts off with a little sweetness...there are some fruity flavors (apples and pears)...they later give way to the spices that are in full force in the middle...some yeast pokes its head through...the spices finish out the beer with an earthy hop presence and a lot of hot alcohol
M - Medium bodied...could have been a bit lighter...nice carbonation...too much alcohol
O - The flavors of a Belgian-style ale were there...nice fruit, spice, yeast, and minimal hops...but the alcohol wasn't hidden well enough for my liking
845 characters
3.79
/5
rDev
+1.1%
look: 4 | smell: 3.75 | taste: 3.75 | feel: 4 | overall: 3.75
The best Roy Pitz beer I've had. It packs some funky belgian spice and fruitiness with a pretty good texture. Not out of the world, but very drinkable American Belgo.
166 characters
4.27
/5
rDev
+13.9%
look: 4 | smell: 4.5 | taste: 4 | feel: 4.5 | overall: 4.5
A - Has a nice ruby/orange color with a two-finger head that fades slowly and leaves some lacing. A thin film lasts the whole glass. Clarity is slightly hazy.
S - Toasted malt, spices, plums, booze soaked cherries, and very ripe banana. An earthy/mustiness and light alcohol aromas show up as the beer warms.
T/M - Flavor are mainly malt, boozy fruits (dark), and peppery hops in the finish. The beer has a nice powdery texture with a nice level of carbonation. It has a dry finish.
D - Although it isn't at the level of the Belgian classics, it's still pretty damn tasty. Enticing aromas, balanced flavors, and local to boot; I can dig it. I'll be looking for more of this next year when it rolls out again. Cheers.
719 characters
3.44
/5
rDev
-8.3%
look: 3.75 | smell: 4 | taste: 3 | feel: 3.5 | overall: 3.5
Pours a beautiful deep orange/amber color into a typical pint glass with plenty of off white color head. Looks to have plenty of carbonation as well. The smell reminds me of a pale ale. Initial taste is quite boozy but definitely has that amber ale flavor. Actually the boozy feel lasts through the tasting process. I did learn while enjoying this brew that if you let it sit out and warm up a little bit while drinking that the boozy taste eventually becomes just a warming feeling.
488 characters
3.61
/5
rDev
-3.7%
look: 4 | smell: 3 | taste: 3.5 | feel: 4.5 | overall: 4
App: rich Amber color almost brown, appealing little head>
Smeel: rich Hoppy even a bit spicey, has almost a hint of over heaviness. Not too over powering but anymore and it might be.
Taste/MF: solid mouthfeel. Very nice inner spicey taste of cloves. Says with you after. Nice solid backbone feel
drinkability: Overall great brew. Not some I personally would look for daily but fantastic on a cool winter day. Get the senses up and gives some kick to go out in the turn up your collar weather
498 characters
4.38
/5
rDev
+16.8%
look: 4.5 | smell: 4 | taste: 4.5 | feel: 4.5 | overall: 4.5
An excellent new offering from Chambersburg's Roy-Pitz. A Belgian strong ale that reminds me of La Fin Du Monde. Has that great Belgian bite covering up the big alcohol content nicely; it's somewhere between a light and a dark Belgian strong. Very cloudy and would probably only improve with aging.
Picked this up from the brewery so if you can't get it locally, drop by. It's worth a taste. Hopefully they'll hold onto some of this for next year...
451 characters
Lay Down Stay Down from Roy Pitz Brewing Company
3.75
out of
5
based on
32
ratings.