Dismiss Notice
South Loop Tasting Room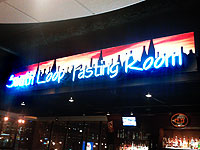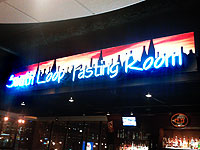 PLACE INFO
Type:
Bar, Eatery
1132 S Jefferson St
Chicago
,
Illinois
, 60607-4426
United States
(312) 768-4400 |
map
Notes:
Inside Binny's Beverage Depot - South Loop.
http://beeradvocate.com/beer/profile/16608
Monday - Friday: 3pm - 9pm
Saturday - Sunday: 12pm - 6pm
Added by TheLoneGunman on 05-11-2008
PLACE STATS
Reviews:

8

Ratings:

pDev:

4.83%
HISTOGRAM
Ratings: 13 | Reviews: 8
Reviews by bluemoonswoon:
4.01
/5
rDev
+2%
vibe: 3 | quality: 4 | service: 4 | selection: 4.5
This place has been open for a while but has only recently been up to review. Stopped here about two months ago, from my notes.
Really only came here to look for beer after spending most of the morning and afternoon driving around the city of Chicago for work related reasons. Stopped in and remembered this place had a bar and then I remembered how much I really wanted to drink one.
Turned out this place doesn't really open till three but the bar bartender made and exception and served me at about 2pm and I was the only one in the place, middle of the afternoon on Thursday I'm not really that surprised. The atmosphere is odd, I mean you are drinking inside a store, but it's set back far enough to seem like it is its own separate entity. The place is very antiseptic looking, lots of metal and very very clean looking, so not really a homey feel but the location does allow for some pretty nice views of the Loop which is about a mile or two away.
The beer selection is pretty sweet, wish they would list it online. When I was in they had Goose Imperial IPA, Maharajah. and a Sierra Nevada one off Smoked Imperial Porter which was very very good. The entire time I was sitting there I was able to speak to the bartender, tired some samples and generally felt comfortable taking the whole experience in.
Also there is a fire station right across the street from this place and about a half hour after I sat down this place filled up with fire men and police officers.
A pretty nice place, not really a place you would spend a night with your friends, but a nice place with a pretty nice selection, plus you can buy beer and wine and the like here as well.
1,670 characters
More User Reviews:

3.94
/5
rDev
+0.3%
vibe: 3.5 | quality: 4 | service: 4 | selection: 4
3.91
/5
rDev
-0.5%
vibe: 3.75 | quality: 4.25 | service: 3.5 | selection: 4
Inside a big box store (Binny's) so as a bar the vibe is meh. As a place to taste some beer while shopping its ok.
Generally have a solid tap list albeit small. Occasionally tap some real sought after stuff - thats always fun.
Service is fine. Bartenders tend to be a bit aloof, not saying I want to share my life story, but a bit of enthusiasm or conversation about the beer wouldn't hurt- heck it would probably improve sales in the store as you;d be more likely to buy stuff on their recommendation.
Selection is limited, but occasionally remarkable for the rare beer tappings.
I did not try the food although I believe you can order some stuff from the little cheese/meat place also inside the Binnys.
711 characters

3.87
/5
rDev
-1.5%
vibe: 3.5 | quality: 4 | service: 3.75 | selection: 4
3.83
/5
rDev
-2.5%
vibe: 3 | quality: 4 | service: 3.5 | selection: 4.5 | food: 3.25
It's kind a strange spot. It's at the back of the store in a rather industrial stretch of the city. It's not really a place to hang out and meet people. BUT, they tend to have a few amazingly goods beers on tap. If you're just looking to have an excellent beer by yourself with a few friends, it's a gem. Just recently, they had Bean Gene, 2012 Big John, 2012 BCBS, and 2014 BCBS all on tap. I also got to try BBPt5 and Port Older Viscosity on tap here. The only problem is that the other beer geeks in Chicago know about it, so, even though they don't really announce when they're going to tap things or update their beermenus.com listing very often, when they tap something like a BCBS Proprietors, it'll be completely gone in a couple hours.
The bartenders tend to be nice enough, if a bit on the aloof side, but you're not there for free therapy; you're there for the beer.
You can also order a tasty cheese-and-meat platter if you need a snack.
951 characters


4.08
/5
rDev
+3.8%
vibe: 3.5 | quality: 4 | service: 4.5 | selection: 4
Transcribed from notes dated M, 16 August 2010.
Attached to/inside Binny's (South Loop), this was their bar area with a "U"-shaped, black marble-topped bar topped with a bank of fifteen (15) CO2 taps and one (1) N2 tap (Young's Double Chocolate Stout on my visit). Windows ran the length of Jefferson on the second floor, fronted by high tables and chairs with additional high tables and chairs surrounding the bar, followed by leather easy chairs. The view was phenomenal, especially looking north towards the orange bricks of the CHI Fire Academy. Clint was my patient, well-qualified server. They offer a food menu, but I was not eating on this occasion.
658 characters
3.9
/5
rDev
-0.8%
vibe: 3 | quality: 4.5 | service: 3.5 | selection: 4
Interesting place. It wasn't until my 3rd visit that I even noticed what was going on over there. Honestly, the whiskey selection is fantastic. Some great choices, and gives you the opportunity to try something out before you spend $60 to $100 on a bottle.
The last time I was there (second weekend of March, 2011) they had quite a few GI beers on tap. I was ecstatic to see Dominique on tap, as I thought I might never get to try that again. I was happy to pay the $10/snifter (not really HAPPY, but I coughed it up). They had BCBS, Nightstalker, Pere Jacques, Matilda, Sofie, on tap. I was happy with those. Some Tyranena, and others I don't remember. I'd say besides the heavy GI, a well rounded tap list.
I understand the points about it being kind of sterile. But it is a sophisticated style bar. Not your every day hang out for the mid-20's crowd, but I've certainly enjoyed every conversation I've had there. Last March when Emily and I were there the bartender and his brother turned us onto Piece brewing, and that whole area of Chicago we had yet to explore. So big props for that.
Stop in to the South Loop Binnys, browse the whiskey and beer, and get a drink at the Tasting Room.
1,197 characters
3.71
/5
rDev
-5.6%
vibe: 3 | quality: 4 | service: 3.25 | selection: 4 | food: 4
2011:
Continually disenchanted with this place. Still feels a bit stuffy and sterile to me, that goes for the service too. It's not "sophisticated" just pretentious. They don't have a drink list anymore, so points off for that. Be sure to ask prices on the liquor, got charged $20 for a whisky that's $9 elsewhere. Draft prices aren't as crazy, but drinks sure ain't cheap here. No outside food (purchased from the on-site deli) either, which I was chastised for (they want to charge you for a charcuterie plate and charge double). If this wasn't a regular spot for some friends of mine, I probably wouldn't make a point to return.
Edit 2009:
Dave (bartender & beer guy) left for Villains, also gone is the extensive bottle selection and personable service. Still some good taps, but not really as exciting as before. Small plates from the deli are offered now, the cheese plate we had was exceptional.
Edit 12/2008:
Still a great tap selection, but inexplicably they got rid of their handpicked bottle list. There are literally hundreds of beers in the place, and they don't serve them at the bar. Talk about wasting potential...
06-03-2008
I've been here a few times now, and always make a beeline when in the South Loop, or downtown for that matter.
Great skyline view, lots of seating, wood flooring, it's set away from the store, so it feels like it's own place. Dark granite bar, reflecting the the polished tower holding over a dozen taps. Sometimes there's a gentleman playing the grand piano for your listening pleasure, but usually it's the bartender's selection on the overhead speakers.
Beer selection here is handpicked, and covers the classics as well as limited seasonals. Taps are pretty awesome, i've had Lagunitas Hop Stoopid here, also Flossmoor Sheol Barleywine, and Kalamazoo beers. Exclusive taps, and they rotate. Service has been great everytime, thanks to bartenders Dave and Clint. They offer tastes if you're unsure of your next beer.
Overall a great stop, go across the street to Manny's if you're hungry.
2,048 characters

3.63
/5
rDev
-7.6%
vibe: 4 | quality: 4 | service: 1.5 | selection: 5 | food: 4
I must have 'that look' that just doesn't jive with the two guys I've always seen bartending the three times I've visited this place. No matter how nice I try to be or how much I tip I constantly get the feeling that I'm somehow bothering these guys. It's obivous they lean more towards the wine end of their offerings but they do have some beer knowledge. Others I've spoken to have received the same treatment. Hopefully this part of the bar will improve. Killing them with kindness will be continued from my end.
Aside from the service the atmosphere is top notch and if you stay facing east you can easily forget that you're in the middle of a liquor store. They do allow you to carry your store purchases into the bar area to consume which I find ideal. Tap selection is consistently some of the best in the city and rotates regularly. They have a very wide range of cheese, meats, pates, etc. to choose from and charge per serving which we found to be perfectly portioned.
981 characters
4.44
/5
rDev
+13%
vibe: 4 | quality: 4.5 | service: 5 | selection: 4
My friend and I were in town for Lollapalooza and made a detour/took a break from being downtown, and came here. We mostly came just to check out the selection in the store because we had heard it was huge. After doing our shopping we decided to stop by the Tasting Room, and I'm glad we did. When I walked up, the bartender informed me that he was trying to get rid of the Bell's Kalamazoo Wheat Ale so he could tap something else he had just gotten in. That meant $1 taps. After paying $8+ for beer in Chicago all weekend, that was music to my ears. Also had a Surly Furious IPA which was excellent.
Bartenders were friendly and seemed to know everything about everything alcoholic, not just beer.
Selection was decent-sized with over a dozen beers on tap. They were all high-quality except for the frikkin' GUINNESS Draught that was on tap. Seriously, does anyone really need to try Guinness?
Anyway I digress. Pricing was at or slightly below average for Chicago at $5 per pint (regular-priced). There's also a large selection of cheese off to the right of the bar if you would like some food to pair up, but I was low enough on money already so I didn't bother to even look.
1,182 characters
South Loop Tasting Room in Chicago, IL
Place rating:
3.93
out of
5
with
13
ratings