Dismiss Notice
Dismiss Notice
Long Island Potato Stout
| The Blind Bat Brewery LLC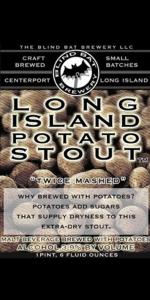 BEER INFO
Brewed by:
The Blind Bat Brewery LLC
New York
,
United States
|
website
Style:
Irish Dry Stout
Alcohol by volume (ABV):
3.90%
Availability:
Rotating
Notes / Commercial Description:
No notes at this time.
Added by ngeunit1 on 01-24-2011
Reviews: 6 | Ratings: 13
Reviews by Greywulfken:

3.02
/5
rDev
-10.9%
look: 3.75 | smell: 3 | taste: 3 | feel: 2.75 | overall: 3
A: no light around the edges of this black stout - two fingers of dark foam that slipped away to a slim collar - no trace of lace
S: some roasted dark malt aromas, but nothing else caught my nose
T: there is a slight potato-ey taste here, nestled amid the roasted malts, and a very subtle cold black coffee-ish-ness; the malts are most forward: very dark, dry, and roasty
M: too thin for my tastes, smooth, sure, and mellow, sure, and I hate to say "watery," but I will; slightly bitter, but in a roasty way
O: This was a random buy and something outside my typical drinking interests, but I figured I'd give it a try. Perhaps better with food, and perhaps more enjoyable to a fan of the Irish dry stout or potato water, but not something I'd return to.
★
757 characters
More User Reviews:
3.79
/5
rDev
+11.8%
look: 3.5 | smell: 3.75 | taste: 3.75 | feel: 4.25 | overall: 3.75
A - Black pour. Looks a bit thin and watery. Soapy foam head settles fast. Minimal lacing.
S - Dry malt aroma. Some biscuit notes in the smell. Earthiness lends to some mild spice notes.
T - Flavors of nuts, fresh bread, and light malts. I don't know what the potato addition really adds to the beer. Finish is slightly sweet.
M - Very sessionable and easy to have a few pints. Leaves a dryness on the tongue that goes well with robust food. I had this with fish and chips, and found the malt vinegar and other stronger food flavors were complimented by this beer.
O - This is a solid attempt by a local at this style. Not quite on par with some of the other Blind Bat beers but people who enjoy a dry stout would not be disappointed.
★
738 characters

3.98
/5
rDev
+17.4%
look: 3.5 | smell: 3.5 | taste: 4.25 | feel: 4.25 | overall: 4
Very smooth, clean tasting beer... crisp finish... smells good and malty with coffee being up front for me. Excellent carbonation lead to a good smell. Tasted great for me because it was light and not what your expecting from a dark beer. Lead to a crisp, clean finish.. I would agree that it had a watery taste and would best be suited drinking during a meal. But and excellent beer that I would recommend to try because the balance of everything is pretty spot on....
★
469 characters



2.98
/5
rDev
-12.1%
look: 3.5 | smell: 3 | taste: 3 | feel: 2.5 | overall: 3
Tried in a bottle after a bad growler experience.
A – Virtually black with no head or highlights.
S – Light coffee. Touch of cola. Interesting potato-starch aroma.
T – Malty roast up front. Some of that strange potato-like starch comes through from the nose, and dives right into an incredibly dry finish.
M – Watery on it's own, but still manages to hold up well with food.
O – The arid dryness makes this an incredibly versatile beer for pairings, but the light body kills the stand alone drinkability.
P – Pair with pork burgers with sage, or try alongside grilled flatbread pizzas topped with roasted red peppers and char grilled onions.
★
662 characters
3.5
/5
rDev
+3.2%
look: 3.5 | smell: 3.5 | taste: 3.5 | feel: 3.5 | overall: 3.5

3.84
/5
rDev
+13.3%
look: 3 | smell: 4 | taste: 4 | feel: 4 | overall: 3.5
A - Very dark brown-black color with very little head. There is a bit of a tan-brown ring around the outside and little lacing.
S - Very strong deep roasted malt aroma, with some deeper chocolate/carmel sweetness mixed in to balance a bit. Just a hint of biscuit also noticeable.
T - Starts off with a sweet roasted malt flavor with a touch of starchiness mixed in. Through the middle there is a nice hit of deep roasted malt flavor. The finish is a sweet chocolate/carmel malt flavor that lingers for a while with a touch of coffee bitterness.
M - Medium bodied with very little carbonation. Feel a bit watery. Finishes super dry and leaves behind a nice crisp feeling.
D - Pretty drinkable. The dryness is really nice and really allows the flavors to pop out a bit. Only downside is, the beer feels a bit watery and could use a bit body/creamy feeling. The aftertaste is really nice and satisfying.
★
904 characters

3.71
/5
rDev
+9.4%
look: 4 | smell: 3.5 | taste: 4 | feel: 3.25 | overall: 3.5


2.22
/5
rDev
-34.5%
look: 3.5 | smell: 2 | taste: 1.75 | feel: 2.75 | overall: 2.75
A- The best part of this beer. It looks like a stout
S- Smells like a sour spoiled potato stout
T- Tastes even worse, it tastes like a potato that has turned colors (yes I have accidentally bit into one). Sour spoiled potato
M- Oh My God, very harsh acidic, thin stout
O- AAAHHH, this beer is sooo bad that I think that I will have to drain pour. It is a very sour potato stout. I am sorry, but I don't think that I want this. Why was this bottled?
★
452 characters
Long Island Potato Stout from The Blind Bat Brewery LLC
-
out of
100
based on
6
ratings.