The Flying Saucer Draught Emporium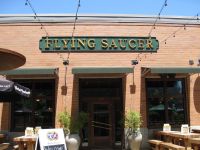 PLACE INFO
Type:
Bar, Eatery
815 W 47th St
Austin
,
Texas
, 78751-2359
United States
(512) 454-7468 |
map
beerknurd.com
Notes:
No notes at this time.
Added by AChamberlain on 05-11-2008
Reviews: 23 | Ratings: 52
4.38
/5
rDev
+10.6%
vibe: 5 | quality: 4.5 | service: 3.5 | selection: 5 | food: 4
I go here maybe once a week. Pretty standard Flying Saucer atmosphere. I like it a bit more than a couple of the other ones I've been to because it's a bit more quiet.
Selection is great, although not quite as good as some of the other locations. But it's not like all you have to choose between is BMC.
I try to avoid going on the busy nights (Tuesday, Friday, and Saturday) and instead go earlier in the day before it gets too busy to find a table. My two favorite days are probably Sunday ($2.75 Texas pints) and Monday ($2.75 pints for anything on draught with a couple of exceptions).
The food is fairly average pub food for the most part. The one thing that I really do like to snack on there is the two giant pretzels, which I am obsessed with. The food can also be good or bad, depending on when you go there.
Service is also pretty average for a pub. However, a few of the waitresses are really cool. If you make friends with them, you will generally get better service, and they will come by and hang out if it's not to busy.
Overall, I would recommend going here. Good atmosphere and selection, good service if you get the right waitress, and standard pub grub.
1,179 characters
3.88
/5
rDev
-2%
vibe: 4 | quality: 4 | service: 3 | selection: 4.5 | food: 4
Opened in January of 2008 as the 14th store in the chain (2 have closed). 70 taps on the wall and they try to keep in stock around 140 bottles (usually 4 non-alcoholic and 1 root beer). The beer garden feels wasted with the couches and regular tables, I would have preferred more of a setup like San Antonio's with cafeteria style tables.
Food is pretty good, sometimes feels overpriced. Use to have awesome potato salad but last time I went I couldn't even finish two bites of it, someone said they switched food suppliers. They defenitely get knocked for sub par queso which is a must in Austin.
They have a UFO club where if you drink 200 different beers (limit 3 per day) you get a plate on the wall and a $100 bar tab to have a party with your friends. Cost $14 to join and you get a tshirt at sign up.
Two dart boards which are of decent quality and have ok lighting. Sometimes the windows are open the draft shoots through the dart lane. If you are going to play darts just get your beer from the bar it is the fastest way. Several people have suggested coat hooks by the boards but none have appeared. Also on very crowded nights groups will stand in the lanes and if you want to play it is a pain to get them out of the way.
The place gets crowded most nights and seating is first come first serve but I've never had a problem finding seating with random groups if you just ask nicely. Parking use to be a hassle but now the parking garage is open it hasn't been an issue. The patio is large and tables seem to turn over fast enough if you can't seem to find a place to sit.
Service can be really hit or miss. Personally I was go to the bar to get my drinks unless I know the waitress to be good (and there are several). All the staff goes through training on the different styles of beers and they try to be knowledgeable when you ask questions. Some of the better ones actually know a fair amount and have offered up some good picks.
Waitress to get: Lindsay, Stephanie, Cassie, Laura, and Sarah
In the end a lot of people will still like the Ginger Man or The Draught House over the Flying Saucer. I think The Flying Saucer fills the gap for people who like the GM but hate dealing with downtown. And also people who enjoy more service then the The Draught House tends to offer.
The Details:
Happy Hour 4-7 with 23 oz glasses for the price of pints
Monday is pint night where everything that isn't a big beer is $2.75 a pint
Tuesday is trivia night
Wednesday is glass night where you get to keep the glass your beer comes in
Thursday is mystery beer night where you get a random (for the most part decent) beer for $2
Friday has happy hour until 8 instead of 7
Saturday has nothing
Sunday all Texas draughts are $2.75
Draughts listed on 6/2/08:
Ace Pear Cider
Allagash White
Anchor Old Foghorn
Anchor Steam
Avery Collaboration
Avery IPA (Cask)
Bass Ale
Bear Republic Racer Five
Belhaven Scottish Ale
Boddingtons
Breckenridge Agave Wheat
Chimay Cinq Cents
Chocolate Truffle
Dogfish Head 90 Minute IPA
Flying Dog Double Dog
Flying Dog In Heat Wheat
Flying Dog Tire Bite
Fullers ESB
Great Divide Hercules IPA(NEW!)
Guinness
Hacker-Pschorr Brau Weisse
Harp Lager
Hummingbird Water
Independence Austin Amber
Independence Bootlegger Brown
Left Hand Haystack Wheat
Lindemans Framboise
Live Oak Big Bark Amber
Live Oak Hefe-Weizen
Live Oak Pilz
Maredsous 10
Maredsous 8
Murphys Irish Red
Murphys Irish Stout
New Belgium 1554
New Belgium Fat Tire
New Belgium Sunshine Wheat
Newcastle Brown Ale
North Coast Old Rasputin
Old Speckled Hen
Paulaner Hefe-Weizen
Paulaner Salvator
Pilsner Urquell
Pyramid Hefeweizen
Real Ale Brewhouse Brown
Real Ale Devils Backbone
Real Ale Fireman #4
Real Ale Rio Blanco Pale Ale
Rogue Shakespeare Stout
Rogue XS Imperial IPA
Saint Arnold Lawnmower
Saison Dupont
Sam Adams Boston Lager
Sam Adams Summer
Sierra Nevada Harvest
Sierra Nevada Pale Ale
Sierra Nevada Porter
Smithwicks Ale
Spaten Franziskaner Hefe-Weiss
Spaten Lager
Spaten Oktoberfest
Steamworks Third Eye P.A.
Stella Artois
Thomas Kemper Rootbeer
Victory Golden Monkey
Victory Prima Pilsner
Warsteiner Dunkel
Woodchuck Amber
Youngs Double Chocolate Stout
4,166 characters
3.63
/5
rDev
-8.3%
vibe: 3 | quality: 3.5 | service: 3 | selection: 4.5 | food: 4
Most of this review was from Jan 14, 2008 -- They opened Jan 10. I've added a few comments though.
- Parking not bad -- it was a Monday, though.
- Comprehensive, well organized beer menu.
- Waitress was clueless about the beers ( but cute). Woe to the casual beermonger that needs help in making a decision on what to drink.
- They should post the % ABV on the menu. They had Avery Mephistopheles as a guest beer (16%!!) Somebody should know that before buying.
- My friends LOVED the UFO club. They were intent on drinking the 200 beers to get their saucer on the wall and the free T shirt.
- The bratwurst was disappointing. Poorly warmed bratwurst , kinda greasy. Covered up by lots of kraut and mustard. Roll was nice, though.
- Bratwurst and Abt 12 is not a good pairing.
- I guess they'll have outside seating when it warms up.
- I had a Brackenridge 471, Abt 12, Franziskaner Hefeweizen, and Racer 5. Only the Abt 12 had 1 finger of foam the others had absolutely no head.
- They really need to increase the CO2 pressure on their gas. All the beers are stadium pours -- absolutely no head. I've had some beers that were kind of flat also.
1,145 characters
The Flying Saucer Draught Emporium in Austin, TX
3.96
out of
5
based on
52
ratings.