Jack's Bistro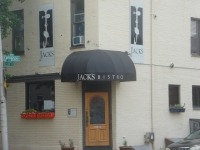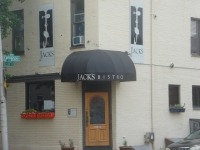 Bar, Eatery, Beer-to-go
3123 Elliott St
Baltimore
,
Maryland
, 21224-4911
United States
// CLOSED //
Notes:
Reviews: 5 | Ratings: 8
4.5
/5
rDev
+0.4%
vibe: 4.25 | quality: 4.5 | service: 4.5 | selection: 4.5 | food: 4.75
Late night, at the suggestion of Jim. Not late night per say, just late enough to roll in as they're changing over to the late night menu, which I believe turns comes 10. Parking sucks here and everywhere else in this town but I have skills, see. Used said skills, landed right there, and entered through the side doors, like hippies do...
Long straight grainy wood topped bar with a lip, panel wood base, and brass foot rail; seating for 14 on swirly iridescent swivel chairs. Barback is a framed wood pieced unit garland strung with baby white lights and a drop wreathe, must be the season of the whichever. A large center mirror sits over an 8 tap tower, and rounded mirrors to both sides with tiered booze fronting. Cupboardry below, an end unit with all sorts of glassware shelved, and a horizontal wine rack on one end with some booze displayed above. Bottled beer empties shelved and ceiling lines on the end of the end, and flats on the corners of the bar.
Seemingly pale green walls with a blueish trim. Baby blinded windows with twisted vasing, light lantern play, & some mounted pointing lamps. A pair of vertical boards list tap selections & happy hour specials, and retro art & framed ad pieces adorn. Block tile floorings and some sort of a ceiling protecting me from inclementedness, sunken spots, and a pair of spinnys. 3 booths bar adjacent and 5 shorty tables on the end for the push together as needed or not. And a baker's dozen 2-seat tables in the far room looking in on the open kitchen area happenings there.
8 taps, not amazingly approachable and nothing servable in a pint, that's for damned sure. 2 of them American craft (Stone Double Bastard, Southern Tier Compass), and the remainder are imports (Maredsous Blonde, Liefmans Goudenband, Dupont Posca Rustica, Aecht Schlenkerla Rauchbier Weizen, Emelisse Winterbier 2012 Quad, Harviestoun Ola Dubh 12). A single 6oz taster will run you $3 and they do flights of any 3 for $8; not too shabby.
But they more than make up for it on the bottle side, uh huh. Nearly 80 entries; the menu broken out styleish. Roughly 1/3 of the bottle entries are US, they've got a nice little sour collection (Tilquin Oude Gueuze, a pair from Oud Beersel, 4 from Hanssens, 3 from Loverbeer, Rodenbach, Duchesse de Bourgogne), and there are a whole lot of goods otherwise (and Natty Boh, Miller Lite, & Yuengling where needed who needs). I opted for the Maine Another One, but apparently a good few others had before I 'cause they were all gone, so I rebounded with a Maine Weez. Oh, black IPA. And then slummed it with a Hanssens Oude Kriek, which was just wonderful. Could have gone the way of the Oudbeitje, Cassis, or Gueuze, but I think I was in the right place. Things seem fairly reasonably priced, too; (lovely) Orval runs a cool $9. And on the grape side, some 53 wines available, if that's your thing.
Yep, late night menu. Toyed with the Sous Vide flat iron steak frites and the 100 % ground bacon "BLT burger" (listed as containing absolutely no beef), but then I saw the Sous Vide duck breast and lost my shit. Served with an old bay & corn puree, sautéed swiss chard, soy beans, & roasted Yukon gold potatoes. It was really goddamn good.
Nice comfortable place. Very tasteful retro bathroom art, it should be mentioned and never spoken of again. Really good tunes, Alice in Chains, Pearl Jam Black (Hoo Hoo, ah ha), other haunts from my formative 90's. And now that Filter song 'Take a picture'. I am singing aloud on the inside and must refrain from letting it becoming an external voice, sometimes I cannot tell the difference. Ryantender tonight, he used to deal at Ashley's in Ann Arbor (Been there, drank that). Caught a great meal and it looks like they've got more of them to deal out. And a solid beer scene. Wow, it got late. Where's 'ma hotel?
3,859 characters

4.68
/5
rDev
+4.5%
vibe: 4.5 | quality: 4.5 | service: 5 | selection: 4.5 | food: 5
Jack's Bistro is a unique neighborhood bistro in the cool area of Canton in Baltimore. It looks and feels like a homey tavern, but it serves amazing avant-garde cuisine and pours some really good craft beers.
Very cozy, friendly place with exceptional service. Fast and efficient. You show up once, they'll remember your face forever, I swear! :-)
While the emphasis might be on wine, the beer choices are really excellent. I'm not sure they have ten taps as the BA listing says, but I have had some really good brews at Jack's, like Green Flash West Coast and Heavy Seas Below Decks Barleywine. Also Brewer's Art, Great Divide... and the other day they tapped a Brewdog Tokyo!!!
Prices were a lil' high, specially the bottled beers, but also the drafts. $7.50 for my goblet of Heavy Seas Barleywine!
Their bottle list is impressive (but, yes, pricey). Lots of familiar and strange beers by style. Barleywines from Italy, Whiskey-aged brews from Scotland, Trappists and Lambics from Belgium... a well-curated selection, and I bet servers would know how to pair them with the food coming from the kitchen.
But you should come here for the food. Pork belly, duck-sausage-and-foie-gras hot dog, ranch-dressing ice-cream, chocolate mac-and-cheese... some weird stuff! Some of it works, some other dishes are not great, but I love that they are adventurous.
I keep coming back here. It is one of my favorite restaurants in Bawlmer!!
1,436 characters
4.68
/5
rDev
+4.5%
vibe: 4.5 | quality: 4.5 | service: 4.5 | selection: 5 | food: 5
Many people talk about Jack's bistro and some love it, some think it is ok, but one thing is for certain, you never know what will be on the food or drink menu.
As you walk into Jack's, you can see the nice clean modern finishes, the small dining room in the back, the bar stools and booths in the front. When you look a little deeper you can see the 8 taps on the wall and the line up of bottles. The taps are rotating, with a Brewer's Art (usually Ozzy) being the only staple. The bottle list is impressive for a small restaurant, even breaking the list down into styles for customers who may not know the different beers. They carry larger bottles as well (750 mL bottles) that you are able to share, as well as a good selection of wine.
The taps rotate weekly, which you can be notified about in their weekly email. The last time I was down was for an after work beer (hot day with Great Divide Colette on tap- perfect saison for the weather), and I stayed for 3 (others were De Glazen Toren Canadar and BrewDog Paradox-Isle of Arran). The website gives a nice sample of the beers that they would have on tap, but it is not updated regularly.
The food is not to be over-matched, as the chef's personal touches can be seen all over the menu (pop rocks on sushi? who would have thought). They grow herb and the such on their rooftop (as can been see from many peoples rooftop decks in the neighborhood)- and are always looking for specialty seasonal vegetables (Japanese purple potatoes taste remarkable).
There are many people who think that Jack's is too hyped up, but I think that the food and beer is as good as any other place in the city.
My favorite- Steak Frites paired with the 3- 6oz pours sample (3- 6oz pours for only $8- your choice of the beer on tap is a good deal to me).
To cap it off, the waiters/waitresses/hostess/bartenders know the beer. They are not snobbish in any way, but helpful when you come across a unique beer.
Finally- yes they have macros in the bottle, but they aren't listed on the beer menu- my kind of place.
2,056 characters
4.4
/5
rDev
-1.8%
vibe: 4 | quality: 4.5 | service: 4.5 | selection: 4.5 | food: 4
Atmosphere- A nice cozy environment of 20- and 30-somethings. The place strikes me somewhere between casual and elegant dining... I''m comfortable wearing jeans in there... but I wouldn't wear shorts and sneakers. The layout of the bar suggests that they consider beer an important part of their offering.
Quality- Everything about this place screams quality. Everything was clean, including our white tablecloth. The beer menu was comprised of artisanal selections from around the world. The food menu incorporated a number of fresh seasonal ingredients. And ALL the beer was served in appropriate glassware!
Service- Excellent service. Our server was engaging, but not smothering. Knowledgable and friendly. Our glasses never were empty, and the food came-out at a fantastic pace.
Selection- Eight draughts, all craft beer. Malhuer 12, ST Chokolat, Paulus Oud Bruin, and more. Not a lot of draughts, but the ones they had were very impressive. Their bottle list was very impressive as well, with somewhere around 50 high-quality selections... US Craft, Trappist, German, English, and more. Even a 1996 JW Lees Harvest Ale on the menu!
Food- The food was good. I have been TOLD that the food is typically exceptional... but last night I ordered a "Pig Organ Soup", which consisted of pig kidneys, liver, stomach, tongue and mushrooms in a clear broth. I didn't enjoy it... granted, there's always a risk in trying something "adventuresome". For my main course I ordered their cod... which tasted good... for some reason, though, the fish seemed a bit dry... less succulent than I would have liked. Don't get me wrong... I definitely want to eat here again. It wasn't bad at all.
Note: The only true disappointment was quite trivial; their beer menu was poorly organized. Their "REDS" section lumped Duchesse de Bourgone with Lagunitus Imperial Red. Their Kasteel Rouge was labeled as a "Lambic". Kwak was labeled as a Pale Ale. This puts-off the beer geek and misinforms the beer apprentice. But if this is the only REAL issue at Jack's, then it is truly a trivial complaint.
2,083 characters
4.1
/5
rDev
-8.5%
vibe: 4 | quality: 4 | service: 4 | selection: 4 | food: 5
Jack's opened up with some fanfare a year or so ago on a little known side street in Canton, in between the O'donnel square and Boston Street. Parking leaves one up to the mercy of what is on the street in the neighborhood.
The inside would be defined as "intimate" as it is only as wide as a wider Bmore rowhouse. The small L-shaped bar sits a dozen or so with some 4-top booths running along the other wall. A dozen or so smaller tables are in the back dining area. Good mix of tunes playing...
The quality and selection is much better than your average Canton bar and just about any other "bistro" in the city. There are eight drafts of quality local, regional and international goodies. I've enjoyed some Maudite and Brown Shugga recently. In bottle are a couple dozen "beers of the world" that cover everythingk from Urthel to Fraoch. Prices are a bit pricey; $5-8 for drafts, most non-rarity bottle are less than $10. There are some HH prices at the bar.
Food is stupendous and inventive, changing with the seasons ingredients. You won't be let down, though the chocolate mac and cheese is something people love or hate.
Overall: Come for the great food, stay for some great beers...
1,193 characters
Jack's Bistro in Baltimore, MD
Place rating:
4.48
out of
5
with
8
ratings