Hops And Grapes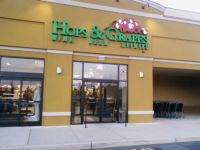 PLACE INFO
Type:
Store
810 N Delsea Dr
Glassboro
,
New Jersey
, 08028
United States
(856) 582-8110 |
map
Notes:
No notes at this time.
Added by BrianMcCabe on 05-12-2008
Ratings: 14 | Reviews: 12
Reviews by engisch:

4.2
/5
rDev
+6.6%
On my friend's recommendation, a wine drinker, I visited this store. It is a very nicely kept store. A nice selection of singles, although some were a bit pricey compared to other stores, but all in all the prices were reasonable. This is definitely a wine store primarily, but there is a decent amount of warm and cold beers.
Mix your own 6-pack. In addition there is a cigar shop and a coffee bar (possibly the only place in the area with espresso), but I'm here only for the beer. Hops and Grapes is a great place to stop for many markets (good amount of beer, lots o' wine, liquor and cigars), and you can get a coffee while you search. A nice relaxing and cozy atmosphere to shop for beer.
694 characters
More User Reviews:
3.83
/5
rDev
-2.8%
vibe: 3.75 | quality: 4 | service: 3.5 | selection: 4
My job had me in Jersey for the day, so I figured I would check this place out. A clean and well kept store in a modern shopping center. Selection has lots of craft six packs, and a good number of singles. Import selection was pretty impressive, especially with beers from eastern Europe. Prices were clearly marked, and priced fairly. My only contact with staff was checking out, she was polite and cheerful. Overall a good store that I will stop at again if in the area.
472 characters
4.03
/5
rDev
+2.3%
vibe: 4.75 | quality: 4 | service: 3.75 | selection: 4
3.8
/5
rDev
-3.6%
vibe: 3.5 | quality: 4 | service: 3.75 | selection: 3.75

3.4
/5
rDev
-13.7%
vibe: 4 | quality: 3 | service: 3 | selection: 4
Finally made a visit here, and was a bit disappointed. Nice, large store. Nicely decorated, but seemed rather dark inside. Reminded me of a cigar lounge, lol. Pretty nice selection including Port/Lost Abbey, Founders, etc. However, be careful of the dates! I found quite a bit of old stock on the shelves, including IPAs over a year old! I grabbed a couple bottles of Vitus and headed on my way. Service wasn't very knowledgeable nor helpful, which wasn't what I expected from a nice looking store like this.
508 characters
4
/5
rDev
+1.5%
vibe: 4 | quality: 4 | service: 4 | selection: 4
I've been able to stop by here a few times on my way to Atlantic County and other places in South Jersey.
The folks here are very helpful and nice, often stopping to inquire if assistance is needed.
Generally they offer a wide range of beers, many of which are not found in PA so I usually opt for those when visiting Jersey. The selection of beers on offer is pretty good and I can always find something to buy that I'm interesting in drinking or sampling (e.g., I got to try the Ola Dubh 16 by purchasing it here, and they have a range of Climax beers in the growler size bottles).
The prices are reasonable and in line with what I generaly expect to pay when traveling so the beer I drink in Jersey I always buy in Jersey.
My only complaints are pretty much the same as those I have about most bottle shops I visit while traveling outside of PA. There are beers I have to pass up because they are not dated and so I can't tell how fresh they are. And I know there's some risk of buying out of code beer here since more than once I've found beer on the shelves that was past its freshness period or right at the very end of it. That said, generally the beer is fresh and reaonably priced and I have the impression they keep their stock fresher than most.
1,260 characters

4.15
/5
rDev
+5.3%
My wife works at Rowan University so we shop for beer here frequently. It's basically an upscale liquor store with a artisan cheese/coffee counter and an impressive selection of craft beer.
The staff isn't very knowledgeable about craft beer but they will go out of the way to find something for you, including bringing out a ladder to reach a case of beer that was sold out on the shelves.
They have about five coolers of macros and craft six packs as well as some bombers. Nice selection of Belgians and Germans but they specialize in American craft. Lots of Stone, Weyerbacher, Founders, Bells, Southern Tier, North Coast, etc. I've even found some KBS and Captain Lawrence beers. Recommended if you are in the area.
721 characters
4.35
/5
rDev
+10.4%
This is my usual place for any kind of alcohol. I think they have a pretty impresive beer section. I can sometimes find a suprising find here and there. The beer section probably takes up 1/5 of the store with the frigerated section taking up an entire 400+/- ft wall. I don't think it will ever disappoint me. They have a make your own six pack section witch is probably my favorite quality in any liquor store. It sometimes takes a while for someone to assist you but it is a pretty huge store, not to mention that I usually spend too much time in there.
556 characters
1
/5
rDev
-74.6%
Don't be fooled. These guys are price gougers. I recently went in to purchase a couple of 4 packs of Founders. They refused to sell them by the 4 packs and wanted to sell them by the individual bottle only. Go to Monster Beverage in Glassboro or Joe Canal's in Mantua instead. Poor attitude by staff when called on it too.
Monster Beverage is about a mile down the street from them. The staff is more courteous and willing to help. They have a better selection. Their prices are better too.
Joe Canal's has a really good selection and is knowledgeable about their products. You can build your own 6 pack. They have recently started selling growlers to go too!
661 characters

4
/5
rDev
+1.5%
A clean, well stocked place in what is otherwise a grim tomb of a shopping center on a dying commercial strip. You won't have any trouble spotting it from the Highway since it stands out like it should be in some gleaming wealthy suburb.
Inside is a well stocked, clean, high-end liquor and wine store. It doesn't have the absolute best beer selection in the area, but it's pretty damned good. It's got a nice lineup of local and regional offerings, with most of the solid national brands available in the area - Rogue, Stone, Bear Republic, Bruery, Founders. It has an extensive cooler lineup, with chilled sixpacks of most of the warm offerings. It has an unusually good selection of single 12 ounce bottles, including most, though not all, of the six-pack offerings, and a decent selection of 22 oz bottles. It has a a decent shelf of Belgians and other imports.
On the wine side, this place has the best selection I have seen of New Jersey's much underrated wines. They are worth a try.
The staff was friendly, but I found the manager a bit condescending in our brief conversation.
1,088 characters

3.95
/5
rDev
+0.3%
This place looks really nice, has an espresso bar, sells cheese and stuff, but I'm only concerned with buying beer here.
The selection variety is tops for what you can get in these parts of NJ.
But the freshness is not so great. Stupidly I purchased an Espresso Stout bottle from Hichitano that was OLD...sour..I was mad. But, they also had fresh Breakfast Stout 4-packs from Founders.
I'm only going to buy seasonal stuff here from now on [like Nugget Nectar] since they can't be trusted to take old beers off the sales shelves.
The girl who rang me up was total Jersey. Too much makeup..not an iota of interest in my purchases..it was like buying beer at a grocery store [in other states] from a bored kid.
11/27/09 edit: the beer manager of Hops and Grapes beermailed me and apologized..which I didn't expect..that is pretty conscientious of him, so I am increasing my rating.
888 characters
5
/5
rDev
+26.9%
I love this place. Whenever I want to venture out and open up to some new beers, I always check their a la carte and microbrew section. I come away with a couple 6 packs every time. I'm not so big on the wine as of yet, but from what I can see, it's quite amazing. Very personable staff, will help you out with anything you want and give advice and complements to your beer, wine, or liquor.
It's easily one of the finest beer and spirits store in the area. You can also order online at their website, and some of the stuff is even discounted 10%, check it out.
562 characters
4
/5
rDev
+1.5%
I was driving through Glassboro today and stopped in. The store is beutiful. They have a coffee bar, cheese bar, walk in hummidor, big wine and liquor selection , as well as beer. The square footage for beer in the store is small compared to wine, but the selection is pretty good. They had lots of Stone, Founders, Flying Dog, and Jolly Pumpkin along with many other breweries. The singles selection was pretty solid. The price was pretty reasonable, some things seem a bit high, but most was fair. The staff was very helpful when I could not find Oskar Blues. The store is very nice but I think Monster Beverage (about 1 mile down the road) has a better selection.
666 characters
4.65
/5
rDev
+18%
Quality: Quality is excellent. The store is very clean and well kept. Beer and wine quality are excellent.
Service: Service is excellent. Staff i always willing to help and answer questions. Never a long line at the register.
Selection: Selection of beer and wine is great and varied. Lots of coolers with craft beer. Also a huge selection that is not chilled. You can mix and match your own six pack. Every time I stop in they have new beer stock and are always adding new beer.
Value: Very reasonably priced.
In addition to the beer and wine they have a coffee shop, cigar shop and offer accessories.
Overall a great place to stock up. Its a regular stop on my beer shopping quests.
691 characters
Hops And Grapes in Glassboro, NJ
3.94
out of
5
based on
14
ratings.