Holy Grail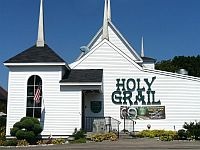 PLACE INFO
Type:
Bar, Eatery
64 Main St
Epping
,
New Hampshire
, 03042-2425
United States
(603) 679-9559 |
map
holygrailrestaurantandpub.com
Notes:
No notes at this time.
Added by tcbl1007 on 05-22-2008
Ratings: 12 | Reviews: 6
Reviews by ElGallo:

3.55
/5
rDev
-6.3%
vibe: 4 | quality: 3.5 | service: 3.75 | selection: 3.25 | food: 3.5
Stopped in here a few weeks ago with some friends for a late meal and a beer. The building is a converted church and is very homey and comfortable inside. Large bar in the middle of the main open room, plenty of tables on the main floor and in the old choir loft. Plus there is a small ante room with a dropped ceiling where they frequently have live music.
The food was standard pub fare, reasonably priced, and tasted good to me (buffalo chicken dip and a french dip sandwich). Server was quick, knew the menu and the beer list.
For a place that touts itself as an Irish Pub and craft beer bar, I saw many more "crafty" beers than true craft. Of the 20 or so taps I perused as I walked in, only Dogfish Head 60-Minute and Smuttynose IPA stuck out as interesting, which isn't saying much. But I guessed I picked the right week to be there, because the last tap I saw was Goose Island Bourbon County Brand Stout. This impressed me for sure. Had a couple 7 oz. pours of the BCBS, which were priced okay ($6), and in the end we had a nice overall experience. The atmosphere here is great, and the food is good too, but don't expect to be wowed by the beer list.
1,161 characters
More User Reviews:

3.93
/5
rDev
+3.7%
vibe: 4.25 | quality: 3.75 | service: 4 | selection: 4 | food: 3.75

4.14
/5
rDev
+9.2%
vibe: 4.5 | quality: 4 | service: 4 | selection: 4.25 | food: 4.25
3.88
/5
rDev
+2.4%
vibe: 4 | quality: 4 | service: 4 | selection: 3.5 | food: 4
Always a few solid choices on tap, but could do away with several options that should only come in a can or bottle.
115 characters
4.04
/5
rDev
+6.6%
vibe: 4 | quality: 4.25 | service: 3.75 | selection: 4 | food: 4.25
3.75
/5
rDev
-1.1%
Decent food. Great selection of Beers.
38 characters
2.85
/5
rDev
-24.8%
vibe: 3.5 | quality: 3 | service: 2 | selection: 3 | food: 3.5
Beer selection is all entry level drafts. No up-to- date list exists, except a laminated menu, which encourages you to make sure to try all the great beers they have before the end of 2010. If there's a special, it's up to you to figure it out, as you will not necessarily be informed( we were not). We were seated 5 feet from a swinging service door, with pretty steady stream of staff. Hostess disappeared before we could ask for a different seat, also did not give a coherent answer as to why we couldn't sit on the balcony, prior to the disappearance. Strong detergent odor on pint glass. So far so good.
The food was decent. When I asked what the fried can be substituted for, I was informed Irish slaw, which turned out to be a slightly larger than an average container of slaw, that most places will give away for free. And not sure what make it Irish, unless all the other eateries in the area secretly serve the Irish version.
So what's a beer geek to do with no good beer on tap? Get a black and tan! Well, for some reason, the folks at this place feel that a black and tan 80% Guinness with the other beer filling the rest of the glass. Also odd.
And again about not updating the list- the only way to see what they have is to go up and look at tap handles, which isn't easy, as the bar was packed, taps are scattered around, and not all taps state what they carry, or indicate only the brand, but not the type. Would a chalk board be so impossible to put up? What about having an up-to-date selection online? Their Web site has the same outdated list.
1,563 characters

3.6
/5
rDev
-5%
vibe: 4.5 | quality: 3.5 | service: 3.5 | selection: 3.5 | food: 3.5
My cable guy actually told me about the place shortly after moving to nh this past year. I did a little online research and decided to check it out. The atmosphere is nice the bar is in an old church with some the original stained glass still in tact. Heavy Irish/English influence in the decor with alot of cheesy signs/license plate etc.
The beer list is large but not all that impressive of a selection. they have all of the BMC offerings on tap taking up at least half of the 20 or so taps with DFH 60 min and Rogue dead guy being the two standouts on the tap list. some good bottles but again nothing too impressive La Fin Du Monde Long trail brewmaster series etc.. but not what I was expecting after what I had heard about the place.
The food is good with alot of irish classics like sheaprds pie, boiled dinner. and an irish dip sandwich. I had the prime rib on one occasion and a burger on another both were decent but not cooked properly as i had ordered. The service is good and the place tends to get rather crowded on the weekends with well over an hour wait for a table. Given the options in the area are rather limited I can see myself returning somewhat frequently.
1,183 characters
3.68
/5
rDev
-2.9%
vibe: 4 | quality: 3.5 | service: 3.5 | selection: 4 | food: 3.5
The Holy Grail, formerly the St. Joseph's Church, was opened last year by David and Maureen Kennedy. Their goal was to bring authentic Irish and English cuisine to the New Hampshire seacoast.
Admittedly, I had expected to find a hidden haven for beer geeks, based on the descriptions that I had been given. Unfortunately, the actuality was a bit of a let-down. While the beer selection was very extensive, it didn't blow me away.
As I walked in, the decor reminded me of an Irish Applebees. St. Patrick's Day countdown clocks, street signs, license plates and coats of arms made up the majority of the decorations. The original stained-glass window were the most impressive feature, but unfortunately they have been there for decades.
As I eyed the draught selection, I was disappointed to see so many familiar tap handles: Bass, Harp, Newcastle, Sam Adams. However there were a few nice surprises - Rogue's Dead Guy, Tennents Scotch Ale, and the namesake, Holy Grail Ale. I reviewed the beer menu - an impressive looking list - I ordered an Old Specked Hen. The bartender looked at me sideways. After I repeated my order, she walked over to the taps, and walked back to tell me that they weren't currently offering that choice. Dejected, I returned to the list and settled on a Fuller's ESB. The bartender, making up for her lack of knowledge with politeness, described the details of the Roundtable Club. If you are able to complete the roundtable gauntlet - drink one pint of all 20 beers on tap and the 20 upper echelon bottles - you earn a place on the wall for your family's crest, as well as a t-shirt brandishing your crest on the front, and the Kennedy's crest on the back.
If you are willing to push further, you can attempt to drink all of the premium 22oz bottles, and receive a custom inscribed brick to lay in the forthcoming patio on the backside of the pub.
I enjoyed a pint of Belhaven and a bottle of Sea Dog Hazelnut porter while having an Irish Dip sandwich - thin sliced roast beef and cheddar on a baguette, with a side dish of Au Jus for dipping. I asked for coleslaw on the side, but got fries instead.
All in all, it was a pleasant place to have a good beer and good food. I only experienced the feelings of disappointment because I was expecting, or maybe just hoping, that I would have something comparable to a Novare Res or a Three Penny Taproom right here in my backyard. Although it fell short, I will most certainly be back to try and complete the Roundtable Challenge.
2,508 characters

3.7
/5
rDev
-2.4%
vibe: 4.5 | quality: 3 | service: 4 | selection: 4 | food: 3.5
My wife and I went on a road trip to this newly-opened place in Epping, NH. It's easy to find on Main Street: an old Catholic church that's been renovated. I was told the place had been vacant for about 15 years, and it looks like they did a great job in fixing it up. The entrance was moved to the parking lot side. Curved wooden doors enter into a hallway to the restaurant. Restrooms are on the right as you enter, and ther's a life-sized representation of a monk or friar at the check-in place. The restaurant is bright and cheerful. Walls are a pale yellow, lots of wood, and some beautiful stained glass windows. It looks like some are original and some are recently built. There's a nice mural in what must have been the nave of the church. As you enter the restaurant, the U-shaped bar is on your immediate left, and there are tables and booths throughout the room. There is a balcony extending partway over the dining area. This looks new, with the area for the church organ further back. The bar seats 18-20 people, and there must be room for another 100 or so in the seating areas. Plenty of TVs, if that's what you're looking for. Fortunately, no pool tables or dart boards.
I counted 19 beers on tap and 23 bottled beers. The menu said casks coming soon (they had been opened 2 days when we went there). I thought the beers were rather uninspiring. The highlights of the on-tap list were DFH 60 minute IPA and Rogue Dead Guy Ale. Among the many macros on the bottled side were Mike's Hard Lemonade and Kaliber. I had a Tennent's on tap, not too bad. My wife ordered a Long Trail Belgian White. The waitperson came back and said the keg had kicked, but she could have it in a bottle. My wife said that was fine, and they brought her a Long Trail Hefe. My wife said no thanks to that, and was told that they were tapping another keg of the Belgian White. Except they weren't, so she ended up with a bottle of Hoegaarden. The beers on tap came in 10 or 20 oz servings. My 20 oz Tennents came in a pilsner glass emblazoned with a Miller Lite logo.
I had a reuben, which was excellent. Thickly-sliced meat, nice amount of dressing and sauerkraut. The fries were good. My wife's fish basket arrived with undercooked batter, and was pretty much a disaster from the onset.
Throughout all this, our server was a real trouper. She was attentive, and tried to make sure we had all that we wanted.
To summarize, I think the beer list is rather pedestrian, and I hope that once they get up and running, the food will improve. I'll probably give it another try in a few weeks.
July, 2009. It took me longer than a few weeks, but I made it back to The Holy Grail, and had a much better experience. The draft list is solid, not spectacular. With 20 taps and 20 bottles I think there's something for everyone. The food is much better, although still typical pub food. Lively crowd on a Sunday, everyone seemed to be enjoying themselves.
2,937 characters
4.83
/5
rDev
+27.4%
vibe: 5 | quality: 5 | service: 5 | selection: 4.5 | food: 4.5
If you're looking for a real nice atmosphere for dinner at a reasonable price, then the Holy Grail in Epping, NH is the place to go!
They've only been open for a few weeks now, but they've done everything right. I'll start with the surroundings. The Holy Grail is a renovated church, and they've kept all the key parts from the church to enhance the environment. There's a beautiful peaceful dining area in the choir loft, and all the beautiful stained glass and paintings are there surrounding the main bar area.
Speaking of the bar, their selection is outstanding. They keep all that Budweiser and Coors crap hidden behind and underneath so as not to cheapen the atmosphere. What you can see is a ton of tap handles offering only the finest quality beers! They have great imports, as well as great domestic hand crafted beers. And they run the full gamut of styles, too.
And with the beer, ya gotta have food! I understand they are still working a bit on the menu, but we have been very pleased with everything we've had so far. All the appetizers we've had have been excellent! And we haven't had any of the authentic Irish cuisine yet, but we have had the fish dinner which was exceptional. The light crispy batter on the fish was outstanding. And even though we haven't had any of the other meals yet, we have only heard praise from the patrons around us.
And the staff they have on hand is also superb - they're very knowledgable, very efficient, and very friendly. They always provide a very pleasant experience for us. And don't forget to say "hi" to the owner, Dave Kennedy, who we always see walking around and chatting with everyone. I know he's always happy to hear about your experience at the Holy Grail.
Do not pass this place up! You will not be dissapointed!
1,780 characters
Holy Grail in Epping, NH
3.79
out of
5
based on
12
ratings.