Black Heart Imperial Stout
| Southern Oregon Brewing Company
BA SCORE
83
good
14
Reviews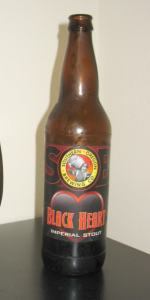 BEER INFO
Brewed by:
Southern Oregon Brewing Company
Oregon
,
United States
sobrewing.com
Style:
American Double / Imperial Stout
Alcohol by volume (ABV):
8.50%
Availability:
Rotating
Notes / Commercial Description:
No notes at this time.
Added by Rifugium on 12-31-2011
Reviews: 14 | Ratings: 27

3.88
/5
rDev
+8.1%
look: 3.75 | smell: 3.75 | taste: 4 | feel: 4 | overall: 3.75
22 oz. 2014 bottle retrieved from Oregon and served in a goblet in Atlanta.
Pours clear dark reddish-brown; dark enough to look essentially black and opaque in the glass. Modest size head that is semi-durable and leaves little lacing.
Aroma: chocolate, spicy hops, molasses and dark roasted grains.
Flavor: simple but solid, with moderate strength and very good balance. Hop presence peaks mid-taste.
Feel: full body with well chosen, near medium carbonation.
470 characters

3.73
/5
rDev
+3.9%
look: 3.25 | smell: 3.25 | taste: 4.25 | feel: 3 | overall: 3.75
pours dark mahogany brown with ruby undertones. my bottle unfortunately, had seemingly lost its carbonated head; very minimal fizz throughout, but left minor traces of sticky tannish lacing on the sides of the glass.
pronounced molasses / deep raisiny- smokey- oaty- maltish flavor... others have claimed chocolate, but I find none. on the thinner side of creaminess without the carbonation, but very smooth, slippery, and almost chewy.... long-lasting sippable, medium-full bodied...not overly sweet, with slightest bitterness, yet somewhat more than a Guinness..... very little top-hopping, and only the slightest mollasses smell to speak of...
as an imperial stout, it reminded me of a Black Boss Baltic Porter or Spaten Optimator, with twice as much flavor and charcter as a regular oatmeal stout... the higher ABV sneaks up on you quickly, so I stick with a small glass at a time.
nice overall...not especially memorable, but true -to-type, and entirely drinkable.
975 characters
4.27
/5
rDev
+18.9%
look: 4.5 | smell: 4.25 | taste: 4.25 | feel: 4.25 | overall: 4.25
Look - Thick, luscious, creamy pour. Head longevity quite good. Very pleasing to the eye/passes eyeball test for sure.
Smell - Rich, chocolatey malt scent. Pleasing level of boozy scent.
Taste - Creamy, smooth texture, malty deliciousness. Heat on tongue lingers nicely.
Feel - Malty, creamy, nom nom. Great body.
Overall - I'd get a growler of this for sure :D One of their best beers, this needs to be a standard and not just a seasonal.
439 characters

3.25
/5
rDev
-9.5%
look: 4 | smell: 3.25 | taste: 3 | feel: 3.75 | overall: 3.25
Pours a pitch black with little head to speak of
Smells kind of like cola with chocolate in it. Maybe some coffee, roasted malt quality.
Taste is kinda sweet like cola, with a slight bitterness and a semi sweet aftertaste.
Meh, its kinda average.
Overall I don't care for this Imp sout that much, they could have done better.
329 characters
3.4
/5
rDev
-5.3%
look: 3.5 | smell: 3.5 | taste: 3.25 | feel: 3.5 | overall: 3.5
On tap at Tin Bucket the other day.
The beer pours a blackish brown color with pretty decent head retention and light lacing. The nose is decent as well (if not particularly exciting), as I get some coffee, vanilla, licorice and light dark chocolate. The flavor profile replicates the nose, but the beer was a bit light and thin for the style I thought. There was some noticeable hoppiness in the finish as well, that tended to dry out the modest sweetness, and didn't interact all that well with the licorice flavor I thought. Mouthfeel was a bit thin, the finish was adequate. Alcohjol was well integrated into the flavor profile.
I liked the pils from these guys a lot, but this was really a pretty weak effort from SOB.
726 characters
3.44
/5
rDev
-4.2%
look: 2.5 | smell: 3.5 | taste: 3.5 | feel: 3.5 | overall: 3.5
Appearance is a very dark ruby red having minimal head and lace. Smell of lightly sweet and roasted malt having a dark fruit and hop note. Taste has an overall mellowness having a light balance of sweet, roasted malt and hop with no hint of alchohol. Mouthfeel is medium - light having nice carbonation for the style. An easy drinking imperial stout.
350 characters

3.45
/5
rDev
-3.9%
look: 3.5 | smell: 3.5 | taste: 3.5 | feel: 3 | overall: 3.5
This imperial stout came to me all the way from the Jacksonville, Oregon area to fill up my nonic pint. Let's get started.
Appearance- It pours a little lighter than one expects an indomitable imperial stout to, but the black body is there. The head is only a foamy ring of brown sugar.
Smell- Very sweet, the scent reminds me most of granulated sugar and white bread with a little bit of port mixed in. For eight percent, I am a little surprised by this. Even a little mashed fig to bring it home. Back off the alcohol a little and I am with you on this one.
Taste- A little bit of smokiness hits the palate with more muted notes of sugar and mashed dark fruit. The alcohol flavor is not so much port as it is just a basic heat. Again, why when this offering is on the lower end of imperial stout abv's?
Mouth feel- This imperial stout is masquerading as a pale ale in this category. A medium to light body, and it does not stick to the cheeks at all, nor fill up the mouth like a gluttonous imperial stout does.
Overall- Sure I'd drink this one again, but I pray that anyone's introduction to the style is not this beer. It is very tame in the mouth feel and smell department, but a little overbearing on the palate with the heat it produces. Smooth this baby out!
1,271 characters
3.03
/5
rDev
-15.6%
look: 3.5 | smell: 3 | taste: 3 | feel: 3 | overall: 3
Bottled: unk
pours black coffee with short lived mocha foam which falls to a sheet of the same for a few dozen seconds. Nose is rich malts, oats, coffee, dark chocolate, some fig and graham. A slight note of rye bread. Flavor is a little less appreciable. Coffee, dry cocoa, graham, toasted grains and some dried figs. A little bit of licorice when cold, but as it warmed, this dissipated. Full bodied with moderate carb and a dry finish. Drinkable, but not something I will make a second purchase on.
502 characters

4.1
/5
rDev
+14.2%
look: 4 | smell: 4 | taste: 4 | feel: 4 | overall: 4.5
Poured from 22oz bomber into a pint glass.
Appearance: nearly impenetrable black which just lets a few ruby highlights through. Head poured a thick, tenacious finger of frothy tan foam. Quite good.
Smell: rich, sweet malt with a light fruitiness that is quite nice. Just a hint of chocolate/coffee roastiness comes through, complementing the sweet and fruit qualities. I like it.
Taste: big flavor which is fruit-forward; raisin, dates and pears are evident. Roastiness is bigger in the flavor than in the nose; I think it works quite well. Bitterness is enough to stand up to the sweetness, but isn't over the top. Quite good.
Mouthfeel: thick body with a silky-smooth texture. I like it.
Overall: this is a very tasty beer, although I admit I expect a lot from my imperial stouts. This beer really comes together very well; my overall picture of it is of a balanced, well-crafted and tasty beer. I would have this again and again.
937 characters

2.82
/5
rDev
-21.4%
look: 2.5 | smell: 3 | taste: 3 | feel: 2.5 | overall: 2.5
22 oz bottle, poured into a tulip glass.
Look: black body with a thin, light tan head that doesn't retain for very long and doesn't leave much lacing.
Smell: heavy in roasted malt aromas, chocolate, fudge, a little coffee and some alcohol soaked currants. Smells quite good and inviting.
Taste: chocolate stands out, with some espresso, a bit of currant and anise, with a bit of bitterness that seems to come more from the roasted malt than the hops. My mouth tastes like I've been eating chocolate cake after drinking this beer. The alcohol is there but oddly subtle...there is a disappointment with a lack of finish...the ending notes aren't really there?!
Feel: A bit weak on body, not much carbonation, which is fine for the style... although not very exciting.
Overall: The only good thing about this beer was the price ($4.50) for a bomber in a market where you should expect to spend close to 10 for a bomber of anything and much more for an imperial stout...The rest is pretty weak...I guess you get what you pay for!!
1,033 characters
3.87
/5
rDev
+7.8%
look: 3.5 | smell: 4 | taste: 4 | feel: 4 | overall: 3.5
Appearance: (3.5)
- Pretty heavy pour yielded about a half finger of light mocha colored head.. settled to a large island of foam in the center, and a small ring at the edges. The brew is super dark with maybe only a tiny bit of ruby red hue showing through.
Smell: (4.0)
- Nice mocha and chocolate notes, oats, grain, sweet aromas.. and a bit of sharp alcohol shining through. Some esters, fig... but overall just a smooth oatmeal-like aroma.
Taste: (4.0)
- Raisin, fig, esters, along with a wheat and oatmeal quality. Light cocoa and earthy grassy hop bitterness. Little touch of alcohol melded in. Overall not bad, and not overbearing.
Mouth Feel: (4.0)
- Medium to heavy body.. quite creamy and rich feeling. Well carbonated, and only a touch chewy with a subtle dryness.
Overall: (3.5)
- This is a solid stout, and is a smooth drinker though some alcohols are present. i am sure this could be super smooth with a little time, not more than a year, on the bottle. It doesn't strike me with a bang, but it is solid and good.
1,035 characters
3.4
/5
rDev
-5.3%
look: 4 | smell: 4 | taste: 3 | feel: 3 | overall: 3.5
Sometimes it's nice to sit down and enjoy a strong refreshing dark malty beer. Sometimes it is OK not to only drink a session beer, and instead imbibe in something a tad stronger. Tonight I'm enjoying Southern Oregon Brewing seasonal, Black Heart Imperial Stout out of a 22 oz bomber.
This 8.5% behemoth on the bottom end of the Russian Imperial Stout strength ranking (8-12%) still packs a full range of flavors and taste.
Aroma – Rich with a sweet scent of estery fruit, dark fruits (plumbs and raisins) come to mind of course. A slight scent of the darker malt is there, not very burnt like one would get typically in this style. A definite alcohol, with port like character rounds out the nice aroma.
Appearance – Jet black pretty much opaque. A slim off tan head sat for a few minutes and slowly dissipated as one expects with this level of alcohol. A slight appearance of 'legs' or the beginnings anyways. Nice to see.
Flavor –Slight maltiness with a near overpowering fruity ester backed by a decent alcohol. The grains, burnt or otherwise are subdued, and this beer is more about fruit and alcohol. There is almost no hint of coffee like one typically finds in this style and very little chocolate. The balance leans towards the sweetness provided by the fruitlike esters and alcohol and has little hop bitterness on the other side.
Mouthfeel – Low carbonation lets the sweetness come through, not very chewy in that same way. A slight warmth exists and borders on syrupy, but not too close.
Overall Impression – A large dark ale accentuated by the fruits and alcohol that leaves the roast grains behind. I enjoy the easy drinking nature in that same way, and doesn't overpower the palate with roast, burnt, or hop bitterness. A great job highlighting a sweeter side of this style.
1,815 characters

3.7
/5
rDev
+3.1%
look: 3.5 | smell: 3.5 | taste: 4 | feel: 3.5 | overall: 3.5
Just grabbed a bottle of this at By the Bottle in Vancouver, Wa
The Appearance is dark as night with some off white bubbles. Coming out of the bottle there is some light seen through the liquid but once in the glass its dark and no light of any type gets through it. Kind of excludes the brown colors I look for in stouts. I wonder how much roastyness this will have in the taste. By the look it is going to have more of a dark malt / dark fruit smell and taste.
The smell is above average. You get a sweetness in the scent that is similar to rich raisins. Not a whole lost of roast but there is a small hint of dark chocolate like a 85% cocoa dark chocolate.
In the taste you really get that dark fruit flavor but not in the Belgian style. It is totally a Russian Imperial Stout but lacks the roast coffee taste on my palate that I normally get but there is a roasted malt very dark chocolate flavor. It is sweet and the bitterness is more of a roasted bitterness flavor. Its really not that bad. I really like it but it is totally not at the level of a Yeti, Chocolat or Abyss. There is a boozy flavor that is reminiscent of a barrel aging stage but this was not aged. So the 8.5% comes out at a flavor thats more like 9 or above. Not bad but I have had others stronger without the boozy flavor.
In the mouthfeel, there is a ton of carbonation that cleans the palate to get your mouth ready for more and its not dry but totally not a full sticky mess that some high end stouts provide. Its kind of thin for the style but not unpleasant.
Overall, this is a really good brew. Especially in this first release of a beer like this from this brewery. As it warmed the flavors became a bit more profound but it is pretty thin. I wish the flavor matched the mouthfell. Its worth the money I paid, under 6 bucks and I would try it. Its not the best stout out of Oregon but its worth a try. Not sure if I will revisit this but not sad that I gave it a go.
1,954 characters
3.88
/5
rDev
+8.1%
look: 4 | smell: 3.5 | taste: 4 | feel: 4 | overall: 4
First had: on tap at Beermongers, Portland, OR
Had this at the release party. Poured a dark brownish black with a thin cap of white head. Dark roasted malts in the aroma, notes of chocolate, and a touch of hops. Taste started out pretty sweet I thought, with some flavors of milk chocolate, and a touch of fruitiness--cherry and raisin--more roasty mid-palate, with a mild Warrior hop bitterness in the end. Alcohol warmth was minor. Smooth mouthfeel, not quite full-bodied, maybe a little sweeter than you'd expect; a good drink overall.
541 characters
Black Heart Imperial Stout from Southern Oregon Brewing Company
3.59
out of
5
based on
27
ratings.