The Dutch Ale House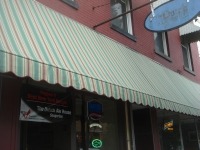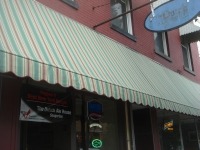 PLACE INFO
Type:
Brewery, Bar, Eatery
255 Main Street
Saugerties
,
New York
, 12477
United States
(845) 247-2337 |
map
dutchalehouse.com
Notes:
No notes at this time.
Added by rmichaels on 05-24-2008
HISTOGRAM
Ratings: 13 | Reviews: 11
Reviews by slander:
3.9
/5
rDev
-4.2%
vibe: 4 | quality: 3.5 | service: 4 | selection: 4 | food: 4.5
In somewhere called 'Saugerties'. At lunch time. On a Thursday. Starting up north today working my way back down the Hudson Valley to, oh, and then over to, uh huh, and then maybe look in on, ah, yes. So Saugerties, color me parked, metered and setting about the strip of storefronts that are town...
It's a narrow room with a through to another room where the bar isn't so I guess thaaaat won't be looked in on just now. Off to the right, a straight phat plank wood bar with a stainless steel bar tower of 12, a separated wood pole lip (ain't seen that one before), wood panel base, & piping foot rail. Seating for just shy of a dozen on hightop chairs. Barback wall is brick peeking through the dark wood horizontal panels to both sides. Alternating angled square mirrors & slight shelving holding slight shelved booze & glassware. A 3 tap upright tower sits countered center between rounded mosaic pedestals holding tiered booze, more slightly shelved off the panel units and countered with glassware. An overhang piece runs the length with house growlers and a few trophies atop, and ceramic mug club mugs numbered; doing the dangle from the underside in 2 rows. Expansive Dutch tavern mural runs the wall above; drinking, singing, smoking, guitar playing, dancing with clogs, my kind of party.
(The Gasko & Meyer rep just showed up, I may have told him how things are and placed a Founders order on the bar's behalf; whoopsie).
Ancient slat wood floors, and a white painted ceiling with wood framing and fat black ductwork exposed the length. The walls are done in retro paisley wallpaper pattern with an alt trim of the similar. Old black & white Saugie prints, mounted Dutch shoes, and a real cool Babe Ruth painting; Bambino at bat. Large framed mirror trio over the rear booths, and a few brewery mirrors & tins riddled about. A pair of spinny fans down center with bulb pull cords, drop vintagey glass lamps over the bar, and mounted tulips on the far wall. Baby TV over the through to the next room, a larger flat over the bottle cooler on the end, and another mounted over my shoulder. 3 booths alongside the bar, 2 small booths forward them, a pair of hightops adjacent, and a small shorty in the front window platform.
15 beers up; 2 house beers on Dutch clog shoe handles (Karyn's Pale Ale, aka , KPA, a decent Pale Ale, medium bodied, grainy, more bitter than hoppy; American Wheat, slight clove sweetness, not too bad), 2 other Hudson Valley selections (Newburgh Bitter English, nicely balanced, light, grainy, & herbal; Rushing Duck Beanhead Coffee Porter, good girth, nice espresso notes), a bunch of craft selections (Troegs Flying Mouflan, Sam Adams Fat Jack Double Pumpkin Ale, Peaks Organic Fall Summit Ale, Sierra Nevada Tumbler Autumn Brown Ale, McSorley's Irish Pale Ale, Blue Moon), imports (Paulaner Hefe-Weizen, Warsteiner Pilsner, Becks Oktoberfest, Guinness), and a sole cider (Angry Orchard Crisp Apple Cider). Revisited today and found 2 house beers on again (KPA, and the 'X', their porter, a bit thin but had a good roastiness, definitely the best of the 3 house beers I've had there).
And 3 dozen+ bottles & cans in the corner cooler, with a focus on craft (Ithaca, Brooklyn, Sixpoint, Saranac, Butternuts, Sly Fox, Sierra Nevada).
Food, started with a cup of the split pea with lentil soup. It was real good, a bowl would have been betta. And then, torn between the truffle, garlic & parmasanthetamin wings or the grilled chicken sandwich, I went with the wings (I can quit anytime). All I know is, they were garlicky good; winner of the best vampire defense at the Hudson Valley wing fling thing 2 years something something. Hell, yes. And on today's return, I started with the chicken tortilla soup, a bowl; the painful lesson learned about going cup small where soup is concerned. She had dropped me a pepper mill so I used it again & again; the soup didn't need it but I couldn't resist. And then a bacon cheddar burger on a toasted brioche bun with l & t, and added garlic for nothing (they do like their garlic here), sided with sweet pot' fries. Killer burger.
Side room holds long shared benchings on the walls across a dozen and a half 2-seat tables, and a single hightop in each front window. A blue felt pool table towards the backside, and a peek-a-boo porthole offering views of the rear brewroom; a small 3 barrel system back there. Grayish-green walls with local art, a pressed tin ceiling & trim of coolness with lamp/fan combos, and large front window action. Seems to get more light in here than the bar side.
(Another distributor showed up, I'm helping him understand his portfolio better by providing real time consumer opinions of his wares. As he must be thankful; he is therefore welcome).
Cool house, the local crowd. I've caught now Alex & Tori tending, pleasant folks. Good tunes last time, Sirius Xmas pain today. Food was very good; I did dig. Their beers are getting better, and I like that they're pouring other locals.
5,033 characters
More User Reviews:
4.2
/5
rDev
+3.2%
vibe: 4 | quality: 4.5 | service: 4 | selection: 4 | food: 4.5
Great small town feel bar with big food/beer tastes. They go out of their way to make sure you are getting a variety of beers both local and nationally. Rotating taps every week keep me coming back any chance I get.
219 characters
3.61
/5
rDev
-11.3%
vibe: 3.5 | quality: 3.5 | service: 4.25 | selection: 3 | food: 4

3.78
/5
rDev
-7.1%
vibe: 3.75 | quality: 3.75 | service: 3.75 | selection: 3.75 | food: 4
Stopped in for a late lunch on Saturday. Caught a break as they were closed earlier for a private party. An old building in the middle of a block on the main street in Saugerties. Walked in, got a locals hang out bar vibe. I don't say that in a bad way, I love local hang outs. It doesn't appear the the decor has been updated in years, but it doesn't need to be, it feels right.
There is a bar along the right side, with a few booths along the left. There is a dining room past the bar.
We were promptly greeted by a pleasant waitress who was quick with the drink orders. My wife found a passable Pinot Grigio, and I ordered one of their own brews. I wasn't especially impressed with the beer, but they had 8 or 10 other local offerings on tap and I easily found a couple to enjoy with and after lunch. My wife said her fried chicken platter was very good, and I thoroughly enjoyed my turkey burger. I opted for fries with my sandwich (which were quite good), but regretted my decision when I saw and smelled the onion rings headed to someone else's table.
We're planning another trip to the area in the fall, there is not much doubt that we'll eat here again.
1,163 characters

4.5
/5
rDev
+10.6%
Solid spot. Good food and good beer choices.
45 characters

4.18
/5
rDev
+2.7%
vibe: 3.75 | quality: 4 | service: 4.5 | selection: 4 | food: 4.75
The Dutch Ale House located in my hometown of Saugerties is always a delight every time I've gone to have a meal or good drink. It is set in a rustic backdrop of wood, clogs, beer steins and a big mural painting a picture of good times long past back in Europe.
Their beer selection is one of the best in town, with 12 on tap and even more in bottles. The beers on tap are rotated and something different is always there. You can even ask the bartender what they like and, yes, they will give you their opinion as they all test the beer! Anything from some unknown micro brews to bigger hitters like Dogfish Head, Unibroue and Ommegang.
Staff is usually very accommodating (and a few are long time friends) and atmosphere is nice. Not much room to move around though, which is a downer as I like to float around talking to people. Depending on the time of day or day, for that matter, crowd can vary from younger 21-30 to an older crowd 30-60. Still maintains a nice crowd roar on any Thurs, Fri, or Saturday night.
Food is fantastic. Gastropub selections are to be expected. I HIGHLY recommend the French Onion Soup, the best I've ever had. Entree selections are great and worth the money, no small servings here.
Overall a great place to eat and drink. A new extension makes it possible to eat with large groups and play billiards. If you're ever in Saugerties, definitely give the Dutch Ale House some of your time!
1,424 characters
3.8
/5
rDev
-6.6%
vibe: 3.5 | quality: 3.5 | service: 4 | selection: 4 | food: 4
Great selection of NY state beers. Good gastropub fare. Reasonably price local pints as well as liquor goodness if youre into that. I was visiting from CA and they made me feel at home. Located in a cute town with great relaxed vibe.
If they have the DIPA called Russian cow? Or otter? Idk. But damn. East coast IPAs are where its at. Malty backbone meets strong hop goodness.
"Joe Mama's Milk" was a dang good coffee stout from Keegan Ales near by. They have that brewery on tap often as well as Ommegang.
Their pumpkin seasonal was a little undstated but tastey just the same. No warming goodness but mild and enjoyable. Their american wit was the best Ive had.
665 characters
4.88
/5
rDev
+19.9%
vibe: 5 | quality: 5 | service: 5 | selection: 4.5 | food: 5
Love this place! 15 craft beers on tap and 50 or more in bottles and cans. A few on tap when we were here included Dogfish Head 90 Minute, Smuttynose Brown Dog Ale, Long Trail Centennial Red, Red Hook Winter Hook and an IPA and a Red Ale from Crossroads Brewing in Athens, just 20 minutes north on the Hudson. They are in the process of becoming a micro-brewery too! Don't stop at the beers, the food is AMAZING! Not your typical pub food. We had a bacon, egg and cheeseburger, a Pilgrim (essentially Thanksgiving dinner in a sandwich) and the mozzarella spedino which is fresh mozzarella stuffed inside focaccia bread and deep fried served with house made marinara. Don't skip this place!
689 characters
3.83
/5
rDev
-5.9%
vibe: 3.5 | quality: 4 | service: 3.5 | selection: 4 | food: 4
Townie bar relaunched as a craft beer spot and "gastro pub" (in quotes because applying that term to this place is questionable.)
The woody decor at the bar might come off as dark and kitschy until you realize that's one thing they haven't changed. How can you argue with a wall of Dutch clogs?? There is a tasteful and brighter dining room adjacent.
Taps are not numerous but chosen with quality but also range across geography and style in mind. Bottles (and cans!) extend that philosophy. Applause for supporting regional brewers, too - Crossroads Outrage was a revelation.
Food is good pub grub (at lunch, anyway) - a nice pulled pork sandwich, though the Parmesan and truffle oil fries are a bit of a scam. Prices across the board are definitely pitched at weekending Manhattanites rather than locals.
Service seemed smiley and clueless.
A solid addition to the good food and beer scene in the Hudson Valley.
921 characters

3.95
/5
rDev
-2.9%
vibe: 4.5 | quality: 3.5 | service: 4.5 | selection: 3.5 | food: 4.5
My new local spot since I recently moved to the area. Located in Saugerties Village, this place packs local charm with great food, and of course beer. A beacon of beerdom in a wasteland of BMC.
Beer selection is usually very good, local beers from the likes of Keegan, Captain Lawrence, Ithaca, Saranac, and usually offerings from Magic Hat, and many of the Pa Brewers. Always a few good IPAs on tap.
Service is good, probably more so for me since I am local.
Food is outstanding, don't miss the burger.
Over all not a bad spot.
533 characters

3.73
/5
rDev
-8.4%
vibe: 4 | quality: 3.5 | service: 4 | selection: 3.5 | food: 4
This place is great. A good find in a small town. It's a real local joint for sure. I was there on a Sunday night. When you walk in, a long bar is on the right, and booths are on the left. The place is attached to another storefront that has a pool table. It is oldish and worn in (in a good way). They seem to have a German preference in the bottle selection. I had a Schneider Weisse (big bottle, $5), and another Weisse (can't remember). I also had a Grimbergen Dubbel. There were a series of taps with some locals. The food we had was better than I expected. We only had the beer cheese appetizer which I thought would be gooey and orange but it was more like a spreadable white cheese. Homemade I think. We also had the black bean quesedilla. It was great too. The service, the whole place was handled by the bartender, was fine. For a beer bar, it is pretty inexpensive too. I will be back for sure.
905 characters
4.38
/5
rDev
+7.6%
vibe: 4 | quality: 4 | service: 5 | selection: 4.5 | food: 4
Lunch at the Dutch Ale House is a truly enjoyable experience. Service is outstanding, and everyone there really goes out of their way to make you comfortable (No kids menu, but they offered to make a grilled cheese or chicken tenders) and lunch was served within 5 minutes from ordering, which was mind-blowing. They have a very competent chef here: had a really good bacon burger, truly crispy buffalo wings, good vegi-panini (next time I'll be more adventurous and try the specials) and the tap selection is good and everchanging (Today they had Saranac Double IPA, Arrogant Bastard, Blue Moon, Schlitz, Hurricane Kitty, Paulaner Hefe, and Long Trail Double IPA, Guinness, and...) and their bottle list is impressive (approx. 30 selections (or was it 40 or 50?) from around the world) (Appropriate beer glassware, too!) I was glad I stopped in here, and I'll be back. They have a mug club too, so if you are local, that's something to look into. If you wanna get out of the bright sun and relax in a dark bar in a place that cares not only about beer but everything else, this place is a no-brainer.
1,101 characters
4.13
/5
rDev
+1.5%
vibe: 4 | quality: 4 | service: 4.5 | selection: 4 | food: 4
Long narrow former blue collar bar now updated with good range of beers including micros and imported. Food is quite good and generous portions. Waitress was very enthusiastic. Atmosphere is a mix of nostalgic with photos from the earlier history of the place and "beery" with news articles about the beer scene. The was even a newspaper story on the wall of the men's room about Yueglings Brewery now being the second largest US owned brewery after the sale of Budweiser to Inbev. Low key on a Sunday afternoon but the waitress said things get lively during late afternoons and evenings. Open for lunch 7 days.
611 characters
The Dutch Ale House in Saugerties, NY
Brewery rating:
3.56
out of
5
with
4
ratings