Peace Bomber Riesling Ale
| War Horse Brewing Company
BA SCORE
80
good
11
Reviews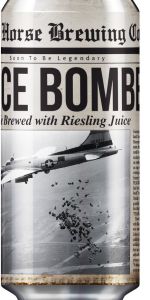 BEER INFO
Brewed by:
War Horse Brewing Company
New York
,
United States
3brotherswinery.com
Style:
American Pale Wheat Ale
Alcohol by volume (ABV):
5.10%
Availability:
Year-round
Notes / Commercial Description:
No notes at this time.
Added by LumpyGuitar on 08-15-2008
Reviews: 11 | Ratings: 38

3.15
/5
rDev
-5.4%
look: 3 | smell: 3 | taste: 3.25 | feel: 3.5 | overall: 3
This was quite sweet almost cloyingly so. Would have drank nicely in the summer heat I feel like. Perhaps I will revisit it with a summer revisit to the location.
162 characters
2.94
/5
rDev
-11.7%
look: 3 | smell: 3.25 | taste: 2.75 | feel: 2.75 | overall: 3
My notes say two stars, but I don't think it was that bad. It's an interesting beer, smooth but well carbonated. The flavor is even complex, but a tad to sweet and overall It's just not very good. I'm no wine drinker, but I'd prefer some of three brothers' Rieslings over this one.
281 characters
3.43
/5
rDev
+3%
look: 3.75 | smell: 3.25 | taste: 3.25 | feel: 3.75 | overall: 3.75
On tap at War Horse Brewing Company in Geneva, NY.
Pours a hazy pale yellow, with a one inch head, and a small amount of lacing.
Aromas include wheat, sweet malts, and grapes.
The taste is similar. A pretty sweet wheat beer, somewhat cloying. The reisling grapes add a touch of sweetness to this beer, but the wheat beer behind the grapes isn't strong enough of a backbone for the grapes to do anything really good to the beer, unfortunately.
Light bodied, crisp, well carbonated.
An interesting experiment, and their flagship beer given they are a side-brewery off a winery, but it's not all that great.
609 characters

3.92
/5
rDev
+17.7%
look: 3.5 | smell: 4 | taste: 4 | feel: 3.5 | overall: 4
A friend was visiting the Finger Lakes in NY and brought some beers back to MA. He shared this one with me, and I am glad he did. Poured into a SA perfect pint glass. Very clear yellow body. Tons of effervescent bubble, but little head. Smell really did have the aroma of white wine. Taste was very nice. A nice wheat beer flavor of banana and clove with a hint of fresh grapes. Very interesting combo. A bit thin on the mouthfeel, but it went down smooth. Low abv made it a great beer to drink on a warm day. Very happy I was able to try this ale and experience a beer from this brewery.
588 characters
4.2
/5
rDev
+26.1%
look: 4.5 | smell: 4.5 | taste: 4 | feel: 4.5 | overall: 4
Appearance- A golden ale with a welcoming look.
Smell- Sweet smell of wheat without being overwhelming whatsoever.
Taste- A calming wheat taste that goes down smooth, without any undesirable aftertaste.
Mouthfeel- A smooth/lightly textured beer, without any unwelcomed bite.
Overall- A great beer to kick back and enjoy with friends around a summer fire.
358 characters
3.88
/5
rDev
+16.5%
look: 4 | smell: 3.5 | taste: 4 | feel: 4 | overall: 4
A 650 mL bomber purchased at the brewery in late July. A wheat ale infused with riesling grape juice (am I the onlyone that would be intrigued by a wheat ale aged in riesling barrels?).
A: The wheat ale is hazy and pale, golden straw despite its murky tones. I poured it fast, generating almost three fingers of white head that took 10 or so minutes to fully disappear.
S: The ale has a fruity tartness that nicely showcases both the wheat and the riesling. The citric tartness is smoothed out by the grapes.
T: The taste has a little bit of both the wheat, tangy and citric, and the riesling, sugary sweet, lingering throughout. The body starts off thin but does improve, embracing the sweetness of the grapes. Alongside the wheat, pale malts adds soft bready flavor. I'm very impressed with the ale, light and soft with a nice white grape sweetness.
M: The mouthfeel is semi-sweet, thanks to the grapes, with a contrasting tartness thanks to the wheat. Much better when it warmed up.
D: Much better than I expected. The combination of sweet and tart plays nicely together.
1,079 characters
3.08
/5
rDev
-7.5%
look: 3.5 | smell: 3 | taste: 3 | feel: 3.5 | overall: 3
Parents picked this one up on their trip to NY. 22 oz bottle.
A: Hard to get a head to build on this one, sizzled down quite fast. The beer is a pale orange, cloudy yellow.
S: Smells of bready malts with some wheat. Some citrus, but nothing much resembling riesling grapes. Some spice that seems to be just spice added to the beer, not coming from anything. Some cinnamon and clove. Has a bit of a wet sock aroma as well.
T: Not too much wheat flavor here, pretty tart and citric. A smidgen of sweetness, but the citrus kicks right back in. Would expect something a bit sweeter with riesling grapes. Lacks the balance that could possibly make this idea for a beer quite nice.
M: Very citric on the palate, nearing astringency. Carbonation is far too high, even for the style, and the body is a bit thin.
D: Glad I only have one of these, let's leave it at that. Interesting take on an APWA, yet too far off style.
921 characters
3.68
/5
rDev
+10.5%
look: 4 | smell: 3.5 | taste: 3.5 | feel: 4 | overall: 4
this beer pours a clear pale golden color with a white head that fades quickly to lacing. the aroma presents some hops in the background, but predominantly a sweet malt, grape combination. the taste is about the same with the malt in the front and a light grape finish. it has a light body, and I'm not sure I noticed a lot of wheat through out this beer, but it's a cool idea and it is pretty drinkable.
404 characters

3.7
/5
rDev
+11.1%
look: 4 | smell: 4 | taste: 3.5 | feel: 4 | overall: 3.5
The beer pours a gold color with a thick frothy white head that slowly fades to lacing. The aroma is good. It has a typical golden ale scent along with just a hint of riesling juice. It does have a bit of sweetness to it, but I think it's from the pale malts not the grapes. The taste is decent. It has a smooth pale malt flavor that goes down easy and finishes crisp with a nice riesling bite. The riesling component really comes through in the flavor. The mouthfeel is fine. It is a medium bodied beer with adequate/good carbonation. This is a pretty good beer. They wanted to be known for this beer. It's not bad, but their other offers are better.
651 characters
2.43
/5
rDev
-27%
look: 3 | smell: 2.5 | taste: 2.5 | feel: 2.5 | overall: 2
Got the impression that even the owners weren't taking this beer seriously. They're a vinyard brewing on the side in the heart of upstate Riesling Wine country. N-O-V-E-L-T-Y
Tastes like wine mixed with beer. That's harsh but it's more of a concoction than a crafted ale.
Funny thing is that their other beers, IPA and black lager especially were not a bad effort and definitely worth trying. Skip this one and move onto the others.
Do stop by the vinyard/brewery if you can. Awesome owners and staff (one owner let us camp in his yard on a bicycle trip, we woke up the next day for the grand opening of the brewery).
620 characters
3.03
/5
rDev
-9%
look: 3.5 | smell: 3 | taste: 3 | feel: 3 | overall: 3
Had this on tap at Three Brothers/ Barley Yards at Seneca Lake.
Poured a very light golden yellow, thin bit of head.
Smells like grape and malt, a bit of sweetness.
Taste is malty, with a strong presence of grape. A bit of a sour finish.
Mouthfeel is light and bubbly, good weight and balance, crisp.
Drinkability here is average. I'm not a wine fan so this really isn't my dig, but it's an interesting foray in the least.
427 characters
Peace Bomber Riesling Ale from War Horse Brewing Company
3.33
out of
5
based on
38
ratings.