Memphis Taproom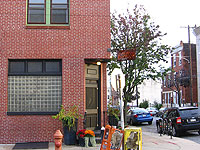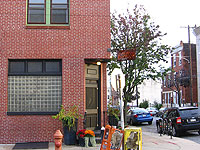 PLACE INFO
Type:
Bar, Eatery, Beer-to-go
2331 E Cumberland St
Philadelphia
,
Pennsylvania
, 19125-2205
United States
(215) 425-4460 |
map
memphistaproom.com
Notes:
No notes at this time.
Added by carlosd74 on 06-01-2008
PLACE STATS
Reviews:

52

Ratings:

pDev:

6.12%
HISTOGRAM
View: Place Reviews
Ratings: 86 | Reviews: 52
4.4
/5
rDev
-0.2%
vibe: 4 | quality: 4.5 | service: 5 | selection: 4 | food: 4
I had gotten takeout food from here before which I have liked but finally got to spend a good long afternoon there this weekend for Mystery Beer weekend.
It is in whats called 'fishtown' and was actually pretty close to the Philadelphia Brewing company so this would make a tremendous day of beer.
The atmosphere is pure Philly, the bar up front with the dining room in the back. We got a table in the dining room but close to the bar and it was laid back as you can get. It was fairly crowded (not sure if due to event) but it was still comfortable and friendly.
The quality of the beer was high, very high. Outside of the offerings on the mystery beers, which they did not chince on, the bottle list had good variety. The only complaint is that they were out of Pikeland. D'oh. The food was good too, especially for vegetarians. I particularly liked the hummus dip but am more of a meat eater from the other things- the salads we got were all good as were the fried pickles.
Only other complaint about the food is that it was a bit overfried, cant believe I would ever say that.
The selection, as noted, was very good from what was on the mystery package. But from walking in there in the past, they always had a great local assortment on tap and in bottles which is a great positive for a local bar like this to have.
The value for the price was phenomenal and the service was also perfect in that they didnt rush you as long as you kept getting brews at the table and they didnt ignore you either.
This place surely is worth a visit for good beer, good food, good people and a laid back day or night. Look forward to getting back- another gem in an underrated beer and food city.
1,689 characters
4.5
/5
rDev
+2%
vibe: 4.5 | quality: 4.5 | service: 5 | selection: 4 | food: 4.5
I finally got down here as part of the English Premier League Season 2008 kick-off weekend promotion. This review is long overdue seeing as I requested The Alstrom Bros. add them to the site.
The place is easy to get to from Exit 25 off I-95. It is in Kensington but straddles the border with Fishtown. Don't let the fact it is in Kenso keep you away. This side of Kenso never was that bad and if you want proof that the place is on the ascent...just look at the rent/mortgages on Realtor.com for the 19125 zip code. The website has directions and maps. Speaking of websites, it is a very detailed site. Whoever runs it does a great job because it is visually pleasing and it is just organized. The drafts and bottles are listed.
The place has 11 taps including 1 handpump that featured Hop Wallop. The Bottle list is on the rightside of the bar; the Draft is to the left. Of course it has a full bar and a solid wine list. no its not Tria but it is beats out the likes of Monk's. Some of the drafts were: Walt Wit, Original Sin Cider, London's Pride, SN Anniversary Ale(but Southern Hemi was just behind it),Sly Fox Pikeland Pils, Ommegang Rare Vos, Stone Smoked Porter, Green Flash Hop Head Red Ale and Sly Fox Saison. Bottles were around 50 - 60 strong..running the gamet from Lionshead Light to Aecht Schlenkerla Rauchbier Marzen (smells like smoked bacon!). The only stinkers for the nonadventurous would be the High Life and Amstel Light. Drafts were all $4.
The service from Jessica was outstanding. Every thing I want out of a server. You can't miss her. She is a ginger and has many tattoos on her arms. Very attentive and knows her beers. She inspected each glass before using them. I mean she was holding them up to the light to ensure they didn't have a speck of hardwater stain! Plus she picked only good music off the bar's iPod. I never had to wait for her to ask me if I wanted another drink. She found time to chat. She even poured me an ounce of the aforementioned Rachbier from the wee bit that was lingering in an opened bottle. I think she knew the other punter rather well so it wasn't like she was just stiffing him on the last ounce.
The cost was descent. I got thre at 11:00 AM and didn't leave until 2:30. My Girlfriend and I ate and drank our faces off and the bill only came to $69.55! That's less than $20 an hour for pure utopia ($19.87 to be exact). Too bad my Manchester City (not UNITED!!!) club blew the match or else it would have been a perfect day.
Ohand the brunch menu rocked. It doesn't hurt to have a genuine Chef in your kitchen. What other Philly bar do you know that features Polish & Welsh cooking? My beef & onion pasties were great. Nothing frozen here folks. That pastry crust was light and flakey. My Girlfriend's eggs and hash were very good according to her....I have never eaten corned beef hash in my life. The coffee was solid and kept in a carafe as not to render the product ass-like from the heat and oxygen. Hey it was Sudnay at 11 AM and I needed to counter the beer. LOL. Shit even the water must have been filtered because I know Philly tap water's fine aroma all too well. Hey the little things do matter. Oh and the wings were done wel. The oil was peanut and it didn't taste like it was old oil. Plus the scallions were a nice addition as was the real blue cheese that seemed to have an added ingredient (Old bay?)...not sure but it was great. they were not greasy nor were they dripping in a hot sauce. Nice and crisp. Oh and I forgot the wasabi mayo that was under my Pasties was banging!
All I know is that Brendan is busting his ass to make this place awesome!!! That neighborhood deserve something this excellent. Kudos to Fishtown native Ken Correll and Nodding Head's Paula Decker for there $$$ in getting this place off to a great start. I have never seen a place get it so right out of the gate.
3,874 characters
4.33
/5
rDev
-1.8%
vibe: 4 | quality: 4.5 | service: 4.5 | selection: 4 | food: 4.5
I really like this place. We went late on a saturday night. As for atmosphere it was very nice. Not nearly as dark or noisy as some of the other places we frquent. It was very nice to have a normal conversation using my "inside voice" Quality, well the beer list is great, the food was yummy. One nice point is there are a few macros which helps keep a wide customer base. And its nice to see beer from all over, not just local places. I"m all for supporting local breweries but to really promote craft beer its important to have selections from all over. I think its important to cater to all tastes. Service was attenitive and fun though I think they thought I was there to scope them out. Its a small place so space is limited. That said they make very good use of it with the taps and bottles. Had the beef and oninon patsies. Yummy. Overall was much less expensive an outing than some of the other spots we like.
Its nice when a place gets everything right from the start. I'm sure this will be a very successful place. Its worth the trip if you come to philly.
1,067 characters
4.4
/5
rDev
-0.2%
vibe: 4 | quality: 5 | service: 4 | selection: 4 | food: 5
A relatively new addition to the Philly beerscape. With a nice beer list and veggie-friendly menu, it was a no-brainer stop during a recent two-day jaunt through the city of brotherly love. The atmosphere is colonial meets old-west. I dig the chalkboard beer menu, split equally between micros and imports, most of them from reputable, outstanding breweries. Lagunitas, Franziskaner, Chimay, Victory, Bavik, Dogfish Head, and many more. Not the hugest tap or bottle list, but it's definitely quality over quantity here. The biggest treat was Founders Pale Ale on cask, which was indeed delicious.
Service was attentive, although we went at an off-peak time, with the bartender being knowledgeable enough. The food was freaking incredible. My host and myself are both vegetarian, and their menu is not only veggie/vegan friendly, but the food itself is of an incredibly high standard. We had the chili and bbq "pork" sandwich, both absolutely mouthwateringly awesome. (ie. my mouth is watering just writing this, days later). The "suicide rings" were very good too, but didn't compare to the main events. Can't wait to return, more for the food than beer, and the beers ain't no slouches.
1,188 characters
4.22
/5
rDev
-4.3%
vibe: 4.5 | quality: 4 | service: 4 | selection: 4.5 | food: 4.5
Sholland, when were you there? I was visiting this past Sunday, on a short pub crawl and Foodery Run. The bar area was crowded surpisingly for a Sunday, but then I found out that most of the folks were there for the footy on the telly. Anyway, they had a very good draft lineup, espeically that Fleur-de-Lehigh from PBC, Yummy!! I also had their eggs/bacon/potatoes spread, since they were serving brunch, and it was very good, nice bacon,and it went well with the Founders Pale Ale that was on cask and expertly poured. All in all another nice local bar, that us BA's can enjoy too..:)
586 characters

4.18
/5
rDev
-5.2%
vibe: 4.5 | quality: 4 | service: 4.5 | selection: 4 | food: 4
Another fine local bar with a great vibe and friendly service (in a town that already has plenty).
Memphis Taproom is located in a section of town called "Port Fishington" on the website (intersection of Port Richmond, Fishtown and Kensington). The immediate area is up and coming, a little rougher than Northern Liberties, a lot more gentrified than the surrounding neighborhoods our GPS took us through on the way there.
There is about a 15 seat bar in the front, with a couple of hightops and a dining room in the back. Not a big place, probably holds about 60-75 tops. The bar has a great neighborhood vibe but is very welcoming to nonlocals as well. Also a good place to talk beer with some knowledgeable customers and spot BAs out on a day trip.
There are 11 drafts, including one cask beer, with a varied selection of local craft brews (among them Sly Fox Royal Weisse, Victory Prima Pils, PBC Fleur-de-Lehigh) and other fine domestic beers (Lagunitas IPA, Southampton Secret Ale, Founders Pale Ale on cask) along with Maredsous 8. There are about 25 or 30 bottles on the chalkboard with a nice selection of Port brews, a Cantillon Gueze and others. No BMC taps or bottles whatsoever. I don't know that I have ever seen this before.
Service was excellent. The bartender was knowledgeable, friendly and attentive. She was very patient, offering samples of appropriate alternatives to customers who were looking for Heineken or Yuengling.
The Sunday brunch menu was fairly broad and well executed, with several vegan and vegetarian options if you are into that sort of thing. We had the vegan stuffed french toast (with a side of kielbasa!) and the bbq pork (nice spicy bbq sauce).
In a city that is, thankfully, blessed with great beer bars, Memphis Taproom is right up there with our other favorites.
HV
1,818 characters
4.18
/5
rDev
-5.2%
vibe: 4 | quality: 4 | service: 4.5 | selection: 4 | food: 4.5
After missing a special tapping, I stopped by the Memphis Taproom on Thursday, May 8th for dinner and some brews. We got there around 7'ish, and were lucky to get a table in the bar area, as it was pretty busy. We were greeted right away, and the service was very attentive for the rest of the visit.
I started with an Ommegang Hennepin, one of my personal top-5 favorites. We chose the Kielbasa Platter as an appetizer (which is actually a generously portioned dinner) and it came with kielbasa, pierogies, and saurkraut.
For dinner I chose the Philadelphia Rowhouse Red (Nancy was actually sitting at the bar) to accompany my Chicken Fried Chicken dinner with macaroni salad and spinach. All of the food was great, we were both very impressed with the quality, presentation, and taste. I finished my visit with a Nodding Head offering on cask as we watched the NHL conference finals on the TV at the bar.
The menu also included several other good reasons to come back, as well as vegan and vegetarian options. At the time, other drafts included Penn Weizen, Sprecher Black, Founders Centennial, Sly Fox O'Reilly, and Monks Flemish Sour (there were several others as well.)
Memphis Taproom is yet another great addition to Philadelphia's beer scene, and the food is worthy as well.
1,286 characters
4.2
/5
rDev
-4.8%
vibe: 4.5 | quality: 4 | service: 4.5 | selection: 4
Stopped by with some BA pals after the Firkenteenth festival over at Grey Lodge. What do you know, yet another excellent beer bar in Philly.
I don't know the Philly neighborhoods all that well, but was told this place is located in Fishtown (next to Northern Liberties). At least to my eye, this looks like another "iffy" Philly neighborhod that is undergoing some pretty impressive gentrification. The existence of this place is yet another example...
This is yet another unpretentious looking neighborhood bar in Philly, this one on Memphis Street. It's on the corner of Memphis (and some other street) and the bar area is pretty small upon walking in. I understand there's a large dining area in the back, which I didn't get a chance to check out on this Friday afternoon. The atmosphere in the bar area is low key, relaxed and informal. I think there's one TV over the bar, but otherwise it's a nice place to hang out and enjoy good beer. Seems to me there was between 12 and 15 beers on tap, with some pretty interesting, well thought out choices. There weren't a great many people in the taproom the afternoon we were there, but in any event, service was polite, pleasant and quick.
One of the cool things about this place, I thought, is the pricing of the beer here. Everything is $4 a glass, even the Belgiums. Yes, the Belgiums come in a smaller 10 ounce glass, but it still struck me that the pricing here is pretty gentle. $4 for a glasss of Maredsous 8? What's not to like? This is a very solid place.
1,517 characters
4.75
/5
rDev
+7.7%
vibe: 4.5 | quality: 4.5 | service: 5 | selection: 5 | food: 4.5
Sometimes a tight list of 11 draughts is better than a list of 60. The selection here is well thought out. No two beers from the same brewery and a real effort to vary the styles offered. One thing they all have in common - quality.
The food is just the type of food you like to eat when drinking beer. The kielbasa hoagie, wings and fries are standouts. A couple of specials lit me up (A multiple cheese and ham macaroni; and a polenta pie with sausage and pepperoni - yowza).
I have only sat at the bar area beacuse that is how I roll. But the dining area looks cool. Service at the bar is excellent. If your glass is empty for more than a minute, I would be surprised. Great, cozy atmosphere - suave but not hoity toity by any means.
I hope the previous reviewer is wrong about the hipsters. Seems like some pretty down-to-earth folks hanging there to me.
The only negative is that it is just too damn convenient for me to stop there on my way home from work. "Honey, don't bother with dinner tonight."
A must visit if in the Philly area.
1,048 characters
4.35
/5
rDev
-1.4%
vibe: 4 | quality: 4 | service: 4 | selection: 5 | food: 5
great new bar with an amazing selection of $4 draughts (regardless of what beer it is), and excellent food. the bar itself was well designed and looks great. awesome selection of american craft beers, and a good amount of german, english, and belgian imports at really reasonable prices. the bartender seemed a bit snobby, but i'll let that slide for the time being. hopefully this place won't replace johnny brenda's as the bar of the month hipster hangout, but it probably will. not sure if they have enough bike racks outside.
529 characters

3.95
/5
rDev
-10.4%
vibe: 4 | quality: 4 | service: 4 | selection: 4 | food: 3.5
I stopped by here to wish a Fishtown fiend well as he left to MN to follow his wife to the Mayo Clinic. I tried to reassure him that Rochester MN was a great place for beer, but he knew I was lying...
Located in a dense stack of row houses, the Memphis Taproom very much feels like a neighborhood bar. It's row house shaped; long and narrow. Up front is the bar with a few small tables. The bar hosted 11 taps and the hand-pump and a lovely selection of local delicacies. Spotted were Rowhouse Red, Sly Fox's O'Reilly Stout, a little something-something from Troegs and Victory along with some Southampton and Ommegang. Also making appearances were Green Flash's West Coast IPA and a selection from Sprecher. Not bad. Not bad at all. There was a bottle list about twice as large with other local brews (and not-so-locals) with only ONE BMC offering. Wow.
The back half of the building was for dining. We grabbed some seats back there. There was some confusion doing so as it wasn't too apparent as to how one should select a table. Do I just sit or ask a server? We flagged down a server and figured it out. I think they need a sign right before you walk into the back.
Food was just all right for me. We tried the ALT (Avocado, Lettuce and Tomato), the suicide rings and the hummus. All were average. I hear other menu selections are better, but my score stands until I get back, and I will be back.
The service was a bit bland but efficient. There was a little confusion, but never with the beer.
A local dream. If I were local, I'd be over-joyed.
1,556 characters
Memphis Taproom in Philadelphia, PA
Place rating:
4.41
out of
5
with
86
ratings