Mikey's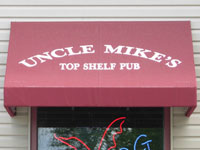 PLACE INFO
Type:
Bar, Eatery
10936 Sheridan Rd
Pleasant Prairie
,
Wisconsin
, 53158-4505
United States
(262) 925-0804 |
map
mikelikesbeer.com
Notes:
No notes at this time.
Added by Evan87 on 06-02-2008
Ratings: 8 | Reviews: 7
Reviews by ahq514:
4.33
/5
rDev
+1.4%
vibe: 4 | quality: 4.5 | service: 4 | selection: 4.5 | food: 4.5
Very pleasantly surprised with this place. Stopped in here for lunch on a Saturday afternoon. Mostly filled with locals seemingly uninterested in the vast selection of beer here. Most of the people there were either playing poker or watching college football. Pleasant atmosphere for any beer geek though.
Service was absolutely excellent. Bartenders and managers made sure we were doing ok frequently. As soon as drinks were done, another was offered. At the end of our time there, we were asked if we felt there was anything that they could have improved upon. For me, that is rare at any restaurant or bar. Only reason I knock service a little bit is because the majority of bartenders there seem to be uneducated or uninterested in beer culture. Probably should have talked to a manager more about beer questions, but it is what it is.
Selection was a nice variety. Roughly 25 or so taps. A few macros, maybe 4ish. A few imports (hacker pschorr, delirium, etc.), a good chunk of local wisconsin beers (new glarus, o'so, titletown, etc.), and then a variety of other craft, mostly other regional beers (Bells, Founders, Goose Island, etc.). They also carried quite a few bottles. Surprisingly had some KBS, which I had to sadly and broken-heartedly pass up on because I was driving. Ended up drinking NG Cranbic and Titletown Nitro Stout.
Apparently they have a brand new menu. Didn't expect much at all for a bar, but the food was awesome. Pretty much all sandwiches and mac and cheese, but delicious. Would recommend the Cheeky Bastard. Also have create your own which is nice.
Beer prices are good compared to Chicago area (most around 4 to 5 for a pint). Food was a little expensive but worth it (I think most were 8 or 9).
1,736 characters
More User Reviews:
3.68
/5
rDev
-13.8%
vibe: 3 | quality: 3.75 | service: 3.5 | selection: 4 | food: 3.75

4.4
/5
rDev
+3%
vibe: 3.5 | quality: 4.5 | service: 4.5 | selection: 4.5 | food: 4.5
For our second anny wifey and I went to Chicago for a few days. We went to Uncle Mike's to check Wisconsin off our "been there" states list and fill our bellies full of New Glarus.
Uncle Mike's looks looks like a biker bar without any bikers. Maybe there usually are bikers but they aren't there at 2PM on a Wednesday. It's a low key pub that was really quiet when we were there.
Coming from MA I was excited to see lots of taps, few of which I recognized. I had a NG Moon Man, NG Strawberry Rhubarb and my wife had Strawberry Rhubarb and NG Black Top. I see what the big with NG fruit beers is.
Service was friendly as were the patrons around us. The food was really good and the portions were enough for hungry me. My Crossfit couch and mid-west native said you can't walk into a hole in the wall bar within 100 miles of Chicago and not get a great meal. He's right. Not that this was a hole in the wall but I was expecting a seared patty and what I got was a giant burger that I'd pay $13 for in MA. As with most things mid-western, this place was dirt cheap. Really, we laughed at our bill. Oh Boston, sigh.
I loved everything about this place for the low key vibe, to expansive tap list without small pours and Cambridge pretentiousness and the cheap prices. I'm kinda sad that this can't be my local.
1,313 characters
4.08
/5
rDev
-4.4%
vibe: 3.5 | quality: 4 | service: 3.5 | selection: 5 | food: 4
My wife & I came here on a Monday afternoon when we both had the day off. This review is based solely on our experience, which I admit is probably atypical. After all, we had the place practically to ourselves and appeared to arrive just before a shift change behind the bar.
That being said, Uncle Mike's is tucked away in a rural area just north of the WI-IL border. From the outside, it looks like the neighborhood bar. The inside and fenced-in backyard are packed with every bar game under the sun. That plus an abundance of TV's ensure that you won't be lacking in something to do should conversation die out. The only complaint was the stale beer smell but that comes with the territory.
The tap selection was impressive; the menu of bottles was unbelievable. The first (pre-shift change) bartender was pleasant and knowledgeable. She even gave us tastes of a few unfamiliar beers. However, 2 of the first beers we wanted to try were out. Our first bartender commented that this was typical for a Monday. There were also a lot of empty spaces in the beer coolers behind the bar, but we still had no problem finding (and enjoying) some good beers.
Almost on cue, our second (post-shift change) bartender seemed more interested in restocking the coolers. She disappeared for long periods but by then we were well into our third beers and getting full from the sandwiches we had ordered. Uncle Mike's has a rather impressive food menu but again, we were disappointed when the first bartender informed us that the flatbread pizza we ordered as an appetizer was also out.
Prices were very reasonable.
Overall, we enjoyed our experience, but was it worth the 45-minute drive? Not really, unless you are meeting up with friends or really want a certain beer.
1,763 characters

4.74
/5
rDev
+11%
vibe: 4 | quality: 5 | service: 5 | selection: 4.5
A fantastic hidden gem on the boarder between WI and IL. At first glance, it's a small, local bar with crew of Miller-sipping hey-ders... But oddly enough, the place is chock-full of bootles and tappers. So much so, that they have Founders Fridays once a week where all Founders beers (bottles and taps) are $1 off!
Great service and beer knowledge on the part of the waitstaff. There also appears toe be quite a bit going on relative to bar games and competitions.
Of the three Mike's pubs, this appears to be the least well known... Which is fine with me.
If you do find your way here, check on the bottle list. You may find a few specialty beers that surprise you.
671 characters
4.3
/5
rDev
+0.7%
vibe: 4 | quality: 4.5 | service: 5 | selection: 4 | food: 3
I stopped in at this place a while back and never reviewed. My friend works here but it is the furthest Mike's from my house so I'm not as regular to this location.
It is a laid back sort of place, in the middle of nowhere really, seconds from the border between Wisconsin and Illinois. The taplist here is usually a bit weaker than the other locations, but it makes up for it with a solid bottle list.
The food is primarily pizza, which is a decent pizza, nothing special.
Like all the Mike's it is a very good beer bar, and worth a trip.
542 characters
4.43
/5
rDev
+3.7%
vibe: 4.5 | quality: 5 | service: 3.5 | selection: 5 | food: 3.5
Great beer bar. Their bottle selection is second to none. Over 400 different beers available. They offer 30 - 40 beers that are on the "Best of BA" top 100 list, including the top three. Be sure to ask for one of the owners to find out more about their "cellar selections".
Nice atmosphere, especially during the afternoon and early evening when it's still possible to find a seat. This place gets crazy busy after 8pm on Fridays and Saturdays. Although with the warmer weather more people will start heading out to the beer garden out back to enjoy a cold beverage.
They make homemade pizzas that are affordable and good. I know that they are working on putting in a full-service kitchen in the near future. They offer free popcorn and pretzels which adds a nice touch.
If you are into beer this is definately the place to go between Chicago and Milwaukee.
861 characters
4.08
/5
rDev
-4.4%
vibe: 3.5 | quality: 4 | service: 4 | selection: 4.5
The only way I had heard of this place was from the bartender at Captain Mike's in Kenosha (same ownership)...who claimed it would have hundreds of beers available.
This place had a serious roadhouse vibe, plunked down on a secluded stretch of Sheridan Road where there's not much else around. There's a gravel parking lot, a wooden porch, and a roadside sign on a marquee board. The Flying Dog neon in the window was a promising sign. Once inside, it was a bit smoky and dimly lit. Lots of tv's and games, similar to it's "sister bar" Captain Mike's. There were people of all ages here, quite a bit of local color to the place. The interior had alot of wood, but not quite cozy enough to have the Northern WI lodge vibe though. The table near the restrooms had a unique pattern of coins inlaid into it, and there were alot of beer signs and mirrors around.
There was a Rogue tap here that I had never seen before, Honey Orange Wheat. It was affordable and served in a pilsner glass. There was plenty of Bells and New Glarus to be had, notably NG Imperial Weizen & Smoke on the Porter. There was a small chalkboard with new arrivals (Ommegeddon, Red & White), it was on the wall opposite the bar. There was also a huge L-shaped chalkboard surface towards the back of the place, where many, many beers were listed. Lots of US craft, many imports (maybe 2/3 good stuff) with plenty of oddball stuff to sift through too. Selection score is based on the area, it's the best beer selection halfway between Milwaukee and Chicago.
Be sure to ask for the beer list, but check that chalkboard in the back too. There was a small menu of bar snacks, if memory serves. I thought this place showed alot of promise, especially in such an out-of-the-way locale. For IL residents, this is the nearest WI beer bar with Bells, NG, etc. Definitely worth a stop if you're headed up north.
1,873 characters
Mikey's in Pleasant Prairie, WI
4.27
out of
5
based on
8
ratings.