Metropolitan Coffeehouse & Wine Bar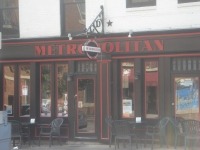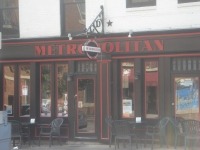 Bar, Eatery
902 S Charles St
Baltimore
,
Maryland
, 21230-4006
United States
// CLOSED //
Notes:
Reviews by yourefragile:
More User Reviews:

seanchai from Virginia
4.23
/5
rDev
+5%
vibe: 4 | quality: 4.25 | service: 4.25 | selection: 4.25 | food: 4.25
Dec 29, 2015



Umbra from Maryland
4.55
/5
rDev
+12.9%
vibe: 4.5 | quality: 4.5 | service: 4 | selection: 5 | food: 5
Atmosphere--I get the references to a Euro cafe. It actually reminds me of a beer bar I went to a few times in Paris near the river.
Quality/Selection: i've scored the selection and quality based on it being the best in Federal Hill, which automatically makes it the best in whatever part of Southern B-more you'd like to travel. The focus of all the brews, both on tap and in bottle, is craft. I don't even think they sell any macros. I've had everything from one off firkins, to Gnomaggen, to other draft goodness here. I've only seen the dozen or so taps, but that is all you really need anyway.
Food has been top notch. Not a big brunch guy, but they do that pretty nice as well.
Value--both food and brews are a little pricey. But given the fact that it is one of the few places, besides abbey, in fed hill to have your quality brews, I'll pay it.
May 24, 2011

DoubleSimcoe from Pennsylvania
3.8
/5
rDev
-5.7%
vibe: 3.5 | quality: 4 | service: 3.5 | selection: 4
I read about this place here on BA and thought I would check it out while walking around Federal Hill.
This cozy neighborhood joint has 15 taps, with two of them devoted to Unibroue. Two German brews, Duvel Green, and Victory Yakima, Lagunitas Lil' Sumpin, Hennepin Ommegang, Flying Dog Ragin' Bitch, Heavy Seas... not bad at all!
But: I did not see the 20 taps BA lists. And no cask either.
It is a nice old pub, with lots of wood, cozy and charming. But small and pretty packed on a Saturday morning at brunch time.
Alright service, a bit slow but understandable, only two servers for the whole place.
I didn't like the crowd... lots of Abercrombie-and-sweat-pants-toting young white folks drinking bloody mary's and bullshit. Dudes into football and the manly, homely chicks who swoon at them even if they're total douchebags.
Apparently this is the kind of people who dwell and drink in Federal Hill? That is why I chose Fell's Point!
Prices were fine, five bucks for my point of Victory Yakima and $3.75 for a huge latte for the wife.
Didn't try food.
If you live around, why not come in for a beer. If you're strolling the streets of Federal Hill on a sunny weekend or a gloomy weekday, why not pop in, chug one and leave. Otherwise, not a destination or a must, but a solid choice.
Nov 23, 2010
jgasparine from Maryland
3.68
/5
rDev
-8.7%
vibe: 4 | quality: 4 | service: 2.5 | selection: 4 | food: 4.5
Visited the Metro on a slow Thursday night... noted that they had a firkin upstairs, but did not partake... as it was a cask of ale that I didn't care for. The description someone else used of "European Cafe" is pretty accurate.
Beer selection and quality were both good. Someone here mentioned that the beer selection rivals that of Max's. I strongly disagree. The beer list at Metro, inclusive of drafts and bottles, is MAYBE 40 beers long... Max's has more than twice that on draft alone, plus several hundred unique bottles. Don't get me wrong... there's nothing wrong with the selection at Metro... but it certainly didn't blow me away- I have found MANY other places throught the city with a superior selection.
Note that I was disappointed to find 2 of the beers i ordered off their menu were out of stock (Saison Dupont and JP Bam Noire).
As others have mentioned service was spotty. Sometimes slow and sometimes quick. I also found that the staff generally had a little knowledge beer... they recommended a tripel to me when we discovered that they were out of the Jolly Pumpkin Bam Noire..
The food was fantastic. I would go back again and again just for the food. The fact that they have good beer there too is a bonus!
Jun 04, 2010
MaltistLupulist from Maryland
4.16
/5
rDev
+3.2%
vibe: 4 | quality: 4.5 | service: 4 | selection: 4
Why this place doesn't get more recognition on BA or by beer geeks generally is beyond me--it's the equal of Mahaffey's if not Max' in terms of beer offerings and could probably hold its own against the latter if one were to factor in vibe and atmosphere (which compromise Max' position as much as they aid Metropolitan's).
I visited late in the afternoon early in the week (roughly my third visit) and was greeted by a mostly empty quasi-European-style cafe-bar setting (although ma barmaid francaise [quebecoise? belge?] may have skewed my perception) with plenty of craft tap handles prominently displayed alongside the L-shaped (reverse J, maybe?) bar. The "Metro", as the locals refer to it, calls itself a wine bar and even a coffeehouse before it reluctantly admits to its beer bar identity, and it didn't seem unusual for a pint of ale, a mug of java, a glass of chardonnay, and a bowl of minestrone to be within spilling distance of each other on the bartop. There were but a few souls present when I arrived, but by the time I departed (about 7:00) it had become considerably busier (it was straight bumpin' when I attempted to visit the previous Friday around the same time).
The draft beer selection was definitely among the best I've seen in the city, and far and away the best in Federal Hill. I had a Brooklyn Backbreaker, a Troegs Mad Elf, and the freshest, tastiest Loose Cannon I'd encountered in quite some time. A couple of other IPAs were also on (including Brew Free or Die!), as well as some Belgians (La Chouffe, Duvel Green) and a German or two. A very nice, eclectic selection, indeed, and not a single industrial offering in the bunch (I don't remember seeing even Guinness), which, in this city, is unheard of even in the more reputable beer spots. I didn't look into the bottled selection, but they seem to have some of that, as well.
Service was adequate but don't expect to leave here any more enlightened than when you arrived--beer knowledge on the part of the staff seems to be at a bare minimum; when I stated my preference for West Coast-style IPAs I was abruptly warned by the barmaid, "I don't drink beer", as if to say I may as well have been addressing the Grand Mufti of Saudi Arabia, and that to continue would have been an exercise in futility. Fair enough, and I wasn't asking for suggestions, but I doubt an oenophile would have overlooked the matter as readily had we been discussing wine, nor would he have received as dismissive a response in the first place. Double standard exposed. On top of that, if you're a glassware Nazi you'll be less than thrilled that all beers, as far as I could tell (including my Mad Elf), are served in pint glasses. I do remember, however, getting a Duvel properly served in a tulip on a prior occasion.
I've never tried the food but the menu, like everything else here, is Cheesecake Factory-like in its eclecticism: everything from fajitas and quesadillas to crabcakes and kabobs; the nexus of menu must be its "Grouper in Chai Tea Sauce". I wouldn't hesitate to eat here, though, should the appetite come calling; the food here is rated moderately well (21/30) in the Zagat Survey.
In sum, if you're willing to ignore a few minor faults, the Metro is probably your best bet for good beer in the city outside of SE Balto. Perhaps the nabe deserves its poor reputation among beer geeks as "Federal Swill" due to the establishments ringing the Cross Street Market, but, while Metropolitan is a couple of blocks removed from that open-air frathouse, it's miles away as far as vibe, sophistication, and, for the purposes of beer advocacy, beer selection. In sharp contrast to the Cross Street spots, the youngest patrons here seem to be in their late twenties, and a mellow, adult, yet unpretentious vibe permeates throughout the establishment. I'm usually skeptical of places that try to appeal to a wide, diverse, and often divergent cross-section of tastes and tendencies, but Metropolitan somehow seems to have pulled it off better than most. Kudos, Metro.
Now let's see some more of those tulips.
Dec 30, 2009
John_M from Oregon
3.63
/5
rDev
-9.9%
vibe: 4 | quality: 4 | service: 3 | selection: 3.5 | food: 4
Have been here a number of times, but just now saw it had been added to the data base.
The Metro is a smallish cafe with more of an emphasis on wine and eclectic food then beer. It has sort of a funky, artsy air to it, with a fairly relaxed vibe. I've never been upstairs, but the downstairs area always seems a bit smallish and cramped to me. The cafe tables are set up in a fairly small space, and things just always seem a bit tight to me. There is also a modest size bar area off to the right when you first come in, which is a good place to sit and relax with a beer.
As mentioned above, the emphasis here is really on wine. The Metro does have beer events once a week (Thursdays), and sometimes they'll have some interesting flights or something unusual on the firkin. However, if you check the website menu, you'll notice that the wine list is provided, but not the draft or bottle selection. In any event, my recollection is that they usually have 4 or 6 beers on tap at any one time, with some interesting choices. The times I've been there, they always have had on the Schneiderweisse, which is always nice to see on tap.
Service at the Metro is something of a joke. Sometimes it's quick and sometimes it's not, but the servers I've encountered are about as clueless as any I've come across in Baltimore. Odds are that they probably will get the right beer to you when you order it (though it may take a while - he/she may need to ask the manager what a Maudite is if you order one), but don't ask for anything more then that. One of my favorite experiences happened on the night the Metro was having a wine event. I think the featured winery was St. Suprey, with some special wines available to taste upstairs that night. The information about the event was contained in the menu, and there were a few posters up about it as well. When I asked my waitress about the event, her first response was (and I kid you not) "wine event? what wine event?" No joke, it literally took a half hour for her to find out about it, ask about the specific wine I was interested in (a sauvignon blanc), and eventually bring me a glass. Alas, this was not a one time experience; I've had similar experiences when calling the metro to get some information about beer events ("So, I see you're having a Belgian beer tasting tonight; will they be in bottle or on draft?" "Beer event? Let me check with my manager. Yes sir, we have beer events, every Thursday." "Um, yes I know, that's what your website says... and today's Thursday. I'm asking about today's event." "Thursday? Oh yes, that's right, today is Thursday, so yes we are having a beer event tonight." you get the picture).
Sigh. Although generally clueless, the folks working here are pleasant enough, and the Metro does have one of the more interesting beer selections in the Inner Harbor/Federal Hill area. It's a nice place to drop in for a beer, though some of the selections are a bit spendy (the Schneiderweisse was in excess of $7 for a glass). It's a nice enough place, and I'm hoping over time it will only get better.
Edit: Just noticed that whoever added this place to the database indicated that this place has 20 beers on tap. Just out of curiousity, I called to find out. It took a while to get the information (the staff seem to be as clueless as ever), but apparently they currently have 6 beers on tap downstairs and another 5 or 6 in the upstairs bar (not certain if they are the same or different beers, though I did ask).
Jun 18, 2008
Metropolitan Coffeehouse & Wine Bar in Baltimore, MD
Place rating:
4.03
out of
5
with
11
ratings