Mellow Mushroom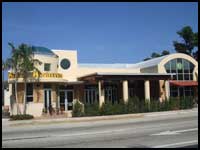 PLACE INFO
Type:
Bar, Eatery
25 SE 6th Ave
Delray Beach
,
Florida
, 33483-5313
United States
(561) 330-3040 |
map
mellowmushroom.com
Notes:
No notes at this time.
Added by FleeVT on 06-03-2008
Reviews: 10 | Ratings: 18
4.08
/5
rDev
+1%
vibe: 4 | quality: 4.25 | service: 4.25 | selection: 3.75 | food: 4
Great pizza place with a good selection of beers. Also wine and spirits. They have daily specials and love the mushroom pizza. Servers did a great job with out group of 10 folks. Been there twice and will go back.
213 characters

3.66
/5
rDev
-9.4%
vibe: 3.5 | quality: 3.75 | service: 3.75 | selection: 4 | food: 2.5
Not a fan of their pizza, but they do have a great beer selection. Big selection of local/Southeast stuff, which is great, because I like to drink local and regional. Great spot for pizza and beer, or just to have some drinks on the patio.
241 characters
4.18
/5
rDev
+3.5%
vibe: 4 | quality: 4 | service: 4.5 | selection: 4 | food: 4.5
Mellow Mushroom is probably my favorite pizza place. I dont know what that says about me, but I do love their pizzas, and the beer selection is typically one of the best around. This location was not different.
Located in the rather trendy downtown area of Delray Beach, the parking can be a nightmare, but for lunch, it was fine. A co-worker of mine, who has been looking for a good pizza joint in S Florida for a while, joined me. We sat at one of the tables in the middle and unlike most other Mellow Mushroom, we were greeted immediately.
The slice and salad combo is pretty much unbeatable, and at $5.99, it is very affordable. I had that with a Greek salad and it was quite tasty.
The beer selection runs the gamet of just about everything. One thing that is lacking in S Florida is the lack of any local beer support. It is harder to get a Florida beer here in Florida than it is in NC (my previous homestead). I dont understand that at all.
As mentioned, the service here is the best I have seen at a MM; normally, the servers are lazy college kids who may or may not be under the influence of some sort of illegal, smokeable, tobacco like product. These servers seemed to actually care and may have been hopped up on nothing more than a few Diet Cokes.
As a side note, by co-worker who has been in search of good pizza for 10 years, says he may have found his go-to restaurant due to both the atmosphere and the grub.
1,436 characters

4.3
/5
rDev
+6.4%
vibe: 4 | quality: 4 | service: 4.5 | selection: 4.5 | food: 4.5
Yes, this review comes with yet another morsel of that infamous drive from New York City to Florida... in which we finally arrive to the hotel in Boca Raton and are desperate for some food, drinks and relaxation after a long-ass day in the car cruising the endless Florida plains.
Reality check- we are not in NYC anymore. Everything is closed or closing on us. Mellow Mushroom is our only option, open until 11pm. We race there and get to the place at 10:30pm. Pizza pleeease!!! After a long day, Mellow Mushroom was total heaven for us all.
I loved the beer selection. 50 taps indeed, divided in ales/wheat/lager/odds'n'ends. Blue Point Rastafa; Chimay White; Cigar Maduro; Delirium; Dogfish 60 and 90; Florida Swamp Ape, Monk in Trunk and Nostradamus; Terrapin Rye; Widner Pitch Black... plus too many wheats and Blithering Idiot! Nice.
The joint looks better than the one the wife and I used to frequent in Columbus, Ohio. More spacious and slightly classier, less hippie and less crowded too. I dig it.
Service was very nice and efficient and pizza is great as always. Red Skin Potato pie with a side of hot sauce is always our choice. Litter thicker than what I remember, but damn delicious.
Then walk to the beach and burn it off!
1,245 characters
3.65
/5
rDev
-9.7%
vibe: 3 | quality: 3.5 | service: 3.5 | selection: 4.5 | food: 3
This is a brick oven pizza joint with a bar and a massive selection of beer, bottled and tap. Great if your into beer. But pairing pizza with beer just doesn't do it for me, until I hit the munchie stage, which is at least 3 to 4 beers in. The atmosphere is completely beachie layed back. Which works for most Floridians. The pizza was really good, if you like brick oven style. The salad was also pretty decent too. So overall, I'd say the food was definately worth the trip.
As for the beers, well, the selection is just incredible for a pizza place. It's like there are more beer style avialable than pizza. Behind the bar are the taps and the selection is pretty endless...taps go from one end of the bar to the other. I'd say they've got 25 to 30 different taps there maybe more not to mention the bottled selection.
Mellow Mushroom is a good stop after a 1/2 day on the beach. Just be careful not to leave the place buzzed if your driving. Cops are tuff in Delray.
974 characters
4.25
/5
rDev
+5.2%
vibe: 4.5 | quality: 4.5 | service: 4 | selection: 4 | food: 4.5
Now this place is what every town needs to have, an awesome pizza joint with over 50 taps in it. Some of the best pizza i have had in a long time, you can get funky toppings on nice fresh crust that you can tell they make in house. Beer selection is way more than you expect it to be, yeah of course the have some macros but they also have a great selection of craft, nothing goes better with pizza than a good craft beer in my opinion. Well worth going to if you get the chance. I think they have a few of them across florida, orlando for sure has one if you r going to disney area.
583 characters
3.8
/5
rDev
-5.9%
vibe: 4 | quality: 3 | service: 4 | selection: 4 | food: 5
I have loved going to this place for a while now. Nice beer selection and great pizza. Now... the past 2 times I have gone, I have noticed that the beers (Dales Pale Ale and Dead Guy) have not tasted as good as they should. I think this might be due to the glasses smelling like bleach or dirty tap lines or both, but I think the bleach smell is the culprit here. This is obviously a turn off.
So beware that you might have the same experience even though I have only noticed this the past 2 times.
Another thing that annoys me is that although the majority of the beers are decently priced, Arrogant Bastard is almost 7 bucks for a 12 oz pour when you can get a full pint of it down the street at Tryst for $4.
Anyways, I have loved this place for a long time and I hope that they do something about the bleach smell or I might be enjoying my pizza with a water next time.
Here is the beer list (I don't think it includes all of them)
http://www.mellowmushroom.com/store/store_bar_menu.php?s=110
1,001 characters

4.28
/5
rDev
+5.9%
vibe: 4 | quality: 4.5 | service: 4.5 | selection: 4 | food: 4
This place is exactly what Delray needed! It recently opened this year (I think this year) and the place itself is incredible. When you walk in, to the left is 50 beers on tap and 50 beers bottled...to the right is dining tables with HUGE murals all over the wall of famous musicians. The food is incomparable, just amazing. Their beer selection is very good, I have never seen a few beers that they have on tap anywhere else in south Florida. To name a few on tap: Delirium, Celebrator, 60 min IPA, 2 Rogue taps (Mocha Porter and Dead Guy Ale), a bunch of Abita beers, UFO, Red Hook, etc...They also have a great bottled selection, just to name one: La Fin du Monde
Also, if you drink every beer that they have, you get a sweet t-shirt...if you come into Mellow Mushroom be sure to ask the bartender for a "100 beer club" card
*Most beers are $4.25, but the Delirium and other rare, high ABV beers are $6.xx
910 characters

3.25
/5
rDev
-19.6%
vibe: 3.5 | quality: 3.5 | service: 2 | selection: 4 | food: 3.5
Upon entering you could tell that the Mellow Mushroom name fits perfectly at least by looks. The company was founded by hippie pizza makers so of course tie dye is seen through out. There are trippy pictures of different musical artists although there were some that I couldn't quite understand why they were included i.e. Enimem, Green Day, Celine Dione.
They have really nice selection of beer on tap and bottle. They have a nicely laid out menu just for the beer and breaks them down by country and explains their type. My Left Hand Milk Stout was very good.
I must say the service was rather poor. It took close to 10 minutes for our server to even come take drink orders. Yes it was a little busy but a simple "I'll be right with you" would have helped. And not to make any personal attacks but our server seemed like he may have been partaking in some of the same activities as the person that made the trippy paintings.
The pizzas were all pretty much gourmet pies so they were a little pricey but I was impressed with their taste. We had the white pie and I enjoyed it, sans the tomatoes.
Overall I would probably take some of my friends there for some beers and maybe a pie. Maybe the service was off that night but we shall see in the future.
1,256 characters

3.7
/5
rDev
-8.4%
vibe: 5 | quality: 3.5 | service: 3.5 | selection: 3.5 | food: 4
First off let me just say that the atmosphere is totally trippy and amazing, from the panted walls to the murals to the bar it is down right an amazing looking place and one to be seen. The quality of the the beer on draft here was pretty good I wan't to say it has around 65 taps and a bunch of bottles on draft as well. Had a nostrodamos on draft and it was served in the right glassware, not bad. The food is actually pretty good its a pizza joint but they cook all their pizza in a stone oven. Over all this place is pretty awesome, awesome atmosphere good and food and beer. I just found out that this place has a beer club, after you try 100 of their beers you get a t-shirt, I think that is pretty damn cool.
715 characters
Mellow Mushroom in Delray Beach, FL
4.04
out of
5
based on
18
ratings.