The Tap Room @ Catalyst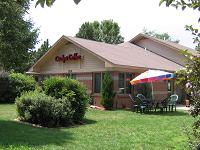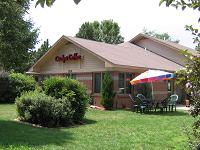 PLACE INFO
Type:
Bar, Eatery
3501 S. Shields
Fort Collins
,
Colorado
, 80526
United States
(970) 223-9035
// CLOSED //
Notes:
Closed 2010.
Added by pkeigs on 06-03-2008
PLACE STATS
Reviews:

9

Ratings:

pDev:

14.29%
HISTOGRAM
View: Place Reviews
Ratings: 9 | Reviews: 9
Reviews by bhalter8:

4.22
/5
rDev
-1.2%
vibe: 4 | quality: 4.5 | service: 5 | selection: 3.5 | food: 3.5
Catalyst happened to be my first stop in Fort Collins. After a long flight in from Atlanta, I had my beer thirst ready for a Pliny the Elder... it was not on tap anymore. This would be my only true disappointment here. While it was very slow (summer and a Wednesday night) Collin, the manager, made my visit very enjoyable. I have a hard time commenting on the atmosphere, since it was so slow, but Radiohead is good, so that helps with atmosphere for me. Other two patrons were nice fellows too. Limited, but extremely high quality beer selection, maybe about 5-8 taps of CO brews, and few others, but for those from out of town, all good. Nice Lost Abbey bottle selection, as well. Collin, was great, so I have to give him high marks for quality, friendly, and knowledgeable service. I had the Thai pizza, pretty good, but nothing spectacular, I would assume it is tough being a one man show. I hope this place survives, it seems to suffer from being outside of the downtown Fort Collins area, but certainly is a fine cafe, and worth a stop if in town. I hear the live music nights are fun, but did not make it back, tough on a business trip.
1,144 characters
More User Reviews:

2.95
/5
rDev
-30.9%
vibe: 2 | quality: 3.5 | service: 2 | selection: 4 | food: 2
Re-review, once again. I'm really sad to see this place, once a favorite haunt, to slide downhill.
The atmosphere of the place is okay. The venue is interesting, and unique, and laid back. The atmospheric music is pretty decent as well. The live music on weekends is very unimpressive, however. The fact they charge a cover to even be in the tap room on weekend nights is really a killer for me, and the main reason I rarely visit any more.
Beer is good- appropriate temperatures, awesome selections of some generally uncommon or rare brews on tap. Lines are as clean as can be expected. Bottle selection is "meh," but probably caters to the crowd who isn't into the rarest of rare or limited releases.
Service is totally hit or miss- a lot of the bartenders have been there for a while, and really do know what's going on with the beers. There's at least one new one that I'm impressed with as well. Generally friendly people. However, more than once I have been hassled by other employees and a few times felt insulted as to how the management interacts with me and other customers.
The food is fine- a bit overpriced, but fine.
And it still remains the SINGLE MOST EXPENSIVE PLACE in Fort Collins to grab a pint. $11/pint this last visit. I understand it's rare, but that's still absurd.
1,295 characters
4.3
/5
rDev
+0.7%
vibe: 4 | quality: 4.5 | service: 5 | selection: 4 | food: 3
The Tap Room is local to me and I must say very glad we have a local spot that has quality beer on tap and in the bottle. The below reviews give an idea of the beer selection. Colin the manager knows his beers well and is pushing for more Russian River, Port Brewing, Avery, etc. kegs. Pliney the Younger keg is in waiting to be tapped, so they are on the top list to get good beers. Food is average, the pizza is damn good after a 8.5 Double IPA. Their bottle selection is really good, Abt12 is always there and they have of course a solid selection of Lost Abbey and some other really good Belgians.
601 characters

3.66
/5
rDev
-14.3%
vibe: 3.5 | quality: 4 | service: 3 | selection: 4
A neat little place that we stopped by on a Tuesday night after biking. We were the only two at the bar but there seemed to be a hot night of scrabble going on.
Service was decent but hard to guage because we were the only people in the place. One nice thing was that she kept the bar open for us after 9.
I was impressed with the beer selection. 5-6 taps with a decent bottle selection. A quiet place and kinda nondescript. Will have to try when there are a few more people in the place to ckeck on the atmosphere.
518 characters
4.88
/5
rDev
+14.3%
vibe: 4 | quality: 5 | service: 5 | selection: 5
Saturday, May 23rd, 2009 9:30am Catalyst Coffee. Now, the only reason we're heading to this place is because I heard of the awesome tap list. It's true, the other half of this coffee shop is a tap room. Tap Room @ Catalyst as it's known. I had heard that they had the evasive Racer X on tap. We went in and ordered some coffee and found some comfy seats to lounge in. I saw some computers over on one side and thought I would check BeerAdvocate.com while I had some time to kill. Someone from the adjacent room greeted me warmly and I turned and realized I was looking into the tap room. We exchanged pleasantries and I told her I was disappointed that I couldn't try some Racer X. She looked at me straight faced and said, "Oh you can get beer here anytime, just order it from the barista". Are you freakin kidding me??? A double IPA at ten in the morning? Why not! It looked like the three ladies in the tap room were setting up for a musical show, but they also seemed genuinely interested in talking beer with us. The Tap Room @ Catalyst offers local artwork, live music, fine wines and a generous selection of world class beers. The taps at Catalyst feature a nice selection of local Fort Collins beers such as New Belgium and Odell as well as some top notch regional and national beers. I remember seeing Stone, Russian River, Dogfish Head and BearRepublic while we were there. I felt very fortunate to be sitting in the Tap Room (six hours before opening) enjoying one of the country's best double IPAs talking beer with whom I found out later were the owners. Thanks to D and C for a wonderful, memorable trip to The Tap Room @ Catalyst! I highly recommend checking it out if you're ever in the area.
1,708 characters

4.86
/5
rDev
+13.8%
vibe: 5 | quality: 5 | service: 5 | selection: 4.5
I stopped in Saturday just to check out the brews but ended up staying quite a while and had some good live music to listen to.
Very easy to find, I walked in the side door and passed the coffee side of the building and straight through the double doors to the beer side.
I looked up at the 8 taps and I got instantly stoked. The bartender greeted me quickly and I already found myself feeling at home. Great atmosphere and great folks! Those of us sitting at the bar immediately started talking about great brews, something I cannot get anyone to do in Casper as there are not a lot of people in Casper that go beyond the typical macro beers.
Anywho, on to the taps. I tried an Avery Maharaja right off the bat and it was super delicious. I next indulged an a couple of Russian River Damnations and man, I've had it in bottles before and they were great but on draught...it's a whole new ballgame! I also enjoyed the new New Belgium Biere de Mars and an Espresso Aged Yeti. The bottle selection was also very impressive.
Well, I'll certainly make this a must stop whenever I trek down to Fort Collins. It is that good!
1,123 characters

4.6
/5
rDev
+7.7%
vibe: 4 | quality: 5 | service: 4.5 | selection: 4.5
I visited this place about a week ago when I saw they were closing their business. Now that I've been, I regret not supporting them more in the early months.
This place combines two of my favorites, beer and coffee, into one pleasant and inviting building. The coffee house side has nice seating areas with soft chairs, lighting, and music.
The other side (which would be of more interest to people on BA) has a short (~5 person) bar with a large open area with cafe tables and stools. On tap when I visited was Hopsickle (which had just replaced Pliny the Elder), one of NB lips of faith beers, Damnation, and a couple from Odell. What was really sad to see was all of the outstanding old taps lying on a table. Some truly exceptional beer had been served there in just a few short months of business.
When I was there, it was clear that people were sad to see it go. It was actually quite busy and there was still a glimer of hope that it might stay open but, from what I've heard, they closed for good on January 20th.
Edit: Much to my surprise, this place is still up and running. After my grim visit described above, they found a way to stay in business and have been doing very well (as far as I can tell) ever since.
I would like to say that their taps selections have been very impressive lately. I enjoyed a glass of Pliny the Younger and Consecration there on separate occasions. Two of the most amazing beers I've ever had! I'm looking forward to others in the future.
1,484 characters
4.5
/5
rDev
+5.4%
vibe: 4.5 | quality: 4.5 | service: 4.5 | selection: 4.5
Catalyst has a great atmosphere - it's a coffee shop on one side and a nice beer lounge on the other. They do a great job of getting rare and interesting beers (Avery Ale to the Chief, Hercules, Oaked Yeti and 15, Stone 12, Dogfish Head, New Belgium Lips of Faith and La Folie, plus some Belgians on tap and quite a few in bottles). The beer is very reasonably priced (La Folie in a NB globe for $4.75). They have also started doing some beer tastings - they did a sour beer tasting with a San Diego beer (Alesmith, Lost Abbey) tasting upcoming. They have live local music a couple of times a week. Their food menu is limited - pizza, hummus plate, etc. It's quite the hidden gem, and I hope they keep up the good work!
719 characters

4.88
/5
rDev
+14.3%
vibe: 4 | quality: 5 | service: 5 | selection: 5
A visit over the weekend just to check out the place. Located just north of the corner of Horsetooth and Shields in an building that use to be a travel agency. Once inside the building is set up as two different identities. On one side is coffee bar with a variety of pastries and typical coffee stuff. There is a small sitting area in the back. The other half of the building is the bar side. They even have two entries for the two different locations.
The bar area is set up more along the lines of a coffee joint. Couches and a few tables, a small area in the corner for wireless users. There is a small bar situation up front with about 7 taps. But up at the bars, there is a great selection of beers. They had Avery Fifteen, Maharaja, La Folie, Eric's Ale, Stone RIS, and two others. They had a big selection of bottles as well, including a great selection of sours.
The bartender was the owner, who was a young kid but he did know his beers. Very knowledgeable and one thing that I thought was cool is that he was able to make some good recommendation to other people. Very knowledgeable and friendly enough. Truthfully I just enjoyed being about to talk beer geek and someone able to keep up.
We didn't eat but their was some small food items on the menu. I don't think I would recommend to eat there, or at least at this time. But they did have some snaky stuff available. Overall I think this was a great visit. A great selection of beers and great service.
1,469 characters
The Tap Room @ Catalyst in Fort Collins, CO
Place rating:
4.27
out of
5
with
9
ratings