St. Stephen's Green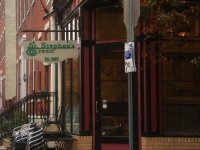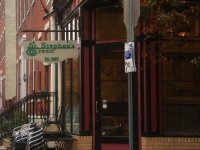 PLACE INFO
Type:
Bar, Eatery, Beer-to-go
1701 Green St
Philadelphia
,
Pennsylvania
, 19130-3997
United States
(215) 769-5000 |
map
saintstephensgreen.com
Notes:
No notes at this time.
Added by kevinbranin on 06-04-2008
Ratings: 14 | Reviews: 10
Reviews by eldondre:
3.93
/5
rDev
-3.7%
vibe: 4.5 | quality: 4 | service: 3.5 | selection: 4 | food: 4
I've been going here on and off since it opened. It's on nice corner on one of the nicest streets in the city. Originally, the food wasn't very good but the new chef has improved that quite a bit. I still find the food somewhat hit or miss. Usually anything off the specials list is good. The burger is okay, and the pot pie phenomenal...and the wings among the best in Philly. the bar itself is handsome. There's a beer garden in back and table seating in front. they have several flat screens for sports as well. On to the beer. the selection has always been solid but nothing spectacular. You know, yard's, allagash, bell's, etc. I've noticed in the past month or two that they are rotating more and now have a "new on tap this week" list as well as a beer of the day. So far, it has improved with age. this is very much a good neighborhood bar. Is it worth going out of the way for? Probably not. It's an excellent place if you're nearby or to meet friends before a sports complex. Sometimes we'll meet here, park, eat dinner, and take the nearby subway to the game.
1,070 characters
More User Reviews:

3.34
/5
rDev
-18.1%
vibe: 4 | quality: 3.25 | service: 3.75 | selection: 2.75
We were walking down 17th street after leaving Bar Hygga, thinking of taking a bus. And then we stumbled upon this big, long bar by the sidewalk… I've heard of this place!
Spacious inside, dim lights and very quiet on a hot summer night. 14 taps, with nothing exciting: Guinness, Guinness IPA, Goose Kolsch, Goose Main Line, Saison Dupont, Yuengling Lager, Bell's Two Hearted that kicked as we were ordering… I had a Makers' Mark.
Crappy beer, nice cozy jawn. I may stop by again next time I'm wandering Fairmount.
530 characters
4.75
/5
rDev
+16.4%
vibe: 4.75 | quality: 4.75 | service: 5 | selection: 4.5

4.22
/5
rDev
+3.4%
vibe: 4.5 | quality: 4 | service: 4 | selection: 4.5 | food: 4.5
Very cool neighborhood beer bar/restaurant in the Spring Garden/Fairmount section of the city. The atmosphere of this place is pretty nice mostly because there is a young cool crowd and there's just a nice vibe making it a really fun place to drink.
The food and service are pretty good and the cuisine greatly improved after the first few months of opening when they revamped the menu. They make some amazing appetizers including an excellent cheese stake empenada. They have the standard pub grub along with some tasty higher end entrees.
The selection is very good with a bottle list of about 30 and a rotating tap list of about 20. A very nice mix of American craft, Belgian, local and German beers. They often have Pliny the Elder on as well as Chimay and Triple Karmeliet among others.
A great place with a very nice selection of quality beers that's great for a meal or for a night out at the bar. Highly recommended.
929 characters

3.68
/5
rDev
-9.8%
vibe: 4 | quality: 4 | service: 3 | selection: 3.5 | food: 4.5
I have a love/hate relationship with the place and am finally at a point to write an objective review....
The upstairs atmosphere is that of an "authentic" irish pub, with various peices of decor giving off a cathedral like feel. Full length windows and over lighting open the place up and take away from the overall comfort.
The downstairs is a smaller, darker, more cozy atmosphere for drinking. If im here for a session, this is where id like to be. The bartenders down here always appear to be on top of their game.
The draft menu is not as expansive as other places in the area, but a decent selection of craft brews and your usual irish guiness/harp assortment exists. At any point maybe 1-2 of the beers are something special. The bottle list is ok, if not slightly over priced.
The food is very good, altough the menu is small and and very little variety exists. They have run out of certain food on more then one occasion while i was there.
The service is hit or miss. Usually understaffed, you can get helpful service or be ingnored and rushed.
Overall, i think its a good neighborhood spot, but nothing ever really stands out consistantly. What makes this place worth the visit is the beer events and specials. The occasional Russian River (first place i ever had Pliny), regular beer releases and specials (Terrapin beers 3 for $10).
Update: As of late the service has fallen off the map with rude servers and bartenders who lack knowlege of their food and drink menu. Also, the beer list has gone flat with the taps featuring draft brews that are easy to locate elsewhere for $1 cheaper a pint or more oz. and the bottle menu reduced to about 20, with some never available anyway. The only plus is that the food is fantastic, even though the menu is still limited.
1,784 characters

4.45
/5
rDev
+9.1%
vibe: 3.5 | quality: 4.5 | service: 4 | selection: 5 | food: 5
I met my bestest BA BFF here a week ago for the purpose of having Pliny the Elder on draft. The Phillies game was on, and a preseason Eagles game was also on, scored big points with my friend.
We nabbed seats at the bar. The place is pretty large, its a corner spot. The door is on the side, and the bar is up some stairs. It was crowded in here tonight. There are some tables in a hidden, narrow nook, a split-level above the bar, you can see the people sitting there through a cutout in the bar...I wouldn't want to sit there but I think the design is very cool.
Pliny the Elder, Bear Republic on draft, also Laginitas Lil' Sumpin Sumpin which goes great with food. Their beer guide book/food menu I liked.
I was hungry, and I could order dinner at the bar, this was nice. Their dinner specials looked trendy and tasty, I got excited...unfortunately they sold out of the dinner special I wanted [shrimp with risotto], so I opted for the angel hair pasta which I devoured in seconds. My friend ate my scallops since I don't like them, and I ate off his plate lol. My friend ordered the salmon dinner special stuffed with crab meat. I loved the sauce his meal came with soooo much...I think it had saffron in it. The asparagus I loved too.
The food was very satisfying, and so was the Pliny. The staff were busy and I didn't know the bartenders but they handled everything right. Alot of the folk who came in there seemed to live in the neighborhood, which is what I would expect at this bar.
Lovely Experience. Plus my last name is Stephens and I never knew there was a saint spelled the way mine is. Cheers!
1,617 characters
3.79
/5
rDev
-7.1%
vibe: 4.5 | quality: 4 | service: 4 | selection: 3
Came here with a couple of friends last week on a beautiful Sunday night. I was a bit apprehensive at first but a look at the beer menu took that away. We sat outside where there are tables with umbrellas set up. The beer menu wasn't large by any means but it definitely had quality beer. Duvel Green, Hennepin, La Fin Du Monde, some local draft, decent bottle selection too with some Chimay and others (I think Oberon was a selection as well).
The food menu looked really pricey so we stayed away from it.
The server was decently attentive and brought us glasses with the bottle (which I approved of, unless I know the server I'd rather pour it myself).
After a while we moved inside, where there is a bar section with some tables and another seating section on the other side. I estimate about 30-40 seats plus 20 at the bar. There were about 7 or 8 draft beers, including one for Guinness, Racer 5, some sort of ESB (which was very good), and others but at that point I wasn't paying much attention to the draft selection.
My only complaint is that one of the glasses of beer I got showed absolutely no head whatsoever and my friend's beer had a nice 1" head with the same beer. I attribute that to lack of rinsing the soap from the glass.
A good place to chill with a couple of beers before heading home.
1,313 characters
4.44
/5
rDev
+8.8%
vibe: 4 | quality: 4.5 | service: 4.5 | selection: 4.5
I stopped in while visiting from out of town with some Philadelphian friends. It's a smallish neighborhood British-style pub. I just had a couple of beers, no food, but I liked the beer selection. Corsendunk Christmas, Yard ESA, Sly Fox IPA, Bell's 2 Hearted, Celebrator, Philadelphia Brewing's Walt Wit, Guinness and several other high quality choices I can't recall. Nothing real scarce outside of the Sly Fox but quality was evident. The place itself is fairly simple but tasteful atmosphere along the classic small pub feel, pretty much a classic neighborhood bar but with a little class. The bar area was fairly busy but the bar tender was attentive and responsive, seemed to know his beer reasonably. What little I tried seemed very fresh. Although this may not be a huge "beer bar", it was a very solid choice for discriminating brew fans. A comfortable, friendly setting with good beer. Sports TV was readily available to all, very decent over all.
956 characters
3.88
/5
rDev
-4.9%
vibe: 4 | quality: 4 | service: 4 | selection: 3.5 | food: 4
I was not impressed with St. Stephen's Green. It's pretty much your average British/Irish pub as far as looks go, with average food, and just slightly better than average service. I thought the beer selection was quite standard, and there was nothing available that I hadn't already had - and within a few short blocks of walking I could be at the Belgian Cafe where there were more than a few (except that their service sucks). The food was OK, and I can't complain; not even about the price as it seems reasonable given the area. Final conclusion: I don't see it as a place I'd go to have a pint. I don't really see it as a place I'd go for brunch. I wouldn't go to dinner there. I might go for a beer, but only if a group of my friends was going - or if it was a stop along the way to some better bar.
804 characters

4.13
/5
rDev
+1.2%
vibe: 4 | quality: 4 | service: 4 | selection: 4.5 | food: 4
This is a sister restaurant to Bishop's Collar and it shows in the good selection of brews on tap, often something unusual or hot in the market. If there is a buzz in the beer press about a beer, chances are you'll find it first at one of the two restaurants. St. Stephens' beer list tends to be less focused on hop bombs than Bishop's Collar, but the same thought and care seems to go into the beer menu. Best of all, the food is better than at Bishop's Collar. For atmosphere, skip the generic dining room and sit at the spacious bar. The outdoor seating is pleasant as well, much quieter than at Bishop's Collar.
615 characters
4.25
/5
rDev
+4.2%
vibe: 4 | quality: 4.5 | service: 4 | selection: 4 | food: 5
Bottle selection and rotating tap handles are impressive.You will always find Bell's on tap along with Avery,Indica,PBC,Yards and a selection of Belguims. The staff is freindly and the food is great so if you are in the area it is a must for lunch and check the specials they are always changing and are fresh. They even have a beer of the day and you can't help but be impressed by the workmanship of the bar and seating areas. Foods that are worth a try are chicken wraps, burgers and outstanding fish and chips. The chicken wings
come with praise from a local critic I have not tried them yet.
597 characters
St. Stephen's Green in Philadelphia, PA
Place rating:
85.7%
out of
100
with
14
ratings