Windhoek Draught
| Namibia Breweries Limited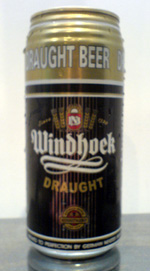 BEER INFO
Brewed by:
Namibia Breweries Limited
Namibia
nambrew.com
Style:
Euro Pale Lager
Alcohol by volume (ABV):
4.00%
Availability:
Year-round
Notes / Commercial Description:
No notes at this time.
Added by BeerAdvocate on 01-22-2005
Reviews: 7 | Ratings: 14
Reviews by hunteraw:
2.88
/5
rDev
-8.9%
look: 3.5 | smell: 3 | taste: 2.5 | feel: 3.5 | overall: 3
Appearance: huge white foamy head, some lacing. Yellow gold color in the glass.
Smells lagery, very clean, but nothing notable.
Taste: not too impressive, some mild bitterness and malt, but very tame - surprisingly so, since I've been pretty impressed with Namibia Breweries, considering it's a big macro.
Mouthfeel: Light mouthfeel, finishes on a slightly sweet note, but the aftertaste is all a lingering bitterness. High carbonation. Good mouthfeel overall.
Drinkability: Highly sanitized and boring lager, no faults, just not much going on either. Think Budweiser without the corn. Very average.
★
611 characters
More User Reviews:
3.1
/5
rDev
-1.9%
look: 3 | smell: 3 | taste: 3 | feel: 3 | overall: 3.5
A decent average lager brew from windhoek. Served ina pint can which is nice, and quite refreshing during the hot days (every day in SA) Pours yellow fizz with almost no nose, except slight breadiness. Clean macro taste, refreshing. enjoyed many of these with some swiss cigars after some hot days of killing.
★
309 characters
3.26
/5
rDev
+3.2%
look: 3.5 | smell: 2.5 | taste: 3.5 | feel: 3.5 | overall: 3.5
Tried some Windhoek whilst in Jo'Burg. The beer poured Golden clear with decent carbonation with provided a nice white head....which didnt lace all that great. The aroma was of course a bit on the grainy side. The taste was good, certainly hints of grain and the taste lingered on the pallete. The mouthfeel was fine....its a beer beer....so easy to drink.
★
356 characters
3.83
/5
rDev
+21.2%
look: 4 | smell: 3.5 | taste: 4 | feel: 3.5 | overall: 4
Pours the perfect light lager pale gold with a crisp white head that drops down to a thin layer quite quickly. Grassy and floral aroma that's replicated in the flavour, low malt profile and low body as normal for style and a good carbonation level. Typical of the euro lager style, though fresh. Faintly honeyed malt flavour that I frequently get from light clean beers.
I bought this beer in a 450mL can slab as a summer swiller, for its purpose it is going to excel.
★
471 characters
3.54
/5
rDev
+12%
look: 3.5 | smell: 3.25 | taste: 3.75 | feel: 3.5 | overall: 3.5


1.96
/5
rDev
-38%
look: 2 | smell: 2.25 | taste: 1.75 | feel: 2 | overall: 2

3.07
/5
rDev
-2.8%
look: 2.5 | smell: 3 | taste: 3 | feel: 3 | overall: 3.5
440ml bottle 4% abv
Appearance: Light golden coloured beer, reasonable (albeit short lived) white head. Leaves little lace.
Smell: Regular macro smell (minus the maize). Malt dominates but hints of hops are present.
Taste: Reasonable for a macro-lager. More flavour than most. Though it could use a slightly more pronounced hop flavour in the finish.
Mouthfeel: Average, nothing good nothing bad.
Drinkability: Serve cold on a hot day and it's very drinkable.
★
471 characters

4.5
/5
rDev
+42.4%
look: 4.5 | smell: 4.5 | taste: 4.5 | feel: 4.5 | overall: 4.5



2.83
/5
rDev
-10.4%
look: 3.5 | smell: 3 | taste: 2.5 | feel: 3 | overall: 3
A: The color is pale golden with a large white head that quickly sets into some lacings.
S: Neat and clean. Malt and some bitter hops. Basic.
T: Like the smell. Malt, a bit sweet and bitter hops, a bit mild.
M: Body is thin to medium and carbonation is medium to rich, but still smooth. Aftertaste is mediumlong and holds only faint bitterness.
D: This is a medium pale lager. I had low expectations but this was better. I've never been to Namibia but I guess this would be a great beer, served cold on a warm African summers day.
★
536 characters

3.06
/5
rDev
-3.2%
look: 4 | smell: 3 | taste: 3 | feel: 3 | overall: 3
On can and tap frequently
A - Pours an extremely clear and filtered golden to lightly straw color. Big pearly white head formation.
S - Light amount of pilsner malts - with its normal graininess. No hopping detected. Very light.
T - Starts off with lots of pilsner malts, lightly grainy, husky. More of it through the mid-stream. Bitterness in balance, but the flavors don't change. Finishes clean with just a bit of more of the basic lager flavors, mostly maltless.
M - Very light mouthfeel, lots of carbonation. American lager feeling. Devoid of any distinguishing qualities.
O/D - A very drinkable beer if you enjoy lots of watery beer. ABV would allow endless sessioning.
★
681 characters
Windhoek Draught from Namibia Breweries Limited
3.16
out of
5
based on
14
ratings.