Red Dragon Ale
| Cortland Beer Company
BA SCORE
79
okay
12
Reviews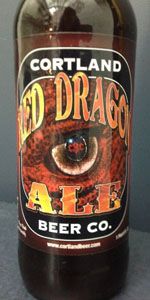 BEER INFO
Brewed by:
Cortland Beer Company
New York
,
United States
cortlandbeer.com
Style:
American Amber / Red Ale
Alcohol by volume (ABV):
7.00%
Availability:
Year-round
Notes / Commercial Description:
No notes at this time.
Added by WesWes on 12-31-2010
Reviews: 12 | Ratings: 35
3.55
/5
rDev
+8.9%
look: 4.25 | smell: 3.5 | taste: 3.5 | feel: 3.5 | overall: 3.5
Poured from a 16 oz. can. Has a dark amber color with a 1/2 inch head. Smell is of caramel malts, light hops. Taste is malty, caramel, light sweetness, hops are present but in the background. Feels medium bodied in the mouth and overall is refreshing and pretty crushable for this abv.
285 characters

3
/5
rDev
-8%
look: 3 | smell: 3 | taste: 3 | feel: 3.5 | overall: 2.75
Poured into a pint glass from a 16oz tallboy can.
3.0 A: Partly cloudy deep orange amber color. Two fingers of frothy beige head. Retention is below average and no lacing is left.
3.0 S: Nose is quite muted. Toatiness is the strongest component with yeasty breadiness and caramel malts underneath. Not bad, but bland.
3.0 T: Taste offers more than the nose, but it's still pretty tame. Caramel malts and toastiness on the forefront. Bready yeast to follow.
3.5 M: Medium body. A tad chewy. Good moderate carbonation and easy to drink.
2.75 D: Not poorly made, but lacking strength of flavor and complexity.
625 characters
3.58
/5
rDev
+9.8%
look: 3.75 | smell: 3.75 | taste: 3.5 | feel: 3.5 | overall: 3.5
I like reds and this is a local brewery so i thought i would try it despite the low reviews. I was pleasantly surprised. Not great but decent. I will have it again.
164 characters

3.5
/5
rDev
+7.4%
Nice hazy deep amber hue. Smells like a belgian tripel with ripe fruit nose. Taste is not up to the aroma with just hints of ripe, tart fruit and the finish showing a hint of hops and alcohol. Medium bodied and mild carbonation. Bottle fermented? Not bad but not great.
269 characters

3.02
/5
rDev
-7.4%
look: 3.25 | smell: 3 | taste: 3 | feel: 3 | overall: 3
A: clear; deep amber in color; 1 finger off white head that receded to a thin collar; no lacing;
S: somewhat restrained; what was there is mostly caramel malt;
T: flavor is restrained as well; earthy up front; a little sweet - caramel malt and maybe a hint of chocolate - from mid-palate to the finish; no hop presence; no bitterness;
M: light to medium bodied; light, fizzy carbonation;
T: OK, but no part of this is especially good or interesting;
453 characters

3.33
/5
rDev
+2.1%
look: 3.5 | smell: 3.5 | taste: 3.25 | feel: 3.25 | overall: 3.25
Poured into mug from bomber. Reddish/brownish color. Nice head but fades quickly. Not very hoppy taste. Has a hint of caramel. Smells like it would have more of a hop taste. Alright malt smell. Bitterness last a little while. Not a bad beer. Goes down kind of smooth. Love trying anything from NY.
297 characters

2.68
/5
rDev
-17.8%
look: 3 | smell: 2.5 | taste: 2.5 | feel: 3 | overall: 3
Poured bomber into 34oz mug; cloudy ruddy brown with a fizzy white head that fades into nothing quickly, almost like a soda. Carbonation looks like a soda as well, this is a very effervescent beer. Smell is subdued caramel malts, no real hops in the scent except for some small herbal hints. Taste is pretty simple; earthy, slightly sour malt with some slight hops here and there. This isn't like any amber/red ale I've had before...seems way off the style. Mouthfeel is fizzy and medium-thick.
Overall this seems way off; needs better malt, more hops, and way less carbonation. It's still a drinkable beer though.
615 characters

3.23
/5
rDev
-0.9%
look: 4 | smell: 3.5 | taste: 3 | feel: 3.5 | overall: 3
A-Cloudy, burnt red/brown two finger head with some carbonation.
S-Caramel and malt. Some toffee, not much else though. Maybe a little honey.
T-Caramel, malt, more malt. Not much else. Bland and one dimensional, poor after taste, overly sugary. Not a good bled of flavors.
M-Medium bodied, some carbonation.
O-It seems like this was left unfermented or something. Sweet and unblanced.
388 characters

2.95
/5
rDev
-9.5%
look: 3.5 | smell: 3.5 | taste: 2.5 | feel: 3 | overall: 3
Poured from a 22oz bottle into a Samuel Adams Perfect Pint glass.
A: Hazy brownish, copper color. Aggressive pour leads to a khaki colored 2 finger head. Lacing is pretty much non-existent.
S: Malt forward smell with some diacetyl tones as well. It's the malt that takes center stage here and they aren't great. Not terrible and certainly not complex.
T: Malts are still present and there are some hop notes and other smells here as well but they all add up to a kind of sloppy tasting beer.
M: Creamy feel, lots of bitterness causes me some pucker.
O: A very average red. I won't be seeking another out.
612 characters
2.88
/5
rDev
-11.7%
look: 3 | smell: 2.5 | taste: 3 | feel: 3 | overall: 3
A- pours a deep amber with pretty good head retention
S- sweet malt and a slight hint of hops. not a ton of aroma
T- little raisin, honey, subtle plum flavor. Kind of interesting flavors for a red ale, not quite as hoppy as I would have expected but still pretty balanced.
M-medium bodied, nice feel overall, very drinkable
O- not a bad brew, it was a little on the sweet side but still enough bitterness on the back end to make it a very drinkable beer. Not amazing beer but if the price was right I would pick up a few more.
527 characters
3.85
/5
rDev
+18.1%
look: 3.5 | smell: 3.5 | taste: 4 | feel: 4 | overall: 4
Ok second and final cortland brew for the evening at j ryans
A- pours a reddish amber body with some foam that quickly disappears leaving some lacing. The brew is actually slighly clear for the dark look
S- very faint sweet malt and sugar. The scent is a little light for my liking and not too much as far as a hop presence
T- sweet caramel and sugars are pretty widespread in this amber ale. The brew is tasty if you are into the sweet amber styles. I do like the attention to flavor
M- very crisp and literally whipping the mouth with sweet flavor
D- red dragon is a pretty good brew from CBC. Again, there are some sweet flavors that might not be for everyone. I like it though
685 characters

3.53
/5
rDev
+8.3%
look: 4 | smell: 3.5 | taste: 3.5 | feel: 3.5 | overall: 3.5
The beer pours a dark amber/red color with a 1/2" off-white head that slowly fades to lacing. The aroma is decent. It has a sweet, caramel scent along with a light to mild hop nose. The taste is decent as well. It has a rich, caramel malt sweetness along with a complimentary hop character. It's mildly bitter and well balanced. It goes down easy with a rich, almost syrupy caramel feel. The elevated alcohol level is well hidden. The mouthfeel is fine. It is a full bodied beer with adequate carbonation. This is a pretty good beer that seems like it could be better. It's balanced, yet seems a bit rich with too many unfermented sugars.
638 characters
Red Dragon Ale from Cortland Beer Company
3.26
out of
5
based on
35
ratings.