Ambrée Amère
| Microbrasserie La Chouape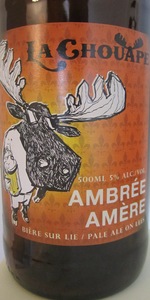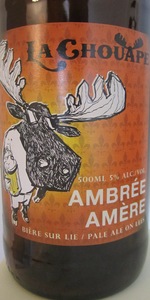 BEER INFO
Brewed by:
Microbrasserie La Chouape
Quebec
,
Canada
lachouape.com
Style:
American Amber / Red Ale
Alcohol by volume (ABV):
5.30%
Availability:
Year-round
Notes / Commercial Description:
No notes at this time.
Added by papat444 on 03-22-2009
HISTOGRAM
Ratings: 14 | Reviews: 10
Reviews by Krakpoff:
More User Reviews:
3.22
/5
rDev
-3%
look: 3 | smell: 3.5 | taste: 3 | feel: 4 | overall: 3
Bottled February 2010. Label states the beer is a product of organic agriculture ad Ecocert Canada certified.
A- Great fluffy head disappears without a sip taken but leaves nice, full, off-white lacing. Slightly hazy brown-amber liquid. Gets very hazy if you add the lees.
S- Sour and a bit gueuze-like. Smells like a belgian. I hope my bottle isn't tainted. If I try and smell past those first aromas, I can find some sort of a passion fruit soda.
After enjoying a glass, I poured myself a second one. Surprise: the smell has changed. I don't know if it's from drinking, agitation/aeration or warming up but I can now say it smells better and a bit like peaches and cream. Lychee too. The slightly dirty geuze smell isn't completely gone though. Let it warm up a bit more without even taking a sip and now banana! Wow I might be giving this extra points for how much the smell is transforming by the minute. Still doesn't smell like a pale ale though.
T- Yes! It's good. Nothing like the smell. Hops contribute a rough, bitterness in a woody package but at the same time it is possible to find some pretty good fresh hops and lychee. Alcohol is fairly easy to detect... Water even easier. Cloves once it warms.
M- Thin and dry with some of the smoothest carbonation. The overall drink isn't as smooth though.
D- Medium. Light and fairly easy to drink but just doesn't taste that good.
Another one from La Chouape leaving me with the same feeling of: Yeah It's good but whatever.
Pretty sure I won't buy this again or suggest it.
Seems to me like this brewery has got potential to be a leader but is holding back for some reason.
1,640 characters
3.06
/5
rDev
-7.8%
look: 4 | smell: 3 | taste: 3 | feel: 3 | overall: 3
Bottle: Poured a deep hazy amber color ale with a large foamy head with good retention and some lacing. Aroma of caramel malt with light toffee. Taste is also dominated by some caramel malt with light toffee notes and a dry finish that is not as hoppy as I had expected. Body is full with limited filtration and good carbonation. Well done for style that is not the most exciting.
380 characters

4.12
/5
rDev
+24.1%
look: 4 | smell: 4.5 | taste: 4 | feel: 4 | overall: 4
Tasted this on April 4th, 2009. From a 500ml bottle.
It pours with an amber color that is hazy from the lees at the bottom I guess. The head looks good however it disappear quickly.
Aroma is a little bit of hops with some floral scent. Nothing out of this world but smell balanced! Tasted just similar with a little bitterness at the end. I really appreciate this beer. Wish it could be cheaper... oh well, nothing is perfect!
I really dig this beer!
453 characters
3.23
/5
rDev
-2.7%
look: 3.5 | smell: 3 | taste: 3.5 | feel: 3 | overall: 3
Bottled on February 2009.
Poured from a 500ml. bottle.
Appearance: Amber, orange-like body that looks kind of hazy & murky with some sediment floating around. Lots of bubbles and a thick foamy white head.
Smell: Tiny bit of pine, sign of hops. A bit of bitterness & grassy in nature but not much else. Aroma is kind of muted.
Taste: Strongest point of the beer. A good tinge of hops presence but not too much. It leaves a nice mellow bitterness in the aftertaste. A bit malty around the edges with a fairly abrupt, clean finish. The last gulps have a bit of a mineral, earthen quality due to the lees.
Mouthfeel: Good carbonation but a little watery though. Smooth but lacks texture a little bit.
Drinkability: A good tasting amber that doesn't have an aggressive hops presence that might impede. I could buy this again but the price (4,69$/bottle) makes it a little prohibitive (i know it comes from the boonies but still).
Overall: A decent, well-built ale that's not necessarily exciting but seems dependable and is certainly a good step forward for a relatively new brewer.
1,084 characters

3.11
/5
rDev
-6.3%
look: 4 | smell: 3 | taste: 3 | feel: 3.5 | overall: 3
Poured in a riedel magnum red wine glass
A: Nice amber color, slowly fading white head
S: Nice caramel, and delicate hoppy notes. Nice.
T: Nice balance between malt, hoppiness, and pretty dry finish. Enjoyable, light, and highly drinkable.
O: Not really distinctive, but pretty efficent. I like it.
302 characters
3.53
/5
rDev
+6.3%
look: 4 | smell: 3.5 | taste: 3.5 | feel: 3.5 | overall: 3.5
The best of three beer tasted over the weekend; all purchased from the best beer store in TR, La Barik.
It's start pretty nice with great amber metallic tint and a nice head. Hints of citrus on the palate and hopes this was a great accompaniment to our charcuterie plate.
I can't say that it had overwhelming length but overall it was enjoyable and was appreciated by all that attended.
Cheers
398 characters

2.79
/5
rDev
-16%
look: 3 | smell: 2.75 | taste: 2.75 | feel: 3 | overall: 2.75
3.73
/5
rDev
+12.3%
look: 4 | smell: 3.5 | taste: 4 | feel: 3.5 | overall: 3.5
A pleasant surprise for an amber, with much more flavour than I'd expected. Purchased in June 2011, but bottled date field is empty on the label.
Clear amber with impressive cream coloured head & lacing. Much carbonation, but overall a decent mouthfeel. Aroma is sweet caramelized malt with a hint of tropical fruits. Flavour is an interesting combination of super sweet and bitter. The bitterness is present in the drinking taste as well as with the lingering finsh. Citrus & pineapple tones were a pleasant surprise. Don't know that I'd call it "balanced" per say, but there's an awful lot going on for 5% ABV and I'm enjoying it!
633 characters
4.05
/5
rDev
+22%
look: 4 | smell: 4 | taste: 4.5 | feel: 3.5 | overall: 3.5
Pours an amber colour with massive white head. As the head dies down a bit, it still keeps about half an inch all the way down. There is a small amount of lacing. It smells like grassy hops. The taste has the grassy hops, but also a caramel sweetness. It is quite tasty. The beer guy at the store I bought this from advertised it as a hoppy amber, and he is completely correct. A little bit too much carbonation for my liking and a thin body. A great example of an amber ale.
475 characters
3.44
/5
rDev
+3.6%
look: 4.5 | smell: 3 | taste: 3.5 | feel: 3.5 | overall: 3.5
A - Good two finger white head that stays around one finger throughout the session. Copper/medium brown body with murky chunkiness and medium carbonation.
S - Milk hop and yeast with some mild citrus.
T - Nice breadiness that is followed by soapy hops and some mild citrus.
M - Light body with light carbonation and a dry finish.
D - I could have a few of these but the soapiness holds this back a bit and would make it less pleasant to session. However, the abv and good balance score this some points.
507 characters
3.51
/5
rDev
+5.7%
look: 4 | smell: 3 | taste: 3.5 | feel: 3.5 | overall: 4
Received this in a trade earlier this year. Bottled on date is January '09.
Poured a hazy amber color with a ridiculous amount of white foamy head. Head is fairly thick - after things settled down, there was still a full finger that lasted for most of the duration. Lacing was uneven and somewhat chunky, but very much present.
Scent contains some minor toffee malts.
Taste starts out as a mild caramel/toffee malt flavor, but has a bit of hoppy flavor at the back that gives it a nice little snap at the end. A minor earthy aftertaste, but overall fairly well balanced.
Overall fairly smooth and enjoyable. Many thanks to ZorPrime for sending a bottle of this my way!
673 characters
Ambrée Amère from Microbrasserie La Chouape
Beer rating:
3.32
out of
5
with
14
ratings