Finch's Brasserie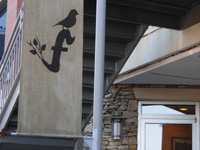 PLACE INFO
Type:
Bar, Eatery
514 E Kirkwood Ave
Bloomington
,
Indiana
, 47408-4059
United States
(812) 333-2700 |
map
finchsbrasserie.com
Notes:
Formerly Trulli Flatbread.
Added by josquin7 on 06-24-2008
Reviews: 5 | Ratings: 7

4.22
/5
rDev
-3.4%
vibe: 3.5 | quality: 4.5 | service: 4.5 | selection: 4 | food: 4
Went here for dinner with a buddy. Located on Kirkwood right in the heart of the IU district, but a little more upscale than a college bar.
Very unique food selections. I had a bacon burger with delicious homemade fries and my friends scallop & greens looked delicious as well. Also had very good pizza here before cooked in an authentic stone oven.
Sat at the bar and had a very knowledgeable attentive bartender.
Only about 10 beers on tap, but they are always quality. Usually some good midwest selections (also good stuff such as KBS, Blushing Monk and other harder to find stuff in bottles) along with a few imports as well served in proper glassware.
Nice place to grab some good food and a enjoy a good beer selection.
730 characters

4.63
/5
rDev
+5.9%
vibe: 4.5 | quality: 4.5 | service: 5 | selection: 4.5 | food: 4.5
our favorite haunt in bloomington. butted right up to the campus and sample gates, but you won't find many students inside. and uh, that's a good thing, not a bad thing.
fabulous wood fired stove, kept in flames 24 hours a day (no kidding). great menu that varies form season to season.
nice wine selection and of course, there's the beer. 10 taps - not a lot i suppose, but they make up for it in the quality department. always a belgian, always a wit, always 3 or 4 locals / regionals.
then there's the bottle menu - i'd guess maybe 100 or so.
never been disappointed.
thumbs up.
587 characters
4.55
/5
rDev
+4.1%
vibe: 4.5 | quality: 4.5 | service: 4.5 | selection: 4.5 | food: 5
Finch's was far and away the highlight of a recent trip to Bloomington. In an area with an endless number of college bars, it serves as a more upscale alternative, perfect for a dinner date, or a quieter, more contemplative beer spot.
Atmosphere was upscale yet cozy, antique mirrors lining the booths along the left wall, light colored wood tables in the center of the room. A large domed wood-burning oven is toward the back, and the small bar seats 10-12 on the right. Nice attention to detail, like an antique clock hanging from a post near the entrance. The restrooms were immaculate, and the only thing that might improve the place would be a wood floor instead of carpet in the dining area.
Great rotating tap list focusing on the best local/regional brews. FFF, Founders, Bells, Dark Horse, etc. The draft beer list was out of date (missed draft Dreadnaught & Double Trouble) but our waiter quickly offered an alternative (Dark Horse Crooked Tree). Bottle list was very impressive, and more in-depth with gems not listed on their website. Prices were very affordable, much more so than back home in gouge-happy Chicago. There were 9 varieties of Founders, 3-4 FFF, several Bells, Jolly Pumpkin, and many others. Imports were also high-quality, we enjoyed a Drie Fonteinen Oude Gueuze for $12, served in a Rochefort goblet (classy!)
Service was very professional, attentive and amicable.
Dinner was excellent, the charcuterie was mostly house-made, the duck bacon was amazing.
I would have reviewed Finch's on my last trip to Bloomington, but they are closed on Sundays, and closed at 10pm on Saturday the night we were there. It seems like they would benefit from extended hours, maybe just offering a late night small plate menu. We wanted to stay later, but c'est la vie.
1,789 characters
4.53
/5
rDev
+3.7%
vibe: 4.5 | quality: 5 | service: 4.5 | selection: 4 | food: 4.5
Finch's is a relatively new brasserie on Kirkwood avenue near the Sample Gates, a
location very convenient to IU's campus and the downtown. It used to be known as Trulli
but when the ownership (not the management) changed they changed the name.
It has a really comfortable atmosphere which is casual and oriented towards professionals
and professional students. Finch's works equally well as a date location but also has a
great bar with a friendly pub feeling. Downstairs the focus is on the large oven which
sits off to the side and makes it a very cozy place to be during the chilly winter
months. Upstairs is open for live music, art shows, and private gatherings. They have
free, local, usually acoustic music on Thursdays and one of IU's jazz faculty performs on
Saturday nights for a small cover. During the warmer months you can sit outside on a very
cheery patio with a nice view of campus and Bloomington's main strip.
Although the food is exceptional its the beer that has me frequenting the bar. They have
a seasonal selection with ~8 drafts and ~50 or so bottles. They usually field two
affordable local beers on tap, a wheat which recently has been Franziskaner, two
outstanding seasonal selections from Bell's, seasonal selections from Founders and Three
Floyd's, Anchor Steam,and one premium tap (currently Delirium Noel). There certainly are bars with a broader
selection of tap beer but at Finch's they focus on quality over quantity and switch out
their taps frequently enough to keep it interesting. To give you an idea of the quality of their
seaonals lately I've been enjoying pints of Founder's Breakfast.
The bottle selection also reflects the season and covers a wide spectrum of styles from a
good cross section of Trappists, ales of the UK, pilseners from eastern europe and a
broad group of American micro's. They stock a few super beers in bombers which run up to
20$ and also have PBR for 2$ in a can. Just to drive home the point that they respect
their beer they carry a wide variety of glass ware to accomodate nearly any beer style.
For the wine drinker they also boast an impressive selection of bottled wine.
The food is upscale for a beer bar and if you're there to drink you can munch on their
crispy, delicious, and utterly addictive pomme frites (read: french fries) or if you're
more adventurous get a platter of calimari fried with bannana peppers. For a light meal
they have gourmet pizzetas (read: flat breads) or moderately portioned pastas. Beyond that the menu
is extensive, featuring organic, local fare prepared exquisitely and imaginatively by
master chef Jeff Finch. Entrees vary from the standards (read: a perfect steak) to the unusual
(read: duck confit) Stick around till close to quaff a few with the chef!
If you're in Bloomington you'd be foolish not to stop by Finch's. Depending on the season
you can warm up by the fire with a hearty stout or chill on the porch with a hefe-weiss.
2,970 characters
4.5
/5
rDev
+3%
vibe: 4 | quality: 4.5 | service: 5 | selection: 4 | food: 5
Finch's Brasserie (formerly Trulli Flatbread) takes their beer menu seriously; they have selected a list that covers all main styles with an emphasis on Belgian or Belgian-style brews. It becomes apparent, after trying the food, that the beer list was carefully put together with two things in mind: the pair-ability with the cuisine, and a fair dollar value.
Going to Finch's solely to drink is economical to say the least; but they do not sacrifice quality. You will not find that oh-so-typical import and domestic offering. Instead, expect a pleasingly low-cost assortment of 10 taps (everything from Allagash Curieux to Bell's Expedition has shown up - at the time of my writing, they had the only keg of Founder's Harvest Ale in a two-hour radius), and a 44+ bottle list (highlights being Maredsous 10, New Holland Black Tulip, N. Coast Old Rasputin, Saison Dupont, FFF Dreadnaught).
My only complaint is a minor neglect of overly-hoppy beers - although, I wouldn't say there is a shortage, nor do you feel the impact when snacking on Mussels in a white-wine dijon sauce. In sum, super high quality food and service, and a well-chosen, accommodating (both to the palate and the pocket) beer list. Phenomenal establishment, worthy of multiple visits a week.
1,265 characters
Finch's Brasserie in Bloomington, IN
4.37
out of
5
based on
7
ratings.