Palomino American Pale Ale
| Bootlegger's Brewery
BA SCORE
84
good
37
Reviews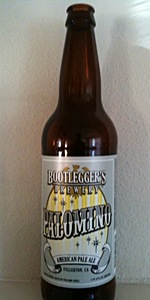 BEER INFO
Brewed by:
Bootlegger's Brewery
California
,
United States
bootleggersbrewery.com
Style:
American Pale Ale (APA)
Alcohol by volume (ABV):
5.50%
Availability:
Year-round
Notes / Commercial Description:
No notes at this time.
Added by dbONE on 08-20-2008
Reviews: 37 | Ratings: 137
3.62
/5
rDev
-2.4%
look: 3.5 | smell: 4 | taste: 3.5 | feel: 3.5 | overall: 3.5
On tap at Bootlegger's Brewery in Fullerton, CA.
Pours a slightly murky honey orange with an orange-beige head that settles to a film on top of the beer. Small streaks of lace form around the glass on the drink down. Smell is of malt, citrus zest, and some herbal hop aromas. Taste is much the same with a mild bitterness on the palate after each sip. This beer has a lower level of carbonation with a slightly crisp mouthfeel. Overall, this is a pretty good beer but it smells better than it tastes in my opinion.
518 characters

3.54
/5
rDev
-4.6%
look: 3 | smell: 4 | taste: 3.5 | feel: 3 | overall: 3.5
Nice fresh fruits on the nose with mango and tangerine being fairly prominent. Bread on the finish with some lingering sweetness.
Beautiful orange clear color on this one with a slightly off-white head. Some lacing, but nothing too significant, and lots of carbonation seen swimming to the surface of this liquid gold glass of deliciousness.
Interesting how the taste contrasts the aromas. I get lemon, light unripened juice oranges, slight slight papaya. Its just a tad astringent with loads of carbonation and a light body. Its a tad alarming only because its so different than what the aroma leads it out to be.
616 characters
3.53
/5
rDev
-4.9%
look: 3.5 | smell: 3 | taste: 3.5 | feel: 4 | overall: 4
On-tap at Hollingshead's,
A: Pours a murky amber with a medium white head, good retention, some lacing.
S: Light, but got a discernable hop character, and a bit of berry.
T: Hop character is quite light, adds a bit of grass and stone fruit, light grapefruit. Malt is more pronounced than in a standard pale, almost like an amber, get a lot of caramel and fermented sugar, mild molasses in there too.
M: Medium-bodied, very creamy, mild yet biting carbonation, the mouthfeel was probably the best part of the beer, well done.
D: A good American Pale, is it as good as Sierra Nevada or Alesmith X? No, but if you want a tasty malt-oriented pale ale, this would be a good choice.
681 characters

3.5
/5
rDev
-5.7%
look: 3.5 | smell: 3.5 | taste: 3.5 | feel: 3.5 | overall: 3.5
Pours a nice orange gold with a lacey white head. Aroma and flavors aren't terribly complex...some grapefruit pith, earthy hops, and generic piney flavors with a hint of caramelly malt. Mouthfeel is medium bodied. A passable pale ale.
234 characters

3.46
/5
rDev
-6.7%
look: 4 | smell: 3 | taste: 3.5 | feel: 4 | overall: 3.5
Poured from a growler into a 0.5-liter mug.
A: Clear, light orange-amber color with less than one finger of persistent off-white foam head. Moderate lacing remains on the glass.
S: Abundant grainy toast, faint honey, and bright yet muted citrus characterized by lemon and lime zest.
T: Begins dry, with flavors of pale and pilsner malt. Hop aromatics are bright and grassy, accentuated by escalating moderate acidity. Husky toasted grain persists into the middle, where acidity peaks early and bitterness is first detected. The finish has a particular pilsner quality, clean and herbaceous, with restrained bitterness.
M: Thin viscosity, fairly wet on the palate and refreshing when cold, with moderate carbonation.
D: A golden ale featuring pilsner qualities, this beer is flavorful but also slightly fatiguing. Palomino deviates from the English pale ale model considerably, and the hops profile even steers clear of West Coast territory. It distinguishes itself as a useful cross-over for lager drinkers, presenting familiar flavors in greater intensity than the average pale lager can muster. It also reminds of a California common; at any rate this is beer that the uninitiated will immediately recognize as beer.
1,223 characters

3.35
/5
rDev
-9.7%
look: 4 | smell: 4 | taste: 3 | feel: 3.5 | overall: 3
Tulip glass.
Pours medium gold with two fingers of foamy head. Some uneven lacing and good retention. Smells nice and hoppy, a good mix of citrus and pine, as well as some faint breadiness. Taste is a little lacking, some biscuity malt and watery orange citrus and lemon. Medium body and medium-high carbonation that somehow lacks crispness... kind of an artificial, Coke-like carb. Overall, this is pretty average; smells good but lacks any hop punch or much flavor at all on the palate.
489 characters

3.33
/5
rDev
-10.2%
look: 3.5 | smell: 3 | taste: 3.5 | feel: 3 | overall: 3.5
An opaque golden brown with thin delicate froth which attempts to cling to the glass but slides back into the drink. Lemony hops aroma doesn't punch you in the nose, yet is very distinct and obvious. Toasted white bread malt comes through in aroma as well. Light citrus hops hit first in taste as well, but the malt comes through much better. Oak and buttered biscuit balance the oily hops bitterness well. The light malt comes across nutty, but a bit thin, which is a good compliment to the mild hops bitterness that remains. Feel is a bit watery, but acidity and a bit of overactive carbonation in the drink give it some volume.
Being in Southern California with the fam for the holidays, I had to try something local I can't find in the Bay Area. I wasn't disappointed with this offering from Bootleggers. Coincidentally, the brewery is only a couple towns away from where I grew up. Good to know they're putting out quality craft beer in the old stomping grounds (besides The Bruery, of course). I liked this beer overall, but it did come across as thin, lacking in some way. It could have been rounded out, as the taste and aroma seemed to favor towards the lighter end of the spectrum. Maybe some more robust malt, I don't know. I really enjoyed the hop characteristics though, and look forward to trying other brews from Bootlegger's.
1,343 characters

3.29
/5
rDev
-11.3%
look: 2 | smell: 3 | taste: 4 | feel: 2.5 | overall: 3
Poured from a bomber at 149 Sports Bar in Orange, CA. Reviewed from notes.
A- Cloudy orange-yellow color, finger width white head. No lacing and minute long retention.
S- Light malts and citrusy notes. Some muted hops.
T- Sweet and light. Exceedingly drinkable and tasty.
M- Medium bodied, fizzy.
O- Average beer, but very drinkable.
341 characters
3.21
/5
rDev
-13.5%
look: 4 | smell: 3 | taste: 3 | feel: 3.5 | overall: 3.5
Enjoyed with a chicken dinner, on to the beer:
Poured into an Imperial pint glass, this beer is a somewhat murky bronze color, solid bubbly head on top. The aroma is very clean with grassy hops. Moving on to the taste, it's a simple flavored pale ale. There's some key lime upfront, mixed in is phenolic (plastic band-aids) and subtle citrus flavors. The plastic taste also has the a waxy feel to it with a bit of carbonation in the mouth.
Middle of the road. This is a pale ale that might benefit from cask conditioning.
524 characters

3.2
/5
rDev
-13.7%
look: 3.5 | smell: 3.5 | taste: 3 | feel: 3.5 | overall: 3
Poured from a bomber into a pint glass.
Dark orange pour. Two fingers of creamy, fluffy foam retain pretty well. Sadly, no real lacing on the glass.
Lightly sweet, citric hop aroma. Promising, but the flavor unfortunately does not match up. It's got a quick citric hop burst (Sweetwater 420 and Terrapin Hopsecutioner come to mind) that quickly fades to sweetness. No real bitterness. A somewhat tinny, metallic flavor, too. Bready, especially grainy in the finish.
Medium-bodied. High carbonation. Tingly feel. Not really the easiest drinker. Some "off" flavors. Definitely has potential, though, and it still a decent pale ale. I hope to re-visit this one in the future.
675 characters
3.1
/5
rDev
-16.4%
look: 3 | smell: 3 | taste: 3 | feel: 4 | overall: 3
Poured from a bottle picked up from the brewery.
Pours cloudy dull copper. Huge sustained head with great lacing.
Smell is bready yeast with undertones of citrus.
Taste is more bread. Bready yeast with light hop and that citrus in the back ground. Another review (doubleJ) suggests a band-aid taste; I definitely taste it. Not particularily pleseant.
Mouth feel is decent.
All and all, this is my third beer from Bootlegger's and definitely my least favorite.
465 characters

3
/5
rDev
-19.1%
look: 3 | smell: 3 | taste: 3 | feel: 3 | overall: 3
8/26/2011
On tap at Bootlegger's. 
A: Transparent yellow gold with a finger of white foam.
S: Grain, bread, and biscuit overpower the light citrus hop notes. Definitely a malt heavy aroma. Orange is a shadow.
T: Grainy malt with just a little sweetness. Bread is light. Hops impart tame orange notes and a low bitterness. This has much more malt than hop character, but it's not heavy or sweet. 
M: Medium in body with moderate carbonation.
Overall: Not a bad beer, just overly malty and a bit bland. 
510 characters
Palomino American Pale Ale from Bootlegger's Brewery
3.71
out of
5
based on
137
ratings.