Golden Chaos Golden Ale
| Bootlegger's Brewery
BA SCORE
84
good
31
Reviews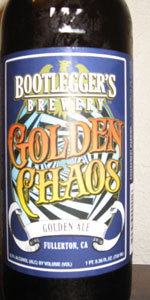 BEER INFO
Brewed by:
Bootlegger's Brewery
California
,
United States
bootleggersbrewery.com
Style:
Belgian Strong Pale Ale
Alcohol by volume (ABV):
8.50%
Availability:
Year-round
Notes / Commercial Description:
No notes at this time.
Added by dbONE on 08-20-2008
Reviews: 31 | Ratings: 139

4.05
/5
rDev
+10.1%
look: 4 | smell: 4 | taste: 4 | feel: 4.5 | overall: 4
Rich mellow ale with Belgian flavors.
Attractive pour in the chalice, with lacing and long-lasting fine carbonation in the mouth. Fruity flavors reminiscent of an estery Hefeweizen. Yeast and fruitcake. Slightly sweet, quite malty. Floral aroma. Lots of character.
This grows on you. One of the better American versions of the golden Belgian style. Maybe a hint of the hops that dominate Dogfish Head Aprihop would be just right here. Time for a mixer!
454 characters

4.2
/5
rDev
+14.1%
look: 4 | smell: 4 | taste: 4.5 | feel: 4 | overall: 4
Pours a cloudy dark honey, with a big off-white head.
Right off the bat, it smells like a Belgian, yeast, grassy, wheaty. Hints of spice and fruit in the background.
Tastes light, fruity, a hint of apricot and coriander. Very complex. Has some sweet malt character.
Feels super carbonated, yet smooth. Very light as it evaporates on the tongue, and doesn't even feel like 8.5%.
Overall, I didn't know what to expect until I opened and smelled the almost wheaty Belgian aspect. Great complex flavor makes this a great beer to have, and easy to drink.
DOA
559 characters

4.2
/5
rDev
+14.1%
look: 4 | smell: 4 | taste: 4.5 | feel: 4 | overall: 4
Like Xmas in my mouth. At first sip, Golden Chaos introduces itself with the classic Belgian smoothness/sweetness and seamlessly transitions to a mellow sour tartness - your finishing note. As a lover of sour lambics, it's my favorite characteristic of this beer.
Once poured, Golden Chaos exhibits lovely yellow tones, strong carbonation and long-lasting lacing on the side of the glass. I've been drinking this one quite a bit over the summer.
BTW, this beer should come with a pair of pliers. The cork is oversized and difficult to pry off by hand.
553 characters
4.25
/5
rDev
+15.5%
look: 4 | smell: 4 | taste: 4.5 | feel: 3.5 | overall: 4.5
Taste - Hops play in a citrusy sweet way, but its very smooth. I get notes of apricot among the hops...and the rest just tastes like a really good golden Belgian ale.
Overall - I really like this one. This is a great spring/summer beer, its very refreshing and easy drinking. I think bootleggers has a trend of making beers with high alcoholic content, but keeping them very smooth and easy drinks...
401 characters

4.3
/5
rDev
+16.8%
look: 4 | smell: 4 | taste: 4.5 | feel: 4.5 | overall: 4.25
As a guy that prefers IPA's and Stouts, I've been a little slow to appreciate Belgian Ales, finding them too fizzy, and too sweet. That said, I like this beer. It pours a crisp golden hue and is filled with the expected bubbles with a mild head and no real lacing. The scent is understated, barely discernible to my nose. It leaves a refreshing bubbly clean feel in one's mouth almost like a mouthwash along with the alcohol backdrop. But taste is what we appreciate, right? And the taste of this is very pleasing to my palate. It has sort of an apple/pear taste followed by a clean dry finish, and the 8.5 ABV content is recognizable. I'm slowly coming around to the Belgian's, and this baby is helping to lead me there.
729 characters
4.34
/5
rDev
+17.9%
look: 3.5 | smell: 4.5 | taste: 4.5 | feel: 3.5 | overall: 4.5
Appearance - This poured a dingy and mysterious orange in color with a good head.
Smell - The rich yeast hits first followed by the complex sugars. The fruits are amazing and I can't even begin to pick them all out. There is definitely a strong apricot aroma along with some good citrus but not orange. I get something else like grapefruit but without the rind-like bitter smell imparted from most hops.
There's some good spicing in here as well. The coriander which somehow in most American efforts at the style turns into a medicine cabinet here is very pure and freshly piqued. I just made some lettuce wraps the other day spicing the turkey with coriander and this very much reminds me of it.
Taste - The spices come on big at the taste but manage to stay smooth and in perfect harmony with the yeast. The fruits stay true to form and now I'm getting some light cherries and maybe some darker things such as plums. The fruit flavor is so intense that I found myself just staring into the glass.
Mouthfeel - This is a big medium-bodied with some light carbonation that didn't quite live up to the "chaos" namesake.
Drinkability - This was one of the best-flavored American efforts at a BSPA that I've had in a long time. It doesn't quite measure up to my all-time American classic favorites - Pranqster & Symposium - but is running close with a few other beauty shops like Spring Fever and Demolition 1800.
1,414 characters
Golden Chaos Golden Ale from Bootlegger's Brewery
3.68
out of
5
based on
139
ratings.