Imperial Black Phoenix (Bourbon Barrel Aged)
| Bootlegger's Brewery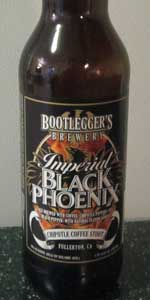 BEER INFO
Brewed by:
Bootlegger's Brewery
California
,
United States
bootleggersbrewery.com
Style:
American Double / Imperial Stout
Alcohol by volume (ABV):
10.00%
Availability:
Limited (brewed once)
Notes / Commercial Description:
No notes at this time.
Added by womencantsail on 04-13-2011
This beer is retired; no longer brewed.
Reviews: 11 | Ratings: 42

4.62
/5
rDev
+7.9%
look: 4.5 | smell: 5 | taste: 4.5 | feel: 4.5 | overall: 4.5
Traded with Angst for a Dark Lord 2012. Thanks again!
A - Black with a relatively light cream head. Looks somewhat thin.
S - Whoa. LOTS on the nose. Bourbon first, then chocolate, then hints of black pepper. Really complex. Chocolate icing, mole, very intense.
T - Bourbon and black pepper. Then lots of malts and chocolaty greatness. Then the pepper comes back with cocoa/coffee to finish. Really really good.
M - Medium/light body with light carbonation. I thought it was fitting, some others thought this was more of a 4/5 in terms of the balance.
O - Wow this is easy drinking. I really like this a lot. It is very complex but not at all overwhelming. The pepper in fantastic and the body makes this smooth drinking. Cheers, will look for this again!
759 characters

4.55
/5
rDev
+6.3%
look: 4.5 | smell: 4.5 | taste: 4.5 | feel: 5 | overall: 4.5
Consumed both in bottle and on-tap. Aged in Heaven Hill bourbon barrels for a year at the time of bottle release in 5/2012.
Pours midnight black with a sturdy tan head and good lacing retention. Interesting aroma filled with coffee, a whiff of bourbon and a hint of pepper.
Proper balance of bourbon and base beer, in this case a warm coffee mouthfeel. The bourbon is sweet, mellow and blends well with a medium strong, free of coffee or hops bitterness. As typical with the base beer, a tiny hint of chipotle comes in about halfway through. The finish is nice, a full mouth sensation of black malt, bourbon and coffee.
Picked up several bottles since this one seems destined to be a one-time and gone brew.
710 characters

4.47
/5
rDev
+4.4%
look: 4 | smell: 4.5 | taste: 4.5 | feel: 4.5 | overall: 4.5
On tap at Bootlegger's 3rd Anniversary Party.
Menu indicated it was aged for 4 months in a bourbon barrel, but my notes say 6 months for some reason. Don't know what barrel it was aged in.
A: Pours black with a thin tan head.
S: Nose is dark chocolates and roasted coffee.
T: Just like the smell but with vanilla and a smokey, oak char. No notable chile spice at all. Even and well balanced flavors.
M: Creamy and richly textured.
O: Very enjoyable. Had it in a beer float later in the evening with vanilla ice cream. Heavenly!
Tried again at the 4th Anniversary Party. Poured from a bottle. Even more balanced than last year and drinking even better!
657 characters

4.44
/5
rDev
+3.7%
look: 3.5 | smell: 4.5 | taste: 4.5 | feel: 4.5 | overall: 4.5
22oz bottle courtesy of womencantsail. Thanks! Split 3 ways, consumed on 9-3 and reviewed from notes.
A: Black as tar. Pour yields chocolate milk head which quickly fades. Sticks nicely to the glass.
N: Extremely tasty blend of vanilla, coconut, and caramel from the bourbon, the light hint of chipotle, and loads of chocolate. Coffee is faint in the background.
T: Zesty. The bourbon is perfectly integrated with loads of vanilla and caramel. Hints of fruit and some minor heat from the peppers. Chocolatey fudge. Some soy sauce. Some decent smokiness underneath which adds a bitter note to the balance. Also some honey.
M: Coating and thick without that slick oilyness which can detract from the overall enjoyment.
O: One of the best BA stouts I've tried. Bootlegger's always impresses. This beer is really well integrated and it's comparable to CFH '12 in the way it manages to blend the depth of flavors.
913 characters

4.42
/5
rDev
+3.3%
look: 4 | smell: 4.5 | taste: 4.5 | feel: 4 | overall: 4.5
7/8/2012
Thanks to Andrew for sharing.
A: Black with a fast fading beige head.
S: Light chipotle with earthy coffee and a big bourbon aroma. Dark and milk chocolate with traces of vanilla and brown sugar. A little roastiness.
T: Dark chocolate, fudge, vanilla, and brown sugar cookie. Delicious. Faint chipotle flavor and restrained coffee. Mellow roasted malt profile. There's a touch of spiciness on the back end.
M: Full body with lower medium carbonation.
Overall: Really well done. Exceeded my expectations.
518 characters

4.34
/5
rDev
+1.4%
look: 4 | smell: 5 | taste: 4.5 | feel: 3 | overall: 4
Nice black beer, no light penetration. A medium sized mocha head forms, but quickly dissipated to a tiny ring that left no lacing, but nice legs.
Smells of bourbon, oak, chocolate, vanilla, roasted malts, coffe, and hint of booze, what a treat. This I could smell this beer all day.
Taste isn't quite as big and complex, but many of the notes are there. The bourbon becomes a hint, while the malts and the coffee come to the forefront. Chili peppers and pepper come through on the finish making for a good complexity.
Texture falls a little short, IMO. The beer is quite thin for a 10% BBA Stout, but is very smooth. A hint of throat tickle from the chipotle on the end, and low carbonation, both of which are good. Pretty easy to drink, surprisingly.
I liked the beer, but the thinness makes me feel like it's not quite worth the 20$. The flavor and aroma though, do make it worth it. I will age a bottle for later.
DOA
925 characters

4.3
/5
rDev
+0.5%
look: 4 | smell: 4 | taste: 4.5 | feel: 4 | overall: 4.5
Pours nearly black in color with a khaki colored head. Great nose on this. Nice bourbon and vanilla notes with dark chocolate, moderate coffee, and just the slightest hint of chipotle. A nice wood character and a fair amount of roast. The flavor is sweet, but still maintains a nice balance. Vanilla, chocolate, and bourbon give plenty of sweetness, as does a touch of caramel. Good wood, roasted malt, and coffee flavors to balance things out.
444 characters

4.3
/5
rDev
+0.5%
look: 4 | smell: 4 | taste: 4.5 | feel: 4 | overall: 4.5
Thanks to Javier for this one. Served in a taster pint glass.
A - Tan foam settles to a collar, leaving behind minimal lacing. Near-black body with some lighter red-brown glints at the edges of the glass.
S - Lots of oak and chipotle, with notes of coffee, bourbon, vanilla, chocolate, and a touch of roasted malt filling out the flavor profile. Alcohol is pretty well-disguised; I wouldn't have guessed it's 10%.
T - The taste has a bit less chiptole influence, with more of the chocolate and oaky vanilla and only mild-to-moderate coffee and chile flavor. The earthy bourbon complements the similar notes from the peppers and coffee, and I appreciate the balance of sweet and roast flavors here. Again, alcohol is largely absent.
M - Medium body that is a touch undersized for 10%, but not as thin as the original Black Phoenix. Moderate carbonation, some tannic grit from the oak and the peppers, and only light residual stickiness. No alcohol warmth, but a mild chile kick.
D - An excellent example of balancing and integrating numerous elements: adjuncts, bourbon barrels, and your typical beer flavors. If you're looking for something hot, you may want to look elsewhere, but for an excellent barrel-aged stout with a twist this is a great choice.
1,258 characters
4.26
/5
rDev
-0.5%
look: 3 | smell: 4.5 | taste: 4.5 | feel: 3 | overall: 4.5
Thanks to wethorseblanket for sharing this one at jmgrub's tasting.
Pours an opaque black with a foamy dark khaki head that settles to oily wisps of film on top of the beer. No lacing on this one. Smell is of dark malt, cookie dough, bourbon, vanilla, and some slight smoky chipotle aromas. Taste is much the same with a slightly spicy quality due to the peppers. This beer has a low level of carbonation with an almost flat mouthfeel. Overall, this is a very good beer with a nice barrel aged presence but somewhat lacking in the mouthfeel department.
556 characters

3.81
/5
rDev
-11%
look: 3.5 | smell: 3.75 | taste: 4 | feel: 3.5 | overall: 3.75
1736th Review on BA
Bottle to snifter
22oz
Thanks to my buddy Jeremy for grabbing this last year
Shared with my co worker Antti
App- A bit of a gusher even when cold in the glass. A solid medium black color with only a small brown head that was quite bubbly and fizzy and faded quickly. No cling or lace.
Smell- I can't say this was the most aromatic bourbon barrel aged beer I have had. The barrel seems to get lost in the nose. More of the base beer comes out with only the peppers and coffee shining. A bit hot and bitter on the nose. Lacking balance with oak and vanilla.
Taste- This was good. I actually prefer the base beer though. More flavor and more layered balance to it. The bitter of the coffee seems to have faded and the spice of the peppers as well. A bit of a mish mash of layers here. More bakers chocolate to the flavors.
Mouth- A thinner medium body with a medium prickly carbonation. Seems a bit over carbed to me. Residual mixture of thin coffee and semi potent peppers.
Drink- Was a bit let down with this. I think my fault for not drinking sooner and storing improperly.
1,099 characters
3.49
/5
rDev
-18.5%
look: 2.5 | smell: 3.5 | taste: 4 | feel: 2 | overall: 3.5
Bomber from vanlingleipa. Cheers dude!
From a bomber into a snifter
Stout brewed with chipotle, coffee, black pepper, smoked malt and aged one year on wood.
APPEARANCE: This one was a slow foamer upon opening. Never a good sign. A dark brown pour yields a small, loose, bubbly, tan head with lousy retention. Head quickly fades to a ring only. Black body with no real carbonation evident. A ring remains but leaves no lacing down the glass.
SMELL: Coffee beans and dark chocolate on the nose. Roasted aromas as well, light vanilla cream and touches of spicy peppers. Nicely chocolaty, creamy and spicy.
TASTE: Coffee and dark chocolate up front with some good vanilla cream, roasted coffee, roasted grain and a touch of pepper at the swallow. Bolder finish of bitter coffee, chocolate, sweet vanilla cream and a hint of peppers. The chili is quite subdued lending just a faint touch of heat, which I appreciate. Not a chili bomb; interestingly complex and enjoyable.
PALATE: Medium body and medium levels of carbonation. Semi-creamy, a little fizzy actually, goes down a bit prickly and finishes sticky on the palate. A bit of a spicy bite lingers at the back. Too fizzy and prickly for the style, which is unfortunate.
OVERALL: Really good. The flavors were bold and enjoyable while the chili added just a faint touch of heat without dominating the beer, which happens all too often. It's too bad the feel was under-par, as it would have been a whopper otherwise. A really nice wood aged adjunct stout. Cheers vanlingleipa! Always a pleasure.
1,555 characters
Imperial Black Phoenix (Bourbon Barrel Aged) from Bootlegger's Brewery
4.28
out of
5
based on
42
ratings.