Lupulin Thrill IPA
| Bootlegger's Brewery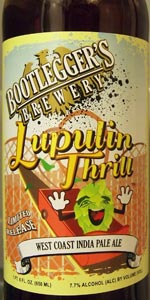 BEER INFO
Brewed by:
Bootlegger's Brewery
California
,
United States
bootleggersbrewery.com
Style:
American IPA
Alcohol by volume (ABV):
7.80%
Availability:
Limited (brewed once)
Notes / Commercial Description:
No notes at this time.
Added by womencantsail on 01-29-2012
This beer is retired; no longer brewed.
Reviews: 8 | Ratings: 64
3.75
/5
rDev
+3%
look: 3.5 | smell: 4 | taste: 3.75 | feel: 3.25 | overall: 3.75
On tap at Bootlegger's Brewery in Fullerton, CA.
Pours a murky orange with a foamy bone colored head that settles to a film on top of the beer. Small dots of lace form around the glass on the drink down. Smell is of malt, citrus fruit, and citrus zest. Taste is much the same with a citrus zest flavor on the finish. There is a mild amount of hop bitterness on the palate with each sip. This beer has a lower level of carbonation with a slightly crisp and medium bodied mouthfeel. Overall, this is a pretty good beer with some solid aromas and flavors.
554 characters

3.48
/5
rDev
-4.4%
look: 4.25 | smell: 3.75 | taste: 3.25 | feel: 3.75 | overall: 3.25
Pours a clear orange-tinged light amber. Decent head in the Ommegang chalice with a quite zingy carbonation on the tongue. Actually quite lovely with the creamy lacing in the glass. Mouthfeel is just a little oily and the body is more on the robust side.
Aroma of pineapple orange. Taste is a big IPA with a toasty, bitter mouthful with a dose of marmalade. Finish is rather hot and spicy. Some resins and a touch of grapefruit peel, but not terribly bitter. Just normal bitter. Fruity and malty but not sugary. Some crazy bottom of the pond sediment I see after a few short pours.
This seems to be trying to climb into the DIPA category, though it's not so sweet. Really tangy and bubbly. From the 22 oz bottle purchased at Baron's Marketplace in San Diego.
760 characters

3.68
/5
rDev
+1.1%
look: 4 | smell: 3.5 | taste: 3.5 | feel: 4 | overall: 4
On-tap at Bootlegger's
Pours a light amber color with a white head. Smells like a fairly decent IPA, but lacks the usual punch of a Bootlegger's hoppy beer. Decently fruity with some citrus and citrus peel aromas, definitely a bit of pine, too. A slight bready note to it as well. The flavor has a citric character with some grapefruit flesh and peel notes. A moderate bitterness with some pine and a dry finish.
415 characters

3.53
/5
rDev
-3%
look: 4 | smell: 3.5 | taste: 3.5 | feel: 3.5 | overall: 3.5
Extra bottle in a trade with? Sorry I misplaced you, but thanks for the opportunity!
Pours a crystal clear deep golden color with a decent sized creamy white head that persists for quite some time before leaving some nice lace on the sides. Aromas of floral and grassy hops with hints of pine and citrus dominate the nose. A solid hit of caramel bready malt with lots of fruity esters and a hint of ethanol. The flavor is sweet bready toffee and caramel with less hop flavor than the aroma suggested. Citrus and pine flavors are moderate and the bitterness is moderate to high. Medium body with a fairly drying finish, moderate level of carbonation and a slick sweet resinous mouthfeel. Decent IPA, a bit old school, but a bit rough around the edges. I could drink this, but would probably choose something else first. No bottle dating is a turn off, I wonder about the age of this one actually.
895 characters
3.85
/5
rDev
+5.8%
look: 3.5 | smell: 3.5 | taste: 4 | feel: 4 | overall: 4
On-tap at Bootlegger's itself, on to the beer:
This IPA has a toasted orange color, decent lace, and fair head retention. Its nose is soft, not pungent as many of the west coast IPA style can get. Soft mangoes come to mind.
What went soft with the nose gets explosive in the taste. It's an explosion of hops, juicy hops, and that malty base isn't overwhelming that it kills off the hops. Medium full bodied, and not very bitter. Turns out to be a very good IPA, just another out of the works from Bootlegger's.
513 characters

3.64
/5
rDev 0%
look: 4 | smell: 3.75 | taste: 3.5 | feel: 4 | overall: 3.5
22oz bottle purchased at Holiday Wine Cellar – Escondido, CA
Notes from 01/01/14 – FW Snifter glass
A: Lupulin Thrill pours a deep caramel amber color with nice clarity and visible carbonation. Thick finger width of khaki foam adorns the top settling out to a ring in some good time. Some nice patch work of swathed lacing adheres to the glass after each sip.
S: The nose brings forth concentrated resinous pine and evergreens with some citrus zest and a touch of dirty herbals. There is some underlying pale malt sweetness that is a mix of bread with soft caramels. Fairly nice and hoppy aromas. Big on the pine and herbs.
T: Firm malty base of bready malts with a dash of caramelized sweetness. Dry flaky biscuit even. The hops are heavy on the pine and herbals with a light floral backing of citrus tangerine. There is high level of hop bitterness to the beer and the alcohol is well masked throughout. The finish is dry and resinous with a long lasting linger. Not bad but a slight step down from the nose.
M: Lighter body with only some moderate malt fullness and nice smooth consistency from the carbonation. Upper level of scrubbing bitterness with a nice dry crisp and long lasting linger on the finish.
D: More of a "no thrills" IPA with its high alphas/low flavor. More bready malt comes through on this one and I'm not a super fan of the hop selection here. Otherwise the beer is fairly well crafted and drinkable just not all that impressive however.
1,480 characters

3.4
/5
rDev
-6.6%
look: 3.75 | smell: 3 | taste: 3.5 | feel: 3.5 | overall: 3.5
Poured from a bomber into a tall chalice.
A: Slightly hazy, light amber color with over one finger of persistent off-white foam head. Moderate lacing remains on the glass.
S: Pineapple juice is obvious, suggestive of malic acidity but also slightly estery. Lesser coniferous foliage and light caramel candy are integrated into the rather rich but unfocused profile.
T: Begins barely off-dry, with refined pale malt and piney hops aromatics. Acidity is strong and very citric into the middle where bright mixed fruit emerges. The finish is moderately bitter like lime zest, apparently cushioned somewhat by the late presence of clean bread.
M: Thin to medium viscosity, slightly resinous and syrupy on the palate, with low carbonation.
D/O: This limited release IPA from the maker of the almost peerless double IPA Knuckle Sandwich lands fairly close to the middle of the pack. It is ably executed, although not particularly memorable. When one considers the dustbin collection of hops cultivars featured in this recipe, it may serve as a more respectable display of Bootlegger's brewing skill.
1,098 characters
3.39
/5
rDev
-6.9%
look: 3.25 | smell: 3 | taste: 3.5 | feel: 3.75 | overall: 3.5
Bought a growler while out running errands and shared it with a friend later that night. Saw at the taproom that they'd bottled it and figured I'd review it.
A: Poured into an Atari "Missile Command" branded shaker pint (I do love these kitschy glasses). Poured a dark orange/brown with a cream-colored head that dissipated quickly to a few bits of foam on top of the beer.
S: Malts and a faint hit of citrus with a touch of pine to bring it together. Not a very strong aroma on this one.
T: This is the same breed of West Coast-style IPA that was popularized by Stone. A nice blast of hop flavor up front that is balanced with notes of grapefruit bitterness. Unfortunately, there's nothing really to set this apart from other West Coast IPAs. The flavor is perfect for the style, but I had my hopes up for something unexpected.
M: The hop bitterness sticks around awhile, but doesn't feel dirty or cling to the inside of my mouth. This a prime candidate to pair with a food. It'd go great with my favorite jalapeno, pepperoni, and tomato pizza,
O: Bootlegger's absolutely hit their mark in making a West Coast IPA, but it feels like it was made just for the sake of having a hoppy IPA to offer (Their core brew, Rustic Rye IPA is far, far more mellow on hop flavor). It is a fine example of the style and for all my complaints, it is a good beer, but I was hoping for something that pushed the envelope a bit more. There is something to be said for knowing exactly what you're getting though, and for that, this is a strong option for those in the mood for a nice little hopsmack.
1,587 characters
Lupulin Thrill IPA from Bootlegger's Brewery
3.64
out of
5
based on
64
ratings.