Quadrophenia
| Black Market Brewing Co.
BA SCORE
82
good
11
Reviews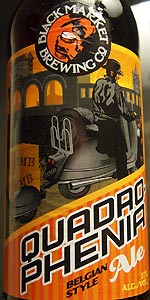 BEER INFO
Brewed by:
Black Market Brewing Co.
California
,
United States
blackmarketbrew.com
Style:
Quadrupel (Quad)
Alcohol by volume (ABV):
11.00%
Availability:
Year-round
Notes / Commercial Description:
No notes at this time.
Added by mactrail on 08-26-2012
Reviews: 11 | Ratings: 39
4.97
/5
rDev
+43.6%
look: 4.5 | smell: 5 | taste: 5 | feel: 5 | overall: 5
This was the second beer I tried at there brewery and it is now my favorite to relax with. Apperence is nothing special just looks cinimon brown in a frooty glass. The flavors seem to evolve as u drink finishing rich and filling. I want to see what the flavors do in a growler, maybe for Christmas...
300 characters
4.2
/5
rDev
+21.4%
look: 4.25 | smell: 4.25 | taste: 4.25 | feel: 3.75 | overall: 4.25
Quadrophenia is a great tasting, and complex beer that has a unique flavor signature. This beer contains many of the classic characteristics of a Belgian style quad (belgian special strong) except for the fact that it wasn't bottle conditioned. I was really hoping that it was, and this would have increased my scoring of the mouth feel by a couple of notches.
The appearance has a nice nectar, orange color with unexpected clarity. After pouring the head is a nice light tan and leaves a good lace on the glass after it subsides. The head subsides relatively quick, but it doesn't lend to a flat or lacking mouth feel.
The nose is bright, sweet, and with inviting notes of fruit esters. For an 11% beer it didn't smell overly boozy or hot either, but you definitely knew that there was plenty of warming to be had after taking a few sips.
The flavors are very interesting. The bottle says that it is brewed with palm sugar, so this may have something to do with this. At first it is sweet and malty, as would be expected of a Belgian quad, but then the fruit esters kick in and lends to slight fruit flavors like apricot and a little nectarine. The delicate complexity of flavors seem to evolve as the beer warms up a little, so the drinking experience, as would be expected of this style, was not a dull one.
1,314 characters
4.16
/5
rDev
+20.2%
look: 5 | smell: 4 | taste: 4 | feel: 4.5 | overall: 4.25
For what looks and feels like a lightly bodied beer, the Quadrophenia provides a very respectful taste profile and alcohol content without tasting too triple. It is extremely refreshing with a characteristic more closely related to a sweet and light double bock. I recommend serving in a Chalice. The beer reaches it peak in flavor after out of the frig for 7 minutes in a 70-80 degree climate.
394 characters

4
/5
rDev
+15.6%
look: 4 | smell: 4 | taste: 4 | feel: 4 | overall: 4
A - Pours a hazy red-orange with a thin finger of frothy white head. The head fades fairly quickly leaving behind a touch of lace.
S - Aroma is a mix of rich sweet caramel and dark malts with candi sugar, dark fruit, Belgian yeast, spices, and some booze.
T - Starts off with a mix of sweet caramel and dark malts, with some dark fruits and spices. Through the middle, some candi sugars come through with some more Belgian yeast flavors and spices. The finish is a mix of caramel malts, dark fruits, Belgian yeast, spices, and some booze.
M - Medium-full bodied with moderate carbonation. Feels smooth with a sweet and warming finish.
D - Very drinkable. Nice Quad. Good overall balance with good Belgian flavors.
717 characters
3.87
/5
rDev
+11.8%
look: 3.5 | smell: 4 | taste: 4 | feel: 3.5 | overall: 3.75
Pours quite a bit clearer than I thought 11% ABV would be. Regardless, I haven't seen this color before. A ruby copper color. Decent head of a finger or so. Contrasting bright white color and foamy. Less than average retention and barely any lace.
Smells the part with a nice combination of dark fruit and white pepper. It smells a bit like a hefe with some banana and clove rising from the yeasty goodness.
In typical Belgian fashion, the spicy fruity yeast dominates with an explosion of fruit and pepper. After a few sips, it takes on a medicinal taste with the alcohol coming to life.
It's certainly a quad. My lips are burning after a minute or so. Feeling some heat in my throat as well. Fruity, spicy and hot. Medium bodied. Hops are completely overwhelmed and throw in the towel. Plenty of sweet.
Overall, it's a really good beer. Very strong, but very good. If you can handle the heat, it's fairly easy to drink.
926 characters

3.63
/5
rDev
+4.9%
look: 3.75 | smell: 3.75 | taste: 3.5 | feel: 4 | overall: 3.5
Poured from 22oz bomber into a tulip.
Appearance: medium gold hue with a moderate haze and effervescence. Head is a finger of frothy ivory foam. A bit on the light side for the average quad, but not bad.
Smell: quite sweet with a bit of farmhouse funk and a touch of grassiness. Almost like a light saison rather than a quad. While not what I usually look for in the style, the aroma's not bad at all.
Taste: rich and sweet with a big maltiness. There is some of that farmhouse flavor to it as well. Kind of sugary and over-sweet, with a cloying element and a general muddled character. Not terrible, but not especially clean.
Mouthfeel: big body with a good carbonation and creaminess. I like it.
Overall: there is too much sweetness here, and not enough complexity, for my taste. Not terrible, but there are a lot of better quads out there.
859 characters

3.57
/5
rDev
+3.2%
look: 3.5 | smell: 4 | taste: 3.5 | feel: 3 | overall: 3.5
Reddish dark amber color poured in the big Brigand chalice. Slight chill haze. Thin head melts away, though plenty bubbly on the tongue, at least to start. Tropical aroma is actually pretty swoony-- like some kind of Trader Vic's cocktail with bananas and pineapple.
Overall impression is a kind of bitter candy flavor. Peppermint and burnt raisin toast. Surprisingly thin body what comes through as a lot of sweetness. Not as hot as most beers at this ABV level. Brewer says they use Trappist ale yeast and coconut palm sugar. It certainly has an unusual sugary flavor, so maybe that's the secret. Surprisingly bitter for what they claim is 29 IBU, so the yeast must be working overtime. Tart aftertaste that leaves a tingly tongue, exactly like fresh pineapple.
Totally weird, if you're looking for a new taste thrill. If Black Market isn't pleasing your palate, at least it's confusing it. From the 22 oz bottle. Bought this at Krisp in downtown San Diego (formerly Best Damn Beer Store and Super Junior Market before that).
1,034 characters
3.5
/5
rDev
+1.2%
look: 3.5 | smell: 3.5 | taste: 3.5 | feel: 3.5 | overall: 3.5
On tap for the 4th Annual LA Beer Week Beer Festival at Union Station in Los Angeles, CA.
Pours a clear orange with a foamy khaki head that settles to a small cap on top of the beer. Small dots of lace form around the glass on the drink down. Smell is of malt, grain, brown sugar, and dark fruits. Taste is much the same with a mild spice bitterness on the palate with each sip. This beer has a lower level of carbonation with a slightly crisp and medium bodied mouthfeel. Overall, this is a pretty good beer that is pretty tasty and drinkable.
546 characters

3.34
/5
rDev
-3.5%
look: 3.5 | smell: 3.25 | taste: 3.25 | feel: 3.5 | overall: 3.5
Bought this because it was different, and a Quad(I love Quads)
Boy that was a mistake. Not that it was a terrible brew, but nowhere near what a solid Quad should be(See ABT12, La Trappe, Trappiste 10)
Color was a strange almost pinkish color. Smelled like flowers, and damnit it tasted the same way. It had a slight bitterness to it as well.
If you love your quads, steer clear of this one. I typically wouldn't try something new under a 90 on BA, but wanted to give it a whirl.
481 characters

3.2
/5
rDev
-7.5%
look: 3 | smell: 3 | taste: 3.5 | feel: 3 | overall: 3
Very big floral and citrus nose. And the taste was very powerful. You could tell it was 11%. A couple of these and I was gonna have to sneak behind the bar and take a siesta.
I liked the overall nose and flavor, but it may have been a little too potent for my liking, even though its a quad.
293 characters
2.12
/5
rDev
-38.7%
look: 2.5 | smell: 3 | taste: 1.5 | feel: 2.5 | overall: 2
I use primarily "Hads" and I'm only reviewing this one only because of my stong feelings.
Pours a medium orange with a very light/feint light khaki head. Clear and bright in the glass.
Nose has gigantic and hugely assertive esters. Full of very sweet ripe peaches, ripe bananas and big sweet ripe fruit. Almost too sweet in the nose, if that's possible.
Mouthfeel is medium bodied, lightly carbonated and relatively "clean," IF you can overcome the weirdest flavor profile I may have seen in a beer. Respectfully, I'm not convinced that this beer is not a mistake that was bottled for some reason, financial or otherwise.
Flavor profile is camphor, mint and pine, mixed with sweet carmel and malt. Perhaps most importantly, it is not integrated or balanced. In other words, they don't match well together. There is a medicine character with the underlying malt profile. There is peppermint and there is burned fruit. I can think of no reason whatsoever to drink this beer. The finish is all mint and camphor that, unfortunately, is very long lasting. A bitter mint/pine character (and not an attractive one) stays with you forever. It tastes like you ate one of those "Fisherman Mints," the kind that no one likes but tries when they have a sore throat.
There are also hints of sage and rosemary, furthering the weird flavors and "undrinkability" of this beer.
All in all, the flavor profile simply does not work on any level for me. I don't see drinking this by itself for any reason and it does not appear to pair with any food profile about which I'm aware.
One of the very few beers that I would say "don't try," and I'm for trying them all!
1,658 characters
Quadrophenia from Black Market Brewing Co.
3.46
out of
5
based on
39
ratings.