Dismiss Notice
Dismiss Notice
Aftermath
| Black Market Brewing Co.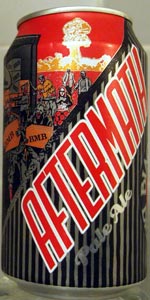 BEER INFO
Brewed by:
Black Market Brewing Co.
California
,
United States
|
website
Style:
American Pale Ale (APA)
Alcohol by volume (ABV):
5.80%
Availability:
Rotating
Notes / Commercial Description:
No notes at this time.
Added by UCLABrewN84 on 05-11-2013
Reviews: 13 | Ratings: 69

4.5
/5
rDev
+14.5%
Wow, what an aroma. Super intense "pine/resin" hops. People often say that an IPA (or APA in this case) has a "piney" aroma and taste, but this one literally smells like a spruce tree or something... in a good way. I've actually had this for a couple months by accident, so I can only imagine how intense it would be when super fresh. Taste is very similar, although a bit toned down so you can tell that it's "just a pale ale" rather than an IPA. Spruce again, with some sweeter nectarine and orange type flavors. Malt presence is very mild but still enough to bring a balance to the blast of hops. Awesome beer, kind of hard to describe, and almost worth trying for the aroma alone. I just keep smelling it. I want more of this.
★
731 characters

4.24
/5
rDev
+7.9%
look: 4 | smell: 4.25 | taste: 4.25 | feel: 4.25 | overall: 4.25
Really good hoppy pale. It seems that body and feel are lacking from this new wave of session IPA and hoppy pales. Not an issue here; great full body. Taste is piney up front with some citrus on the back. I'm guessing hops could be some combo of cascade, mosaic and amarillo. Very good, hop forward pale.
★
304 characters
4.09
/5
rDev
+4.1%
look: 4.5 | smell: 4.25 | taste: 4 | feel: 4 | overall: 4
Pour is a clear gold/amber with a very dense and very active two finger high head. The head never completely leaves and forms mats of clumpy lacing on the glass.
Floral and zesty, tropical tones of passionfruit, citrus zest and spicy grass atop a bready malt base. Solid nose on this.
Very clean and balanced, malt is active in the flavor profile, French bread with a mild buttery/creamy component that sticks near the finish. Hops are spicy and floral following the nose, I get lemon/grapefruit citrus zest and grassy flavors. Finishes with a rich spicy/grassy combination that dries well with bitterness that nips at the palate.
Medium carbonation that lends well to a drinkable body. Alcohol blends nicely with the spicy component of this beer, clean and drying. The flavorful malt impacts the crispness of his beer.
A flavorful pale ale, zesty, spicy and floral. All good things to say about this beer. Black Market still has a trick or two up its sleeve.
★
963 characters
4.06
/5
rDev
+3.3%
look: 4 | smell: 4.25 | taste: 4 | feel: 4 | overall: 4
Type: 12-oz.can
Glass: Can/pint glass
From: Whole Foods in La Jolla (San Diego), Calif.
Price: $9.99 for a 6-pack
Purchased: April 19, 2014
Consumed: April 19, 2014
Misc.: Rated everything but the color on a train; rated the color the next day
Poured a caramel, orange, semi-clear color with 2-to-3 fingers of white foamy head. Good foamy lacing along the sides of the glass. Good retention.
Smelled sugary floral notes, citrus notes, grapefruit, butter orange, resin hops, tropical hops and orange sorbet.
Tasted similar to the nose. Got sweet floral notes first, citrus, orange sorbet, resin hops, tropical hops, mango and slight butter notes.
Light body. Thin-to-oily texture. Average-to-soft carbonation. Rather abrupt finish.
A very good pale ale. Will definitely have it again.
★
790 characters

4.05
/5
rDev
+3.1%
look: 4.25 | smell: 4.25 | taste: 4 | feel: 3.75 | overall: 4
This pours with a lovely tall foam in the lanky Peroni lager glass. Color is golden amber tinged with brown. Vast hoppy aroma of mango and cedar. The aromatics seem to change as you sip, but that lovely mix of flowery and spicy is the what makes this such an appealing quaff.
The taste starts with some biscuity malt and just a hint of sweetness. The IBUs are rated at 44, though it seems pretty hoppy to me. It's just not overly bitter, and shades more to the Pale Ale than IPA side. Hops are listed as Columbus, Centenial, Cascade, Zythos, El Dorado, and Mosaic, so it's a nice blend of bitter and aromatic. Some bitter grapefruit but plenty of rich spicy flavors. Dark toast and pineapple-orange.
A highly drinkable lighter style of hoppy brew. It would be interesting to see Black Market try a lower-alcohol version to see if this might still be as tasty closer to four percent. In any case, this is well worth looking for in six-packs of cans. I got mine at the brewery but they seem to distribute around southern California.
★
1,033 characters
4.03
/5
rDev
+2.5%
look: 4.25 | smell: 4.25 | taste: 4 | feel: 3.5 | overall: 4
On tap at Black Market Brewing Company in Temecula, CA.
Pours a clear orange with a foamy bone head that settles to a film on top of the beer. Foamy swaths of lace form around the glass on the drink down. Smell is of malt, citrus fruit, and citrus zest aromas. Taste is much the same with citrus zest flavors on the finish. There is a mild amount of hop bitterness on the palate with each sip. This beer has a lower level of carbonation with a slightly crisp and medium bodied mouthfeel. Overall, this is a good beer that is tasty and easy to drink.
★
552 characters

4
/5
rDev
+1.8%
look: 4 | smell: 4 | taste: 4 | feel: 4 | overall: 4
Poured into a Seattle Beer Week pint glass. Pours a medium golden amber with a fizzy two finger white head; so active I thought it was going to fizz out immediately, but actually had great retention and lots of thick lacing. Nice aroma of pineapple and other tropical fruit, orange, citrus hops and sweet bready malt, nice. Flavor follows, dominated by a great variety of citrus, piney and dank hops, mild bready malt, grapefruit and tropical fruit. Medium bodied with mild creaminess. Quite nicely hopped for a pale ale; the hops flavor drops off just at the finish revealing a slight buttery component, but leaves a long lasting citrus hop bitterness. Nicely done and flavorful, a richly hop flavored (but not overly bitter) pale ale that is worth a revisit.
★
760 characters

3.77
/5
rDev
-4.1%
look: 4 | smell: 3.75 | taste: 3.75 | feel: 3.75 | overall: 3.75
Poured from 12oz can into a pint glass.
Appearance: medium orange hue with a light haze and a strong effervescence. Head is a thick finger of pillowy ivory foam which is leaving a nice lace on the glass as it slowly dissipates. Quite good.
Smell: very piney, resiny and slightly citrusy hops atop a sweet malt base. Quite refreshing; I like it.
Taste: fresh and floral hops with more of that resiny, piney quality. The malt character is a bit on the sweet side for my taste, but basically it is good.
Mouthfeel: medium body with a moderate carbonation and a rockily refreshing texture. It works in this context.
Overall: a decent pale ale, if a bit sweet for me.
★
676 characters

3.75
/5
rDev
-4.6%
look: 4 | smell: 4 | taste: 3.75 | feel: 3 | overall: 3.75
Pours two fingers of head on a hazy straw body.
The aroma is a rich and danky grapefruit and pine smell.
The taste threatens big bitterness, pulls up short with a nice touch of pine bitterness, then malty sweet middle to finish.
The texture is crisp.
Great aroma and nice flavor.
★
279 characters
3.75
/5
rDev
-4.6%
Poured into a standard pint glass.
Appearance is a light golden tan with orange.
Great pine aroma
Taste follows aroma in flavor however it is not well balanced. Hops taste offset by the toasty malt. Not unpleasant, however not much substance.
★
246 characters
3.75
/5
rDev
-4.6%
look: 3.75 | smell: 3.75 | taste: 3.75 | feel: 3.75 | overall: 3.75
This is a really solid APA. It pours a copper/orange with a nice pillowy white head. The overall presentation is evergreen and citrus. The crackery malt base makes me think of stoned wheat thins - in the best way possible. The bright hop finish makes sure that the Aftermath is truly enjoyable.
★
295 characters

3.72
/5
rDev
-5.3%
look: 2.5 | smell: 3.5 | taste: 4 | feel: 3.75 | overall: 3.75
Served On-Tap
A — Pours a bright and somewhat hazy pale yellow, thin off-white colored head, leaves behind minimal lacing, meh.
S — Smells of bitter piney hops, dry and piney, little malt sweetness.
T — Tastes nicely hoppy and dry, some residual malt sweetness helps round it out.
M — Light-Medium bodied, adequate carbonation level. Very refreshing.
O — Nice overall, definitely a very hoppy pale ale, but that's alright.
★
437 characters
3.6
/5
rDev
-8.4%
look: 3.75 | smell: 3.75 | taste: 3.5 | feel: 3.75 | overall: 3.5
22oz bottle, a pale ale that 'isn't just a reproduction of everyone else's Pale Ale'. Ha - lofty claims.
This beer pours a hazy, medium copper amber colour, with three fingers of puffy, weakly foamy, and mostly bubbly off-white head, which leaves a band of snow rime lace around the glass as it slowly recedes.
It smells of dank pine resin, a further forest floor green bitterness, mixed tropical fruit (tangerine and kiwi, mostly), more pedestrian orange and red Texas grapefruit, and a laid-back bready, semi-sweet doughy caramel/pale maltiness. The taste is sugary, grainy pale malt, a bit of additional buttery caramel/toffee sweetness, muted pine needles, fleshy orange, aged lemon, and well overripe pineapple fruitiness, and maybe a hint of bristling alcohol.
The bubbles are generally quite shy and hard to pin down, with a lo-fi frothiness at best, the body coming in at a solid-ass middleweight, and mostly smooth, the various hops not concerned with this part of the scene, apparently. It finishes well off-dry, the diacetyl-adjacent malt running the table.
Yeah, this is indeed different enough from most other stateside APAs, in that the hops show promise up front, and then do very little to follow through. It's not a good sign when I start having to scrape my tongue before I've even finished the first glass out of the bomber. Oh well - I'm sure the coming post-apocalyptic hellscape will distract me from the idea of not recommending this. Oops.
★
1,473 characters
Aftermath from Black Market Brewing Co.
86
out of
100
based on
13
ratings.