Hitchhiker
| Good People Brewing Company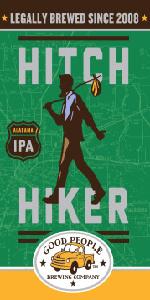 BEER INFO
Brewed by:
Good People Brewing Company
Alabama
,
United States
goodpeoplebeer.com
Style:
American IPA
Alcohol by volume (ABV):
7.40%
Availability:
Rotating
Notes / Commercial Description:
A far cry from our original IPA, The Hitchhiker is a big floral/citrus American IPA. Aromas and flavors of pineapple, grapefruit, orange, and tangerines take center stage with a tad bit of caramel malt backbone to balance just a bit. A very dry finish with hops flavors lingering...this one is for the hopheads.
128 IBU
Added by Bonhoeffer on 07-09-2010
Reviews: 15 | Ratings: 83

4.14
/5
rDev
-6.1%
look: 4.25 | smell: 4 | taste: 4.25 | feel: 4.25 | overall: 4
Poured on draft at local pizza place.
A: Clear light yellow. Small one finger head that dissipated quickly but left plenty of lacing.
S: Pine and floral hops. Pineapple, grapefruit, lemon, and orange.
T: Tons of big hops with a combination of floral and earthy notes. Balanced extremely well with malt backbone. Probably the easiest drinking 120+ IBU beer I've tried.
M: Light body with a very crisp dry finish.
O: Hop head delight. Tons of big hops but an approachable IPA.
489 characters

3.58
/5
rDev
-18.8%
look: 4 | smell: 3.5 | taste: 3.5 | feel: 4 | overall: 3.5
On draft at the Draft House in Auburn. I have to say for being a top 5 Alabama beer I was not very impressed. The beer looked and smelled like a typical IPA. The taste was nothing but bitter and these days that doesn't go very far. Perhaps it was an old keg. I'll give it another try at some point.
303 characters
3.7
/5
rDev
-16.1%
look: 4 | smell: 4 | taste: 3.5 | feel: 4 | overall: 3.5
served from a growler into a chalice type thingy
Pours a darker-than-expected color like an orange that's been slightly shaded burnt sienna. Decently hazy body. 3/4 of a finger of eggshell colored foam stops in to say 'hi' before quickly departing; at least it leaves behind some lacing.
Tropical fruit aromas right off the bat. Hitchhiker has that papaya-meets-guava South American thing going on, which is exciting. Lots of resin, too. It smells as if it will be pretty bitter. A more-than-decent amount of husky malt aroma, too. I was hoping that this would be less malty than their Snake Handler IIPA; it is, but not by that much.
Hitchhiker is a solid American IPA. It might be quite good if that papaya flavor had carried over to the tongue more strongly. As is though, Hitchhiker is mostly resiny and oily. It's dank, but not in any unique or particularly complex way. The malt flavor is not-insignificant, but it works pretty well as a sweet foil to the bitterness that so dominates the beer's flavor profile.
The mouthfeel is around medium-bodied, which is fine but not ideal for me. It's a sweet mouthfeel whose sweetness gets sapped out quickly by all the bitterness. Overall, this is a pretty solid IPA. I don't understand all the A+ ratings from Alabamian reviewers. It seems like homerism to me.
1,313 characters

4
/5
rDev
-9.3%
look: 4 | smell: 4 | taste: 4 | feel: 4 | overall: 4
Poured from a 12 ounce can dated 3/3/17. The beer pours a beautiful orange color with a nice full white head that left very little lacing.
The smell is very fresh pine needles, lemon and dank weed.
The taste is very fresh. There is a ton of pine and citrus with a nice malt backbone.
The mouthfeel is highly carbonated with a thin/medium texture.
Overall this is a great beer with a nice balance of several flavors.
423 characters

4.03
/5
rDev
-8.6%
look: 4.5 | smell: 4 | taste: 4 | feel: 4 | overall: 4
Had this beer at J Clyde's in Birmingham on September 4th. Enjoyed it while watching the first Alabama game of the year with my dad. I typed up these notes and e-mailed them to myself so I could post this. Poured into a standard pint glass.
A - orange body with a bit of haze. White head. Good deal of lacing
S - hints of citrus hops with a bit of sweetness
T - grapefruit bomb. Big citrus hop flavor with a solid malt backbone in the finish
M - medium bodied with a light carbonation.
D - pretty drinkable. I could see someone who likes two hearted to also like this one. Solid IPA. Not what id expect to find in Alabama.
627 characters
4.74
/5
rDev
+7.5%
look: 4.5 | smell: 4.75 | taste: 4.75 | feel: 4.75 | overall: 4.75
As far as balanced IPA'S go....this is the closest thing to Jai Alai I've ever had. Honestly I think this one might better. At least it is for my taste.
152 characters

4.88
/5
rDev
+10.7%
look: 4.25 | smell: 5 | taste: 5 | feel: 4.75 | overall: 4.75
Served on tap into a plastic cup (!) at the taproom on 5/5/13. Despite the plastic cup, this beer looked very pretty. It was a deep brassy orange like a ripe cantaloupe. There was 3cm of thick off-white, frothy head that left thick cob-webs of lacing all over the cup. The nose on this thing really was a highlight of the beer. The smell was bright and effervescent with tons of citrus and tropical fruits highlighted by the ever-present grapefruit along with orange, tangerine, and maybe some touch of pineapple. There was a slight smell of caramel malt in the background as well, but this is definitely not a beer with a hefty malt profile. The taste was pure west coast IPA with tons of citrus hops. The malt side was very muted, but there with some caramel sweetness. This beer was a big, gorgeous buffet of grapefruit, lemon oil, and some tropical notes; maybe the pineapple again, but it was very hard to pin down on my palate. The mouthfeel was medium bodied and quite dry with pretty much no alcohol burn. The bitterness was very smooth and not overly astringent or abrasive. This was a very well done beer. The bartender told me that it was a freshly tapped keg, and I think the freshness of the beer really made it such a good beer. There really is something to say about a beer that is well done and very fresh.
1,322 characters
4.92
/5
rDev
+11.6%
look: 4.5 | smell: 5 | taste: 5 | feel: 4.5 | overall: 5
There are too many IPAs on the market. In my opinion. And the problem is that many of them seem like they were phoned in. Throw some crystal malt in the mash, some Cascade in the kettle, hit 7ish ABV and 50ish IBU and call it a day. I've lost track of how many IPAs seem to be brewed like that. Why bother?
Hippie IPA is the antidote to the blah phoned-in IPAs that seem to be everywhere these days, and it exemplifies what is great about Good People Brewing. This is Malone's third IPA in just over 2 years of operation. And he hasn't even started bottling or canning yet.
A good American IPA should be outrageously excessive with hops. It should be so heavy on very late hop additions that the hop oils coat every square millimeter of your mouth and cling to your tastebuds, barely cleaned off by the alcohol. Sure it should have sufficient bitterness to achieve balance with a generous malt backbone, but the hops' greatest work should not be in the form of bitterness, but intense, palate-destroying flavor (and aroma). You should be overwhelmed with grapefruit, tangerine, peach, and other citrus notes.
That is Hippie. The aroma bowls you over and you instantly know no holds were barred on late hop additions and dry hops. And the flavor lives up to the aroma, exploding with the previously-mentioned spectrum of Greatest Hits of American citrus hop flavor. I've heard Columbus and Simcoe are the dominant hops.
The late hop flavor here contributes a perceived sweetness, but there is plenty of underlying bitterness to keep anything from getting cloying. ABV is just about ideal for a good IPA at around 7 1/2 percent, making the flavors pop but not getting too hot.
This is without question one of the top IPAs in the country now. It blows Two Hearted out of the water. It at least deserves to be mentioned in the same breath as Pliny the Elder, although I'd need to have them side by side to really judge the superior beer. Never had the Younger myself, so couldn't comment on that one.
And I've heard we can expect this in cans once their canning line arrives later this year. Mmmm.
2,111 characters

4.59
/5
rDev
+4.1%
look: 4 | smell: 5 | taste: 4.5 | feel: 4.5 | overall: 4.5
I love GPBC's approach at this american IPA with a west coast push. I thoroughly enjoyed this brew. I love the citrusy, pineapple hints and the bitterness. I thought the brew was refreshing and at the same time had enough piney notes that went well with the smoothness. Not much malt backbone which I also liked. Most definitely worth seeking out.
Cheers
355 characters
5
/5
rDev
+13.4%
look: 5 | smell: 5 | taste: 5 | feel: 5 | overall: 5
Listen up hopsters, Zarathustra thus spake
We gotta new brew and it's meaner than Snake
It's  chewy and dank, and you're gonna remember us
Grab an umbrella, it's a humulo-nimbus  
It's wreckin' yo palette and it's dripping with oil,
We call in the harvest when we're ready to boil
But Hitch is a beast, and we'll need a plantation
Al Gore'll be bitchin' bout the deforestation  
Don't come talkin' to me bout a hoppy aroma
The fumes off of Hitch put yo ass in a coma
I'm two pints in, it's gettin' harder to breathe
Tangerines and pineapple are rottin' my teeth  
Don't know what to do with all the flowers and funk
Fiddy-leven IBUs, I think I'll be in my bunk
All the hombrewers, haters, and the sucker MCs
Comin' to the bar, sayin' "Hitchhiker, please"
822 characters
4.92
/5
rDev
+11.6%
look: 4.5 | smell: 5 | taste: 5 | feel: 4.5 | overall: 5
One of my favorites beers. I wish Good People would crank this thing out incessantly. Give me the Hitch Hiker can. I'd stop and pick it up.
I've had this beer numerous times, even way back when it was called the Hippie IPA. It is a dynamite West Coasty, citrus bomb.
Had it again recently on-tap at the J. Clyde during their anniversary week.
Pours a nice hazy orange you can't quite see through. Beautiful foamy white head rests nicely on top. Head stuck around for a little bit before giving way to some nice sticky lacing.
I want an air-freshener clone of this beer. It smells like rainbows (coincidentally rainbows smell a lot like oranges and pineapple).
Great citrus notes on this guy. It is a great, hop forward single IPA. Pineapple, orange, and grapefruit really shine through, but just enough malty backbone to keep this hop bomb in check. Alcohol is incorporated beautifully, so subtle you can barely tell it's there.
This is one refreshing brew. You'll be ordering another before the one you have is gone. Crisp and effervescent like sprite, but big and bold enough to let you know this beer is for real.
Overall, this is my favorite Good People offering, and one of my favorite IPAs in the world. If you ever see this beauty on tap, do yourself a favor and order one.
1,287 characters
4.84
/5
rDev
+9.8%
look: 4.5 | smell: 4.75 | taste: 5 | feel: 4.75 | overall: 4.75
Just had this again for the second time. The first time I was a little underwhelmed, but this is truly a work of art for this brewery. The hop flavor is full frontal and brutal and absolutely deliciously punishing. I really feel like I am in IPA heaven drinking this one. I really hope they start canning this so more people can experience it.
343 characters
4.42
/5
rDev
+0.2%
look: 4 | smell: 4.5 | taste: 4.5 | feel: 4 | overall: 4.5
Hitch (as the kids call it) is a fun departure from the lands of GP IPA. If you could cut Hitch it would bleed hops. It brings a heady plethora of citrus-y American hops with it on the nose and mouth to the battlefield of your palate and it doesn't apologize. Those of you with "alternative tastes" will recognize a distinctive "dankness" to this brew. Its hoppy forthrightness gives way to a pleasing malt backbone that balances the show, much like a McMahon to a Johnny. If you like the hoppier beverages then Hitch is a destination for you.
543 characters
4.59
/5
rDev
+4.1%
look: 4 | smell: 5 | taste: 4.5 | feel: 4.5 | overall: 4.5
This is a very good IPA. It was complex, tasty, and dry. But mostly it was hoppy. This was a hop head's dream. Citrusy and dank. There were all kinds of hops in this one. The chalkboard at the taproom just said 100+. My kind of beer.
The smell was almost overwhelming. Tons of fruity, citrusy aroma balanced not with malty sweetness, but with more hoppy dankness.
The flavor was very similar. The citrus orange and pineapple flavor hit your tongue first and then give way some earthy dankness. Very little malt backbone, just enough. This is definitely a showcase of hops.
It's nice and dry on the tongue, making you want another.
I really enjoyed this beer. But if you don't love hops, be warned
701 characters
4.88
/5
rDev
+10.7%
look: 5 | smell: 4.5 | taste: 5 | feel: 5 | overall: 5
Unbelievable beer! Finally got a growler from Highland Package Store in Birmingham. I believe this is a very fresh keg.
Appearance: Deep cloudy orange color. Can't see through it. I knew by looking at it that this was going to be a great beer.
Aroma: Great aroma, but not as pungent as some other IPA's. I can't name the hops by smell, but it's really a terrific aroma.
Taste: Very complex to me. Hints of orange & clove. Slight hint of alcohol, but subtle. So, so good.
Mouthful: Very smooth in my opinion. A little sharp hop feel in the back of the throat (of course), but still smooth nonetheless. Very pleasing aftertaste that frankly cries out for another sip.
Drinkability: Yes! Very drinkable. I could drink gallons of this.
I've been on the IPA kick for about two years now - still a novice by most accounts. I haven't had the opportunity to taste most of the great IPAs listed on this site. But this is an exceptional beer, and I think most experts would agree. It's balanced, flavorful, smooth yet sharp. It's a perfect blend in my opinion. My favorite for the time being, and I only live a few miles from the brewery!
1,136 characters
Hitchhiker from Good People Brewing Company
4.41
out of
5
based on
83
ratings.