Wexford Wheat
| YellowBelly Brewery & Public House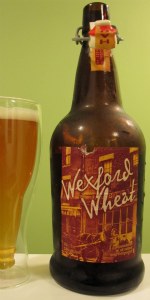 BEER INFO
Brewed by:
YellowBelly Brewery & Public House
Newfoundland and Labrador
,
Canada
yellowbellybrewery.com
Style:
American Pale Wheat Ale
Alcohol by volume (ABV):
not listed
Availability:
Year-round
Notes / Commercial Description:
No notes at this time.
Added by Derek on 07-15-2008
Ratings: 14 | Reviews: 4
Reviews by PEIBeerGuy:

3.95
/5
rDev
+2.9%
look: 4 | smell: 4 | taste: 4 | feel: 3.5 | overall: 4
From Jan. of 2011 - somehow my review got moved from here to another YB Brew entry...
---
This is the third - and final :( - of my three beers brought to me from Newfoundland by cbjmacdon.
First of all, I love the bottle... who wouldn't get excited by a one-litre swing-top? The beer is a bit of a cloudy, golden yellow. The head is pretty decent (more than a finger), and some of it stays around the top and sticks to the sides (spottily) on the way down.
There is lemon in the scent as well as a faint whiff of papaya or mango (something tropical anyway). A bit of spice.
Wow... pretty fruity for a "plain" wheat ale. Lots of lemon, and the mango/papaya/tropical fruit come out behind its initial punch, dominating the rest of the sip's flavour and aftertaste. The spice in the smell isn't really there in the taste, which I think is fine given how the rest of it tastes.
The "afterfeel" could have you thinking it was a little flat, but another sip reminds you that the carbonation is fine. There is a bit of a tingle from the carbonation at the start of each sip, and that's it. It's light (could be a little heavier/fuller), smooth, with a low-to-mid body that has a slightly sticky finish, yet leaves your mouth refreshed.
Good stuff! I didn't know what to expect, but this beer left me with a great first impression of the Yellow Belly Brewery in Newfoundland.
1,374 characters
More User Reviews:




4.42
/5
rDev
+15.1%
look: 3.5 | smell: 4 | taste: 4.5 | feel: 4.5 | overall: 5
A: Golden yellow, white head, some retention & lacing (I expect more from a wheat).
S: Lemon, biscuity malt and hints of tropical fruit.
T: Mango, papaya, biscuity malt, light spiciness, modest bitterness, hints of fruity esters from the yeast.
M: Moderate body is very smooth, carbonation is pleasantly on the lower side of moderate.
D: Incredibly drinkable.
This is probably the best American Wheat I've had.
415 characters

3.3
/5
rDev
-14.1%
look: 3 | smell: 3.5 | taste: 3.25 | feel: 3.25 | overall: 3.25


4.07
/5
rDev
+6%
look: 3.5 | smell: 4 | taste: 4.25 | feel: 4 | overall: 4
Pours a hazy pale amber body with just a slight touch of soapy white foam that lingers at the surface. The aromas are quite prominent though not quite pronounced, with some clementine fruit, mango juice, clove, and banana manifesting. The taste combines the tasting notes above with the addition of pear, the reduction of that pear subtlety, and a crisp, short hoppy bitterness overlaid by a blanket of wheat malt. The prickly carbonation follows down the back of the throat to a crisp, short finish, which is really all that is needed here. A unique take on an American Pale Wheat Ale by introducing more balanced and subtle flavors rather than assaulting the palate with harsher spice and mustiness. V. Good.
715 characters

3.44
/5
rDev
-10.4%
look: 3.5 | smell: 3.25 | taste: 3.5 | feel: 3.5 | overall: 3.5
Yellowbelly calls Wexford Wheat their lightest offering and, indeed, it's difficult to imagine a lighter-coloured beer; bright yellow against the light, with perfect clarity despite faint haze, this definitely looks like the kind of ale that won't put up a fight.
The aroma smells one part grain, one part malt. There are soft notes of bread and sweetness but equal parts raw wheat and straw. I'd be lying if I said it excited me. Seems like a perfect canvas for a splattering of bright, colourful hops but that's my bias.
Yellowbelly claims the use of wheat results in "green apple/sour plum" flavours. What do you know - they're right! The taste, while dominated by a dry, hay-like graininess and gentle breadiness, does include a spritz of tartness, much like the peel of a Granny Smith or the skin of a ripe yellow plum. The ale is infinitely more tasty once you're made aware of these features.
That background tartness is enhanced by refreshing carbonation; bubbles are prickly and brief. This ultra-clean and quick finish does, in fact, leave one yearning for more and rest assured that sips are swift and often. No lingering aftertaste. This will be agreeable to even non-beer drinkers.
Wexford Wheat is a simple beer for people with simple tastes - nothing wrong with that. Anyone happy with their first pint will undoubtedly have several more. Me, personally, I'd likely move on to Yellowbelly's bigger, bolder offerings but this is a fantastic beer with which to start your night (or day). These guys offer quality up and down their lineup.
1,560 characters
3.74
/5
rDev
-2.6%
look: 4 | smell: 3.75 | taste: 3.75 | feel: 3.5 | overall: 3.75
Wexford Wheat from YellowBelly Brewery & Public House
3.84
out of
5
based on
14
ratings.