O Coffee Stout
| Bold City Brewery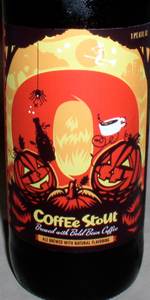 BEER INFO
Brewed by:
Bold City Brewery
Florida
,
United States
boldcitybrewery.com
Style:
American Stout
Alcohol by volume (ABV):
not listed
Availability:
Limited (brewed once)
Notes / Commercial Description:
No notes at this time.
Added by cjgator3 on 07-21-2009
This beer is retired; no longer brewed.
Ratings: 7 | Reviews: 7
Reviews by drumrboy22:

3.42
/5
rDev
-3.7%
look: 3 | smell: 3.5 | taste: 3.5 | feel: 3 | overall: 3.5
Poured from 22oz. bottle into a Bold City pint glass. Beer was dark, dark brown, with a huge, 4-finger head. Lots of lacing and tons of carbonation.
Aroma was 100% coffee. Maybe a touch of chocolate and spices.
Taste was bitter coffee, roasted grains, malt, spice and caramel.
Bitter finish.
Not bad, but very heavy coffee aroma and flavor.
347 characters
More User Reviews:
3.08
/5
rDev
-13.2%
look: 4 | smell: 3.5 | taste: 3 | feel: 2 | overall: 3
Appears a near black with a dark mahogany hue and a tan head that fades into a small collar. Mild spots of lacing are left around the glass.
Smell is of coffee, mild bits of pumpkin spice, caramel, toffee, and burnt espresso.
Taste is of the aromas with a sweet, watery flavor that tastes of coffee and spice.
Mouthfeel is watery, spicy, with light coffee lingering.
367 characters

3.22
/5
rDev
-9.3%
look: 3 | smell: 3.5 | taste: 3.5 | feel: 2 | overall: 3
A-Pours a very dark brown with a vigorous pour producing a thin beige head that fades fast and leaves just a bit of spotty lacing.
S-Coffee, roasted malt and a touch of spice. The coffee is noticeable but the other elements are well in the back.
T-Follows the nose with coffee, roasted malt, pumpkin spice and a touch of cinnamon. Its not bad, but not great either.
M-Very thin for the style.
D-Its not a hard beer to drink, its just not something you savor as you drink.
Its worth a try if you like coffee stouts, but its not going to knock your socks off.
562 characters
3.5
/5
rDev
-1.4%
look: 4 | smell: 4 | taste: 3.5 | feel: 2 | overall: 3.5
O Coffee Stout
Bold City Brewery
Style: American Stout
ABV: unknown
Disclaimer:
You need to enjoy coffee to enjoy this stout. It's more coffee brew than a true stout per se.
This is one of the first bottled offerings by BC, so I was very curious to try it.
Appearance is an excellent 2 finger head, great retention and lace. Nice dark roated coffee color with dull/tan foam.
Smells of roasty coffee upfront, followed by spicy notes and dark roasted malts.
Tastes as it smells, bold coffee on palate, followed by spices and dark roasty malts in background.
Mouthfeel is a medium/thin body for a stout. Medium+ carbonation.
Drinkability requires you to be a true coffee lover to enjoy this brew. The coffee/roasty/spiced aromas and roasted malt tastes work nice, but it's thinner body than most stouts. This may be a turn off for some, but I enjoyed it a as a bit more sessionable than some traditional stouts. The coffee & spice are bold but worked well IMO, but may be too much if you are sensitive to either of these flavors. Overall I enjoyed it, but it is not the most traditional to style for sure. I enjoyed it more thna what I have heard about this one off to date in the local rumor mill.
1,199 characters

3.72
/5
rDev
+4.8%
look: 4 | smell: 4.5 | taste: 3.5 | feel: 3 | overall: 3.5
appearance: creamy froth deep dark brown, nearly ebony color
smell: deep dark roasted coffee and subtle dark chocolate and some nice cinnamon spice aroma
taste: a heavy dose of black coffee, zero alcohol burn, lacked power though, you have to like coffee to liek this beer. which I do.
mouthfeel: light bodied for a stout
drinkability: a solid stout and interesting pumpkin pie aspect
389 characters

3.85
/5
rDev
+8.5%
look: 4 | smell: 4 | taste: 4 | feel: 3.5 | overall: 3.5
A - Pours with one finger of medium brown head on top of an opaque, brownish-black body. The head settles quickly and leaves nice lace.
S - Earthy spice aromas blend nicely with slightly sweet coffee. Notes of chicory, cinnamon, allspice, and smoke. Nothing in the way of hops and while there is a little bit of chocolate and toast, the malt also takes a back seat to the coffee and spice.
T - Lots of earthy spice and coffee, just as in the aroma, up front that creates a strong impression of chicory. Cinnamon, clove and anise spice notes dominate the flavor profile in the middle and are replaced in the finish by black coffee flavor and lots of coffee/malt bitterness. Coffee flavors linger on the palate with a hint of smoke.
M - Medium body, moderate carbonation, and a very dry finish.
D - This is a very interesting beer. I don't think that I have ever seen coffee and pumpkin spices combined in one beer before, and while I was a bit skeptical, they do actually work well together. The coffee has the effect of moderating the spices and tying them all together, while the spices work to highlight the earthy complexity of the coffee. The down side to this brew is that there is an odd lack of beer like qualities. There are really no significant malt or hop contributions to the flavor and while I don't really think strong hops would have been appropriate here, some malt to back up the coffee and spices would have made the beer a lot more drinkable and could have made it something really great. While the use of the coffee and spices was well done, the lack of malt backbone leaves the beer feeling more like a spiced coffee than a spiced coffee stout. With a little more body and sweetness, this could be something quite special, as it is, it's still something very interesting.
1,796 characters

4.06
/5
rDev
+14.4%
look: 5 | smell: 4 | taste: 4 | feel: 4 | overall: 4
Poured from bottle into 8oz glass.
A - Poured pitch black with medium head that slowly dissipated leaving average amount of lacing around the glass.
S - Coffee, coffee and more coffee with hints of malts, chocolate, caramel.
T - Coffee and dark chocolate bitter upfront followed by malts with a slightly dry finish.
M - Full bodied with high carbonation.
D - Enjoyable stout especially after or during dinner. Something that should be sipped.
447 characters
O Coffee Stout from Bold City Brewery
3.55
out of
5
based on
7
ratings.