Rye Adam from the Wood

Hair Of The Dog Brewing Company / Brewery And Tasting Room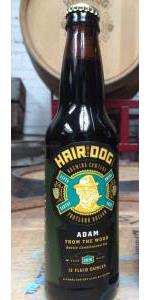 Write a Review
Beer Geek Stats:
| Print Shelf Talker
Style:

ABV:

12.4%

Score:

Avg:

4.21

| pDev:

6.18%

Reviews:

11

Ratings:

From:

Avail:

Rotating

Wants

Gots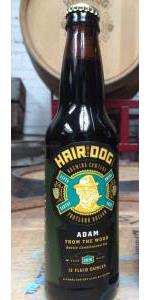 Notes: Formerly Adam From The Wood - Rye Whiskey

4.06
/5
rDev
-3.6%
look: 4 | smell: 4.25 | taste: 4 | feel: 4 | overall: 4
Little fizzy tan head. Caramel brown color.
Kind of roasty and smokey. Cherries, plums, rainins, molasses, and caramel. Some chocolate. The barrel flavors are kind of light. Oaky. Rye is light.
Low carbonation. Full bodied.
Solid beer, but it seems young and there could be more rye barrels.
296 characters

4.14
/5
rDev
-1.7%
look: 3.75 | smell: 4 | taste: 4.25 | feel: 4 | overall: 4.25
12oz bottle, from 2015. Served in a snifter glass.
Pours a dark mahogany brown body, identical to its bourbon counterpart. Minimal white head, no retention or lacing. Smells of oak, tobacco, char, ash, dark chocolate, caramel. A bit more ashy and rye-forward than the bourbon version. Flavour is similarly complex, with dark chocolate, caramel, touch of vanilla, heavy oak, a lot of char and ashy flavours. The ashy quotient is a bit of a turnoff for me, but the beer is otherwise nice and complex, with some sweet booziness on the backend. Mouthfeel is medium bodied, lower carbonation but still fairly carbonated, rye and booze on the backend. It's a good and complex beverage with lower carbonation than ideal, though certainly not still. Good complexity but the ashy character of the base beer and the rye just didn't do it for me.
836 characters

4.35
/5
rDev
+3.3%
look: 4 | smell: 4.5 | taste: 4.5 | feel: 3.75 | overall: 4.25
Murky brown color with no head. Aroma is woody with dark fruits and slightly peated whiskey. Taste is slightly sweet with dried figs, caramel, whiskey and some slightly astringent woody tannins. Body is heavy and flat. Quite balanced overall. Tasty but it lacks a bit of carbonation to make it more drinkable.
309 characters

4.27
/5
rDev
+1.4%
look: 4.5 | smell: 4.25 | taste: 4.25 | feel: 4.25 | overall: 4.25
Dark brown, almost black, with no hint of carbonation. Smells like sour cherries, cocoa, coffee, ripe grapes, sherry, bourbon and alcohol. Bitter-sweet taste, with notes of cocoa, cherries, vanilla, oak, bourbon, sherry and feint coffee. The alcohol is present, but very well incorporated with the flavor. Very smooth mouthfeel and a nice bitter sweet aftertaste.
363 characters
4.4
/5
rDev
+4.5%
look: 4.25 | smell: 4.25 | taste: 4.5 | feel: 4.25 | overall: 4.5
Much to my surprise, this was actually pretty different tasting than the regular AftW. The rye flavor seemed to dry the beer out a bit, and so the beer wasn't quite as sweet on the palate. I think this beer might actually improve a bit in time, though it's certainly delicious now.
In the bottle I had, the carbonation was certainly very low, but still quite noticeable. I actually felt it was appropriate for the style and didn't mind it. An excellent beer, though at least for me, I prefer the current aftw release to this version.
540 characters

4.21
/5
rDev 0%
look: 4 | smell: 4.25 | taste: 4.25 | feel: 4 | overall: 4.25
Zero carbonation. Zero head. Extremely boozy. Otherwise sweet and great flavors of Carmel and malt. Slightly nutty tasting. Probably needed more age. Some carbonation would help too.
188 characters
4.17
/5
rDev
-1%
look: 3.75 | smell: 4.25 | taste: 4.25 | feel: 3.75 | overall: 4.25
Buckeyeboy brought a bottle over tonight... Thanks my friend!! Pours mostly clear deep walnut with the slightest hint of a dark tan cap.. There definitely is some bubble here, but as expected (thanks Alan, no seriously, no thanks Alan :-) it is almost still flat. Thankfully the liquid itself is still fantastic... Thick whiskey, raisin, smoke, vanilla and some sweet cocoa that is an odd flavor but still works as a tie to bind the flavors together... Rich aromas are almost what I remember from my mind's eye of old skool Adam, but what it would be with a teaspoon of new rye whiskey floated on top... Little nuance at first in the aroma, but it smooths out a bit with warmth... Flavor is typical BA Adam, long and wonderfully complex... warming and wet sweet leather.. the rye is a bit of a monster in the nose, but integrates well on the palate.. Damn well done despite the no carbonation.
3.75/4.25/4.25/3.75/4.25
919 characters
4.15
/5
rDev
-1.4%
look: 3.25 | smell: 4.5 | taste: 4.25 | feel: 3.25 | overall: 4.25
Bottle I shared for the 5th Anniversary Party at Instant Replay in Canoga Park, CA.
2015 vintage.
Pours an opaque super dark brown with a foamy dark khaki head that settles to wisps of film on top of the beer. Tiny dots of lace form around the glass on the drink down. Smell is of toasted malt, caramel, toffee, brown sugar, earth, leather, cocoa powder, raisin, smoke, rye whiskey, and wood aromas. Taste is much the same with caramel, toffee, dark fruit, leather, earth, wood, rye whiskey, and slight smoke flavors on the finish. There is a mild amount of wood and earth bitterness and an alcohol kick on the palate with each sip. This beer has a low level of carbonation with an almost flat and sticky mouthfeel. Overall, this is a very good beer with an interesting mix of aromas and flavors and a rye whiskey barrel aged presence that works very well with the base beer.
Serving type: bottle.
901 characters
3.88
/5
rDev
-7.8%
look: 3.5 | smell: 4.25 | taste: 4 | feel: 3.5 | overall: 3.5
12oz bottle poured into a matching HOTD tulip. The brew appears a mahogany color with a fine film of khaki head. Some spotty lace sticks to the glass. If you pour this beer violently, it does kinda form a head but im not one to typically perform juggling acts to pour a beer.
The smell includes notes of raw oak somewhat spicy with raison, molasses and more depth of oak character thats quite enjoyable. The alcohol is noticeable but integrated and well done.
The taste includes notes of raison and charred oak almost spicy with molasses and caramelized sugars. The oak presence is pretty solid with slight oxidation across the back giving a feeling of chocolate and a touch of nutty grain character before an herbal finish.
This is full bodied and very lightly carbonated (almost nonexistent.) A nice sipper of a beer that could be infinitely better if it had carbonation similar to AFTW 2011. Id enjoy having this beer again but not for $12.50 a bottle.
959 characters
3.99
/5
rDev
-5.2%
look: 3.75 | smell: 4 | taste: 4 | feel: 4 | overall: 4
Low on carbonation (nothing new from HOTD). Tons of dark fruit on the aroma with some leather and a hint of tartness. Taste follows the nose pretty closely. A good beer, but there are better offerings from HOTD without question.
231 characters
4.48
/5
rDev
+6.4%
look: 3.5 | smell: 4.75 | taste: 4.5 | feel: 4.25 | overall: 4.5
Bottle from the brewery. I knew this was flat but couldn't stop myself, Adam FTW is one of those beers that could pull it off
Popping with a light hiss, this beer pours a murky dark brown with a thin, brown head that falls off to a ring leaving little lacing. In the parlance of our times, the nose is off the fucking chain. Everything that makes Adam FTW spectacular is present here. Bright, sweet coconut and vanilla, tobacco, earth, leather (leather!), a mild spiciness (rye?) and a wonderful, warming booze. My faith in HotD has been shaken a little recently, but this firmly entrenches Alan as one of the premier purveyors of barrel aged beers. Masterfully integrated on the nose, there's hints of sour cherry and toffee, to complement the strong vanilla and coconut.
The palate opens with a big boozy bite with the leather and tobacco noticeable, strong and complementing the booze, the rye spiciness, the alcohol heat. Mildly fruity, there's little dark cherry, apple brandy, , mildly floral buckwheat honey all present. Deep, complex, brooding. Full in body, very faintly carbonated (if that), this beer has a long, leathery finish with vanilla and coconut present. Just a shade more carbonation would have made this beer truly majestic, but as is, it is a remarkably fine beer. Very highly recommended.
1,315 characters
Rye Adam from the Wood from Hair Of The Dog Brewing Company / Brewery And Tasting Room
Beer rating:
90
out of
100
with
45
ratings