Michael
| Hair Of The Dog Brewing Company / Brewery And Tasting Room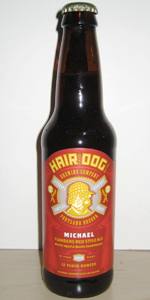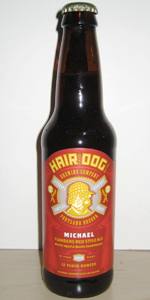 BEER INFO
Brewed by:
Hair Of The Dog Brewing Company / Brewery And Tasting Room
Oregon
,
United States
hairofthedog.com
Style:
Flanders Red Ale
Alcohol by volume (ABV):
6.20%
Availability:
Rotating
Notes / Commercial Description:
Michael is a Flanders Red, made in memory of Michael Jackson. The Beer was Brewed in January of 2007, and aged in American oak and Sherry barrels since then. It is just over 6% alcohol, made with Organic Pilsner, Vienna and Munich malts and fermented with a variety of yeast and bacteria.
Released November 2009 & Fall 2012.
Added by msubulldog25 on 10-17-2009
HISTOGRAM
Ratings: 264 | Reviews: 97

3.28
/5
rDev
-12.8%
look: 4 | smell: 3.5 | taste: 3 | feel: 3 | overall: 3.5
Bottle in a trade at Ratebeer. Pours a nice dark red... almost brown, with a small beige head. Aroma is fruity and tart with barrel, vinegar and spice. Flavor was a little off - Fruity and slightly sour, but had a buttery quality that reminded me of Gargamel. This one might need to sit awhile. Palate was ok, but a little thin. Not a bad beer and I might give it another go soon.
380 characters
4
/5
rDev
+6.4%
look: 4 | smell: 4 | taste: 4 | feel: 4 | overall: 4
My meager contribution to the tasting at Dyan's place the other night.
The beer pours a reddish, amber brown color with OK head retention and lacing. The nose is pretty interesiting, with considerable sour cherry and funk. It's not over done, and there's a hint of sweetness to keep the sour funk in check, but this beer is definitely on the sour side. Flavors replicate the nose pretty closely, though there's a bit more of a vinegar sour component then I was expecting from the nose. There's also a hint of bitterness and fruit skin in the finish. Mouthfeel is medium bodied, and the finish is fairly long. Drinkability is pretty good, though the amount of sour wears me out just a bit. Alcohol is well disguised, but the sour and funk would always keep me from drinking more then just a little bit.
802 characters

2.95
/5
rDev
-21.5%
look: 3.5 | smell: 3.5 | taste: 3 | feel: 2 | overall: 2.5
slight sour nose with a little sherry and oak, pours ruby in color with minimal head, slightly carbonated. Slight sour in initial taste with big oak flavors. There is a slight sherry flavor to the beer but it is abrasive to the palate. Very light and watered down. Any good flavors fade out quick and leave a tea-like taste in your mouth which equals a bad aftertaste. Hopefully some time in the bottle will improve this beer but unfortunately it doesn't seem like there is much room for improvement. If this beer was sour all the way through I would like it a lot better.
572 characters
2.57
/5
rDev
-31.6%
look: 2.5 | smell: 3 | taste: 2.5 | feel: 3 | overall: 2
I drank this from a 12oz bottle into a Rochefort glass.
The beer pours a murky ugly brownish water downed coca cola color that doesn't inspire much confidence that is futher let down by a non showing of a head or lacing.
The aroma appears to be in the right direction but just not there yet. There is a hint of sourness but it is somewhat spoiled by the creeping in of a piney alcohol.
The taste continues to disappoint. It is not sour in taste and just "off" in taste, I can't really describe it. There is a weird bitterness and tea like quality.
Michael Jackson is such a man to be honored but sadly this beer does not even come close to doing it. It should be avoided if you are a flanders fan and others should be sought out.
734 characters

3.87
/5
rDev
+2.9%
look: 4 | smell: 4.5 | taste: 3.5 | feel: 3.5 | overall: 4
12oz 2009 bottle received as an extra in a trade with inflatablechair. Thank you so much Sam!
Appearance: Pours a fairly soft red (not quite an orange tinge, but kind of like the color of the label!) with just about zero head and zero retention. A few swirls of off white lace show themselves.
Smell: Nice vinegar notes coupled with some pepper and funk...classic sweet and sour smell. Nothing amazing but solid.
Taste: Touch of sweetness up front but followed up with a sherry like wave with minor notes of barnyard, wood, tannins, grape skins and pepper. Not bad but not exactly what I was hoping for.
Mouthfeel: Fairly thin with just barely enough carbonation.
Drinkability: Flavor profile is the only thing holding this one back.
Flanders Red is a style where I usually want a CLASSIC approach/flavor profile and I'm not getting that here. HOTD has created a brew that tastes a bit unorthodox for the style and not in a good way for me. Again not a bad brew and I'm glad I got to try it. But I must admit that Ommegang Rouge and New Belgium La Folie are much better Flanders Reds made by American breweries if you ask me. I do wonder if some time would help this one.
A swing and a pop fly caught in deep right center. I hope Michael Jackson isn't rolling around in his grave :p
1,290 characters

3.23
/5
rDev
-14.1%
look: 4 | smell: 3.5 | taste: 3 | feel: 3.5 | overall: 3
12oz bottle.
A small hiss when I popped the cap, it pours a very hazy dark reddish brown with a very fine layer of foam that shrinks quickly to an island in the middle and a ring around the glass. Ha, that little bit of foam is sure sticking around so I'm kind of impressed.
Lots of sourness greets my nosebuds with grapes leading the way along with some dark cherries. Now there's an oaky aroma that brings some notes of vanilla and a very light hint or 2 of some funk. An interesting and good nose.
The taste is weird. I don't know of another way to put it.
I taste the grape tartness and a very sherry like flavour, a medium amount of "funkiness", light malt sweetness, and then...a strange spicy, like in hot, taste. It isn't overly present, thank goodness, but it is something I'm tasting that doesn't work for me at all.
Fairly light bodied with very light carbonation and it finishes tart but not really very tart, more like tart and then it turns very bitter.
Drinkability? This drinks much stronger than I thought would be the case for a 6.2%abv brew and darn it, the flavours just don't work for me. This isn't a brew that I'd seek out again but it is worth a go if you have the chance.
1,202 characters
3.99
/5
rDev
+6.1%
look: 3.5 | smell: 4.5 | taste: 4 | feel: 3 | overall: 4
Pours a murky brown with no head. Smell is tart grapes and apple skin, hints of woodiness, some tropical fruits, musty crayon, and caramel. Very nice.
Taste isn't quite as tart as I was anticipating. There is an odd but pleasant sweetness upon first sip, a bit of sour tartness only in the finish. Lots of crayon and tropical fruit. Very unique, even for the style. Caramel and faint woody notes. Highly complex, but probably more impressive than enjoyable. I will say though, it improved with every sip. Seemed to really need to open up a bit and also get closer to room temperature before the nice clean tart citrus flavors shined.
Like too many HOTD beers, this one is basically flat and could benefit from some carbonation. I will be interested in seeing how some time in the bottle changes this one. At first I thought about rating this lower, but I enjoyed the last 1/3 of the bottle so much that I had to bump it up.
925 characters
4
/5
rDev
+6.4%
look: 4 | smell: 4 | taste: 4 | feel: 4 | overall: 4
short review since my 16 day old daughter is in hand.
carbonation is a little too low
flavor is fantastic, grapefruit, oranges, tons of sherry, oak.
easy drinker, not too acidic, not too funky.
usually this style isn't my fave, hotd though always makes everything taste wonderful.
i'd give it an A- and if carbonation and funk increases in the future an A.
356 characters

3.65
/5
rDev
-2.9%
look: 4 | smell: 4 | taste: 3.5 | feel: 3.5 | overall: 3.5
2009 batch served at 55 degrees. Consumed on 11/21/2009 and poured into a stemmed snifter. A hard pour yields a half inch of off white bubbles that finish popping in half a minute. The beer is hazy and deep red with an amber tinge.
The aroma reveals a bready malt base with a
unique flowery perfume quality. It bears similarities to a light bodied red wine. It's only a slight resemblance, but I think it's there. Cherries are present but not dominant, and they're slightly tart. A slight swirl of the glass brings the cherry notes to life and they mingle with the floral notes. Oak and light vanilla are evident, and acetic character is at a low level. There's a low level of moderate sweetness in the nose. Light alcohol is evident, and as the beer warms past room temperature the cherry becomes more pronounced.
The flavor opens with bready malt and a tart cherry character that becomes stronger midpalate. Lactic and acetic notes are at a low level. The sour element is clean and at a low level. Oak is subtle, and a moderate tannic quality is evident near the sweet and tart cherry and sherry-like finish. Sweetness is moderate throughout.
The beer is medium bodied with an all too low level of carbonation for the style I hope this beer shows more carbonation in the future. Overall, an enjoyable beer that I hope to see improve with age. I think an increase in carbonation and acetic character will do this beer well. At this point, 12oz is more than enough.
1,470 characters
4.42
/5
rDev
+17.6%
look: 4 | smell: 4.5 | taste: 4.5 | feel: 4 | overall: 4.5
12 oz. bottle obtained at HOTD Dock Sale after 550am arrival, sharing world class beers with hannont, akfaust, Kilt Man and the rest of the daredevils who make this one of the world's great early morning beer tastings. Poured into glass provided by The Beer Goddess so I can properly appreciate odor and color.
Copper reddish body ( a bit of chill haze to start) semi-opaque (yeasty) body, and as with all HOTD beers except Blue Dot, minimally carbonated. However, there was a significant amount of carbonation clinging to sides of glass. Tart funky nose representative of the best of the style, cherries (Rainier, Lapin?) in the nose, medium bodied, not much hops to speak about. Tart lip-smacking finish. Though it will certainly benefit from a bit of aging, it taste pretty damn good right now.Not willing to push the envelope on drinkability right now, but this beer taste damn good, very tasty Given the fact it was just bottled about a month ago, I suspect the carbonation and funky edge will pick up a bit over time. Glad I have a slew of this stashed for my BA brothers smart enough to recognize that Alan Sprints (and his SoCal soul brother, Patirck Rue- now that's a collaboration I'd like to see!!) are on the cutting edge of West Coast Brewing. Very good now, and I suspect with a bit of patience, something to pull out and share with very very special friends. No doubt, The Beer Hunter is very pleased.
1,417 characters
3.72
/5
rDev
-1.1%
look: 3.5 | smell: 4 | taste: 3.5 | feel: 3.5 | overall: 4
Devin was kind enough to share a bottle of this last night. While a solid beer, I found the homebrewed flanders red that preceded this beer vastly superior in every aspect.
The pour is hazy, murky and flat, reddish copper in color. A few bubbles surface, but for the most part, this is rather still. The nose is interesting. It's rich and delicate with a combination of mild sweetness, some fruit, a definite vinous character (White grapes) and a mild tartness. It'd be a stretch to call this sour, there's no appreciable acetic character. What's surprising is that despite the low ABV, alcohol is present on the nose. The palate is similar, but not as well integrated. Oak and vanilla are present, and there's a good bit of sweetness that while complex, is also an unexpected surprise. Mildly bready, my biggest criticism of this beer is that there's not enough sourness. Maybe mildly tart, but there's none of the acetic character that I love in a good Flanders red. Mildly buttery and mildly grapey with some cherry character, this comes across more as a beer-wine hybrid. Mildly sweet on the finish with a little tartness, this medium-bodied beer with low carbonation is quite enjoyable. While I had no problem drinking my share, it's not something I'd go crazy over.
**Edit 28 Dec 2012*
Split a bottle of the 2012 release with my dad.
Nose is solidly vinous, quite oaky and tannic with dried cherries mulled in red wine with a light spice note. Alcohol is noticeable, but complementary. Sourness is moderate but appropriate with a blend of bright acetic and moderate lactic notes. The palate is quite sour with a blend of Brett-derived clove and plastic phenols, berry-like acetic characters and a moderately yogurt-like lactic sourness. This is followed by the (very) vinous mid-palate where the oak, red wine and berries blend together before some alcohol appears to lighten the palate and accentuate the tannins. Medium in body, particularly due to the oak tannins, this beer is an intense sipper. Better than the first batch but I still hesitate to think it's work the coin. Recommended, nonetheless
4/4/3.5
2,121 characters
4.27
/5
rDev
+13.6%
look: 4 | smell: 4.5 | taste: 4.5 | feel: 3.5 | overall: 4
*Flanders Red is one of my favorite styles, with Rodenbach Grand Cru being the pinnacle example in my book. I probably should wait a month or three to review this, but what the hell.
Appearance- Poured recklessly into my Duchesse glass, Michael is a beautiful color. Tough to describe, but I'll go with ruby-red. Like most freshly bottled HotD brews, Michael has no head except for watery bubbles that emerge from my vigorous pour, and head straight to the side of my glass.
Smell- Very nice, tart fruit aromas of orange, dark cherry, and green grapes. I also get some soft chocolate notes in the background along with a nice amount of oak. Not sure if it's the mix of all these complex aromas, but I get a tiny bit of alcohol heat, which is surprising at 6.2%, but compliments everything quite well. The more I dig my nose in, the more I think it might be a pine smell instead of alcohol. Enjoyable either way.
Taste- My tongue is greeted with a nice tartness and the complex fruits from the nose. Also like the smell, I'm picking up oak and pine. Some tannins are definitely lending some astringency along with the sourness. The finish is a lingering blend of dark cherries, sour apple and chocolate with a tiny bit of vanilla. Quite interesting and complex mix of flavors going on. I feel like Flanders Red is one of the toughest styles to pin down the flavors of, especially when someone like Alan is putting his own take on it.
MF- Medium bodied that probably feels heavier than it is due to the lack of carbonation. The acid helps make up for the missing bubbles, and a Flanders shouldn't be highly carbonated anyways. The mouthfeel is much like an acid forward red wine, which I'm cool with. I'm sure some carbonation and more sourness will come with time, bumping up this score.
Drinkability- A complex, slow sipper that would go great with the right meal and is very good on it's own like I'm enjoying it now. Again, I think more time giving the beer more carbonation would bump up this score. The rest of mine will be sitting in the cellar for awhile.
2,067 characters
4.22
/5
rDev
+12.2%
look: 4 | smell: 4.5 | taste: 4.5 | feel: 3 | overall: 4
Bought from the hair of the dog anniversary sale on Nov 14. Happy birthday Hotd.
Michael looks a bit like a DIPA with a little more orange hue. Only a small amount of bubbles are effervescing to the top.
The first smell of Michael is that classic hair of the dog oak barrel. Its smells a bit vinous, probably due to the sherry barrels.
The oak comes on fairly strong in the beginning, and fades into a bit of lacto sourness on the front of the tongue. There is a good malt presence, that lends a bit of an apple flavor, maybe even a tiny bit cider like, love it.
The mouth is a tiny bit like flat soda which was the only off-putting part of this beer. As with a few of Alan's beers I'm betting with a couple of weeks in the cellar this beer will pick up the carbonation quickly.
Overall the oak, wine, apple and sour mingle together very well. As the glass empties, this is quickly becoming a Hotd brew I will not soon forget.
932 characters
3.74
/5
rDev
-0.5%
look: 3 | smell: 4 | taste: 3.5 | feel: 4 | overall: 4
Alan's first Flanders Red, purchased this morning at the 2009 Hair of the Dog's anual dock sale, I brought this fine beer home to try it out.
This dark golden brown ale has a complex apple cider aroma but no head, and only a faint amount of carbonation to note. The flavor can be a little sour at first, with a strong malty base. I detect a hint of orange amongst a wine like background.
After a few mouthfuls the flavor begins to smooth out however I detect a certain metallic copper aftertaste which distracts.
On a closing thought I would like mention that this has been a side-by-side comparison with Brouwerij Verhaeghe's Duchesse De Bourgogne. I must concede that the Duchesse won me over this round.
710 characters
Michael from Hair Of The Dog Brewing Company / Brewery And Tasting Room
Beer rating:
3.76
out of
5
with
264
ratings