Prickly Moses Wheat Beer
| Otway Estate Winery & Brewery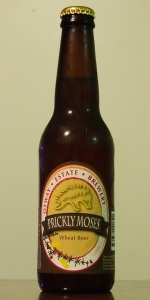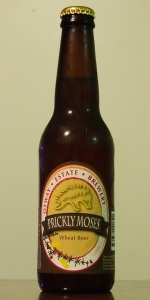 BEER INFO
Brewed by:
Otway Estate Winery & Brewery
Australia
otwayestate.com.au
Style:
Witbier
Alcohol by volume (ABV):
4.30%
Availability:
Year-round
Notes / Commercial Description:
No notes at this time.
Added by brendan13 on 07-02-2008
HISTOGRAM
Ratings: 8 | Reviews: 8
None found.
More User Reviews:
2.2
/5
rDev
-33.3%
look: 2 | smell: 2 | taste: 2.5 | feel: 2 | overall: 2
Pours straw with a small rapidly fading head that somehow manages to look like floating bits of chalk.
Aroma fails horribly. Seems to be a mix of cider and cheap white wine with some stale grainy malt in the background. In a partially redeeming note, there are some hints of orange peel and wheat.
Flavours are totally dominated by the afore-mentioned stale grain malt which, again, threatens to overwhelm the subtle wheat and orange peel.
Very watery, with no where near enough carbonation.
491 characters
3.74
/5
rDev
+13.3%
look: 3 | smell: 4 | taste: 3.5 | feel: 4 | overall: 4
This pours a very cloudy pale yellow. Very murky. Not a lot of head.
Aromas of honey and some sweet fruits, maybe melon. Like it.
The sweetness is stronger on the palate. Lots of honey. Some lemon as well.
Light bodied.
I like this. Very refreshing. I didn't get much of the normal wheat beer characteristics though.
320 characters
3.77
/5
rDev
+14.2%
look: 3 | smell: 3.5 | taste: 4 | feel: 3.5 | overall: 4
A: Darkish golden, cloudy, pillowy 5 finger head...this poured very alive & hard to control (sometimes it comes down to how it reacts with the glass). Loved the head retention. Some speckled lacing.
S: Cloves & spices straight up. Also some noble hops - grapefruit & citrus, florals & musk.
T: Very good wheat beer, hints of cloves & the noble hops...also a tad sourness. Bananas as well. Compared to other Oz wheat beers I really enjoyed this one (I have tasted way worse).
M: Light to medium & Simple...although refreshing carbonation.
D: Once again these beers are such summer beers to me....light citrusy. I could & will have more.
Tell you what, I am enjoying the beers brewed in wineries more & more...they are interesting to say the least.
747 characters

2.83
/5
rDev
-14.2%
look: 3.5 | smell: 3 | taste: 2.5 | feel: 3 | overall: 3
Pours a bright, almost sickly yellow colour, very opaque, with modest white head - meek would probably be a better word - that sinks to a thin film with visible bubbles. Lace is thin, but okay. Looks interesting and witty enough, but not very.
Nose is quite sour, with lots of citrus notes and alot of vinous tannins, green grape skin hints and oak character. Not a lot of spice, just a green kind of nose, not very piquant. Average, lacking in stylistic appropriateness.
Taste is quite weak, mostly sourness with sweet hints of green apple, grape skin again and a slight banana character on the front, slight spice like cumin or paprika on the mid, then a more full sour flavour, a kind of sweet semillon character towards the back. Still a bit tart overall, yeah a bit of an underwhelming weak sourness, like a watered-down wit.
Mouthfeel is a bit thin but with body as it goes down. Feels kind of like juice.
An underwhelming beer, not offensive, standard wit characters with nothing leaping out of the glass.
1,016 characters
3.05
/5
rDev
-7.6%
look: 4 | smell: 4 | taste: 2 | feel: 3.5 | overall: 3.5
Pours a very cloudy light yellow colour. Very much the colour of cloudy apple juice. Head is filmy but fine, and pure if somewhat dull white coloured. Lots of fine carbonation. Extremely cloudy. Looks pretty good for a wit.
Spicy, wheaty nose lots of pepper and a bit of clove. Really quite piquant, and very fresh. I'm a big fan of spice in my wits, and this does a very robust job.
Smooth on the palate, with a silky mouthfeel. It's noticeable from the first sip. Unfortunately, the rest of the palate doesn't have a great amount to offer. It's quite thin, little lift from the spice present on the nose. It feels very minimal. Drinkable enough for what it is, but I really wanted more.
The palate really lets this down - a wit can afford to be somewhat lighter in flavour, but this is minimal at best. Even just a little more lift would vastly improve it. Otherwise, it's quaffable and drinkable, and the appearance and nose are good. But it's certainly lacking.
968 characters

3.72
/5
rDev
+12.7%
look: 3 | smell: 3.5 | taste: 4 | feel: 4 | overall: 3.5
Bottle: standard brown bottle, stylish and cute bottle with an echidna :)
Appearance: very light colouring, almost no head. Light haziness.
Aroma: spices, very light banana, cloves and citrus. Very interesting.
Taste: green apple, grape skin and a slight banana character with spices.
Aftertaste: leaves an uncomfortable feel in the mouth, with some tasty sourness.
Mouth feel: Fairly heavy in the mouth with moderate carbonation.
Overall: a vast array of flavours: banana, wheat, cloves and spices, grapes and apples. All makes for a very smooth and interesting beer.
574 characters
3.5
/5
rDev
+6.1%
look: 3.5 | smell: 3.5 | taste: 3.5 | feel: 3.5 | overall: 3.5
a: This was a cloudy pale yellow. It was served to me with a short white cap.
s: Banana along with mild clove and citrus. Not bad, but not very assertive either.
t: Mirrors the smell. Refreshing with no off flavors, but a little too mild overall.
m: Decent body with a little lingering clove.
d: Easy drinking, but not much depth.
334 characters
3.57
/5
rDev
+8.2%
look: 3 | smell: 3.5 | taste: 3.5 | feel: 3.5 | overall: 4
A - Very clear golden straw colour with a 1.5 centimetre fluffy white head that falls away fairly quickly.
S - Wheat malt & some herbal, spice notes. Some belgian yeast phenols.
T - Taste is also wheat malt and herbal/spice. A touch of citrus as well.
M - A fairly smooth, light to medium bodied beer. Quite a high carbonation.
S - Nothing outstanding but quite a nice, refreshing Belgian Wit.
397 characters
Prickly Moses Wheat Beer from Otway Estate Winery & Brewery
Beer rating:
3.3
out of
5
with
8
ratings