Prickly Moses Otway Stout
| Otway Estate Winery & Brewery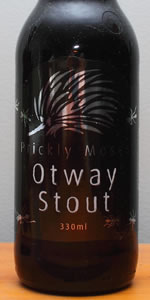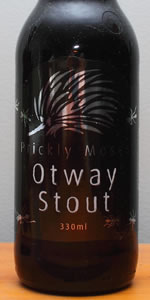 BEER INFO
Brewed by:
Otway Estate Winery & Brewery
Australia
otwayestate.com.au
Style:
Irish Dry Stout
Alcohol by volume (ABV):
5.00%
Availability:
Year-round
Notes / Commercial Description:
No notes at this time.
Added by brendan13 on 07-02-2008
HISTOGRAM
Ratings: 12 | Reviews: 9
Reviews by SmashPants:

3.56
/5
rDev
+5.3%
look: 4 | smell: 3 | taste: 4 | feel: 3 | overall: 3.5
Bottle: standard brown bottle, stylish and cute bottle with an echidna :)
Appearance: very dark, almost black with slight ruby against the light. 1cm brown head. Not stout-ish though, airated.
Aroma: Uh-oh. There is light caramels, but definite coffee. Sigh.
Taste: caramel malts up front, with only a light coffee and chocolate undertone.
Aftertaste: lingers for a short time, but more the coffee aftertaste.
Mouth feel: moderate body - could probably use a touch more weight. A bit too much carbonation too. Still, not bad.
Overall: very nice drop. An easy drinking stout - kind of reminds me of a combination of a quality stout and Carlton Black. Definitely worthwhile.
678 characters
More User Reviews:


3.48
/5
rDev
+3%
look: 4 | smell: 3.5 | taste: 3.5 | feel: 3 | overall: 3.5
Pours black with a small lasting head.
Nose shows lots of chocolate, quite creamy. Pretty nice! Fair bit of roasted malt too.
Some story with the flavours but more centred towards the roasted malt.
Too much carbonation.
Pretty simple but still enjoyable.
254 characters

2.76
/5
rDev
-18.3%
look: 3.5 | smell: 2.5 | taste: 2.5 | feel: 2.5 | overall: 3.5
Pours a chocolatey brown colour with very pale beige head that doesn't stick around. Lace is pretty nice and sticky; if there were more head this would look great.
Smell is very sweet. Lots of palm sugar and some milky chocolate notes. Yeah, quite chocolatey overall but in a fairly unpleasant sweet way. Have sniffed better things.
Taste is quite dark and sour, a strong bitter coffee-style hit with some odd fruit and vegetative characters around the edges. Yeah, it sort of has some mild roasty notes, but it's all thin and underwhelming, and doesn't quite carry the roastiness enough, just lacks some body so the roastiness is just weak, sour and a bit insipid. Not bad, but lacking in body and just flat drinking.
The thinness makes it fairly easy to drink, but certainly not a particularly impressive drop of beer.
823 characters
2.55
/5
rDev
-24.6%
look: 3.5 | smell: 3.5 | taste: 2 | feel: 2 | overall: 2.5
Pours a muddy looking brown, with a very filmy head that leaves a slight sheen across the surface, and a collar of fine-bubbled beige. Some lacing, but not a lot. Looks rather thin.
Very sweet on the nose - big notes of honeycomb, heavily floral raw honey and some dark chocolate twinges. Almost too sweet overall, but it certainly has a robust flavour.
Wow, despite the sweetness on the nose, there's almost nothing on the palate. It's immediately extremely thin and almost devoid of character. Watery on the front, with a slight dark grain character on the back of the palate. Really, nothing. I'm extremely surprised, and I'm very disappointed.
I wasn't overly enthused by the prospect of the honey-sweetness on the nose, but at least if it had have been there, it would have had something on the palate. As it is, it ends up very mediocre indeed.
853 characters
4.07
/5
rDev
+20.4%
look: 4 | smell: 4.5 | taste: 4 | feel: 3.5 | overall: 4
Pours a dark dark brown and looks like a genuine top quality stout. Has an oily sheen to it. I managed to get a light brown head off the pour that dissipated quickly.
There is a nice sweet chocolate caramel smell coming through faintly. It's good aroma, so good in fact that I will be critical and say there is just not enough coming through. Why hide something so good?
On the taste the same chocolaty flavours and some roasted coffee come through. There is also a lightly smoked flavour to finish off which complements the roasted taste well.
Smooth feel in the mouth which suits the sweeter flavours and slips down very easily. If anything, it is slightly too oily and lacks the same stickiness in the mouth that you might get with other stouts.
753 characters

2.98
/5
rDev
-11.8%
look: 3.5 | smell: 3 | taste: 3 | feel: 2.5 | overall: 3
No BB. Gift.
Poured slightly too cold.
Pours a black body, one finger tan head. Fades to a film. Little lace.
Aromas of roasts, a little caramel, little chocolate. Moderate.
Taste is restrained and sessionable. Delicate roasts, hint of coffee. Light overall.
Mouthfeel moderatley carbonated. Watery.
Overall, somewhat average beer, and average for style. Sessionable. Trying to find something of note to write about. Fail.
428 characters
4.03
/5
rDev
+19.2%
look: 4.5 | smell: 4 | taste: 4 | feel: 4 | overall: 4
Described by the brewers as a session stout , I thought it lived up to the mark.
There were some coffee like tones in a non to bitter profile In fact a hint of late palate sweetness added to the drinkability.
Quite watery in mouthfeel, which was a minor criticism it was suitably lowly carbonated ,making indeed for a pleasant sessionable stout
344 characters

3.92
/5
rDev
+16%
look: 3.5 | smell: 4 | taste: 4 | feel: 3.5 | overall: 4
A - Poured into a pint glass a very dark brown, almost black with a 2 centimetre fluffy beige head that falls away to a thin whisp over a few minutes.
S - Nice roasted malt and chocolate notes hit the nose first, backed up by some sweetish toffee/caramel aromas.
T - Very much along the same lines as the smell.
M - Medium bodied, fairly low carbonation.
D - A nice stout indeed. I think my favourite from this brewery so far.
430 characters
3.3
/5
rDev
-2.4%
look: 3.5 | smell: 3.5 | taste: 3 | feel: 3.5 | overall: 3.5
Dark black colour with a medium, foamy, tan head.
Mild minerally roast character with a light, tart coffee note.
Crisp and clean. Mild roast and bitterness. Nothing amazing.
Medium-light body with moderately-high carbonation. This could be silkier.
A nice, easy drinking stout but lacking in depth and character.
316 characters
Prickly Moses Otway Stout from Otway Estate Winery & Brewery
Beer rating:
3.38
out of
5
with
12
ratings