Prickly Moses Summer Ale
| Otway Estate Winery & Brewery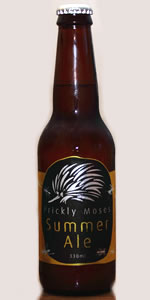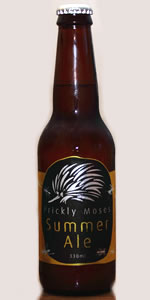 BEER INFO
Brewed by:
Otway Estate Winery & Brewery
Australia
otwayestate.com.au
Style:
English Pale Ale
Alcohol by volume (ABV):
4.50%
Availability:
Year-round
Notes / Commercial Description:
No notes at this time.
Added by brendan13 on 07-05-2008
HISTOGRAM
Ratings: 13 | Reviews: 11
Reviews by SmashPants:

2.58
/5
rDev
-12.2%
look: 3 | smell: 2.5 | taste: 2.5 | feel: 3 | overall: 2.5
Bottle: standard brown bottle, stylish and cute bottle with an echidna :)
Appearance: standard mid-light yellow for a summer ale, but with a slight haze. Decent head - not much to it, but good retention. fine, but not massive head of white foam.
Aroma: a touch of citric and floral hops over some pleasant bitter grains.
Taste: an unfortunate whack of yeast overwhelms what may have been a decent flavour. All it leaves behind is a fairly lifeless and cloying beer.
Aftertaste: that awkward yeast flavour lingers on. Not pleasant.
Mouth feel: fairly light if not watery body, with moderate carbonation.
Overall: there are far better sessional summer beers around (as well as good quality Radlers). Have one of the others instead.
735 characters
More User Reviews:

2.3
/5
rDev
-21.8%
look: 2 | smell: 2 | taste: 2 | feel: 4 | overall: 2.5
Pours gold with a small head.
nose shows dirty stale malt and little else. Some mild lemony hops are just noticeable. Quite faint.
Flavours inlcude more sweet malt along with lemon and banana, but swiftly goes downhill with a stale, watery, solvent-like and only slightly bitter finish.
Good moderately high carbonation though!
327 characters
2.98
/5
rDev
+1.4%
look: 3.5 | smell: 3 | taste: 3 | feel: 2.5 | overall: 3
This pours a cloudy, bright straw colour. A centimetre or two of head. Some lacing.
When I first poured this I thought it was quite elegant with pineapple notes. As it warmed up the graininess started to dominate.
The graininess dominates the palate.
Slight soapiness to the mouthfeel.
Ok overall.
301 characters
2.95
/5
rDev
+0.3%
look: 3 | smell: 3 | taste: 3 | feel: 3 | overall: 2.75
A: Pours a slightly hazy pale color with a decent head that fades to some lacing.
S: Aroma of fruit, some herbs and grain.
T: Taste is mild fruit with sweetness and some herbs. Mild bitterness and a dry finish.
F: Light body, a bit crisp and smooth but pretty bland.
O: Easy drinker, best on a hot summer day, but is quite boring.
338 characters

2.95
/5
rDev
+0.3%
look: 3 | smell: 3 | taste: 2.5 | feel: 3.5 | overall: 3.5
Pours a cloudy golden colour with a slight orange tinge. Head is modest, white and sparsely bubbled, sinks quickly but a quick swish revives it. Lacing is alright but pretty uneventful. Average-looking.
Nose is quite tangy and sour, with quite a vinous tinge to it. Green apple crispness and a chardonnay twang dominate, with white grape skin overtones and a hint of oak. Smells fairly refreshing but lacks gravitas and complexity. I think most of the smells here are just by-products from fermentation. If I were a wanker, and indeed I are, I'd say this smell lacks soul.
Taste starts off kind of sour - not tart or crisp - with a funny woody, resiny kind of flavour, a hint of vinegar early on, then gets quite bready and grainy, with a raw dough flavour, nutty edge of almonds, and then pretty much falls flat on the finish. A slight lingering underripe grape sensation and a mild citric character, with a hint of grassy hops. A bit tart, quite yeasty, reasonably unimpressive flavour.
Feel is a little bit thick, then a distinct dryness on the finish reminds you of its green character long after the flavour has stopped. Not bad texture really, the mouthfeel has the most 'heart' of any of its reviewable components.
For all that's wrong with this it's mild and inoffensive. Not a great beer by a long stretch but could certainly fit the bill of a thirst-quencher after mowing the lawn.
1,395 characters

3.41
/5
rDev
+16%
look: 3.25 | smell: 3.5 | taste: 3.25 | feel: 3.75 | overall: 3.5
The beer pours light golden from the tap with minimal head . Very light bready malt in the aroma along with some faint pils hops. A little carbonation and fairly clean on the palate. The flavor is light all the way around; malty followed by bitter hops. A subtle beer, but clean and summerish. Not bad after a long day in the sun.
330 characters
2.85
/5
rDev
-3.1%
look: 3 | smell: 3 | taste: 2.5 | feel: 3.5 | overall: 3
Pours a slightly hazy yellow colour, with a fine, but not massive head of white foam. Lacing is a little sudsy, but doesn't retain on the sides of the glass. Looks reasonable, but for the style, I'd expect more sediment, and a brighter colour.
Some sudsy lemon and crushed herb aroma on the nose, with a hint of acerbic bitterness. Not great in absolute terms, and not particularly interesting or true to style.
Strong yeast component to the palate, which is otherwise very dry and rather devoid of character. And hint of spice on the front, along with a slight carbonic acidity, but the big yeast notes take the fore later in the picture, leaving it rather an unpleasant package all up. Mouthfeel is crisp with some roundness.
Drinkable enough, but not particularly interesting. Has some good notes and some bad notes, but all up the package is pretty lacklustre. Not a huge fan.
883 characters
3.15
/5
rDev
+7.1%
look: 3.5 | smell: 3.5 | taste: 3 | feel: 3 | overall: 3
On the side of this bottle it states that is brewed in the Kolsch style so im abit confused netherless it pours a see through pale straw hue with decent carbonation that leaves behind a two finger creamy head and lacing everywhere,the smell is similar to a Chardonay with hints of white grapes,grains,goosberries and peaches,it has an average light bodied well carbonated mouthfeel and has tastes of goosberries,stonefruit,grains,light peach and finishes very dry and overall you can tell its not an EPA on taste and look and in my mind its anaverage Kolsch.
558 characters


2.69
/5
rDev
-8.5%
look: 2 | smell: 3 | taste: 2.5 | feel: 2.5 | overall: 3
No BB. Gift.
Pours a very pale yellow straw. Not a good beer colour at all (!). No head. Film.
Aromas are muted. Grains and malts.
Taste is Sessionable. Mild flavoured and Kolsch style not EPA. Quite sweet maybe a mango or pineapple hint but a variable nasty bitter note at end ie sometimes there sometimes not... Go figure.
Mouthfeel under carbonated for style a tad watery.
Ah well, not a bad beer but a really really hot summers day one...
447 characters
3.27
/5
rDev
+11.2%
look: 3 | smell: 3.5 | taste: 3 | feel: 3.5 | overall: 3.5
A - A very, very light straw colour with a 2 centimetre white head that falls away quite quickly.
S - Some light floral and citrus notes on top of a slight grainy maltiness.
T - Like the smell but the grainy malt dominates.
M - Body is on the lighter side of things with a medium carbonation level.
D - Not too exciting but rather a simple, drinkable summer beer.
367 characters
3.18
/5
rDev
+8.2%
look: 3.5 | smell: 3 | taste: 3 | feel: 3.5 | overall: 3.5
Fairly clear, deep straw colour with a small white head. Fair head retention.
Mild mango and pineapple notes in the aroma. Not a lot else. Fairly dull really.
Wheat and Australian Galaxy hops play well together with a mild bitterness but the whole thing falls flat and limp. It lacks something crisp to really bring it together.
Medium-light body with moderate carbonation. Fine.
An easy drinking but mediocre beer. This is the type of beer I like and I see hints of Stone & Wood Pacific Ale in here but the beer falls flat. It probably needs just a touch more bitterness.
576 characters
Prickly Moses Summer Ale from Otway Estate Winery & Brewery
Beer rating:
2.94
out of
5
with
13
ratings