Total Wine & More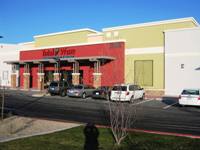 PLACE INFO
Type:
Store
17550 N 75th Ave
Glendale
,
Arizona
, 85308-5968
United States
(623) 486-0162 |
map
totalwine.com
Notes:
No notes at this time.
Added by RobH on 06-29-2008
Reviews: 13 | Ratings: 24

5
/5
rDev
+17.1%
A gem hidden in the NW Valley. Total wine has a great selection and very good prices.
A good place to pick up kegs for your home bar. Prices are outstanding, sometimes $2-$3 less then Bevmo. DFH 90 min is $8 at total wine, the same 4 pack is near $11 at Bevmo.
The staff has been very helpful, offering me suggestions and pointing me to the rare and seasonal brew.
They have occasional tastings, Bevmo does beat them in this area as Bevmo has a tasting every Friday.
I usually hit up Bevmo to taste then go to Total Wine to buy the brew at $3 less. Helps that Bevmo and Total Wine are within 3 miles of each other.
621 characters

4.7
/5
rDev
+10.1%
Total Wine is THE BEST location for beer in Phoenix when you factor in all of the categories above. You will find a slightly larger selection of hard to find items elsewhere, but the breadth of selection with price factored in cannot be beaten here.
There seems to be a lot of "turn-around" on the beers as well, with the occasional odd moment of them selling out of things such as Gulden Draak or Piraat (but always replenished next shipment).
This place has the warehouse/wal-mart feel, but the prices come along with that, and this is certainly welcome in a beer community that has been starved for value-focused liquor merchants.
635 characters
4.6
/5
rDev
+7.7%
This place is about 4 miles from Peoria Sports Complex, where we are for Padres Spring Training.
First off, it's HUGE. Next, they have HUGE selections of beer, wine, cigars and spirits. I bought a ton of stuff I don't normally see in San Diego, Great Divide in particular.
And...it's cheap. They have nice French wines that are SO much cheaper than on the web. We bought a bunch of beer and wine and still got out of there under 100 bucks. We are going back again before we go home.
Quality was dinged because most of the craft and import is stored at room temp. If it was cellared, this store would be perfect.
I wish this place existed in San Diego!
655 characters
4.45
/5
rDev
+4.2%
WOW. 5 minutes away from my house and I had never ventured inside. Started my trip there to find some sweet dessert wines for the wife and ended up spending way too much time in the beer aisles.
Had a whole bunch of Avery, New Belgium, Ommegang, Stone, Port Brewing, The Lost Abbey, Dogfishhead and much more. A very nice selection of Belgiums that I am going to have to explore more next time. The seasonal aisle had some interesting selections like SN Bigfoot and Brabant from Avery. I had too little time to really explore but I most definately will next time.
The manager was very helpful in pointing me in directions in both beer and wine. The prices were great. Definately the best place to buy beer on the Northwest side of Phoenix. Not to be missed if you are in the area.
782 characters
4.35
/5
rDev
+1.9%
My brother-in-law was doing the driving so I got a bit turned around getting here so my only advice is to consult your friendly GPS unit to find this place.
Once there, the name pretty much speaks for itself. Total Wine & More is mainly oriented to the wine crowd. However, the beer enthusiast will not be disappointed. Just enter and head down the right side toward the coolers in the rear.
The selection is substantial and varied. Great Divide, Stone, Avery, a number of AZ breweries and a good mix of German, Belgian, UK, and other Euro brews are there. The prices were a pleasant surprise for a guy visiting from Cali who watched prices go up $2 on average for a 6-pack back home.
Management and staff were helpful and acknowledged a committment to increasing their selection over the next few months. This can only bode good things for folks living on the NW side of Phoenix.
Overall, Total Wine & More is a solid store where a beer devotee can find any number of delicious brews. Worth paying a visit.
1,007 characters
4.35
/5
rDev
+1.9%
Total Wine is my number one place to go in the Northwest Phoenix area mainly because of their great selection at the cheapest prices.
Quality is good as they have most of the high end beers that are distributed to Arizona.
Service is good. The staff are knowledgable and helpful.
Selection is very good. As mentioned we see most of the brews that are distributed to Arizona. It would be cool to be able to shop on line like you can with BevMo.
Value is exceptional as their prices beat everyone in the Greater Northwest Phoenix area.
533 characters

4.35
/5
rDev
+1.9%
I went here to pick up a case of Hopslam that I'd reserved over the phone. When I arrived it turned out that they had plenty left in a beautiful, beautiful pile.
Quality- Everything seemed to be in very good shape. I can't say as that I inspected everything, but there were no sunlight issues, and the stock seemed like it have been rotated regularly. Didn't notice a lot of dust or things of that nature. I'd have liked to see more craft in the coolers, however.
Service- Very nice folks. It's a warehouse-type, with a huge selection, so not everyone seemed terribly knowledgeable. However they were conscientious about reserving my beer, and generally seemed friendly and reliable.
Selection- Quite good. They had lots of craft and imports in a couple of large sections. They had a huge selection of singles for sale, which is always nice. Furthermore they had lots of sixers, and cases of many good crafts. It was a little overwhelming, so I just focused on the Bell's. Not a ton of stuff unavailable in CA, but enough that I couldn't have brought it all home.
Price- Excellent. Got my case for cheaper than it was allegedly going for at the brewery. Everything was very, very reasonable. It would have been a steal if I hadn't driven 400 miles or whatever to pick it up.
This is a really great store. It's a big chain thing so not much for atmosphere, but the prices are excellent, the service is friendly and competent, and the selection is stellar. Just awesome. Wish we had something this good near me.
1,515 characters

4.3
/5
rDev
+0.7%
An alcoholics wet dream. A huge store with a huge selection of beers, wines and spirits as well as various little nick nacks to go with them. A great place to get kegs from. The main problem with the place is limited amount of refridgerated beers, most are kept on shelves on the floor, unrefridgerate. O.K. If you get them when they first come in but even in a cool store, in Arizona that really isn't that cool so not a place to buy beers that you are going to lay down for awhile. Prices are the best in Arizona, super cheap. Not beer related but I was surprised to find absinthe here.
588 characters
4.3
/5
rDev
+0.7%
Visited here twice when I was in AZ, 7/30/10 and 8/1/10. Walking in it doesn't look too much different than my local one in Tustin, beer is to the back and right. I was overjoyed to see a ton of different singles, a large portion of stuff I couldn't get in CA. They had the standard CA stuff - Sierra Nevada, Anchor, Firestone, Stone, some Alesmith, Port and Lost Abbey. But I was most excited seeing stuff like Left Hand, Great Divide (no OA Yeti unfortunately), Ska, Odell, Bell's, and a lot more Dogfish Head. A lot more Leinekugel's and Dundee than I'm used to seeing. There were also some imports I can't get in CA like Urbock 23 and Cantillon Kriek. Also picked up a Sonoran 200 which I thought would be a longshot at best. The Abyss made an appearance.
Service was great at the register considering I bought almost 40 bottles, very cheap in the end coming to around $110. I bought a lot, but I'm only scratching the surface of what this store has to offer. A great liquor store in the North Valley, a must visit if you're in the area.
1,042 characters
4.15
/5
rDev
-2.8%
I have been happy with my local Total Wine, and since I was in Surprise for Spring Training and this location was nearby, I drove myself over here. It's in a huge shopping center, but can be spotted while driving north on 75th Avenue. Like my local Total Wine, this has a lot of good stuff to offer at very affordable prices. It's wine first, but the beer selection is very impressive. Plenty of American crafts breweries on the shelf, with names like Moylander, Speakeasy, Great Divide, Green Flash, Lost Abbey, Rogue, Durango, Left Hand. It has a fair share of imports as well. Most of the beer sits on shelves at store temperature, but away from any sunlight. Some of the beer is available for purchase by the case and in the cool box. Service was courteous...one of the checkers next to me was giving food and wine pairing tips to a couple he was checking out. A very good store for beer in northwest metro Phoenix, and inexpensive to boot.
944 characters

4.1
/5
rDev
-4%
I have been to this store quite a few times, usually one of my go to stores seeing its right around the corner.
The selection is always well stocked and a large selection. A majority of the beer is kept at room temp. They had some six packs in the cooler, but all bombers were on store shelves. The store is very clean, no dust on any of the bottles. They have a wide selection of beer, however the seasonal brews seem to come out slower that others in the area.
I have never been approached in the store by an employee. I asked some workers a question and they said, "Our beer guy isn't here yet," then they walked away. Other than the one instance, all the cashiers have been very nice.
691 characters
3.7
/5
rDev
-13.3%
Q: Pretty darn good! A wide variety of styles along with an incredible amount of quality wine.
S: Not that much help from the workers...even though we didn't ask for help. So, nothing out of the ordinary.
S: Impressive; A little more to select from than AJ's along with lower prices. Dogfish Head, Great divide, Stone, a lot of Belgians, and about 20 or 30 other breweries represented.
Overall: I have a feeling that this place is probably one of the better beer stores in the area. Worth the stop. Cheers!
510 characters
3
/5
rDev
-29.7%
Typical beer store here. I have never come across anything truly unique or special to Total Wine. They have the selection that I wold want from a larger liquor store. They have the typical wretched service from an average liquor store. They have the same old prices that any other place is offering. So, all in all, just another place to buy beer and booze. One posting said, "I have never been approached in the store by an employee." This is very true. The service is really non-existent here. Just to qualify things, I buy beer here at least once every two weeks for the last year. Enough said.
597 characters
Total Wine & More in Glendale, AZ
4.27
out of
5
based on
24
ratings.