Liquor Locker - East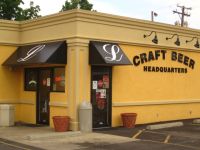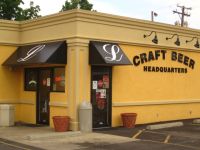 Store
300 N Weinbach Ave
Evansville
,
Indiana
, 47711-6010
United States
(812) 479-6111 |
map
liquor-locker.com
Notes:
Reviews: 10 | Ratings: 17

3.36
/5
rDev
-14.5%
vibe: 3.5 | quality: 3.5 | service: 3.5 | selection: 3
This review is for the Weinbach Avenue store in Evansville. Recent reviews are far more accurate on this store. As far as vibe, they are a package store selling mostly BMC. Staff is friendly but not into beer. Beers will sit here until they sell, sometimes years. This used to be a go to place when I started really drinking craft 10-13 years ago. Selection and shelf space for craft have actually shrunk since then. On a up note, if it's Thursday afternoon, and you're in town, you might pop in to find out what 3 Floyds was delivered that day. They advertise best selection in town, that was 10 years ago. There are multiple (Liquor Locker) stores in town, some better some worse. I will add as time and energy permit.
730 characters

2.86
/5
rDev
-27.2%
vibe: 3 | quality: 3 | service: 3.5 | selection: 2
Not sure why this is a 90+ rating. Little to nothing in selection. 95% of the beer was Coors light, 4% Bud Light, .5% Miller Lite and .5% Craft, Zima and B&J Wine Coolers. I did manage to scrape together a 6'r of Three Floyds and a mix/match of local stuff. The worker was able to carry a conversation about the lack of beer, so I know I'm not crazy with this rating.
367 characters
4
/5
rDev
+1.8%
vibe: 4 | quality: 4 | service: 4 | selection: 4
Just found this place recently from an ad in the local newspaper. They have a few stores around town, but I went to the one on St. Joseph Avenue which is about a year old according to the cashier. Nice selection of local beers and a few national, though not a deep selection by any means. Can't expect much more from this town though. Most 12oz singles price at 2 or 3 dollars. Slightly better selection than frontier liquors. Had 4 and 6 packs as well as a nice single selection. Cashier said they get new beer in every 2 weeks. They also have tastings every Thursday. I will be a repeat customer.
598 characters
3.25
/5
rDev
-17.3%
The place is not very big it basically has three sections. Beer, liquor and craft beer. The craft beer sections is the smallest with about 6 coolers and two shelves.
There was some good quality brews with FFF, some Founders, Sierra Nevada just to name a few. There was also a good number of Belgian and German examples. The big gripe I have is the fact that selection was very limited. For example from Three Floyds they only had bombers of Rabid Rabbit and their Milk Stout. Hoppin Frog they only had the Silk Porter. SO overall even though there is god quality selection was spotty.
The prices were a bit on the high side but nothing too outrages. Just a bit more than Im used to paying for in MO. Service was adequate.
725 characters
3.45
/5
rDev
-12.2%
vibe: 4 | quality: 4 | service: 3 | selection: 3
This isn't the largest beer store in the world and may not have the largest selection of beer. Regardless, it's the store that first focused on craft beers. Over the past couple of years my hobbies have included trying different beers, and this place was the first in the city that let me build my own 6-pack. Instead of dropping $35 on a case of beer that I may not like, I was able to spend $9 on a sixer than held 6 different brews.
A former manager used to live in a rental house I owned, so I was able to get whatever weird stuff I wanted. He's left for Colorado, but the place continues to be well-stocked with crazy beers.
The value is reasonable as compared to any other place I've seen. There is nothing cheap about craft beer, but they do generally run cheap deals on a handful of beers each week.
On top of that, once a week, they have a beer tasting for a couple hours. Evansville isn't a big city, but this is the only ownership that offers that.
---
I've had to revise my original review of this place. When I first reviewed it, I was comparing it to other local places. Since I've now visited beer stores in larger cities, I've had to knock down some scores.
The selection at Liquor Locker is between average and slightly above average. Most of the major players, as far as breweries are concerned, as represented. However, the selection from those breweries is somewhat limited. I'll use Unibroue as an example. On a good day, I can get two selections from Liquor Locker, compared to about ten from a place two hours away.
Also, the prices really aren't that great. The cost to build my own 6-pack jumped over 30% recently.
Liquor Locker is still a good place to go, I go there if I need something quickly, but if I really need to stock up on beer, I'm driving two hours from now on to do it.
1,818 characters
4.35
/5
rDev
+10.7%
Stopped by for the first time while in town to visit family for the Easter holiday. The place has a sign on the building advertising their craft beer selection. It's looking like a great place before I even walk in the door. The place is well organized, clean, and well stocked. On the shelves you'll find Stone, Three Floyds, Victory, Founders, Mikkeller, Schlafly, Bell's, along with Belgian, German, English, and more. The majority of the beers were in the wall coolers with some bombers and 750s also on floor display. I walked out with four KBS, a FFF Dreadnaught and Alpha King, Prima Pils, and three or four bottles of Stone goodies. This is my new favorite beer store in Evansville. Maybe it's time to plan another visit to see my mom. ;)
746 characters

4.38
/5
rDev
+11.5%
vibe: 3.5 | quality: 4.5 | service: 4.5 | selection: 4.5
What can I say that the previous reviews have not already stated. This place has an excellent selection and very friendly help. We walked out with a mixed 6-pack of Three Floyd (Gumballhead, Robert the Bruce and Alpha King), Breckenridge Vanilla Porter and 3 4-packs of Founders (Backwoods Bastard, Old Crumudgeon and Breakfast Stout). Most of the selection seemed to be cold. Jeff mentioned that they were going to expand the cold section for about another 60 beers. He also mentioned that they are going to get a website going. They had a decent section dedicated to Indiana craft beers as well as others from the Midwest. They could probably beef up the Belgian selection and add a section for bombers, but I am betting Jeff will work on that next. This is a place that I will be hitting up every time that I am in Evansville, so often.
839 characters
4.35
/5
rDev
+10.7%
I am back in memphis from a 10 hour round trip to Evansville IN. The Liquor Locker was 1st on my list and ended up being the only place I went too. After $200 bucks I still had to leave some great beers behind. Jeff is the MAN! He split some 6pks for me and even showed me his secret stash..and hooked me up with his last J.W.Lees Harvest Ale 2001. I am currently drinking a Breckenridge small batch 471 double IPA...A must try. OK Here is the list of brews....
3 floyd--Alpha King,Pride&Joy,Anniversary Beer,Black Sun,Dreadnaught,Munsterfest,Rabid Rabbit,BrooDoo,Robert Bruce,
Bells--Amber,Oberon,Two Hearted Ale
Founders--Rubus,Old Crumedgon,Red Rye,Breakfast Stout
Mikkeller--Stateside IPA,JAckie Brown
Victory Hop devil,Clipper City,Shipyard,Breckenridge,Goose Island,Upland,Smaltz,Schlafly...AND MANY MANY MORE!!!! YOU MUST GO HERE!!!!
840 characters
4.15
/5
rDev
+5.6%
Rapidly becoming Evansville's premier location for craft beer. Dogfish Head, Bells, Avery, Mikkeller, Stone,Great Divide, Sierra Nevada, Founders, Three Floyds, and many others. Victory is a recent addition. Nice selection of smaller Indiana craft breweries, as well. Respectable, if not overly impressive, lineup of Belgian, German, and English brews. Best prices in town and the store keeps expanding their beer selection. Occasional tastings. Excellent and friendly service. A "don't miss" beer destination for Evansville.
525 characters
4.85
/5
rDev
+23.4%
This is liquor store is small but mighty! located about a block away from the Turoni's Forget Me Not Inn location on north Weinbach ave. Jeff and the boyz know their craft brew, they have all the great regionals and then some! Including the best FFF selection in the Tri-state. Dogfish head, Bells, Stone, Avery, etc.. Everyone that I have encountered that works at the LL is always willing to find you the very best nectar for your particular taste buds! Lots of great singles as well. Give this place a visit if you love beer!!
1/15/10 UPDATE
The Young fellar (Jeff) who used to place the beer orders for Liquor Locker has since moved to Colorado. What a shame!
New manager at the Weinbach location has little beer knowledge outside of BMC.
Still a decent selection of craft beer but no longer the "Craft Beer Headquarters" they claim to be!! Pricing is usually a dollar or so higher on sixers that you can pick up several blocks away for less.
Liquor locker is looking to become the Largest Liquor store chain in the area with 4-5 fully remodeled stores. I hope for their sake they find someone who keeps up with craft beer news if your planning on filling that market.
1,176 characters
Liquor Locker - East in Evansville, IN
Place rating:
3.93
out of
5
with
17
ratings