Atlas Liquors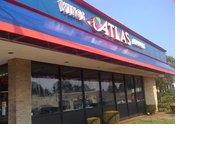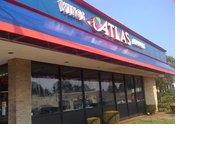 Store
661 Adams St.
Quincy
,
Massachusetts
, 02169
United States
(617) 472-1573 |
map
atlasliquors.com
Notes:
Reviews by ipaok817:
More User Reviews:

rjp217 from Massachusetts
3.08
/5
rDev
-19.2%
vibe: 3 | quality: 3.25 | service: 3 | selection: 3
Apr 30, 2015
carney710 from Massachusetts
3.11
/5
rDev
-18.4%
vibe: 3 | quality: 2.5 | service: 3.5 | selection: 3.5
Close to my house so its easy for me, just wish the craft beer selection was cold
Mar 19, 2015

Duhast500 from Rhode Island
3.55
/5
rDev
-6.8%
I moved to Quincy, Ma a few months ago and was happy to find a store close by that had some decent beers. I find myself going to Atlas often for craft beers in the area. The selection of craft beer is a good size but still medium for my liking. They still have a couple of Stone's main brew, most Sam Adams beers, and a slew of local beers such as Smuttynose, Prettythings, Frosty Knuckle, and others. The service is friendly but not very knowledgeable in craft beer. The person I spoke to was able to tell me where the Sierra Nevada was but have never heard of Life and Limb. (I guess you may not unless you're a beer geek.) The prices were pretty good for the area and is the main reason i come back. For what you can find you will get a good value.
Jan 08, 2010

Hibernator from Massachusetts
3.66
/5
rDev
-3.9%
vibe: 3.5 | quality: 4 | service: 3 | selection: 4
I've been to this Atlas Liquors a handful of times over the years and the selection appears to improve with every visit. Looks like your typical, big liquor store. Coolers are located in the back of the store and the real nice craft beer find are located on the shelves.
Most of the really good craft beers are located on the shelves with selections from Founders (including Breakfast Stout & Double Trouble), Rogue, Oskar Blues (including Old Chub, Ten FIDY & Dick's Pale Ale), Dogfish Head, Otter Creek, Stone, Harpoon, Smuttynose, Victory, Anchor, Abita, Speakeasy and so on. Good German and Belgian beers too.
I picked up some new beers that I've never had before and a 12 pack of Smuttynose IPA for $13.99. Definitely a good selection that I'd say is somewhere between a 4.0 and 4.5. I was tempted to pick up the Ten FIDY, but it was $11.99 for a 4 pack. Not sure if that is standard or not. Maybe I'll get it next time.
During every visit I've had here the service has been very, very average. Never been greeted or asked if I needed assistance. Checkouts are all business. This is not a big deal for me personally, but just noting this is not the friendliest or most helpful liquor store I've been to. I did like the touch of a few BA scores and reviews under some of the 6 packs.
If you live in the area or find yourself in the area, check it out. You'll certainly be able to find something.
Oct 21, 2009
AndyAvalanche from Massachusetts
4.1
/5
rDev
+7.6%
vibe: 3.5 | quality: 4.5 | service: 4.5 | selection: 3.5
A co-worker referred me to this place so I took a gander today and I'll most certainly be back. I picked up a couple of six packs and a four pack of Some Sam Adams and Otter Creek Seasonals and then a Four Pack of Founders. The quality seems very good, I certainly don't have any complaints as of yet. The service is friendly and helpful, not overly knowledgeable about the beer, but willing to help out with whatever they can. The Selection is pretty good. They have a decent amount of local brews, Sams, Harpoon, Ipswitch, Smuttynose, otter creek, Cape anne, Haverill, and many more, Then plenty of other heavy hitters like Rogue, Stone, Founders, Troegs and so on. The six packs are very very reasonably priced but 12 packs are pretty standard. My only knock is that they have just something from everyone, not a lot of depth beyond that though. They also seemed to have a decent wine and liquor selection. The wine was cheaper than most places I've seen by a few bucks. Found my wife's favorite wine a few bucks cheaper than anywhere else we've seen it.
Oct 14, 2009
cbeer88 from Massachusetts
4.7
/5
rDev
+23.4%
Noticed that Atlas only has one review and figured they needed a little more love. In the last year or two they have had a new beer guy take over and he has turned Atlas into one of the better places to get craft beer on the South Shore. They're not huge, but they have a very good selection and truly make an effort to get some rare things in the store.
Example of the more rare things you'll find there: Green Flash, North Coast, Founders, Speakeasy, smaller New England breweries. Good selection of some of the more common craft beers - Ommegang, Southern Tier, Rogue, Victory, etc.
What they lack is a large Belgian selection, and they don't carry a ton of bombers.
Prices are reasonable to good, particularly on 12-packs/cases. (Steady stock of SN, Smutty, and others)
Jan 18, 2009

marlol from Massachusetts
4.65
/5
rDev
+22%
My sister told me about this place. We usually go to Old Colony or Derby Street Liquors for our beer purchases since we hadn't found any other stores with good beer selections in our area (Quincy/Braintree).
Wow, was I surprised at their selection. The times I have been there someone has greeted me and discussed their new selections of microbrews and imports. They are very helpful and knowledgeable. Each time I go the selection has slightly increased. I was told they would like to expand even more but want to make sure the demand is there - so visit this place, you won't be disappointed!
Their prices are slightly lower than Old Colony.
Oct 01, 2008
Atlas Liquors in Quincy, MA
Place rating:
3.81
out of
5
with
10
ratings