Clusters & Hops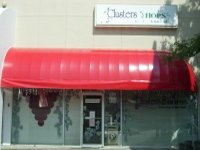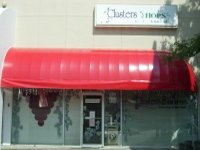 PLACE INFO
Type:
Bar, Eatery, Beer-to-go
707 N Monroe St
Tallahassee
,
Florida
, 32303-6138
United States
(850) 222-2669 |
map
winencheese.com
Notes:
No notes at this time.
Added by BucBasil on 06-29-2008
PLACE STATS
Reviews:

7

Ratings:

pDev:

16.88%
HISTOGRAM
View: Place Reviews
Ratings: 8 | Reviews: 7

3.5
/5
rDev
-11.8%
vibe: 5 | quality: 3.75 | service: 4 | selection: 1.5 | food: 5
You come here for the food not the beer. The vibe is awesome, small dimly lit place littered with shelves filled top to bottom with wine and champagne. The food is an 11/10 quite pricey but you can't beat the ostrich. They menu is for foodies, not for those looking for a chilis type menu. However the beer selection was quite slim last I visited, a few months back, it was a small shelf with less than 20 beers for which the store worker was pretty apologetic for but he did say the usually have more. Will definitely go back for the food, if they have more beer it'd just be a plus
583 characters

4.28
/5
rDev
+7.8%
vibe: 5 | quality: 4.25 | service: 4.5 | selection: 3.75
a: This store/resturant/bar dripps with personality that makes its atmosphere amazing. Their bar-table with wooden wine box sections set into it was a heavy pluss, but the art, lighting, and stacks upon stack of wine everywhere really help take you out of the real world and into a new one: the world of wine. This place is exactly what youd expect from a fine wine establishment/store/restaurant...and in fact exceeds it.
The selection could suck and Id still recommend going here for a drink on the merit of atmosphere alone.
(the setting might not go well for folks who want wide open spaces, but it appeals to folks like me who love smaller cozzier settings)
5/5
q: I cannot speak for the quality of the wines they have...because I did not have any (why would I have wine when I could have beer?), but it looks like their are some real gems here.
an easy 5/5 on wine quality is my ballpark.
however for beer, they are no slouches. They have a small but well charged collection of beers here that might not all surprise the seasoned craft drinker, but will defiantly give them something they will enjoy greatly...especially if they go with wine-loving friends and really just want a nice IPA or a stout.
It could use a bit more fine tuning (and a few more interesting brews), but its obvious that its got quality where it counts (and is on the right track)
4/5
Service: The service was great, but what am I to expect? I was their very, very early. I cam in right when the lunch crowd was leaving...so to be fair, I got excellent service.
If the bar was packed with patrons, that might not had been the case....but as it stands, I have great faith in the staff in delivering. They appeared to be very professional, and eager to do things right (like pouring a beer properly, a skill lost and many many bartenders/servers)
They looks like they have top skills on navigating a customer through wine, but should also be able to guide a less experienced person through beer as well (however, if your already a craft beer veteran, expect to guide yourself through their more exotic offerings)
4.5/5 for beer, but a 5/5 for wine
Selection: Too be fair, the selection is a lot better than I might had expected. I was expecting more of a token effort, but they have a fairly robust and well-rounded beer selection. Their are a few things here and their that you might not have had at other bars, and a few favorites that youl love to see on tap or in bottles.
i personalty had a old rasputin, a Ola Dubh (which was probably their highest end beer), and a draft matilda
Some of the things off their menu where not in stock, but that happens in every bar. their is just enough beer selection to keep a beer-geek inserted, but it could use a lot of beefing up... they could also use some presence of more bombers of specialty brew.
3.75/5
food: it all looks excellent, but it is a bit pricey. If your going with a friend (or 4) id go for the cheese board if your a bit cost-minded. If you split it up, it comes out being rather affordable. Their food is a bit more, but it all looks fantastic.
Its fine dining here, so be prepared for fine dining prices.
A foodie would have a field day with their menu however ;)
value: their food is expensive, but their pricing is not bad. I found their pricing on beer to be much lower than what many restaurants try to get out their. Their markup is only in the 200-250% range...which is actually pretty good for bars. its usually in the 300-400%+ range
No-one who is used to craft beer prices at places like proof, Ferm Lounge, or BJ's will feel gouged or priced out at this establishment.
that combined with their excellent atmosphere, make this a excellent destination for any beer lovers living in or visiting Tallahassee
I personally give it a nutshell rating of a 4.5/5
I would drink here again.
3,846 characters
4.38
/5
rDev
+10.3%
vibe: 4.5 | quality: 4.5 | service: 4.5 | selection: 4 | food: 4.5
I've been to Cluster & Hops in Tallahassee a few times between 2004-2006 when I lived there. This place is small and quaint and looks unassuming next to a discount mattress store. From the looks of it from the outside one would correctly assume that there is a good wine selection here. The atmosphere is eclectic and definitely has a european feel to it-a french feel due to the large assortment of wines and cheeses (including a large european selection).
In addition to the large wine collection, there is a decent beer selection here especially for Tallahassee. I had a Pilsner during my last visit to Cluster & Hops. The beer is reasonably priced, but the food is a bit pricey. The food selection and quality is good and the menu items are unique and ever-changing. The service is good. This is a hidden gem in Tallahassee and I recommend checking this place out.
870 characters

4.45
/5
rDev
+12.1%
vibe: 3.5 | quality: 4.5 | service: 5 | selection: 4 | food: 5
Went for dinner the other night, a short walk from my hotel. In a non-descript short strip mall with a large mattress store next door. The sign out front says "wine and cheese." If you didn't look at the store front, you wouldn't notice the "Cluster & Hops" on the window front.
Lighting is rather dim, in fact, I couldn't see the dining room seating area when I first walked in. Small selection of good wines and a few (40-50?) beers in the store front. The dining room, with about 9 tables and a bar sits behind the store front area. What the place lacks in atmosphere, it more than makes up for in consumables.
Had a Blanc de Chambly on tap, very fresh, appropriate glassware used. They had about 6 or 7 beers on tap plus two ciders. Good range of beers. Bottled beer served in the restaurant is only about a $1 more than buying it off the shelf.
I wouldn't call this place a "beer destination." Although the selection and quality are good, the service and food are what make "Cluster & Hops" a "foodie" destination.
The waiter was very knowledgeable of the beers, wine and food, including suggested pairings when asked. Service was prompt and attentive, and the waiter was very willing to answer questions about the menu and pairings without coming off snotty, snobbish, or bored.
The food menu is eclectic, with a nice range of choices for appetizers, salads, and main courses. If you like duck, this is a must go to place.
The prices are rediculously low for the quality of the food. My duck dish was only $20. In a big city like Chicago, it could have gone for twice that. The beer prices were about on par with what I had seen in the area.
For a Wednesday night, there was a fairly steady stream of customers, always two or three other tables besides mine. Not sure how this place stays in business with such a low price point, but I'm not complaining.
If you ever get the chance to go to Tallahassee, or live there, GO TO CLUSTER & HOPS!
1,954 characters

4.28
/5
rDev
+7.8%
vibe: 3.5 | quality: 4.5 | service: 4.5 | selection: 4 | food: 4.5
About 6 or 7 taps here that they rotate out often. I was told at least one stout is always on tap, as well as a cider. They had a nice variety of tap selection during my visit - Rogue's Dead Guy Ale, Gulden Draak (which was awesome on tap!), Brooklyn Lager, Youngs Double Chocolate Stout, a wheat beer, and a cider.
Bottle selection was decent, everything from what I could tell was stored in their cooler. They carry around a 50 bottle selection and do well in making it a wide variety. They also had some Fuller's Vintage 2006 that would go well with their cheeses. Their bottles were more expensive than a beer store by a couple dollar mark-up per bottle. I didn't see anything here that I couldn't get at a nearby store. But no where else could I sample these cold brews with such fine cheeses.
This place is 20% beer, 80% wine. It's small, and the service is excellent. The floor staff fluently knows beer, wine, and cheese. I'd suggest coming in for a pint or two and sampling a cheese board that'll have all types of cheeses. Clusters & Hops also serves lunch and dinner with a large presence of european dishes.
1,122 characters
4.7
/5
rDev
+18.4%
vibe: 4.5 | quality: 5 | service: 5 | selection: 4 | food: 5
I am glad to finally see this place on Beerfly. My favorite restaurant in Tallahassee by far. It has the second best selection of beer in town, and the best selection of wine for those who care.
This is a tiny Wine and Cheese shop with a cafe in the back that seats maybe 30 people. Not a place to go strictly to have a beer, but it is an amazing restaurant (Try the smoked goat cheese salad if you go for dinner, or the goat cheese sandwich at lunch).
They have about 6 beers on tap and about another 40-50 bottles. Their beer prices are excellent with Duvel only about $1 more than you can buy it in a store.
I went here about 1/week when I lived in Tallahassee; I cant recommend it enough.
695 characters
3.71
/5
rDev
-6.5%
vibe: 3 | quality: 3.5 | service: 4 | selection: 4
Atmosphere: The place is small and tucked into a strip mall next to a matress store. Inside, the place is divided half and half between a beer and wine store and a small restaurant. The place is dimly lit, and somewhat cramped, althought the people hanging out seemed to be enjoying themselves.
Quality: Very clean and laid back with a staff of about 4 on hand in the front of the shop. Beer was properly stored. Tap selection was great with some offerings I hadn't seen in the area.
Service: The staff on hand was ready to help me out with anything I was trying to find, and offered a discount on the beer and cheese I bought.
Selection: They had a pretty good selection, with many offereings not available anywhere else in the region, like Aas Bock and Unibroue 16. Cheese and charcuterie was also awesome, and I took home some Chimay cheese that went great with the beer I bought. However, the selection was somewhat small compared to other places in the area. The quality of the small selection makes up for it though. Overall they had like 6 taps and 40-50 bottles of beer.
Food: The people hanging out in the small restaurant on site seemed like they were enjoying themselves, and the menu looks pretty awesome, but I didn't personally eat there.
My only knock is that the prices were a bit high for the area. However, it a good place to check out if you're trying to find something not found elsewhere in the city OR if you're looking for a great paring for your beer. Cheese selection is tops.
1,507 characters
Clusters & Hops in Tallahassee, FL
Place rating:
3.97
out of
5
with
8
ratings