Dismiss Notice
Liquid Town (Store #8)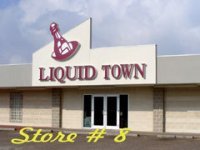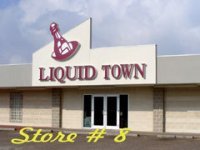 PLACE INFO
Type:
Store
4141 S Alameda St
Corpus Christi
,
Texas
, 78411-1528
United States
(361) 854-1030 |
map
liquidtown.com
Notes:
No notes at this time.
Added by Beerbuddha on 06-29-2008
PLACE STATS
Reviews:

12

Ratings:

pDev:

9.52%
HISTOGRAM
Ratings: 14 | Reviews: 12
Reviews by tjkinate:

4.2
/5
rDev 0%
vibe: 4.5 | quality: 4 | service: 4 | selection: 4.5
Finally found a very good liquor store here in Corpus.
Immediately when I walked into Liquid Town #8 I realized this was my type of store. What I mean is, even though the store is quite large they PACK way too much alcohol in it! Not in a bad way mind you.
After I navigated myself over to the beer section my stomach filled with excitement after witnessing the size of the bomber/growler section. After a few minutes of browsing I did realize that most of their beers on hand were Imports (I prefer American Beer), but they still had a solid American section.
Only thing to be aware of is some of their beers have been sitting on the shelves for quite some time, not so good for the IPA's.
Liquid town may not have had any rare gems, but I was indeed satisfied with my experience. Not quite what I would like, but far better than any other establishment in the area. Check them out and give them a try.
909 characters
More User Reviews:

3.78
/5
rDev
-10%
vibe: 3.75 | quality: 4.25 | service: 3 | selection: 4
Stopped by after reading about the craft wasteland that is Corpus Christi. Looks like your typical liquor store. One aisle was full of European imports while the intersecting wall was reserved for bombers. I found a couple of Love Child No 4s that were kind of tucked away as well as a Prairie bomber. Another aisle was reserved for Texas breweries, which I was interested in grabbing some of the lesser-known ones. I grabbed a 4pk of Four Corners' Saison and made my way to the register. Staff was pretty oblivious to me in there, not that I minded. Overall, I guess they had a decent selection.
596 characters

4.28
/5
rDev
+1.9%
vibe: 4 | quality: 4 | service: 5 | selection: 4
Please indulge the long review- the reason should be clear upon reading.
My wife travels to TX fairly often and if she checks a bag, will usually stop by a liquor store to bring back some local goodies for me. She does it even though it does cause her some stress since she doesn't know anything about beer. The transaction usually goes something like a phone call where she trudges through the store while I ask her- can you see what they have from Jester King? Saint Arnold? etc.
So yesterday she went to Corpus Christi where she hasn't been before. BA shows Liquid Town being the best store in town and I decided to try to make it easier by calling ahead to the store this time. I called to ask for the beer guy, who I learned is Cory. I had no idea if he would give a hoot as to why I was calling or maybe would think I'm that guy who calls every store in town looking for rarities. He wasn't available but they said he would call me back.
He actually did call back but I missed it. I called back and left another message. By then my wife is on her way to the store. She gets there, calls me. I told her I left a message for Cory, maybe he could help her. Not only does he (and other staff members) go out of their way to help her, he gets on the phone with me, tells me what's going on at the store and what they get from a distribution standpoint, he also gives me some great reviews on local items I wouldn't have known about. When that was done, they ring her up and she was on her way. I talked to her later and she couldn't have been happier with the service and neither could I. She also went on Yelp and gave them 5 stars. Props to Cory and the crew at Liquid Town!!!!
Scoring on review based on service we received and my wife's impression of the store.
1,773 characters

4.36
/5
rDev
+3.8%
vibe: 4 | quality: 4.25 | service: 4.5 | selection: 4.5
Being stationed in Corpus and being a craft beer fanatic seemed to be a case of oil and water until I found Liquid Town on Alameda. From the outside, it doesn't seem to be much more than a slightly larger than normal liquor store, much like D&Q in Houston. But on the inside the place is packed full of high quality beer, wine, and finer food pairings. Their beer selection is second to none in the Corpus Christi area, with tons of craft brews from around the states and the rest of the world in their beer area. The prices are quite reasonable but it's easy to rack up quite a bill, especially when your life has been void of easily accessible quality craft brews for some time. This store also gets quite a lot of the rare stuff too, they just don't put it on the shelves. But if you ask, they will tell. Recently picked up the Noir series there and Parabola is due in early April. I would definitely recommend to any person who is stuck in Corpus.
951 characters

4.05
/5
rDev
-3.6%
vibe: 3.5 | quality: 3.5 | service: 4.5 | selection: 4.5
Stopped by this store while staying in Port Aransas for the weekend. It was recommend to me by a friend I work with as the best place in Corpus to shop beer. He was right!
I found the selection surprisingly very good and some hard to find gems on the shelf. Some vintage beers which I picked up to fill in some missing years in my own cellar. The best selection in the coastal area period. To get better you have to venture to San Antonio or further.
Staff was pleasant and very helpful during my visit. I would highly recommend this store to anyone visiting the Corpus area.
577 characters

3.73
/5
rDev
-11.2%
vibe: 4 | quality: 4 | service: 3 | selection: 4
From the outside this place looks like an unassuming liquor store in need of a new paint-job and an inviting sign. Inside, however, it's another story. It's not warehouse big, like Spec's, but as far as beer goes this might be the best selection you'll find in Texas outside of Austin. Prices seemed reasonable. Lots of "older" bottles—but not necessarily ones that should be cellared. That said, I scored a two year vertical of Sisyphus that was tucked behind a shelf of sixers. A minor detour on my way back to San Antonio from the valle, and one I wouldn't hesitate to take again.
599 characters
4.5
/5
rDev
+7.1%
Visited: Sept. 18, 2010 (on a rainy vacation day during hurricane season, there's no better outing than the beer store).
At first glance I didn't expect the store to be as big as I anticipated after looking at the online pictures. Wrong. This place is the size of a small supermarket, and for the wine-lover, has a great selection of food pairings and kitchen gadgets as well. The aforementioned gadgets seem of high quality and are priced as such, and there's nothing wrong with another store you can go to that sells quality cookery.
The service is there if you need it. The staff seemed knowledgeable, and were very friendly.
The "make your own 6 pack" was indeed only $8.99. Most of it's 12oz offerings were relatively modest, yet there are some steals in there. The real gem of the store was in the 6pack selections and the "big beer" section along the back wall. Most of the harder to find beers were domestics, as the import selection was relatively average.
Prices were reasonable, and there were several good deals in there, if you know what you're looking at.
1,076 characters

4.2
/5
rDev 0%
I have been here a few times. Last visit was August 2, 2010
Imports Bottles:
Their Belgium selection is fairly standard - carrying the normal cast of characters. They have a decent, but limited, selection of German and English beers. Their Eastern European, Russian, Irish, and Scottish selection is a little lacking. As for Canadian beers, they really only have Unibroue. Their Lambic and Cider selection is also pretty good.
Domestic Bottles:
Personally I think their domestic selection is their best feature. They have quite a few breweries represented along with a good cross section of each breweries beers.
As for 6pcks, the domestic brews dominate the selection. They have a good representation of Texas beers, which I found interesting.
Aside from a good selection, they have a rack full of various 12oz beer bottles that can be mixed and matched for $8.99. To me this is a great deal. The selection of individual bottles is comprised mostly of domestic craft brews - it's nothing too fancy, but I got to sample a few St. Arnold's and Real Ale products; and the selection can change from week to week! I love places that let you make your own 6-er.
Overall, I have been very pleased with the selection and price. It is well maintained and the staff is friendly.
It should be noted that not all Liquid Towns are similar to this one - IMO this is by far the best one. Check this place out if you ever find yourself in Corpus and thirsty for a beer.
1,465 characters
4.65
/5
rDev
+10.7%
So far Liquid Town is the highlight of my trip to Corpus. I am only here for a couple weeks but the beer selection and knowledge of the staff is something I will miss. They had a wide selection of Belgian, German, British, and american craft beers and you can make you own mixed sixer. If you are in town make sure to stop by and check out the selection. There was an emloyee there named Corey and he had an in depth knowledge of good beer. They have free beer tastings the last Friday of every month also. Outstanding store.
525 characters
4.8
/5
rDev
+14.3%
The quality of this place is great because they just remodeled it and expanded it. It's nice and clean. Huge selection of wine. They must have a couple few hundred square feet of space just for wine and liquer. And the best selection of beer in town. They even have a spot where you can buy fresh food. Haven't tried it but sometimes it smells good. And the cook is very friendly.
Very friendly service. When it comes to beer, my man Corey can tell you what you need to know. He is a good friend of mine and a fellow hophead, so we can relate on many beers.
He tries so hard to get all the selection of beer he can here in south Texas.
The prices are very good. For example, the SA Divine Reserve beers (which are great), he sells them by the singles for 2.99 a piece, so I don't have to buy a sixer for 16 buckerooz.
Very nice place indeed.
848 characters
4.45
/5
rDev
+6%
WOAH! This place is pretty big! There are several hundred beers in a cooler followed by several more hundred on shelves. I was looking for some certain beers and the guy I asked to help me showed me exactly where they were and told me info about them. I was told that any beer he could get from the distributor, he had. I was told this place was a top 5 in selection in Texas. I saw stuff I haven't seen anywhere in Texas such as Rogue Imperial stout, Rogue Old Crustacean, Rogue Imperial Pilsner. I had to restrain myself from snatching everything up.
There was also a mix your sixer section where one could mix anything for $8.99. I was also impressed that singles of Saint Arnold DVR6 were available so someone didn't have to spend 16 dollars on a six pack if he only wanted one. It was only $2.99 for each of those bottles, so they don't gouge people for just wanting a single.
I did notice some outdated seasonalssuch as one twelve pack of Sam Adams white ale and a lot of Flying Dog K9 winter ale (which by the way I've seen at a lot of places, is it really that bad?). Other than that everything seemed to be pretty fresh.
1,131 characters
4.5
/5
rDev
+7.1%
I went to this place back in April when I went to visit a friend in Corpus Christi. I found out about it from fellow BA and Liquid Town beer manager zamco17. The place was huge! Tons of beer! About 300-400 beers to choose from with some in a cooler and some on the shelves. I found a lot of beers not available in New Orleans. I picked up some Stone, Avery, New Belgium and Ommegang just to name a few. Also picked up some local beers like St. Arnolds and Real Ale. Corey was VERY helpful even as he was trying to get some work done.
533 characters
Liquid Town (Store #8) in Corpus Christi, TX
Place rating:
4.2
out of
5
with
14
ratings