Total Wine & More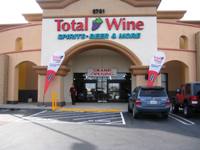 PLACE INFO
Type:
Store
5791 Five Star Dr
Roseville
,
California
, 95678-3533
United States
(916) 791-2488 |
map
www.totalwine.com
Notes:
No notes at this time.
Added by RobH on 06-29-2008
PLACE STATS
Reviews:

11

Ratings:

Avg:

4.38

pDev:

7.76%
Reviews: 11 | Ratings: 14
Reviews by climax:
4.5
/5
rDev
+2.7%
I came here looking for wine for my parents (they're from North Dakota so they wanted me to bring back some good stuff). I knew nothing about wine but the staff was extremely helpful and non-obtrusive.
Don't let the name fool you, the selection of beer is pretty good as well. They have several isles of beer including one large isle with singles, both 12 oz and bombers. The majority of the selection here is partial to California breweries, but there are several others.
The staff is friendly and the store is well organized and clean. This is where I go for my beer, and any other booze. Prices are competitive as well.
★
626 characters
More User Reviews:

4.63
/5
rDev
+5.7%
vibe: 4.25 | quality: 5 | service: 4 | selection: 5
4.5
/5
rDev
+2.7%
vibe: 4.5 | quality: 4.5 | service: 4.5 | selection: 4.5

4.75
/5
rDev
+8.4%
total wine is the beer lovers paradise in the area.. with a very large selection of individual bottles you can buy and make your own six pack or just pick a few to try. The bomber selection is the biggest in the area that ive found anyways. I wish they had more 6 pack variety and more cold beer offerings for those times you just don't want to wait. the only problem i see here is with such a large selection you could spend all day in the store. not that that's bad but the wife wonders what the heck takes me so long.
★
521 characters

4.15
/5
rDev
-5.3%
Well, I think I have a new go to in the Sacramento area. In a big ol shopping center with the usual suspect stores around it. Is very spacious inside, tons of wine.
Beer is really in about 1.5 very long aisles, stored in a way that makes sense for only about 1/2 of it. I kept finding beers all over the place with no rhyme or reason it seemed as to why they were there.
They keep the Pliny in the back, under lock and key, you wouldn't even know they had it unless you ask. Cool guide to make future orders out of, I'll be making an order before barrel aged fest for sure.
Picked up a lot of beer closer to my house than any other place: Pliny, Killer Penguin, Black Magic Stout, Theobrama, Gubna, Stone 14th, Shipyard Barleywine.
Closer to the freeway than the other store I had been going to as well. Would like to see more 6 pack variety at this place. Only real complaint. Its fun to search around for stuff.
★
917 characters
4.55
/5
rDev
+3.9%
Visted 7/17/10 a little after 8pm
Got the pleasure of visiting this place while with family. My GPS led us off course a little and the actual store is down the way a little farther on 5 star dr. It was a little hot that night and temperature inside the store was welcoming. There is a whole aisle side dedicated to beer. They have usual suspects with highlights being Bruery, Victory, and some rare Alaskan and Avery brews. I even saw a Caldera on the shelf. No RR or Alesmith here (or that I found) I was really looking for the Odonata Saison and only found one on the shelf. Luckily enough I found some more in the color towards the back. The stock overall looked a little depleated but still had a stellar selection. I snagged what looked like to be the last of Valley brews Ubber Hoppy and Pom Saison. I was extremely pleased with the walkin humidor and was pleased to come accross an satisfactory collection of Rocky Patel. This chain is a definate Bevmo killer. Better prices, better selection!
★
1,001 characters
4.5
/5
rDev
+2.7%
Awesome selection, both domestic and import. I could spend all day checking out the beer. I've never seen such a big selection of American craft beer; everyone should see it.
Big plus - there is a long aisle of single 12oz bottles and you can mix your own six pack. I made three. I'm trying beer from faraway breweries I have never heard of and I love it! There is also a big supply of bombers from all corners of the Earth.
All bottles have clearly labeled prices and some even have BA as a rating system.
I guarantee I will return to Total Wine in Roseville.
★
566 characters

4.15
/5
rDev
-5.3%
Anyone in the Sacramento area needs to hit this place up. The selection of beer is great, and they have a lot of stuff I haven't seen anywhere else. They are about a buck cheaper than Bevmo, and way cheaper than Whole Foods. The majority of their warehouse is made up of wine, but they have a beer isle that is as long as the store. They have an extensive selection of 22oz and 750ml's as well as single 12oz from all the six and four packs they carry. They carry a handful of interesting glassware along one wall in the front as well. If you get on their mailing list they mail you $2 off beer (six/four packs or 22oz) coupons that you can use multiple times. Highly recommended.
★
680 characters
4.5
/5
rDev
+2.7%
This review is long overdue,
q- great or as good or better than everyone else is, grading on a curve
S- the best as long as you talk with the right people, there are several people there that know nothing but the majority are good.
S- great for the area, as good or better than anyone else around.
V- the best part, nobody touches their prices
This is only place i shop unless there is some one off they cannot get then i resort to others, the thing that has kept me here is once you make the right contact customer service and special orders are top priority.
★
567 characters
4.3
/5
rDev
-1.8%
Even though I live in Sacramento, this is my beer store. Their prices are generally better than anywhere else, and their selection is hand's down the best. And they sell single bottles. On the downside, 90% of their beers aren't refrigerated. Also, they are more focused on wine so their staff ranges from fairly knowledgeable to not at all. But what keeps bringing me back are the prices. Most of their beers are at or below the standard prices, but there is the occasional crazily priced bottle. Just do your research online and you will be able to find many great brews at Total Wine.
★
587 characters
4.15
/5
rDev
-5.3%
I recently moved to California, Specifically Northern California. I have to say, for a state that features so many fantastic breweries, I have been disappointed with the beer stores.
I was in Roseville over the weekend taking care of some business at the mega-mall, and wandered into the Total Wine and More. I am familiar with the chain from my past home in Virginia and was prepared to be underwhelmed. Fortunately, I was greeted by one of the best selections I have found since moving to CA.
They had a decent selection of Belgians including, to my shock and delight, Cantillon Classic Guezue and Iris. I bought a 750 of each for just over $12 a pop and they were well worth it.
Also, they had a number of Avery 22oz, including Ale to the Chief, Fifeteen, Maharaja, and The Kaiser. They had a passable Dogfish selection (one of my faves from the E. Coast) including 60 min., 90 min., Midas Touch and Palo Santo Maron.
They had oodles of my beloved Sierra Nevada including So. Hemisphere Harvest, and are supposed to get Chico Estate Harvest shortly.
They also had the full lineup of Fuller Ales including Vintage, and 1845.
Not bad, not bad at all. I will try to get in there every time I'm forced to make the 75 min. drive to that miserable mall.
Check it out.
★
1,271 characters
3.25
/5
rDev
-25.8%
Stopped by here on a visit to see family in Plumas Lake. Presentation of the store was beautiful, wonderfully laid out and easy to find things. All the single bottles is a plus but they are not cold. The same can be said for the Big Beers. Prices were good and the selection was the best I found on my trip (I'm always looking for good beers). I never did get asked for help or see anyone wondering around to ask questions so I didn't get a feel for knowledge or a chance to share industry talk. For the Wino's they did have the best selection and prices for wine that I have seen. If in the area - go here first.
★
613 characters
4.5
/5
rDev
+2.7%
Totally Wine has the best beer selection around. Huge selection of microbrews available by the individual bottle, allowing you to create your own six pack. Bottles range from about $1.19 on up. Customized six packs can be pricey but the variety is worth it. Focused on US brews but they have a very good selection of Belgian and German beers as well. Only downside is most of the selection is on shelves, un-refrigerated. Huge wine selection is available too. This is well worth a stop if you are in Roseville or on the way to Tahoe.
★
533 characters
Total Wine & More in Roseville, CA
94
out of
100
based on
11
ratings.